Bitgert (BRISE) forms a symmetrical triangle as popularity wanes
Bitgert price has remained under intense pressure as the platform's popularity wanes. BRISE, its native token, has plunged to a low of $0.00000047, the lowest point since February 17. It has plunged by more than 27% from its highest point in February even as Bitcoin is hovering near the key resistance point this year.
Popularity wanes
All indications are that Bitgert is losing its popularity around the world. One way of knowing this is to check the volume of Google searchs of the coin. This is important because Google is the most popular search engine in the world. In most periods, a popular cryptocurrency or any other asset will tend to have more searches.
Google Trends data shows that the volume of the term Bitgert has crash to the lowest point since December. The same is true for other related keywords like Bitgert price and Bitgert crypto. 
Another way to look at this is to consider the activity in the network's DeFi ecosystem. Data published by DeFi Llama shows that the total value locked (TVL) in Bitgert's ecosystem has dropped to 4.17 trillion BRISE, which is its lowest level on record. In dollar terms, the TVL stands at about $1.96 million, down from its all-time high of over $10 million.
The most recent Bitgert news is that the developers are about to launch the iOS version of its exchange. In a Tweet, they said that the app was accepted by Apple and that they had activated the testflight. Its mainnet will go live during the weekend.
The other important Bitgert news is that the developers launched a product that makes it possible for people to launch their meme coins within a few minutes. The meme coins can then initially be traded in Bitgert's exchange.
Bitgert price forecast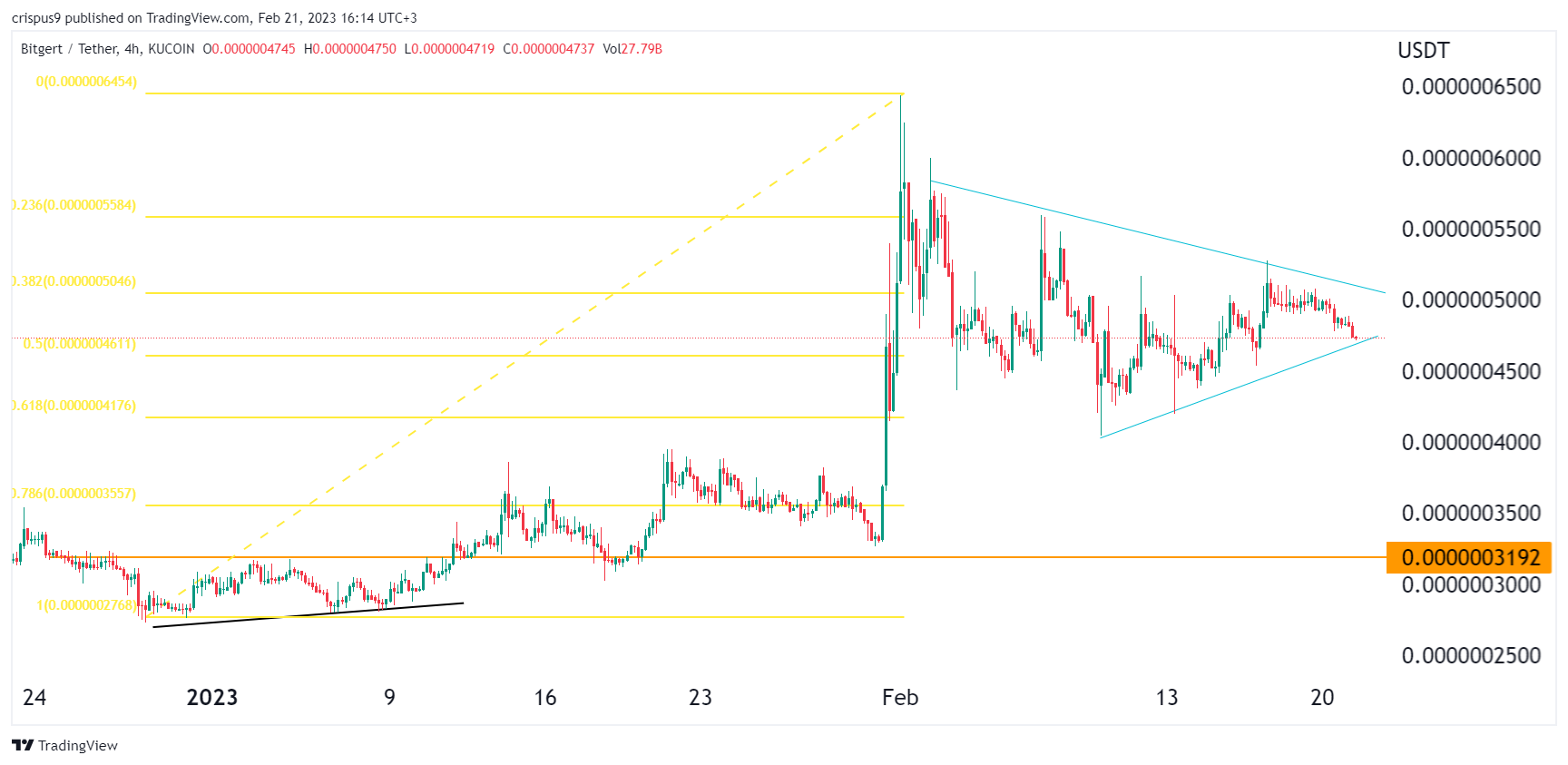 The four-hour chart shows that the BRISE price has been in a consolidation phase in the past few days. It has formed a symmetrical triangle pattern that is shown in green. It has also dropped below the 25-day moving average and is slightly above the 50% Fibonacci Retracement level. 
Therefore, the outlook for Bitgert price is neutral at this stage. A bearish view will be confirmed if it manages to move below the lower side of the triangle pattern. If this happens, the coin will plunge to a low of $0.00000042. On the other hand, a move above the upper side of the triangle at $0.00000051 will signal that bulls have prevailed.
How to buy Bitgert