Top Crypto Gainers Today, April 20 – BTT, GUSD, LHINU, DLANCE, BUSD, ECOTERRA, ARB

Join Our Telegram channel to stay up to date on breaking news coverage
Bitcoin continues to shave off recently accrued gains after exploding to an 11-month high roughly at $31,062. The largest crypto had lost 4% of its market value to trade at $28,880 on Thursday.
Altcoins like Ethereum (ETH) and XRP, and BNB are posting significant losses on the day, with the total crypto market capitalization dropping 4.4% to $1.25 trillion.
According to Bloomberg's Akshay Chinchalkar, "Bitcoin's rally this year is facing a test as the token struggles around $30,000. A pattern buried in the coin's recent swings suggests it could vault above that level again en route to a 7% short-term gain."
Moreover, some industry figures like Noelle Acheson, author of the "Crypto Is Macro Now" newsletter believe, "the drop is unlikely to be long-lasting, as recent support as well as derivatives positioning points to a bias to accumulate."
While Bitcoin hunts for support, it is dragging most altcoins with it, reversing the gains investors had accrued over the last three weeks.
Nevertheless, some tokens, carefully selected by InsideBitcoin analysts, show tremendous strength to rally and may be worth paying attention to early in the Q2 of 2023.
Investors with a high-risk appetite could also pique interest in up-and-coming crypto projects that are currently in their presale stages.
Tokens like Love Hate Inu (LHINU), DeeLance (DLANCE), and Ecoterra (ECOTERRA) are offering a once-in-a-lifetime opportunity for investors to be early adopters.
Buying cryptos at the presale stage allows investors to take advantage of the discounted prices and the potential rally upon listing on exchanges.
BitTorrent Price Ticks Up 12%
BitTorrent (New) has exploded 12% on the day following a consolidation period within the confines of a descending triangle pattern. The token's move caught the attention of both traders and investors, with the 24-hour volume surging by more than 860% to $102 million.
In addition to the growing interest among traders and investors, BitTorrent released a new version Storage3 V1.2. The network said on Wednesday that "BTFS is a new addition to Storage3 that features a curated list of high-quality DApps and projects."
📢#BTFS Storage3 V1.2 Is Live!

💎Awesome #BTFS is a new addition to Storage3 that features a curated list of high-quality DApps and projects.

V1.2 includes:✅Support login with #TRON addresses✅#NFT support✅Adding Awesome BTFSAnd more!

Read more:https://t.co/IvqrGigYR9

— BitTorrent (@BitTorrent) April 19, 2023
BitTorrent presents Storage3 as the next-generation application for storage, with login support for TRON addresses, integrated NFT support, developer support using TronLink or MetaMask wallet, and a curated list of high-quality applications and projects within the BTFS ecosystem.
After breaking out of the triangle, BTT climbed to $0.000000915 in a candle wick but has since retraced to $0.000000706 – its current market value.
Support is anticipated at $0.0000007 followed by another upswing bolstered by an upcoming golden cross. This pattern comes into the picture when a short-term moving average like the 50-day EMA crosses above a long-term moving average such as the 200-day EMA and is often interpreted as bullish.
Having said that the Moving Average Convergence Divergence (MACD) indicator spots a vivid buy signal strengthened by the Relative Strength Index (RSI)'s move into the overbought region.
Despite the bullish outlook, traders should also prepare for a possible trend correction, possibly to allow BTT to sweep through more liquidity at lower price levels before resuming the uptrend. Profit booking could add to the selling pressure.
Gemini Dollar (GUSD)
Gemini Dollar (GUSD) is a stablecoin pegged to the value of the U.S. dollar and is traded on the Gemini cryptocurrency exchange and other trading platforms.
It was launched in September 2018 as an ERC-20 token on the Ethereum blockchain.
The purpose of the GUSD is to provide a stable and secure currency for traders and investors who want to minimize their exposure to the volatility of other cryptocurrencies.
Gemini Dollar uses a 1:1 peg to the US dollar, which means that for every GUSD token in circulation, there is a corresponding US dollar held in reserve.
This ensures that the value of the GUSD remains stable and can be used as a reliable medium of exchange.
Gemini exchange offers a variety of features for GUSD traders, including faster transaction times and reduced fees.
Overall, the Gemini Dollar is a promising option for those looking to invest in the cryptocurrency market but still want some level of stability.
With a 0.2% bullish move in the last 24 hours, GUSD is trading at $1 – the expected dollar value.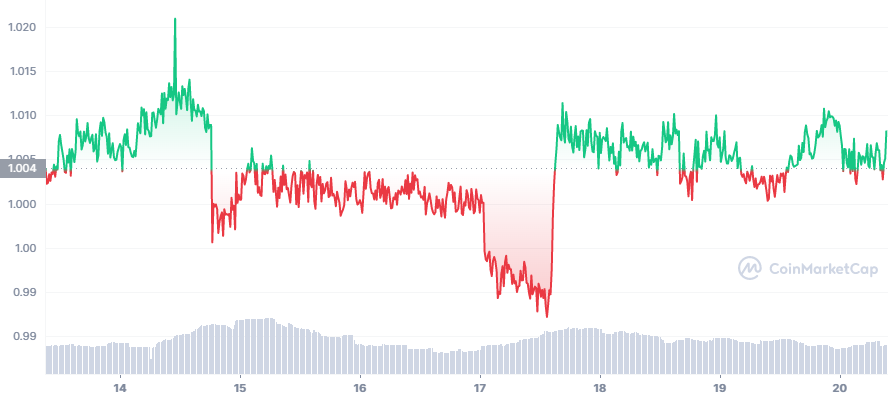 Love Hate Inu – The Vote-to-Earn Answer The Survey Industry Has Waiting For
Love Hate Inu, an innovative dog-meme-based social media platform, is set to revolutionize online polling with its groundbreaking stake-to-vote and vote-to-earn blockchain technology.
Expected to become a sensation in 2023, analysts at InsideBitcoins.com have ranked it as the best crypto presale opportunity of the year.
Users can participate in discussions and vote on hotly debated topics involving influential figures like Elon Musk, Cristiano Ronaldo, and Donald Trump, among others.
The much-hyped meme ecosystem, powered by Love Hate Inu's LHINU token, is hosting a free off-chain voting contest, giving participants a chance to win $10,000 by voting on whether they love or hate Andrew Tate.
To join, simply visit the Love Hate Inu homepage and follow the instructions under the "Vote for a Chance to Win $10,000" section.
As LHINU token holders, users can stake their tokens for a share of the vote in each poll while being financially rewarded for their participation – a feature that has earned the platform the "vote-to-earn" label.
🚨🗳️💸Want to win $10,000?💸🗳️🚨

🐶🔥Vote in the 1st #LoveHateInu poll now, and you could be the lucky winner!🤑

❤️💔 Simply decide if you Love or Hate #AndrewAltTateInu, submit your email address, and you're in the running for the prize!🤑👀

Link in Bio…🔗#MemeCoins

— Love Hate Inu (@LoveHateInu) April 19, 2023
Poll creators will provide these rewards, and the more tokens users stake with longer vesting periods, the more voting power they will receive.
Investors have been assured that the platform won't be plagued by bots. To cast a vote, individuals will have to have staked a minimum of LHINU for 30 days, making it challenging and expensive for spam bots and vote manipulation to gain control.
Love Hate Inu has already had a very successful presale a few months after its debut, raising more than $4.81 million.
Stage 6 of the presale is imminent, and the organization is likely to meet the $10 million objective in the coming months. However, those interested must hurry as the token price in the presale will increase to $0.000125 from the current $0.000115.
DeeLance Revolutionizing Recruitment With Web3 Technologies
The rise in popularity of freelancing has led to numerous career transitions, with varying degrees of success as some struggle to secure work.
In response to this issue, many digital platforms have been established to connect businesses with freelancers worldwide, streamlining the process and facilitating mutually beneficial transactions.
However, these platforms fall short of meeting the needs of both recruiters and freelancers who are forced to part with a big chunk of their revenue. Platforms like Fiverr and Upwork often charge high commissions in addition to delaying payment and promoting substandard services.
Recent developments have introduced DeeLance, an innovative blockchain-driven platform, poised to transform the freelancing and recruitment sectors.
Offering a cost-effective solution for freelancers to engage with clients, DeeLance stands out as the first Web3 application to provide a more practical and affordable approach to doing business.
DeeLance charges significantly lower fees than competing platforms, with freelancers paying 10% and employers paying 2%.
The platform seeks to integrate the freelance market with advanced technology such as metaverse, non-fungible tokens (NFTs), and Web3, promising a fully decentralized, user-oriented experience with enhanced transparency, efficiency, and security.
DeeLance's unique ecosystem is built upon three key components: a metaverse, an NFT marketplace, and a freelance and job recruitment hub, creating a seamless interactive network.
Utilizing blockchain technology, the platform ensures transparency and digital ownership for both freelancers and clients in this evolving digital landscape.
Through its Web3-based digital economy, DeeLance presents new avenues for professionals and creators to harness the potential of the burgeoning metaverse.
Hey DeeLancers, exciting news! ✨

Deelance has been featured on Inside Bitcoin, have a look at the article:

🔗 https://t.co/Cno5y5Nl0e

Don't forget to grab some $DLANCE from #Presale ⤵️🚀💰 https://t.co/XHnTqVzMLN#crypto #Metaverse pic.twitter.com/WbRT2E7hBt

— DeeLance (@deelance_com) April 19, 2023
DeeLance's ecosystem is powered by the native $DLANCE token, which runs on the Ethereum blockchain. $DELANCE can be used to purchase assets such as NFTs, land, and offices within the metaverse.
The world's most advanced token is still in its presale stages and is trading at $0.025 USDT per token. Early investors have already raised over $289,000 in just a few weeks but interested investors must hurry before the price per token increases to $0.029 in just four days.
Binance USD (BUSD)
Binance USD (BUSD) is a stablecoin pegged to the value of the U.S. dollar, making it an excellent option for those looking to mitigate volatility in the cryptocurrency market.
This stablecoin was introduced in 2019 by Binance, one of the largest cryptocurrency exchanges in the world, and has quickly gained popularity due to its reliability and transparency.
Users can easily convert BUSD to other cryptocurrencies or withdraw it to their bank account.
BUSD also offers low transaction fees and fast transaction processing, making it a cost-effective option for buying or selling cryptocurrencies.
Overall, Binance USD is a valuable addition to the cryptocurrency market, providing stability and accessibility to users looking to invest in the growing world of digital assets.
However, Binance lost its partnership with Paxos Trust Company, the company responsible for issuing its stablecoin BUSD, as Paxos terminated its relationship with the cryptocurrency exchange on February 21.
This action was taken following a consumer alert issued by the New York Department of Financial Services (NYDFS), which demanded that Paxos stop minting BUSD.
Although the minting of new BUSD tokens stopped, redemptions are still supported. According to CoinMarketCap, BUSD is holding firmly to its dollar peg – exchanging $1 for 1 BUSD token.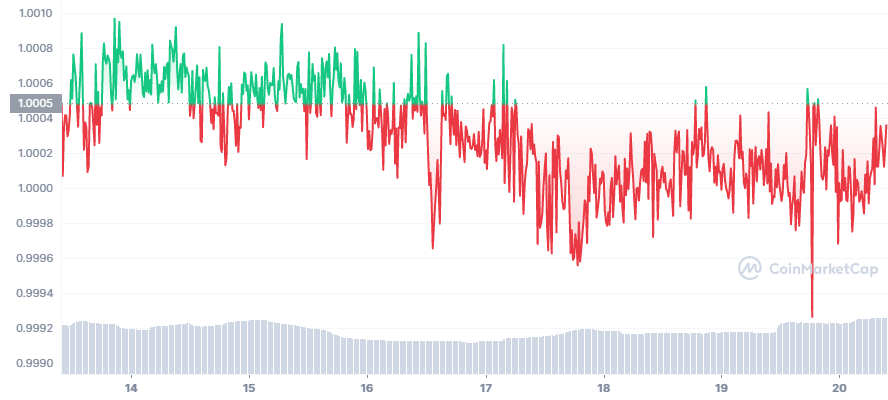 Ecoterra – Inspiring Individuals and Businesses in Freelance with Crypto
$ECOTERRA, the native token of Ecoterra, is an eco-conscious crypto asset utilizing blockchain technology and a unique recycle-to-earn (R2E) system to motivate members to engage in efficient waste management.
The R2E rewards approach inspires individuals to become eco-friendly and minimize their carbon footprint.
Though not yet available on public exchanges, $ECOTERRA has gained significant popularity through its ongoing presale, raising over $1.91 million from investors worldwide.
🎉 The ecoterra's presale is your chance to join a community committed to sustainability and making a difference 🌿🌎

Let's work together towards a better future!

Our #Presale is now LIVE! Buy $ECOTERRA now💰⬇️https://t.co/1fYkPOsPYG pic.twitter.com/oh5MenjzYS

— ecoterra (@ecoterraio) April 19, 2023
Currently trading at $0.00625 USDT per token, the $ECOTERRA valuation is expected to rise as the presale progresses through the stages.
A key aspect drawing investor attention is the platform's powerful application. Ecoterra's Recycle-2-Earn app feature allows members to earn $ECOTERRA tokens for recycling items like glass bottles, silicon cans, and plastics.
These earned tokens can be staked, traded on exchanges, or stored in a crypto wallet. This functionality is likely to attract more manufacturers interested in recycling used materials to enable cost-effective production processes.
As adoption grows, it will lead to more use cases and increased demand for $ECOTERRA, allowing the token's price to rise significantly.
Arbitrum Price Plunges 8% As Crypto Investors Lock in Gains
Arbitrum price climbed to $1.8 after the community shot down a proposal demanding the Arbitrum Foundation return ARB tokens worth around $1 billion. The Foundation rubbed shoulders with the community the wrong way from the start, resulting in a massive sell-off in the wake of the airdrop in March.
The layer 2 scaling protocol for the Ethereum blockchain was able to uphold support above $1.1, allowing bulls to regain control and push ARB price to $1.8.
Investors expected Arbitrum to push to $2 but as analyzed on Wednesday, Arbitrum abandoned the uptrend in favor of a trend reversal to $1.45.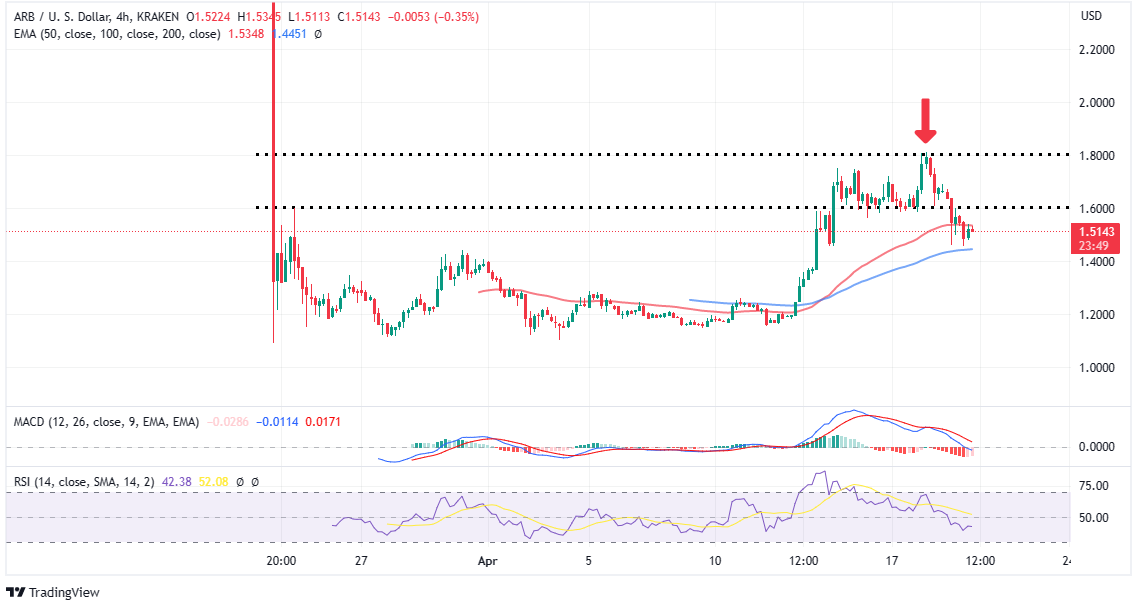 Arbitrum now trades at $1.5324 upon rebounding from $1.45, support highlighted by the 100-day EMA (line in blue).
Bulls will be looking forward to closing the gap to $1.8 within the day or in a few days, but first, they must weaken the immediate resistance at the 50-day EMA (line in red) at $1.5354.
If the seller congestion at $1.5354 fails to budge, Arbitrum could extend the downtrend to $1.4 and $1.2 as overhead pressure intensifies.
Arbitrum (ARB), is a layer 2 scaling solution for Ethereum, that has been gaining traction in the blockchain industry for its potential to increase transaction speeds and lower fees.
It uses advanced cryptographic techniques to provide trustless execution of smart contracts, making it an attractive option for decentralized applications.
Additionally, ARB allows for interoperability with other blockchains, enabling a seamless exchange of assets and data.
As Ethereum continues to face scalability issues, ARB may offer a promising solution for a more efficient and accessible blockchain ecosystem.
Related Articles:
Love Hate Inu – Newest Meme Coin
Decentralized Polling – Vote to Earn
Early Access Presale Live Now
Ethereum Chain
Featured in Yahoo Finance
Mint Memes of Survey Results as NFTs
Staking Rewards
Viral Potential, Growing Community
Join Our Telegram channel to stay up to date on breaking news coverage