Top Crypto Gainers Today, April 28

Join Our Telegram channel to stay up to date on breaking news coverage
After a difficult week, the crypto world woke to another day, with Bitcoin maintaining a grip above $29,400 early in the morning. The bullish nature commenced on Wednesday after the market regained from the fake panic alert.
Fake news on the trading of Mt. Gox and US Gov addresses caused panic among investors who decided to sell. Later, Arkham and other distinguished crypto enthusiasts confirmed the news to be false. Before the false alarm, the market had already dropped to $1.25 trillion from $1.34 trillion. However, the market has now recovered fully. Ethereum also continues trading above the $1900 mark.
Crypto space provides investors with various coins and projects for investment, but the decision remains on the investor to choose the best venture to put money in and wait for it to sprout.
Your eagerness to diversify your portfolio by investing in crypto cannot go unnoticed, as InsideBitcoins.com is introducing you to the best-performing coins and enticing presales in place. The tokens under presale are new hits in the market with different potentials likely to improve the crypto industry.
Preview of top 7 gainers today
Today was suitable for most top 100 coins, with IMX having a blast over the last 24 hours with a 9.63% increase. Other coins like WOO were up by 7.31%, AIDoge presale attracting customers, LHINU gained a pull, DLANCE crossed the $500,000 milestone, CRO was up by 13.15%, ECOTERRA presale ongoing and ICP maintained a 2-digit percentage at 11.3%.
Immutable (IMX) keeps going up by 8.81%
Immutable jumps into the bullish trend by hitting 9.63% in the last 24 hours. The coin experienced a sharp decline on April 26 after hitting a low of $0.917 with a trading volume of $43.89 million. Today immutable is trading at 1.07, accumulating a trading volume of $74.37 million.
Immutabble is the pioneer ethereum layer two scalings focused on advancing NFT space. Its blockchain shakes off limitations in the Ethereum network, such as illiquidity, low scalability, and bad customer experience. The platform fancies its users with proper asset security, instant trading, and zero-rated minting fees on gas.
Immutable forged a working relationship with the Polygon network, which has been making headlines. The partnership with the Web3 gaming platform enhances levels of onboarding gamers and developers to Web3.
The companies are set to improve user experience through new features in the gaming industry. Adopting Immutable zero-knowledge Ethereum Virtual Machine (zkEVM) and Polygon zkEVM encourages new adoptions into the gaming space.
We are taking web3 gaming mainstream together pic.twitter.com/3eycsnBL7P

— Immutable – $IMX (@Immutable) April 27, 2023
Users will enjoy new and easier ways of creating and playing games. The move makes Immutable universal since gaming studios without immutable can still interact with the game devoid of creating another blockchain.
The prospects for Immutable continue to look pleasing as the partnership sets a good precedence for working in Web3 gaming.
WOO Network jumps up to $0.295 representing 7.31%
After making rounds with the fame of outperforming CAKE at the beginning of the year, WOO Network was up by 7.31% today. The coin ranked number 86 in CoinMarketCap, attracting $61.53 million of trading volume in the last 24 hours.
The WOO Network provides financial services through centralized finance (CeFi) and decentralized (DeFi) systems.  It enables users to access liquidity through a robust system that is highly democratized while charging lower or no fees.
The project outsmarts its peers in the market through its blockchain technology. The technology allows traders to attain higher market liquidity than the competition.
The WOO network has displayed solid growth over the last few months. WOO experienced a downward trend during mid-week but has attained a bullish trajectory today, trading close to the $0.3 mark amid price volatility.
The price rally might be attributed to the latest announcement on April 24 that indicated that DeFi traders are free to enjoy WOOfi rates through zkSync Era.
The new mechanism of zkSync Era utilizes Zero-knowledge verifications to authenticate transactions while concealing data, thus increasing transaction speeds while reducing costs.
The protocol works in the packaging together transactions and ensures the users have a similar experience as if they were using ethereum but with lower costs and higher frequency.
The announcement further revealed that WOOfi intends to leverage sPMM v2 liquidity towards zkSync Era with an immediate effect. Although it is speculative whether the current rally witnessed in the market came from the announcement, we will confirm with solid data. However, WOO has made headlines in the crypto markets over the last few weeks, with many labeling it as a top mover.
AIDoge presale goes live
Artificial intelligence is making waves worldwide, with the crypto world also getting its share of potential involvement. AIDoge is gaining traction by emerging as a new project at a time when people are talking about AI. On launch day, the project was able to garner more than $100,000. The token has provided half of its 1 trillion supply to buyers during the presale phase.
Hey #AiDogeArmy! 🐶

The #Presale is now live! 🚀

Don't miss out on the opportunity to be an early supporter of the AI-powered #Memecoin revolution!💰

Get yourself some $AI tokens today!🤖👉 https://t.co/ijyyM15dky#CryptoCommunity #AiDoge #Altcoins #Presale #Web3 pic.twitter.com/kk0qT4IPSh

— aidogecrypto (@aidogecrypto) April 27, 2023
Proper estimations for the token will come during Q3 after major exchanges list it on their platforms. Users can buy AIDoge today at $0.0000000003.
Users can use the AIDoge.com  platform to create memes through AI technology and get experience maneuvering the ever-growing crypto space. The platform conforms to the current generation's needs while tapping into the fascinations brought by social media. Users can use text prompts to create highly adaptable memes through AI technology.
The power of AIDoge comes from highly trained algorithms retrieving knowledge from cryptocurrency news and huge databases of meme information. Developers have invested in advancing the system to be seen as a significant venture for investment.
As the AIDoge presale comes to the market, it gives the company a chance to spread its wings in the crypto community and attracts more enthusiasts. The exceptional idea set by AIDoge might keep the sales ongoing irrespective of how many new projects come to the market. The most exciting part will be to watch and see how the prices will go after its listing in the major crypto exchanges.
Love Hate Inu (LHINU) set to benefit forerunners.
Early investors might become lucky from the drop of LHINU, a native token of the upcoming Love Hate Inu crypto network. Projections of LHINU copying the trends of DOGE and SHIB are very high.
Love Hate Inu uses the Ethereum blockchain with its network encompassing vote-to-earn (V2E) machinery. It will allow participants to air their concerns and expectations about hot topics by voting, earning LHINU tokens as a reward, and NFTs or other merchandise.
The voting procedure will remain transparent, tamper-proof, secure, and legitimate through a highly flexible blockchain. The system is designed to penetrate multinationals poking at the investors looking to know how customers perceive their products in the market.
Morning, #LoveHateInu Crew!☀️

We've got some exciting news for everyone today!🎉

Our #Presale has raised over $8M!💰

We're incredibly grateful to all our supporters and voters!🙏

Get your $LHINU today before the final stage of the #Presale starts!🚀https://t.co/Pu2Bo8WOUy pic.twitter.com/KozawJU2s4

— Love Hate Inu (@LoveHateInu) April 28, 2023
According to Carl Dawkins, Love Hate Inu CEO, the presale of the LHINU token will hit $10 million and above.
The Love Hate Inu presale has already hit over $7.5 million, making it the best presale in 2023.
To partake in the Love Hate Inu poll, you are needed to stake your LHINU token for at least 30 days. The requirement helps advance integrity by preventing spam and any form of vote rigging.
The next presale phase comes seven days after the first presale, which will see the price rise from $0.000125 to $0.000135 per each LHINU token. Buy LHINU today at a lower price before the hike.
DeeLance improving freelance
Freelancers have a new mode of attaining new clients for projects and assignments. The Deelance platform utilized decentralized finance (DeFi) to advance recruitment.
Deelance blockchain is a game changer in freelance as it is risk-proof and easily accessible. Among the top features that will make the platform more effective than Upwork or Fiverr are the metaverse, NFT space to advance ownership, and better recruitment mode.
Users will interact by using avatars in the DeeLance metaverse. Others can purchase land and hold business meetings in a friendly, calm environment. The platform will be accessible while encouraging commercial actions.
According to the founder of DeeLance, Dommeti Kiran, the platform will enhance competitiveness by utilizing escrow to protect funds, minimal fees, advanced verifications, NFT-related ownership, and experience of the metaverse.
Congratulations DeeLancers! 👨‍💻

Just crossed the $500,000 milestone! 🙌🎉✨

Let's keep the momentum going! Only 17 days left until #Presale Stage 2 closes! 🚀💪

Grab some $DLANCE tokens now! ⬇️https://t.co/XHnTqVzeWf#Cryptocoin #Crypto #MetaverseNFT #DeeLance pic.twitter.com/l0alnFZrvL

— DeeLance (@deelance_com) April 28, 2023
After a few weeks of conducting a presale, the DeeLance community announced attaining a new milestone of $500,000 raised from investors.
All interested investors must get their tokens before the price jumps to $0.033 from the current $0.029 in the next 15 days. Get your DLANCE tokens now.
The freelance network solely depends on the DLANCE token powered by the Ethereum network.
Cronos (CRO) goes up by 13.15%
The last 24 hours have seen the price of CRO rise by 13.15%, with the token trading at $0.079 while ranking at number 32 in CoinMarketCap.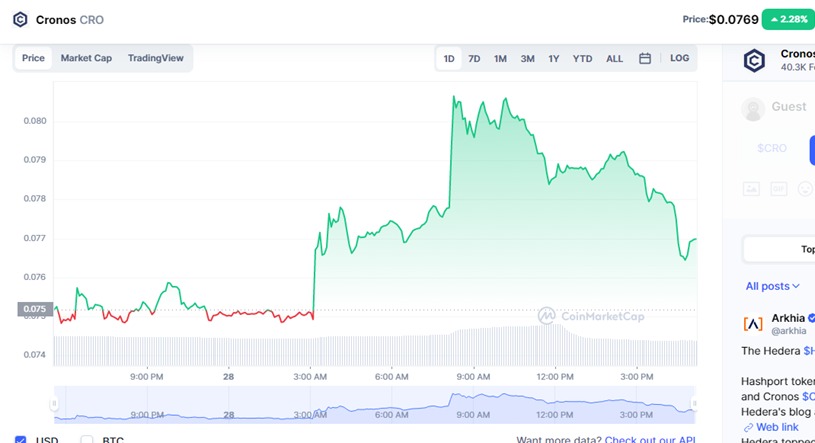 Cronos Chain's token Cronos (CRO) has a market cap of $2,000,145,909, but its 24-hour trading volume reached $141.2 million.
Crypto.com developed the Cronos Chain to advance the quest to adopt cryptocurrencies to gain cash control and data protection. CRO is responsible for making Crypto.com Pay mobile payments application operational. The company also projects at Cronos to expand its control over other products.
Ecoterra is environmentally friendly
Ecoterra system is here to help the world reverse the adverse effects of climate change by rewarding recyclers with ECOTERRA tokens. The platform offers a carbon-free ecosystem that enables users to sell and buy recycled items through ECOTERRA.
Users are motivated through the Recycle-2-Earn app, which enables them to partake in activities that benefit the environment. The Web3 app also works as a portal that is reachable to work towards offsetting carbon levels.
It's been an incredible journey so far, and we couldn't be more proud to share that we've just crossed the $2.4 MILLION mark in our presale 🎉

What are you waiting for? Join our #Presale today! 👀

Together, we will continue to climb to new heights 💪⬇️https://t.co/ocwFqhlXMH pic.twitter.com/vIoq1wj7jM

— ECOTERRA CONTACT CENTER (@ecoterra3rCSP) April 26, 2023
Ecoterra has received substantial support during its presale within German-speaking nations, where there is a solid dedication to creating a sustainable economy focused on renewable energy and recycling.
The platform has incorporated reputable brands such as Dr. Pepper, Vittel, and Heineken into the scannable recyclables app collection.
Incorporating NFTs and eco-friendly procedures makes the Ecoterra platform stand out from the rest of the blockchains. The platform pushes an environmentally friendly agenda by rewarding the users.
Ecoterra is financing its platform by releasing 1 billion tokens from the 2 billion total supply during the presale. The other 1 billion remaining tokens will go to marketing, listings, corporate adoption, and network liquidity. Purchase your ECOTERRA today.
The presale that started a few weeks ago has fetched an inspiring $2.6 million. The energy is projected to rise following the push through social media.
Internet Computer up 11.42%
The bullish nature of Internet Computer (ICP) has seen the token hit 11.42% today. The price of one token was $6.04, whereby the trading volume for the last 24 hours was $74.39 million. The coin ranks number 27 in CoinMarketCap.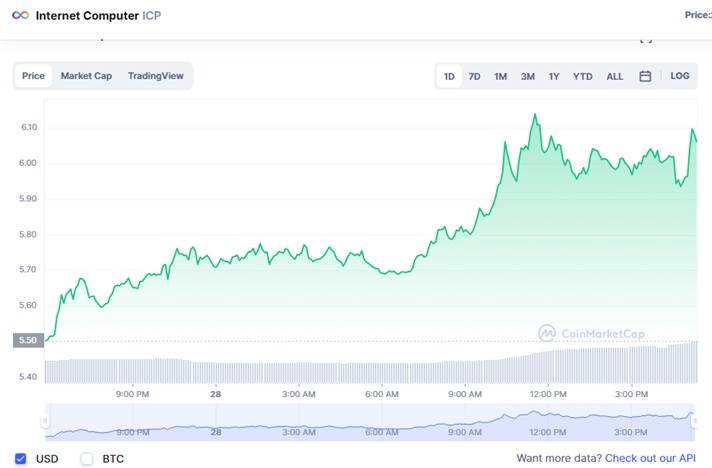 The computer protocol is spurring optimism among crypto enthusiasts following the continued development of its protocols. Prices are set to go putting in mind that cryptocurrencies attract high levels of volatility. Therefore, ICP's future price depends on many factors that one cannot comprehensively predict.
Every investor must conduct comprehensive studies to understand the market before deciding on the crypto to invest in. With increased interest in Web3 and the growing social media, there is a better future for ICP.
RELATED:
Love Hate Inu presale raises $8M, less than 25% of presale tokens left
Tamadoge Successfully Launched On ByBit – Is TAMA Getting Ready To 20X?
Join Our Telegram channel to stay up to date on breaking news coverage