Top Crypto Gainers Today, April 22 – ZIL, BNB, LHINU, DLANCE, ARB, ECOTERRA, BSV

Join Our Telegram channel to stay up to date on breaking news coverage
Investors in the crypto market are dealing with a spike in liquidations following Bitcoin's slump from highs slightly above $31,000 to $27,230 on Saturday morning. Considering top the majority of the 100 cryptocurrencies are now in the red, investors may want to pay attention to the market's resilient altcoins and top crypto gainers like ZIL, BNB ARB, and BSV.
The two most prominent digital assets Bitcoin and Ethereum plunged by 10% and 12%, respectively in the last seven days, applying breaks to a bullish move that would have otherwise ignited the next bull market.
It is still early to tell if this correction will last but losing the 50-day Exponential Moving Average (EMA) could be detrimental to BTC, as it is likely to extend the leg to $24,000, where the 200-day EMA holds as the primary support.
Unfortunately, such a drop is precisely bad news for the altcoins which are likely to post even bigger losses.
According to Web3 investor and portfolio strategist at Nascent, Matt Klein "speculators have begun to risk-off as signs of euphoria manifested in a DOGE rally leading into 4/20 as well as a meme coin PEPE dominating activity onchain."
According to Santiment, "Crypto markets often top & fall when meme keywords begin to spike." Like Klein, the on-chain data analytics platform was referring to words like "pepe, babydoge, and bobo," which have been trending at high frequencies this week.
"These social spikes are reliable market top signals," Santiment told nearly 160k followers on Twitter.
Despite the turbulence in the market InsideBitcoins sifts through many up-and-coming projects, to bring to your attention the best-performing crypto presales for 2023.
Crypto projects like DeeLance ($DLANCE), Love Hate Inu ($LHINU), and Ecoterra ($ECOTERRA) go beyond the basics of crypto assets.
They stand out for tapping the power of Web3 and blockchain technology to solve real-world issues like climate change, recruitment, and known challenges in polling and survey sectors of the global economy.
Investors can participate in the new crypto project's presales by buying heavily discounted tokens ahead of their debuts on exchanges. But first, let us dive into some of the top crypto gainers today.
Zilliqa Price Closes in On a Potential 55% Triangle Breakout
Zilliqa price is up only 2% on the day but there is much more to this token investors could pay attention to going into the new week. ZIL's bulls have asserted their control since the beginning of the year, but even with their aggressive push, resistance at $0.35 remains the biggest bottleneck.
Meanwhile, Zilliqa's technical outlook is improving, although gradually, with bulls looking at a plausible 55% move to $0.054, following the formation of an ascending triangle.
As observed on the daily chart, the seller congestion at $0.35 coincides with the triangle pattern's x-axis, which must be weakened—and eventually broken for ZIL to achieve the 55% breakout target to $0.054.
Despite the seemingly bullish outlook traders may want to wait until Zilliqa steps above the x-axis before activating their buy orders.
ZIL's position above all the applied major moving averages, starting with the 100-day Exponential Moving Average (EMA) (line in blue), the 50-day EMA (line in red) and the 200-day EMA (line in purple) implies bulls have the upper hand at the moment.
That said, keeping the price above $0.3 or the 200-day EMA could have an immediate positive impact on the expected bullish outcome.
Zilliqa announced on April 21 that it will be implementing the Ethereum Virtual Machine (EVM) compatibility on the mainnet on April 25, 2023, to boost adoption and ecosystem.
"This will add native support for Solidity apps, making it easier than ever to build on the low-fee, high-throughput Zilliqa network and use popular wallets like MetaMask with native ZIL tokens," Zilliqa said via a blog post.
In addition, the platform's developers are actively working on the next software upgrade, Zilliqa 2.0. This, combined with the implementation of the EVM, is creating the right conditions for a Zilliqa price rally.
Therefore, it would be prudent to keep ZIL on the watchlist as the 55% forecast to $0.054 seems extremely conservative.
Bulls Fight to Keep Binance Coin $320 Support Intact
Binance Coin (BNB) price is slightly in the green, and painting a bullish picture on the daily chart, but for the uptrend to continue, some conditions will have to be met. For that reason, BNB is among the coins InsideBotcoins.com is highlighting today.
Fundamentally, BNB is one of the strongest assets among the top ten cryptos, with over $1 billion in trading volume coming in over the last 24 hours. Unlike Bitcoin and Ethereum, the two assets driving the narrative in the market, BNB lost only 2.4% of its value over the last seven days and 0.9% in 30 days.
Its immediate support on the daily chart is provided by the 50-day EMA (line in red) at $318 while BNB trades at $321. If this support holds, bulls will have a better shot at resuming the uptrend above $350 for gains targeting $400.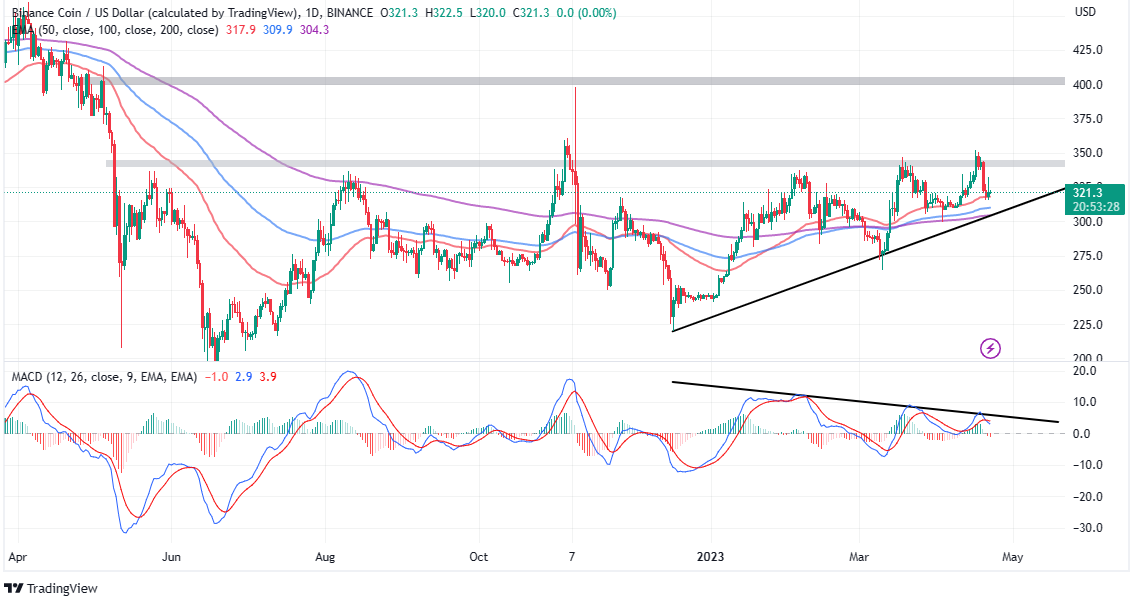 However, bulls must play their cards carefully this week, keeping in mind a sell signal present with the Moving Average Convergence Divergence (MACD) indicator dropping to the mean line at 0.00.
It's worth noting the MACD has been on a persistent gradual downward slope since November in the heat of the FTX implosion, just after the price spiked almost reaching $400. As the MACD creates a bearish divergence with the price, it might impede the expected uptrend in the long term.
On the bright side, support at $320 and subsequently at $300 could allow bulls to arrest the potential declines, thereby upholding BNB's bullish outlook since January.
Moving forward, Binance Coin price needs to break and hold above $350 to affirm the bulls' presence in the market for the next uptick to $400.
Love Hate Inu – Allowing You to Vote Hot Topics and Earn LHINU
Love Hate Inu, an innovative dog-meme-based social media platform, is set to revolutionize online polling with its groundbreaking stake-to-vote and vote-to-earn blockchain technology.
Expected to become a sensation in 2023, analysts at InsideBitcoins.com have ranked it as the best crypto presale opportunity of the year.
Users can participate in discussions and vote on hotly debated topics involving influential figures like Elon Musk, Cristiano Ronaldo, and Donald Trump, among others.
The much-hyped meme ecosystem, powered by Love Hate Inu's LHINU token, is hosting a free off-chain voting contest, giving participants a chance to win $10,000 by voting on whether they love or hate Andrew Tate.
To join, simply visit the Love Hate Inu homepage and follow the instructions under the "Vote for a Chance to Win $10,000" section.
Cast your vote in the 1st #LoveHateInu poll and you could be the lucky winner!🤑🔥

Join in for a chance to win $10,000!💸🗳️🚨

The process is very simple – decide Love or Hate on #AndrewAltTateInu, provide your email address and you're good to go!🤑#AltCoins #MemeCoins

— Love Hate Inu (@LoveHateInu) April 21, 2023
As LHINU token holders, users can stake their tokens for a share of the vote in each poll while being financially rewarded for their participation – a feature that has earned the platform the "vote-to-earn" label.
Poll creators will provide these rewards, and the more tokens users stake with longer vesting periods, the more voting power they will receive.
Investors have been assured that the platform won't be plagued by bots. To cast a vote, individuals will have to have staked a minimum of LHINU for 30 days, making it challenging and expensive for spam bots and vote manipulation to gain control.
Love Hate Inu has already had a very successful presale a few months after its debut, raising more than $5.3 million.
Stage 7 of the presale is imminent, and the organization is likely to meet the $10 million objective in the coming months. However, those interested must hurry as the token price in the presale will increase to $0.000135 from the current $0.000135.
DeeLance: A Crypto Solution for the Rapidly Growing Freelance Gig Market
The growing trend of freelancing has triggered countless career changes, with varying outcomes as some individuals face difficulties in finding work, occasion by unending layoffs as companies try to cut costs.
To address this challenge, job seekers turn to several online platforms which bridge the gap between businesses and freelancers globally.
Nevertheless, these platforms fail to satisfy the requirements of both recruiters and freelancers, as they are compelled to give up a substantial portion of their earnings, sometimes as much as 30%.
Marketplaces such as Fiverr and Upwork frequently impose hefty fees, delay payments, and endorse inferior services.
However, the introduction of DeeLance, a cutting-edge blockchain-based platform, is set to revolutionize the freelancing and recruitment industries.
DeeLance is a revolutionary decentralized ecosystem that serves as the Web3 alternative to platforms like Upwork and Fiverr. Developed by an innovative team, this project aims to transform the way recruiters collaborate and find global talent.
Hey DeeLancers, exciting news! ✨

Deelance has been featured on Inside Bitcoin, have a look at the article:

🔗 https://t.co/Cno5y5Nl0e

Don't forget to grab some $DLANCE from #Presale ⤵️🚀💰 https://t.co/XHnTqVzMLN#crypto #Metaverse pic.twitter.com/WbRT2E7hBt

— DeeLance (@deelance_com) April 19, 2023
Built on a secure, open source blockchain framework, DeeLance allows freelancers to quickly apply for jobs while enabling employers to find skilled professionals according to predefined measures.
This efficient process minimizes the time wasted during the job search for freelancers.
Additionally, DeeLance implements a unique non-fungible token (NFT) system, ensuring freelancers maintain ownership of their work until they receive payment.
NFTs are distinctive digital tokens representing ownership of assets and can be securely transferred between parties.
By tokenizing their tasks, freelancers need only transfer the NFTs once they receive payment. DeeLance also utilizes the popular metaverse concept, fueled by NFTs, which allows users to engage and work in a virtual reality environment using digital avatars.
Unlike Web2 freelance marketplaces that pocket a huge portion of earnings made by freelancers, individuals on DeeLance pay only a fifth of the client fees to access the platform.
The entire DeeLance ecosystem is powered by the $DLANCE token. Since its launch a month ago, the $DLANCE token has garnered significant attention from investors. This ERC-20 token has already raised more than $326,000 during its initial presale stage.
Arbitrum Bulls Face Their Biggest Threat Yet in April
Arbitrum (ARB) bulls are seeking an escape after a week-long battering from the bears. As reported earlier in the week, the proposal to have the Arbitrum Foundation return roughly $1 billion to the DAO flopped massively, but an interesting thing happened, ARB price rallied from support at $1.2 to its highest level in April at $1.8.
Profit booking and the dilapidated market conditions, occasioned by Bitcoin's return below $30,000 dampened the bullish move. ARB retreated to $1.4, seeking a fresh sweep at liquidity to build momentum for the resumption of the uptrend, which investors hope will elevate the token above $10.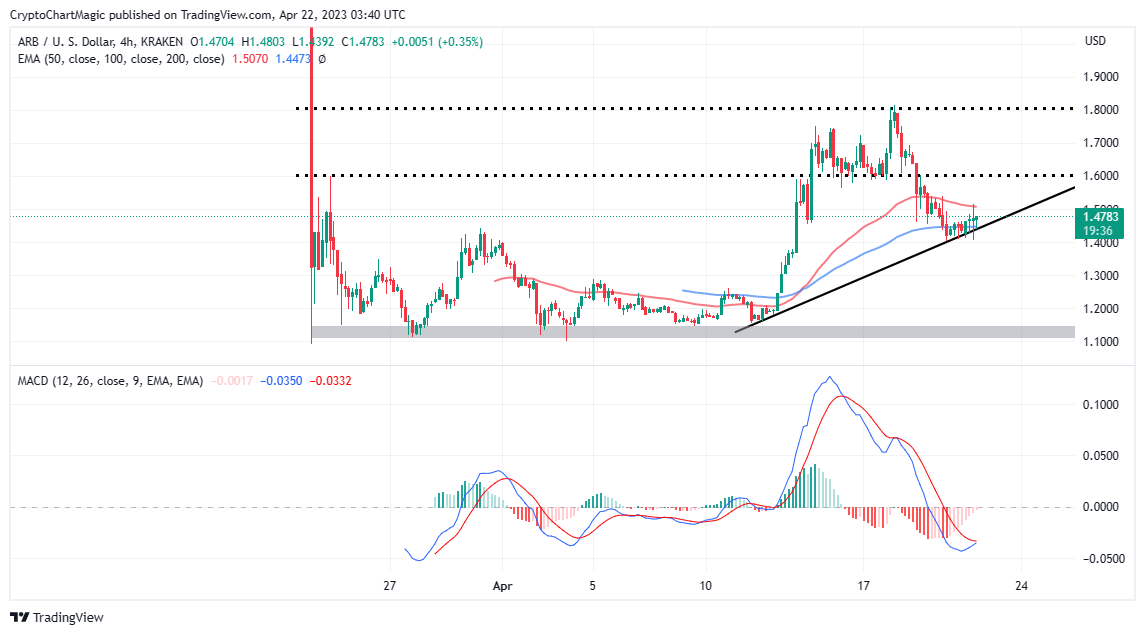 Arbitrum is trading at $1.47 on Saturday, up 1.7% in 24 hours after rebounding from support at $1.4. Also supporting ARB is a crucial ascending trendline and the 100-day EMA (line in blue).
Bulls must uphold support at $1.4 to dampen the selling pressure, otherwise, investors would be staring at an extended drop to $1.3 and $1.2 levels, respectively.
A buy signal may come into the picture in the upcoming sessions from the MACD. The call to buyers to fill their ARB bags will manifest as the MACD line in blue crosses above the signal line in red.
A break above the 50-day EMA (immediate resistance) could be ARB's ticket from the glaring declines. Day traders would be targeting $1.6 and $1.8 for buy orders activated above the 50-day EMA.
On the other hand, a break and hold below the trendline and support at $1.4 could increase capitulations with losses to $1.3 and $1.2 becoming apparent.
Ecoterra – Promoting Sustainable Behavior Change Toward Recycling
The international voluntary carbon credit market, currently worth over $2 billion, is anticipated to experience significant growth as companies look to compensate for their emissions while adopting more eco-friendly practices.
By 2030, consultancy McKinsey & Co. predicts the market could soar to an astonishing $50 billion.
To address this growing demand, Ecoterra offers a solution that melds environmental accountability with the benefits of blockchain technology.
As the eco-investing trend gains momentum, Ecoterra, a blockchain-based recycle2earn application, raised $2.1 million during the initial three weeks of its cryptocurrency presale, drawing interest from both green-minded investors and crypto enthusiasts.
Potential investors have a narrow time frame to take advantage of the current low presale price. With only eight days left in the ongoing Stage 4 of the presale and $350,000 to be raised, this stage is predicted to sell out well ahead of the deadline.
The presale pace has been averaging roughly $200,000 daily, indicating that Stage 4 may wrap up over the weekend.
As a result, the token price would increase from $0.00625 to $0.0070 in Stage 5, reflecting a 12% unrealized gain.
Want to make a difference and help reduce your carbon footprint? ♻️🌍

Join our #Presale and learn about how $ECOTERRA tokens can support low-carbon initiatives, especially recycling 🌱🔄

Let's work together towards a sustainable future!https://t.co/1fYkPOsPYG pic.twitter.com/lNKTokS3XW

— ecoterra (@ecoterraio) April 20, 2023
Ecoterra's platform introduces a distinctive approach to eco-friendly investment by leveraging non-fungible tokens (NFTs) and crypto to reward environmental actions.
These NFTs symbolize the various green initiatives carried out by individuals or businesses, which are trackable and contribute to their respective impact profiles.
By incorporating NFT technology, Ecoterra successfully turns environmental undertakings, such as tree planting or plastic removal, into valuable commodities, thereby promoting greater involvement in these crucial endeavors.
Bitcoin SV Price At A Crossroads – Here's What Could Happen Next
Bitcoin SV (BSV) price is relatively unchanged in 24 hours but that is not its biggest concern moving forward. Realize that BSV lost crucial support at $35 after its uptick in March lost momentum at $37.50, which put more pressure on the subsequent buyer congestion at $32.
Although bulls mitigated the situation at $32, with an immediate rebound to $35, BSV is still not strong enough to sustain an uptrend, hence its current market value at $34.84.
Based on the outlook of the MACD a bearish outcome is likely and bulls must once again gather at $32 to prevent losses from stretching below $30—a move that could quickly retest support at $25.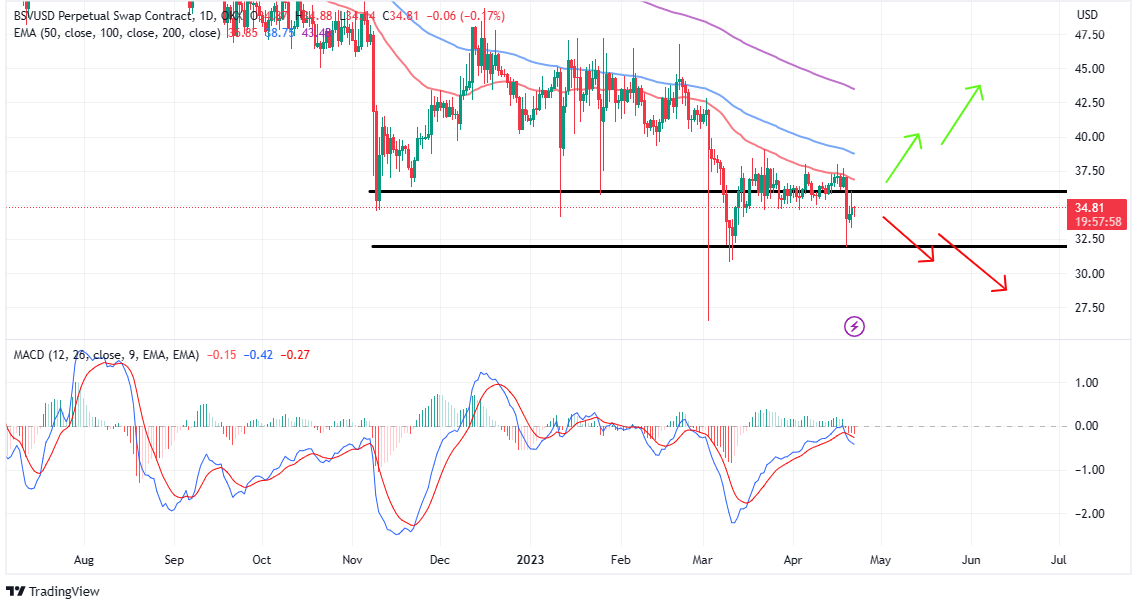 On the other hand, BSV could affirm its bullish position if bulls reclaim support at $35. This also requires a break and hold above two important moving averages; the 50-day EMA at $36.85 and the 100-day EMA at $38.85.
If bulls assert their control for a move above those key levels, BSV could be looking at a possible upswing to $45 in the short term.
Related Articles:
Love Hate Inu – Newest Meme Coin
Decentralized Polling – Vote to Earn
Early Access Presale Live Now
Ethereum Chain
Featured in Yahoo Finance
Mint Memes of Survey Results as NFTs
Staking Rewards
Viral Potential, Growing Community
Join Our Telegram channel to stay up to date on breaking news coverage