Top Crypto Gainers Today, April 14
Join Our Telegram channel to stay up to date on breaking news coverage
The crypto market is on a green trajectory as it hits a ground-breaking $1.28 trillion market cap, indicating potential opportunities for global investors.
Considering the permeates of digital assets in circulation, deciding on the best crypto projects to purchase is challenging. Research metrics such as project concepts, fundamental analysis, current market capitalizations, and more will be required to select the best cryptocurrency to purchase.
The hike in interest rates and the downtrend of the U.S. stock market has also propelled concerns for traditional equity investors and the overall digital asset market.
Nevertheless, a few tokens have shown bullish potential, recording two-digit percentage returns in the last 24 hours.
In this article, we explored the seven top gainers in the crypto space and a few promising projects yet to launch on exchanges.
Arbitrum ($ARB)
Kicking off our list of the top crypto gainers for today is Arbitrum's native token, $ARB.
The Ethereum ecosystem is renowned for its decentralized applications (dApps) capabilities which have soared in adoption.
However, the exponential adoption rate has caused several challenges, such as expensive transaction fees (gas fees), low throughput, and complex user experience.
Arbitrum comes into the block to enhance the Ethereum ecosystem in terms of scalability, high transaction execution costs, and dynamic user experience for all users.
The innovative project provides a seamless hub where developers can connect to the versatile and advanced Ethereum Virtual Machine (EVM) contracts, execute transactions seamlessly, and still have access to the optimal security of Ethereum's layer-1 chain.
At its core, Arbitrum addresses all shortcomings of the current Ethereum system.
Due to its versatile utility, the Arbitrum project and its utility token, $ARB, have piqued interest from global developers, crypto enthusiasts, and investors.
As of press time, $ARB trades at $1.52 per token. The Ethereum-like token has recorded a whopping 23.81% increase and an astounding $2 billion in trading volume in the last 24 hours.
This development indicates the potential gains of the Arbitrum project, with global investors locking into the fast-rising token.
$ARB has a circulating supply of 1.2 billion tokens and ranks as the 35th biggest crypto with a market cap of $1.9 billion.
Based on technical analysis, the Arbitrum project is bullish, with the 200-day and 50-day simple moving average (SMA) indicating a bullish signal.
The relative strength index (RSI) sits at 63.32, indicating that the $ARB token is nearing an overbought zone and will continue to surge in price.
Aptos ($APTOS)
Aptos is a layer-1 blockchain deployed on a unique Rust-based programming language called, Move. The platform embeds the same utility of Arbitrum, ranging from a fast execution engine, industry-best security features, and low transaction costs.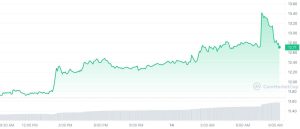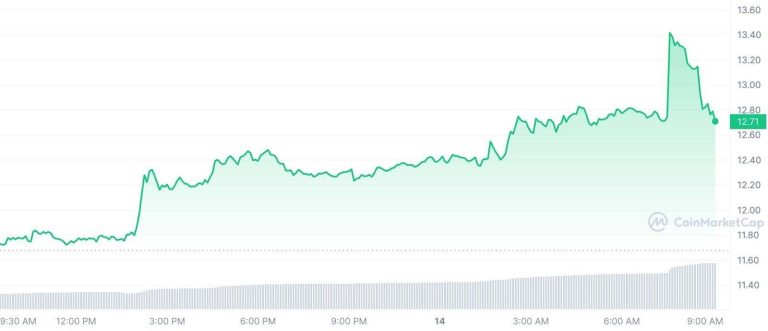 The impeccable platform is generating massive buzz in the crypto space due to its intriguing fundamental history. The project is built on the Diem blockchain initiative (from Meta), which was abandoned after a while.
Nevertheless, Aptos aims to focus on Diem's original goal of creating a seamless hub that provides developers with scalable and fast blockchain networks.
As it navigates through growth tiers, the Rust-based ecosystem asserts to embed additional features to provide crypto assets to average users.
Traders and investors looking for great crypto projects to lock into should consider Aptos, a promising option that has created a buzz in the market.
The versatile platform proposed features and utility is gaining ground among diverse crypto communities.
At press time, the $APT token trades at $12.71, with a 24-hour trading volume of $603 million. According to CoinMarketCap, the token soared up to 9.46% in price value in the last 24 hours.
Currently ranked as the 30th largest crypto, Aptos has a market cap of $2.3 billion and a circulating supply of 186 million $APT tokens.
According to today's technical analysis, $APT trades above the 50-day and 200-day simple moving averages (SMA). The relative strength index (RSI) oscillator is 57.94, indicating a neutral position.
Love Hate Inu ($LHINU)
Love Hate Inu is an exciting meme sensation that asserts to follow the steps of its predecessors' memorable bullish run in regards to Dogecoin and Shiba Inu.
Before the advent of Love Hate Inu, the meme genre in the crypto space thrived through media hype and lacked a high level of utility, which often triggered their short-live span.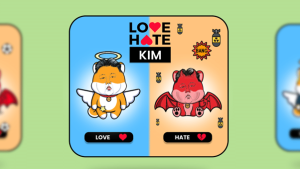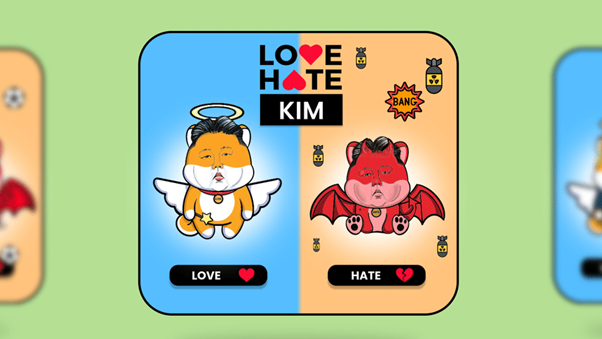 Backed by the Ethereum blockchain, Love Hate Inu enters the crypto sphere with a versatile vote-to-earn (V2E) model that enables individuals to share their opinions on polls and surveys and earn crypto rewards and merchandise from brands.
Unlike traditional voting systems, the meme sensation uses the Ethereum blockchain to guarantee transparency, legitimacy, and tamper-proof voting and results on various polls.
Good morning #LoveHateInu Crew!☀️🐶❤️💔

Great news to start the day! 🎉

We have reached $4M in our #Presale raise!💰💰💰

Thank you to all $LHINU Voters, Viewers and future Creators!🙏🏼👀🎬

Join the community today and start voting!🌟🗳️https://t.co/Pu2Bo8WOUy#AltCoins pic.twitter.com/kPn2hVBw3L

— Love Hate Inu (@LoveHateInu) April 14, 2023
Due to its genuity, crypto experts have tipped the meme project to attract a spate of institutional investors in the form of brands, companies, and sectors keen on achieving a transparent voting and result exercise.
Participants are rewarded with the platform's native token, $LHINU, merchandise, products, or non-fungible tokens (NFTS) of brands for sharing their opinions on designated surveys.
The $LHINU token is yet to be listed on exchanges. However, traders and investors can purchase the meme token via presale at a discount price of $0.000115 USDT per token.
Since its presale debut, the meme sensation has raised over $4.1 million via early investors.
Surging to be the hottest meme crypto of 2023, Investors with oversight for massive high investment returns must purchase the digital asset before its price increases.
DeeLance ($DLANCE)
DeeLance's native token, $DLANCE, takes the No.4 spotlight as the top crypto gainer for today due to its vast tractions in presale and proposed features. 
As accustomed by several blockchain projects, DeeLance disrupts one of the most conventional sectors that act as a player in the global economy: the recruitment industry.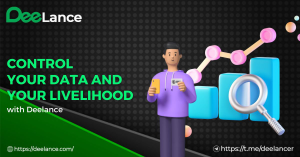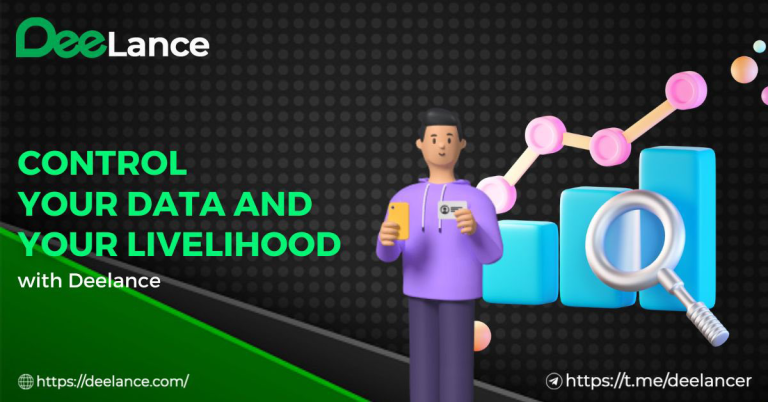 Making its debut over a week ago, DeeLance is an open-source chain that provides a seamless recruitment and freelance marketplace.
This cutting-edge platform allows employers and creatives can connect, interact in the metaverse, and exchange services.
Hey DeeLancers! 🧑‍💻$DLANCE presale is live – don't miss out! 🔥

Hold $DLANCE tokens to access discounts on gig deals, pay for transaction fees in the #NFT marketplace, & mint, buy or sell NFTs like a pro!💥🎉

Secure your spot, Buy $DLANCE now!👇https://t.co/XHnTqVzMLN pic.twitter.com/E7tEAMvPlx

— DeeLance (@deelance_com) April 13, 2023
Users can tokenize their tasks as non-fungible tokens (NFTs) to show full ownership. However, this is transferred to employers when agreed payments are released.
Even better, the DeeLance metaverse world is exciting and immersive – recruiters and freelancers can collaborate via customized NFT avatars.
In the metaverse, employers can build offices and host meetings and interviews to choose the right candidate.
On the other hand, freelancers can advertise their portfolios via the metaverse to attract potential investors and earn financial ventures for every task completed.
DeeLance aims to leverage the NFT technology and metaverse to provide a cost-efficient and commercial venture-driven workspace that benefits employers and freelancers.
Furthermore, its native token, $DLANCE, has emerged as the newest star of the decentralized project ecosystem, indicating strong interest through its ongoing presale.
The metaverse token is priced at $0.025 USDT and has raised an impressive $128,000 in just a few weeks.
Value-driven investors can purchase the token at its low rate price before the price increases to $0.029 USDT in two days.
Optimism ($OP)
Optimism, a dynamic layer-2 project, ranks today's fifth gainer based on its scaling features centered around the Ethereum ecosystem.
Like Arbitrum and Aptos, Optimism is another scaling project geared towards solving Ethereum scalability and high transaction execution problems.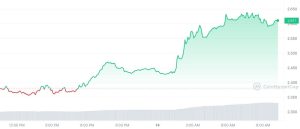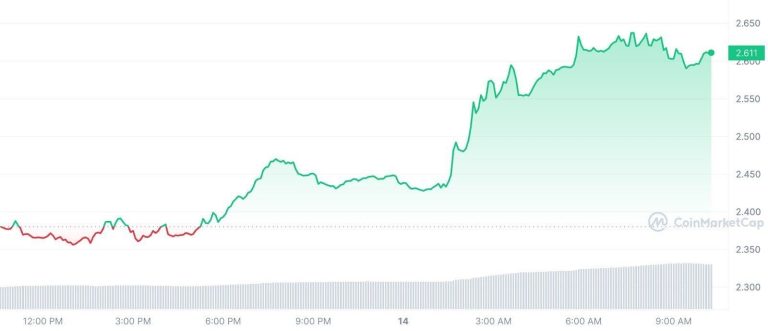 Although other popular projects, tagged as "Ethereum Killers," have emerged to solve this issue, they operate on separate blockchains known as layer-1 as Ethereum.
The Ethereum ecosystem has come up with layer-2s due to their seamless compatibility with its mainnet.
The Optimism layer-2 platform is powered by "Optimism rollups," which break large transaction data into smaller batches that get processed faster.
Its ecosystem also provides users with low costs on Ethereum, growing exponentially in popularity and seamless compatibility with EVM.
The Optimism token, $OP, trades at $2.61, a 9.95% increase in price value in 24 hours. The token has also recorded $246 million in trading volume in the last 24 hours.
The layer-2 token has a circulating supply of 314 million and ranks as the 63rd biggest digital asset with a market cap of $821 million.
Technical analysis of $OP signals a bullish trajectory. The innovative asset trades above the 200-day and 50-day simple moving averages (SMAs).
The relative strength index (RSI) value is 61.54. This shows $OP is fast rising and is set to reach the overbought zone, which will trigger a further increase.
Ecoterra ($ECOTERRA)
According to research, the best crypto projects incorporate a stellar solution to industry problems.
One such is ecoterra, a decentralized platform that aims to provide an eco-friendly environment to everyone.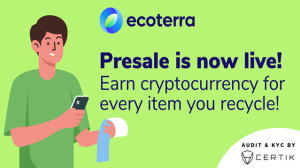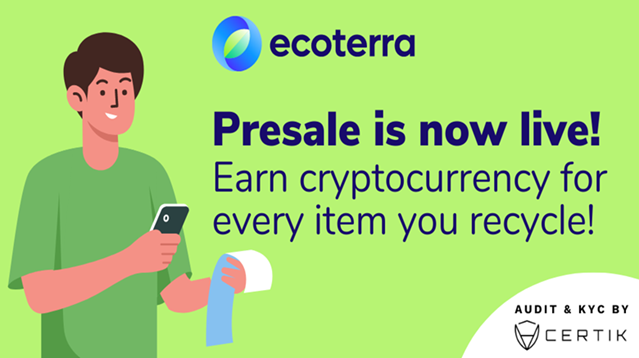 The issue of climate change is one of the most talked about topics in the world due to growing concerns about the fast-paced degradement caused by fossil fuel and poor waste management.
Ecoterra solves this issue via its versatile recycle-to-earn (R2E), which motivates individuals via crypto incentives to recycle plastic, glass bottles, and cans.
The platform offers users a lifeline to impact their community via recycling. Users are required to gather waste products and scan them via the ecoterra app to earn $ECOTERRA tokens.
This development will positively impact global warming and propel a green environment for everyone.
The project has placed its native token on presale, which has so far raised a stunning $771,000 in investment, making it the best eco-geared projects users can lock into and impact the world.
Interested investors can purchase 1 $ECOTERRA for $0.004 USDT before the price increase to $0.00475 in four days.
WOO Network ($WOO)
Rounding up our list of best crypto gainers today is the WOO Network's native token, $WOO. This dynamic platform offers centralized finance (CeFi) and decentralized finance (DeFi) protocols to facilitate high liquidity for various crypto market participants.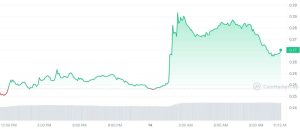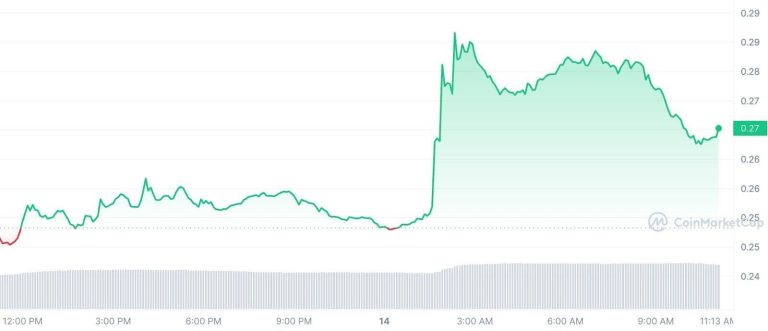 The stellar project provides exchanges, institutions, traders, and DeFi-based platforms full access to steep market liquidity, low transaction cost, and throughput.
The WOO Network's vast range of utilities is centered around its native token, $WOO.
The digital asset can provide liquidity via diverse yield farming systems and can be represented as collateral to lend or borrow other cryptocurrencies.
$WOO trades at $0.027, with a 6.58% price increase and a $70.9 million trading volume in 24 hours.
The digital asset ranks as the 94th biggest crypto with a staggering live market cap of $451 million and 1 billion WOO tokens in circulating supply.
Based on technical indicators, $WOO trades above the 200-day and 50-day simple moving average (SMA) marks. The relative strength index (RSI) momentum oscillator sits at 69.70, signaling a bullish run.
Conclusion
In this article, we reviewed the best seven crypto gainers to invest in today, alongside their technical and fundamental analyses, a spate of utilities, and the potential to generate high returns on investments for early birds.
However, the crypto market is highly volatile. We reckon traders and investors to embark on additional research and in-depth analyses before purchasing a crypto asset.
Related News
Top Crypto Gainers Today, April 12 – RNDR, SOL, LHINU, DLANCE, STX, ECOTERRA, INJ
Top Crypto Gainers Today, April 13 – NEAR, WOO, LHINU, DLANCE, IMX, ECOTERRA, ICP
Biggest Crypto Gainers Today, April 10 – STX, MASK, LHINU, DLANCE, METRO, ECOTERRA, TARO
Love Hate Inu – Newest Meme Coin
Decentralized Polling – Vote to Earn
Early Access Presale Live Now
Ethereum Chain
Featured in Yahoo Finance
Mint Memes of Survey Results as NFTs
Staking Rewards
Viral Potential, Growing Community
Join Our Telegram channel to stay up to date on breaking news coverage