Top Crypto Gainers on 5 August – GMX, OP, And SHIB
Join Our Telegram channel to stay up to date on breaking news coverage
The global crypto market shows signs of volatility but is still above $1.2 trillion. Also, Bitcoin's dominance remains above 46%, as other altcoins seem to align with its price.
Generally, the market is highly volatile and reacts to certain activities, causing a downtrend or price spike.However, most tokens benefit from progressive developments within their ecosystem to rally and record price gains.
Today's top gainers rely on a thriving community to push their progress.Keep reading to learn about these tokens and their price outlook in the coming days.
GMX (GMX) – A leading Global DEX for Futures Trading
GMX is trading at $1.71, gaining 2.0% on its price in the past 24 hours. Also, its 7-day gain is 15.3%.For the past few months, Chaos Labs has worked diligently with GMX core contributors to research and evaluate the deployment of GMX V2.
Version 2 (V2) went live on August 3, attracting an investment of $1.2 million for its liquidity pools.The V2 co-exists with the original GMX platform and expands the list of tradable assets to include altcoins such as DOGE at lower fees than Version 1.
This will likely boost trading activity in the ecosystem and drive an increase in revenue. The V2 draws liquidity from the individual GMX market (GM) pools.
2/ The V2 launch prioritizes a safety-first approach. Our focus is tilted heavily toward optimizing for the economic security and robustness of the protocol, laying a solid foundation for the protocol's reliable growth.

Our research can be found here: https://t.co/KR6o7nbjyu

— Chaos Labs (@chaos_labs) July 26, 2023
Also, liquidity providers who lock their tokens on the GMX platform are rewarded with a share of fees from services such as trading, borrowing, and swaps.
The GM pools will include XRP. SOL, LTC, DOGE and ARB. The focus is on balancing capital efficiency with risk exposure. Also, the safety and security of the protocol remains a priority. This confirms the network's overall commitment to improvement.
These attractive rewards could spike the interest of investors in the pools, thereby positively affecting the price of GMX tokens.
Also, on July 28, GMX posted their weekly rewards information with $1.18 handed out as rewards to users.
Weekly Rewards Info 🔹

$1,189,544.74 collected in the past 7 days

$1,033,475.47 (ARB), $156,069.26 (AVAX), $7,427.37 (GMX-ETH)

To buy and stake $GMX / $GLP: https://t.co/ef4TiHI8KE pic.twitter.com/NOqSXRj6QU

— GMX 🫐 (@GMX_IO) July 28, 2023
GMX boasts a total trading volume of $141.43 million, with over 310 thousand users showing massive adoption in its ecosystem.
GMX On The Path To Recovery
GMX trades in an uptrend, forming a second consecutive green candle on the daily chart. Its movement indicates an increase in buying pressure.
However, it faces resistance from the bears at the $56.8 resistance level. The $50.0 support level is a pivot point for further price increases.
Also, the Relative Strength Index (RSI) value is 43.92 but is moving to the buy zone close to 70.Despite the positive signs, the bears remain active as GMX trades below its 50-day and 200-day Simple Moving Averages (SMA).
The Moving Average Convergence/Divergence (MACD) also shows a bearish dropping below the signal line.However, the Histogram bars fade from red, indicating a price recovery. GMX will likely see an upturn in its price if the bulls prevail to send it above the 50-day SMA.
Optimism (OP)- The Ethereum Layer-2 Scaling Solution
OP is trading at $1.72 with a slight gain of 1.1% on its price in 24 hours. Its 7-day gains stand at 15.3%.
Optimism announced a Super Hack event on August 1. This event is slated for August 4-18 and will occur virtually with several prize categories.
There is approximately $175,000 up for grabs in different categories, and registration is ongoing.
The Super Hack event is an initiative to give back to the community and will likely boost investors' interest in Optimism, thereby boosting OP's price.
Also, the developers announced the release of the Superchain Faucet on August 1. This feature enables builders to leverage on-chain reputation data and secure up to 1ETH in testnet funds daily.
Introducing the Superchain Faucet, which allows builders to leverage onchain reputation data to secure up to 1ETH in testnet funds daily.

Here's how to make this happen:https://t.co/UDh0uXLNjH

— OP Labs (@OPLabsPBC) August 1, 2023
Developers can use the testnet faucets to receive free testnet ETH to interact with smart contracts across several test networks, such as the OP Goerli.
Comparatively, most faucets don't give builders sufficient ETH to test and successfully run a project.
However, with this new feature, builders on the Optimism ecosystem have a creative solution available to grow the amount of reputation available to access this faucet.
The super chain faucet enables identity authentication for the faucet to distribute 20x more testnet ETH at once.
Introducing the Superchain Faucet, which allows builders to leverage onchain reputation data to secure up to 1ETH in testnet funds daily.

Here's how to make this happen:https://t.co/UDh0uXLNjH

— OP Labs (@OPLabsPBC) August 1, 2023
This upgrade will attract more developers to Optimism, leading to a likely price boost for OP tokens.
OP Approaches Overbought Region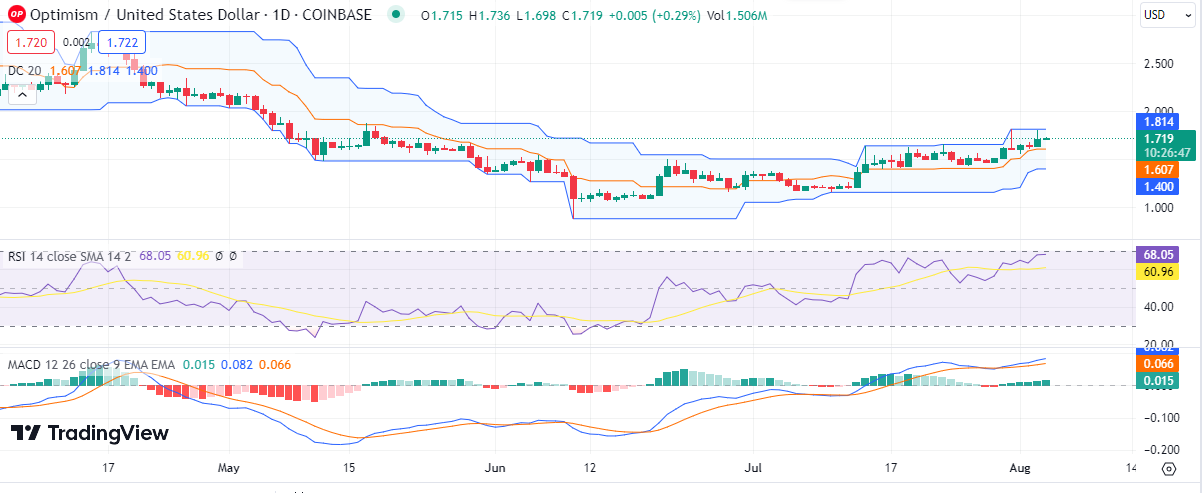 OP is in an uptrend on the daily chart, expressing a generally positive sentiment as more traders enter long positions.
It has found support at the $1.61 price level and is facing resistance from the bears at the $1.73 resistance level.
A break above this resistance level will send the asset into the overbought region, increasing its bullish momentum.
OP's trading position at the Donchian Channel (DC) upper region expresses a bullish sentiment. Also, its RSI value is rising to the overbought region with a value of 68.05, showing a strong buy signal.
The MACD is above its signal line, confirming that the bulls are in charge today. Also, the Histogram bars echo the same sentiment with its green bars as the buyers mount more pressure to break above the $1.73 resistance level.
OP will likely rise to the overbought region and maintain its price gains in the coming days.
Shiba Inu (SHIB)- The Memecoin With A Difference
SHIB is trading at $0.00000860, gaining 5% on its price in 24 hours and 10.1% in the last 7 days.
Shiba Inu developers announced the launch of a new platform called ShibariumSSI. The platform promotes the idea of Self-Sovereign Identity (SSI) and ushers in a new era of digital identity management that will empower customers with greater control over their data.
🔐 Take charge of your data and preserve your privacy with ShibariumSSI – Self-Sovereign Identity Discover the power of:

1️⃣ Self Custody2️⃣ Portability3️⃣ ZK Compliant4️⃣ Secure5️⃣ Gateway#PrivacyMatters #SummerOfShibarium pic.twitter.com/JtYZnkX04W

— Shib (@Shibtoken) August 3, 2023
Now, users have full control over their data, minimizing the chances of data abuse by third parties.Also, it is portable and enables users to carry their data across different applications with ease and without requiring constant verification.
ShibariumSSI is also Zero-Knowledge (ZK) compliant, relying on deep cryptographic techniques to ensure users reveal only required information while keeping the rest private.
The security is achieved through end-to-end encryption, securing data with cryptography. This prevents the modification of data by unauthorized parties. ShibariumSSI opens the door to Web3 integration and the Metaverse for Shiba Inu users.
Also, Elon Musk replied to a funny meme posted by the Shiba Inu developers, hinting at a thriving relationship between the businessman and Shiba Inu.
You're welcome, DMs are open btw 😉 @elonmusk #relationshib https://t.co/6WIo5rIhp3 pic.twitter.com/JZZQCqooOP

— Shib (@Shibtoken) August 3, 2023
Musk reacted to the meme, stating that he gets more amusement from the platform than anything else. Elon Musk holds incredible influence in the crypto community, likely boosting the token's visibility.
These recent activities will likely boost SHIB's price action in the coming days with its Summer of Shibarium, a much-anticipated event in the crypto community also in the pipeline.
Did someone say PARTY?! 🚀🤩

Sponsored by https://t.co/YcVn7iq005, this is an event you don't want to miss! Join thousands at an outdoor cabana party full of music, food, and drinks.

Included in your Futurist Conference ticket! 💥https://t.co/88dmFBeoI8 pic.twitter.com/gQJZaH7XoO

— Blockchain Futurist Conference (@Futurist_conf) August 2, 2023
Bulls Returns to Boost SHIB's Price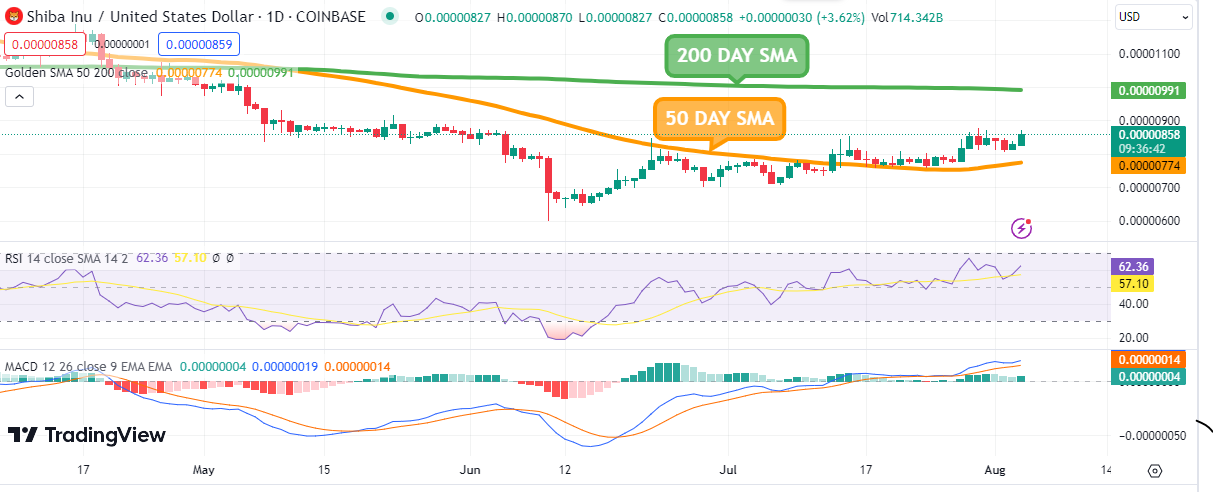 SHIB is in an uptrend on the daily chart, moving above its 50-day SMA as the bulls return to boost its price.It found support at $0.00000811, moving it to test the $0.00000874 resistance level. A break above this level will likely send SHIB on a bull run.
The RSI value is 62.36 and rises to the overbought region of 70. It implies that buyers are in control of the market.
The MACD is above its signal line, confirming the bullish trend on the chart. Also, the Histogram bars are green, hinting at a positive price outlook for the coming days.
If the bulls sustain their charge, SHIB will likely hold onto its gains in the coming days until it enters an overbought zone.
XRP20 (XRP20)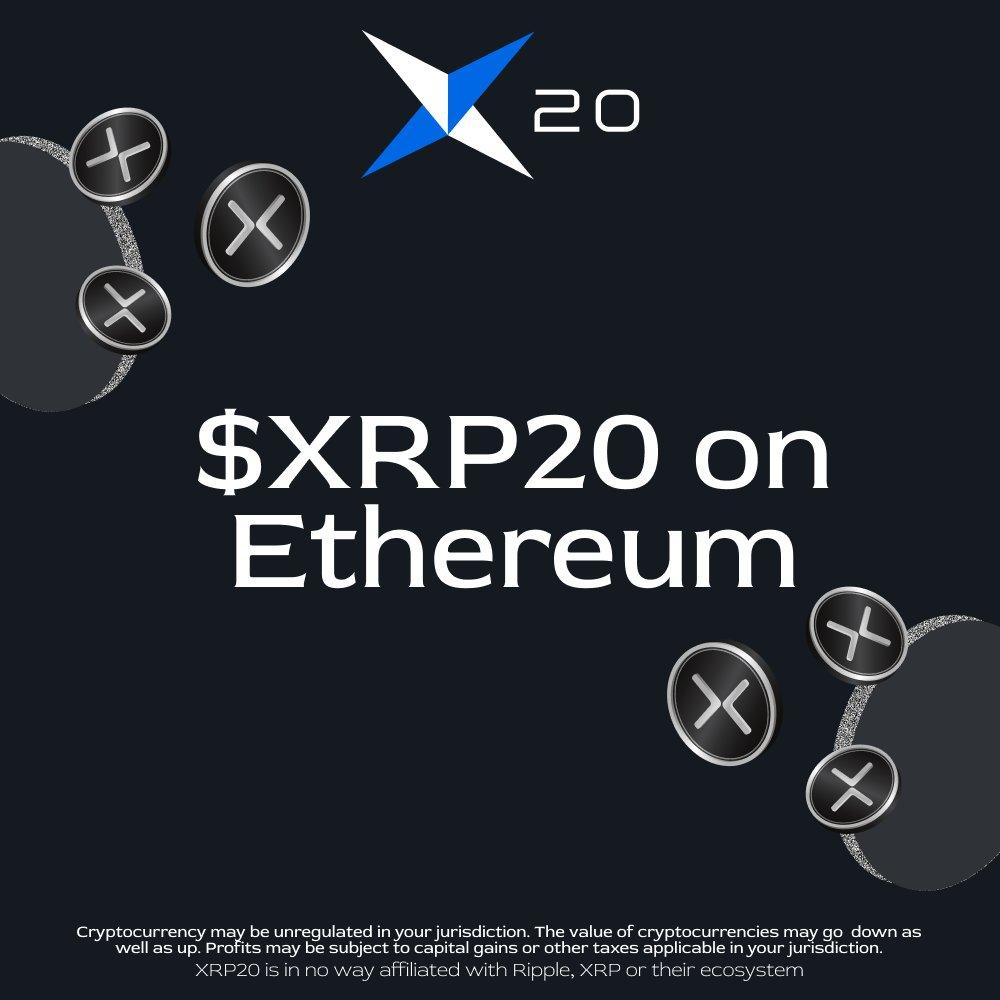 XRP20 is a new crypto project providing investors the best opportunity to join an exciting project early and earn rewards.
It is built on Ethereum, making it ERC-20 compliant and the top token standard worldwide. XRP20, despite the similarity, bears no affiliation with the original XRP project but shares the same dedication to achieving success.
Investors who might have missed out on the early rallies of Bitcoin and other top cryptocurrencies can join the next potential crypto gem.
It relies on a community-first approach to reward its investors. Consequently, it draws on the dedication of its own XRP Army to achieve its goals.
XRP2o developers hope to build a user-friendly, truly decentralized ecosystem that creates opportunities for even beginners to become crypto investors.
Unique Tokenomics Set XRP20 Apart
XRP20 is a deflationary token with a special framework to control inflation in its ecosystem. Consequently, 0.1% of every buy or sell transaction goes to a burn address, reducing the total supply over time.Token burns are essential to eliminate the excess supply of tokens and reduce their worth. Also, 10% of
XRP20 supply will go to the burn address to boost the token value.
Also, 40% is for the presale, 40% is for staking, and 10% is for Decentralized Exchange liquidity.
Staking Support
Additionally, XRP20 relies on a Proof-of-Stake (PoS) mechanism supplied by the Ethereum network, which is its parent chain.
XRP20 holders gain extra opportunities to enjoy passive income in the ecosystem, boosting the overall token value since there will be no mass sell-off events.
Interestingly, no reserved tokens exist for founders or team members, making the project non-discriminatory and providing users equal profit-making opportunities.
Ongoing Presale
XRP20's presales are ongoing, with each token worth $0.000092 at this stage, allowing investors to join the project early and maximize profit.
The presale aims for a minimum target of $1.85 million as the soft cap. It is above the $472,000 mark as more investors accumulate the tokens.
Investors can purchase these tokens with USDT or ETH using a crypto wallet to connect. The project is also making waves on social media channels, with over 600 followers on its Twitter page and a lively Telegram Channel.
Shibie (SHIBIE)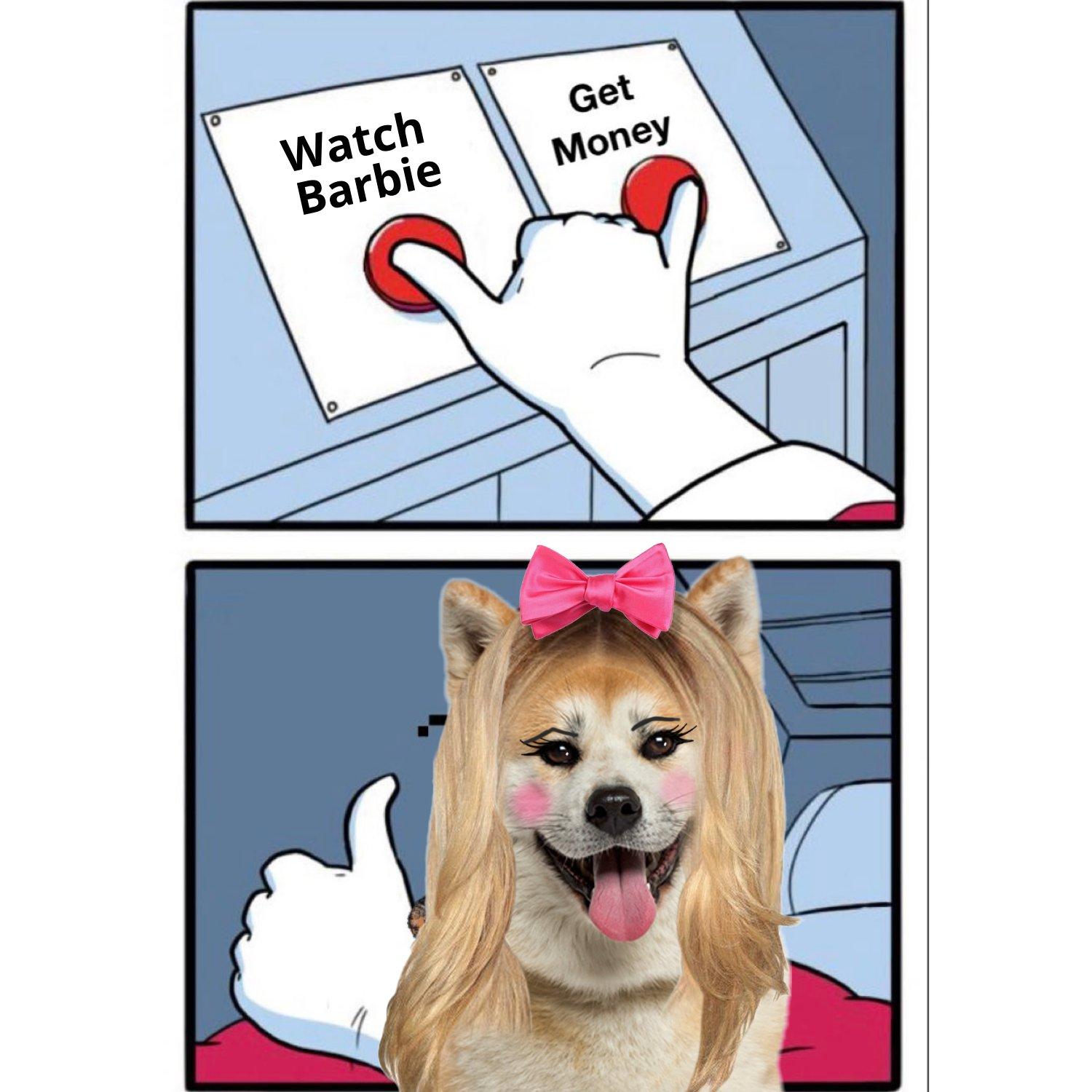 Shibie coin is the new memecoin on the block, offering investors profitable opportunities to partake in the ongoing memecoin rally.
It invokes the early success of Dogecoin and Shiba Inu and brings a classier touch to the project.Shibie is a Shiba Inu – Barbie crossbreed and the self-acclaimed queen of the crypto world. She believes in the free and fun spirit of the growing memecoin community.
Shibie combines Shiba Inu's doggedness with a Barbie doll's sassy attitude. Barbie is a popular fashion icon doll with global acclaim and a large followership based on the successful TV series and its toy franchise.
It is a community-driven token powered by interest from the people, hoping to continue the rally started by projects like $PEPE in 2023.
Based on the roadmap, it is a likely replacement for Shiba Inu-themed tokens with a touch of class and a fun community.
Shibie Presale
Shibie's total supply cap is 10 billion $SHIBIE, with 60% of this supply available for the presale.4 billion tokens (40%) are reserved for CEX listing, marketing, and as rewards for founding team members.
SHIBIE's presale is above the $99,000 mark, fast approaching its presale goal of $999,999.
1 SHIBIE token is worth $0.000167 at this stage, giving investors a real chance to accumulate the tokens at affordable rates and earn paper gains if the eventual listing increases prices.
The minimum purchase amount is 100 tokens, which are quite affordable but will likely increase in value as the presales progress.
Roadmap
Based on the whitepaper, CEX listings are next on the agenda after the presales. These listings will likely lead to a spike in the trading volume of the tokens based on the historical performance of meme coins after listing.
Also, marketing is paramount to access users across all social media channels. To boost this outreach and community interactions, the developers plan to launch an AI-powered Shibie bot on Telegram to engage users with witty and fun replies.
AI technology is one of the trending niches worldwide. Shibie's engagement with AI on a global platform like Telegram will likely boost its adoption among users in the crypto community and beyond.Despite its recent launch, its social media engagement is rising, with over 300 Twitter followers on the official Twitter handle showing rising investor interest.
Users can purchase these tokens with a secure crypto wallet connecting it to Ethereum's network. You can purchase the tokens with USDT or ETH, and Trust Wallet is best suited for mobile devices, while Meta Mask will be more effective for desktop users.
Cowabunga (COWABUNGA)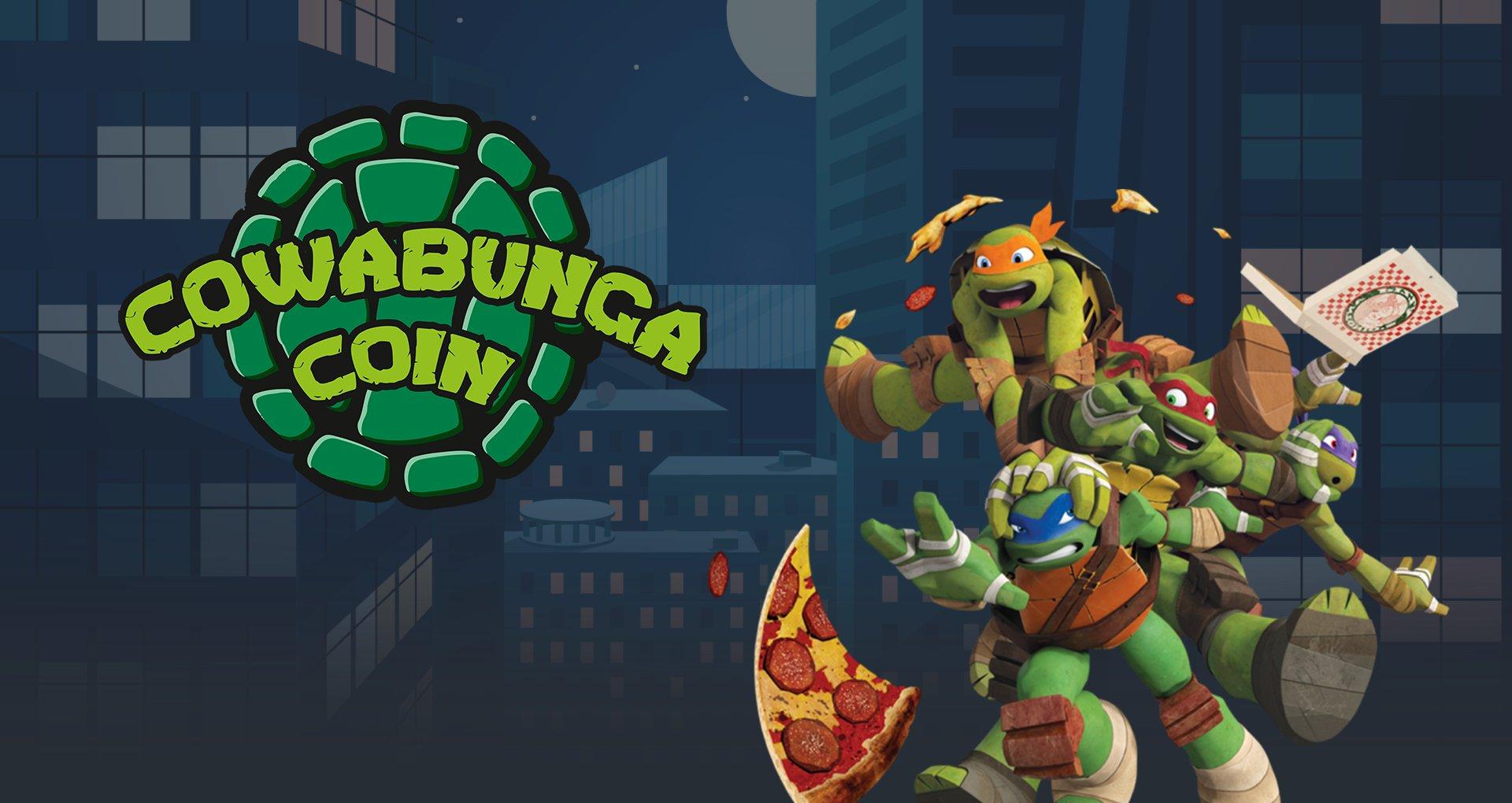 Cowabunga is a lively, action-packed crypto project inspired by the successful TV series Teenage Mutant Ninja Turtles (TMNT).
It draws inspiration from the TMNT on-air success and its massive fan base worldwide. This success inspired comic books, toys, games, and merchandise, making the program highly successful.
The crypto community now has Cowabunga bringing this exciting storyline to the markets with a strong determination to beat all odds and succeed.
Based on the ongoing memecoin rally, Cowabunga is poised to give its early token holders rewards with its exciting roadmap and tokenomics strong points for success.
The project enjoys rising social media visibility, with its Twitter and Telegram accounts gaining followers a few days after launching.
Tweets by CowabungaCoin
TMNT Structured Tokenomics Vital To Success
Cowabunga's token distribution mechanism draws inspiration from the TMNT characters. Each turtle holds a vital aspect of the project, with the total token supply pegged at 4 billion tokens.
Leonardo is the group leader, fearlessly driving the presale with 1.2 billion tokens reserved for this stage and early investors. The presales are similar to initial coin offerings (ICOs), offering low-price tokens to reward early investors.
Donatello, another TMNT ninja turtle, handles the smooth running of transactions in the ecosystem. He watches over 800 million tokens dedicated to this aspect of the project.
Michelangelo is the ecosystem's fun and community spirit mascot, with 1 billion tokens set aside for airdrops and community rewards.
These events will create a bond in the community, driving massive adoption that will eventually boost the token's price.
Next, Raphael provides a reliable defense with 600 million dedicated to the Centralized Exchange (CEX) listing.
Like the TV series, it represents the turtles' triumph against the Foot Clan, giving it a position on the major exchanges and boosting accessibility for users.
Furthermore, Casey Jones promoted the spirit of friendship and unity in this exciting project with 400 million tokens set aside for vital partnerships.
Cowabunga Coin hopes to forge exciting and noteworthy partnerships to increase global reach, driving mass adoption of $COWABUNGA TOKENS.
Presales
COWABUNGA is already in its second stage of presale, with the price of the tokens at $0.000357 per token.The presale is above the $15,500 mark out of its $500,000 target at this stage, with less than a week before another price increase follows.
$COWABUNGA can be purchased with ETH or USDT using ETH-compatible wallets like Trust Wallet or Meta Mask. Trust wallet is best for mobile users, while Meta Mask is the most suitable option for desktop users.Investors should rush in and accumulate COWABUNGA's tokens at a low price before another price increase to maximize their rewards.
Launchpad XYZ (LPX)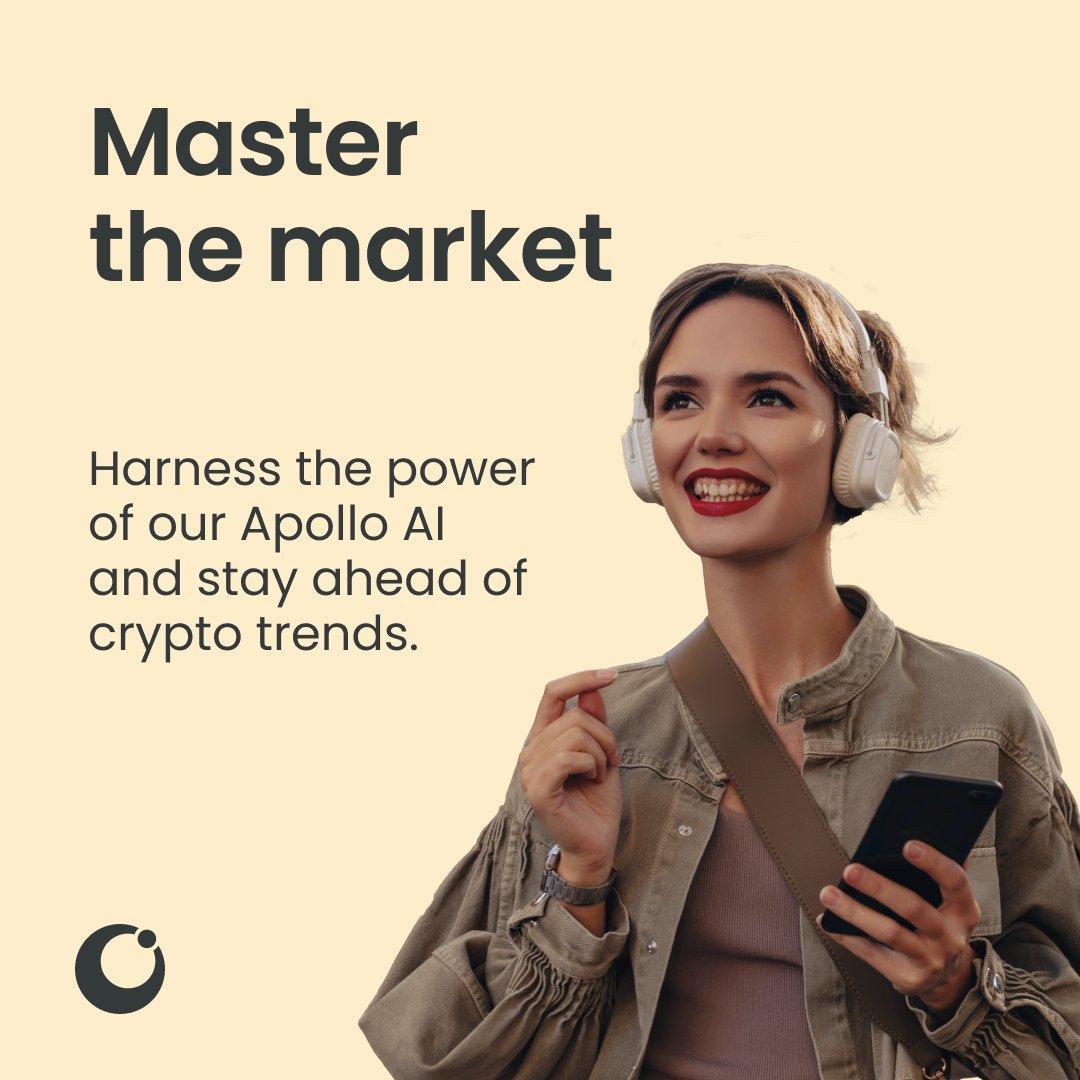 Launchpad XYZ is a trading terminal powered by the Apollo AI, providing traders with insights and signals to maximize their profits.
It relies on AI to execute its operations, creating more appeal for crypto users with its modern and reliable features.
Launchpad XYZ is driving Web3 growth and global adoption, harnessing technology while focusing on decentralization and user independence. $LPX is the native token that grants users access to the exciting benefits of the platform.
Its roadmap reveals several exciting facts, such as its focal point on launching new projects by raising capital for seed funding.
It is a highly analytical trading tool providing insights, updated news, and analysis, all in real-time, to ensure profitable trades for its users.
Crypto trading is quite competitive, with large organizations controlling the market share. Launchpad XYZ gives regular traders market insights, giving them an advantage over competing traders and robots.
The top-quality features make it one of the top presales for investors to look out for in 2023. The global focus is on AI, and the success of Launchpad XYZ presales so far shows rising investor interest in the sector, which will aid its global adoption.
Also, it offers its users a quality trade terminal, aiding users to place trades at peak market conditions to make the most profit. It executes trades at high speed, with a low margin of error for improved results.Launchpad XYZ users gain access to learning opportunities to increase their knowledge of the Web3 ecosystem and trading activities with automated insights and valuable crypto analysis.
Users get access to information regarding a token's potential from the platform's AI technology tool. It also safeguards users from low-liquidity projects and rug pulls events that occur at intervals in the crypto community.
LPX Presales
Launchpad presales are ongoing, allowing investors to accumulate the tokens at affordable rates. Each stage ushers in a price increase, providing paper rewards for stage investors. However, it is not too late to join the project, although the presales are rapidly advancing.
1LPX token is worth $0.0445 in the present stage, and the next will move the price to $0.046. The presale has crossed the $1.23 million benchmark and is fast approaching its goal of $1.55 million. Its eventual listing on exchanges will likely boost its price, leading to rewards for presale investors.
Conclusion
Some altcoins record gains in the crypto market based on developments within their ecosystem. Also, presales offer investors opportunities to join exciting projects before they list on exchanges, increasing their chances for rewards.
Although the top gainers are in the green, the crypto market remains volatile. Investors are advised to apply proper risk management techniques and never invest more than they can afford to lose.Also, proper research and technical analysis are vital in identifying potential profit opportunities.
Read More
Wall Street Memes – Next Big Crypto
Early Access Presale Live Now
Established Community of Stocks & Crypto Traders
Featured on BeInCrypto, Bitcoinist, Yahoo Finance
Rated Best Crypto to Buy Now In Meme Coin Sector
Team Behind OpenSea NFT Collection – Wall St Bulls
Tweets Replied to by Elon Musk
Join Our Telegram channel to stay up to date on breaking news coverage