Top 10 Trending Cryptocurrencies to Invest In

Join Our Telegram channel to stay up to date on breaking news coverage
With the market showing signs of recovery as Bitcoin gets close to its $25k target, people are now looking for great cryptocurrency investments. These trending cryptocurrencies defy the norms of traditional assets and deeply focus on utility which gives them the potential to have major upsides in the near future.
But which top trending cryptocurrencies should you invest in?
Top 10 Trending Cryptocurrencies
There are cryptocurrencies trending on the price charts, and there are crypto assets trending on social media and available as presales. This section will cover both these asset types and highlight why they are trending and why they matter.
1. Fight Out
Move to Earn cryptocurrencies are seeing a comeback with Fight Out. This Move-to-Earn crypto goes beyond the norms of just walking and introduces an app that tracks your every exercise, be it bodyweight training, weight training, combat training, or wellness training.
But the true essence of this project comes from the fact that it is an M2E metaverse token – combining metaverse with Move-to-Earn. Downloading the app and creating an account will reward you with a free solebound avatar, which will be your identity within the metaverse. And as you earn better health and body by completing fitness challenges, your avatar will earn REPS – the off-chain currency.
You can use REPS to upgrade your avatar or get entry into Fight Out Gyms.
Fight Out gyms are real-life gyms that will allow you to train and earn properly.
But these utilities get bigger when the main crypto of this project – FGHT – gets involved. $FGHT is an ERC-20 token that comes with many utilities in the metaverse and in the real world. By staking the FGHT token, you can gain access to multiple membership rewards and perks that you can read about in the project's official whitepaper.
Fight Out is currently undergoing its presale, and you can buy it at a discount price of 0.02343 USDT. The end of the current presale stage is getting closer, after which the price of this asset will increase. Waste no time and visit the website today to become an early mover of this M2E project.
2. C+Charge
The second one on our list is the green crypto project that aims to save the environment by increasing EV adoption. To achieve it, C+Charge is trying to sort out the current issues that plague the EV space through a unique P2P payment system that's integrated as a mobile application.

The app will allow you to find the charging costs beforehand before you land at a charging station. You will also receive information about whether a station is functional. And charging station owners can use this app to diagnose and possibly fix the issues at the stations.
And the P2P payment integration will add uniformity to the payment method. Another big perk of this system is the inclusion of carbon credits rewards through reflections.
C+Charge is another one of the leading presale cryptocurrencies on our list that you can grab at a discount price of 0.016 USDT. This presale has seven stages, and the third stage is closer to completion. Visit c-charge.io to participate and become part of this green initiative – and also become an early mover.
3. RobotEra
Sandbox was all the rage in the early days of NFT. It was able to leverage its popularity to entice a lot of brands. But 2022's crypto crash was proven to be disastrous for many NFT projects. And it didn't help that the project wasn't inclusive.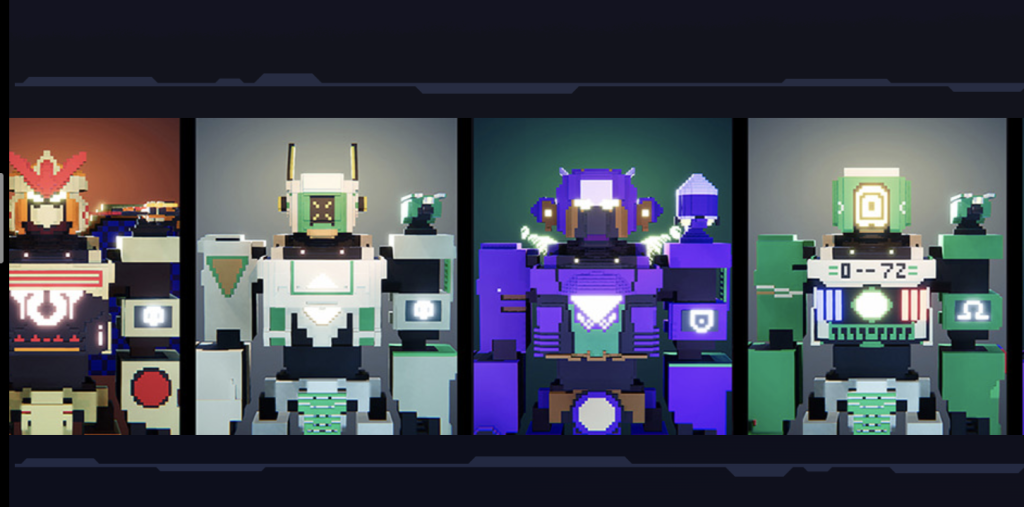 Adding that element of inclusivity is RobotEra, a cryptocurrency project where your NFT is a Robot across the planet of TARO. Your job is to explore the planet, and if you are a LAND owner, you can create your own metaverse within this metaverse.
Helping you with truly customizing your NFTs are Robot Companions – another NFT that you can create via RobotEra editor. These NFTs are tradable assets also – which makes RobotEra a truly unique project in our list.
Like our other presale projects, RobotEra has also had a great run as of late. The token has raised upwards of $900k and is getting closer to closing stage one of its presale.
This project is standing in its own league – making metaverse inclusive and more rewarding to early movers. Visit robotera.io today if you want to become part of a thriving metaverse.
3. Cosmos (ATOM)
The fourth top trending cryptocurrency is Cosmos (ATOM), a decentralized blockchain that offers interoperable solutions for multiple blockchains to work together in a parallel fashion.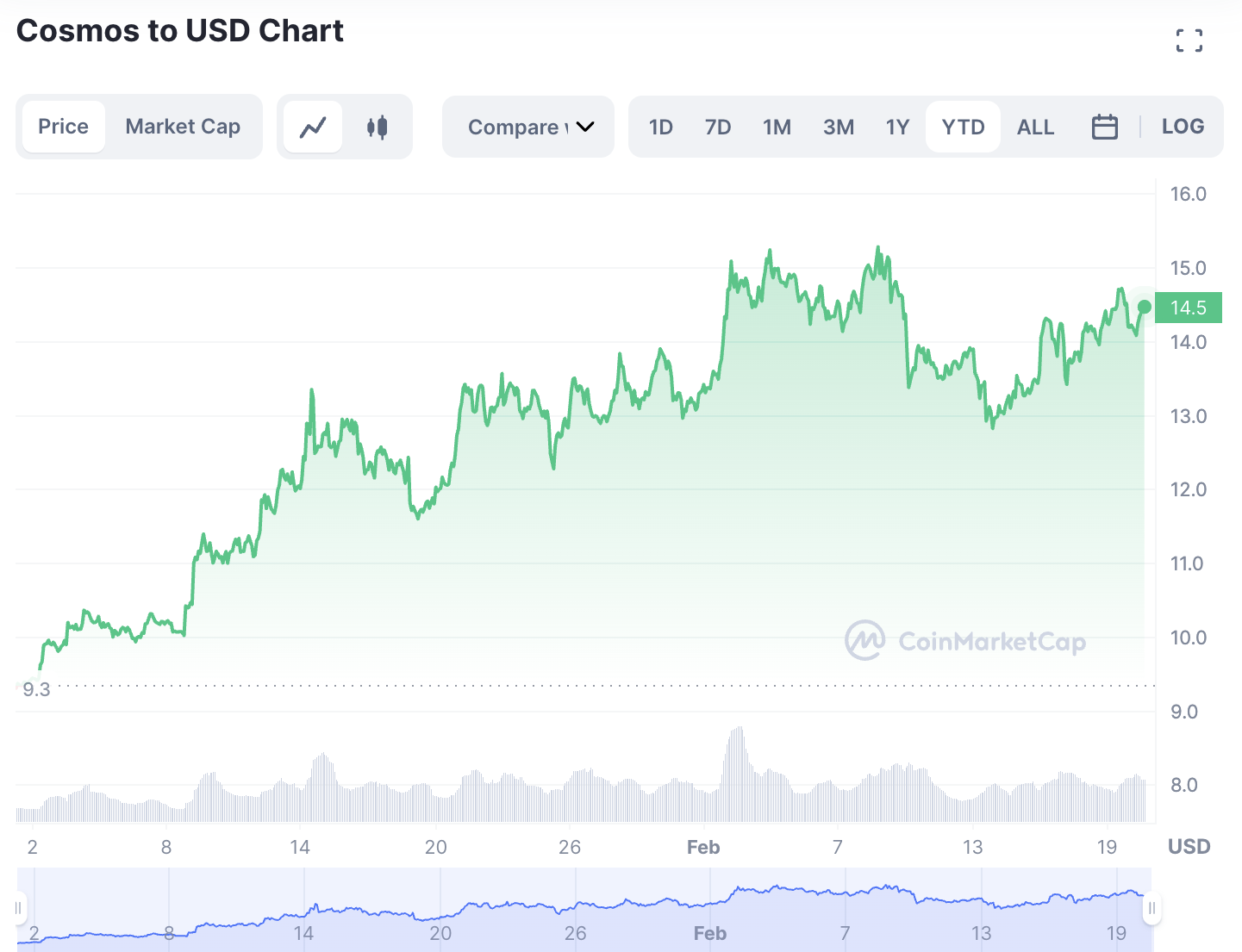 Cosmos answers a much-needed demand for crypto space – which is of true decentralization and a unified blockchain. But that can only happen if the adoption rate increases – to which end Cosmos attempts to make blockchain technology less complex and more rewarding for developers.
This asset followed the same bearish path as the rest of altcoins back in 2022, but Bitcoin's resurgence has allowed it to make a comeback. The token is up by 2.11% in the last 24 hours, with a 24-hour trading volume of $218,233,798 USD.
4. Curve DAO Token
DeFi protocols are also making a comeback, as evident by the latest price performance of Curve DAO. This automated market maker allows you to swap stablecoins – assets that have been mostly on the up and up despite the bear season.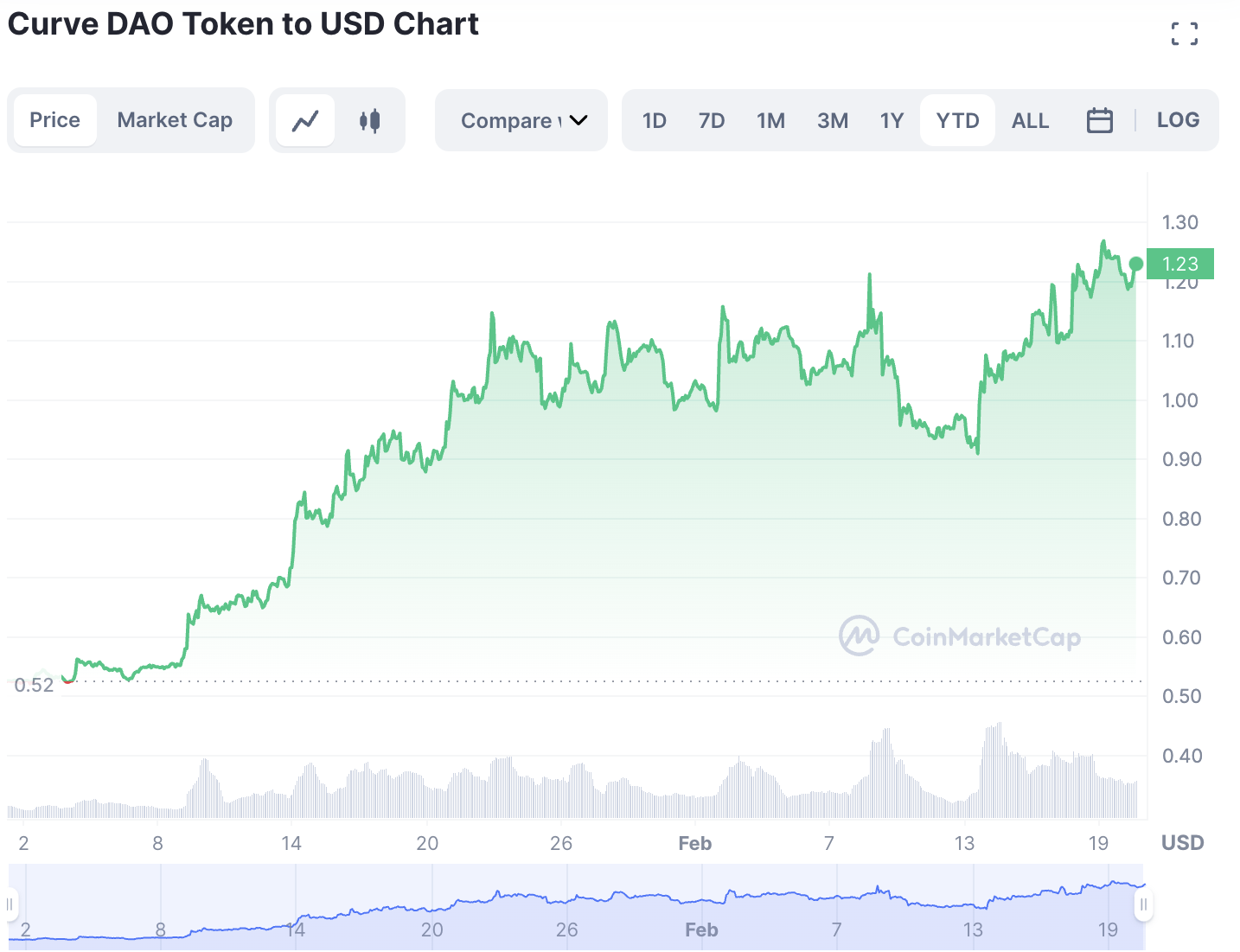 After trading in sub $1 zones for the last 2 quarters of 2022, Curve has upped in value. It is currently trading at $1.23 with a 24-hour trading volume of $119.9 million.
5. Fetch.ai
Chat GPT has changed the game for many industries, including cryptocurrency assets. AI-cryptos have been around for a while, but it's that change that has refocused people's attention toward them.
Fetch.ai is a blockchain protocol that focuses on the development of AI within a Web 3 space. The project aims to create a smart automated infrastructure for the digital economy while focusing on decentralization.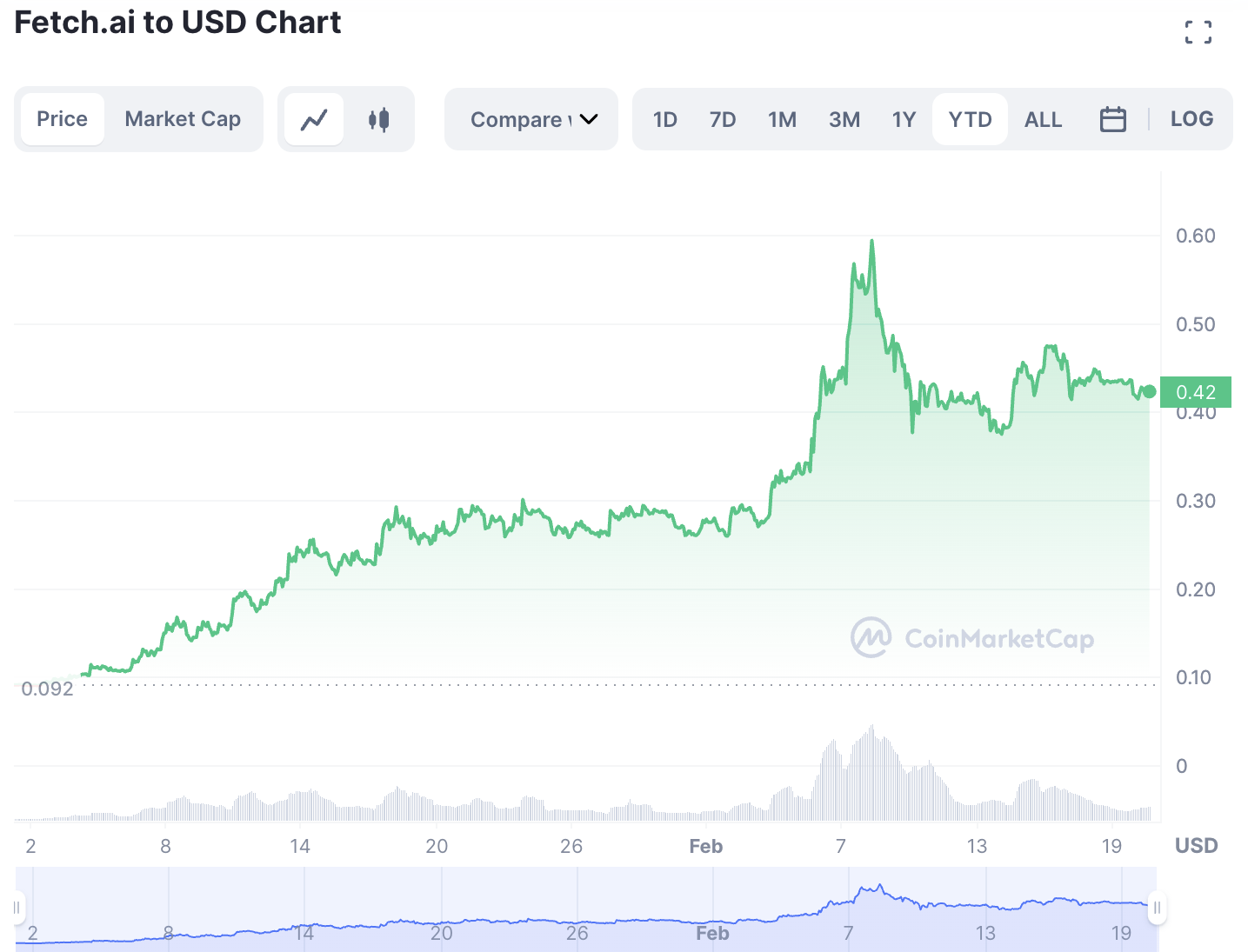 The recent uptick in BTC's price and the larger emphasis on AI cryptos have pushed FET's price since the beginning of 2023.  But since the market is still volatile, it is down by 1.73% in the last 24 hours with a 24-hour trading volume of $74.8 million.
6. Gala Games
The P2E universe is expanding, and the initial projects have Gala Games are to be thanked for it. Ever since its launch in 2020, there have been multiple games launched on Gala games – many of which were able to tackle the fun-seeking cryptocurrency crowd.
And the arrival of more P2E cryptos last year allowed Gala games to grow at the start of 2023, during which many experts, including up-and-coming YouTuber Jacob Crypto Bury, started to speculate if the bulls are back.
But this trending cryptocurrency is still trading in the volatile zones after a massive surge it received in early 2023.  GALA is up by a mere 0.70% in the last 24 hours, with a 24-hour trading volume of $250 million. While there are expectations of more bulls joining in, the current volatility isn't letting the experts see a clear picture for now.

7. Shiba Inu
The world's second-biggest memecoin has entered our list of trending cryptocurrencies once again, thanks to its efforts to become something more than a memecoin.
This memecoin project has been doing a lot to come out of its "meme"-atic shell, including launching Shibarium. Shythoshi has also confirmed the release of Shibarium by announcing the blog.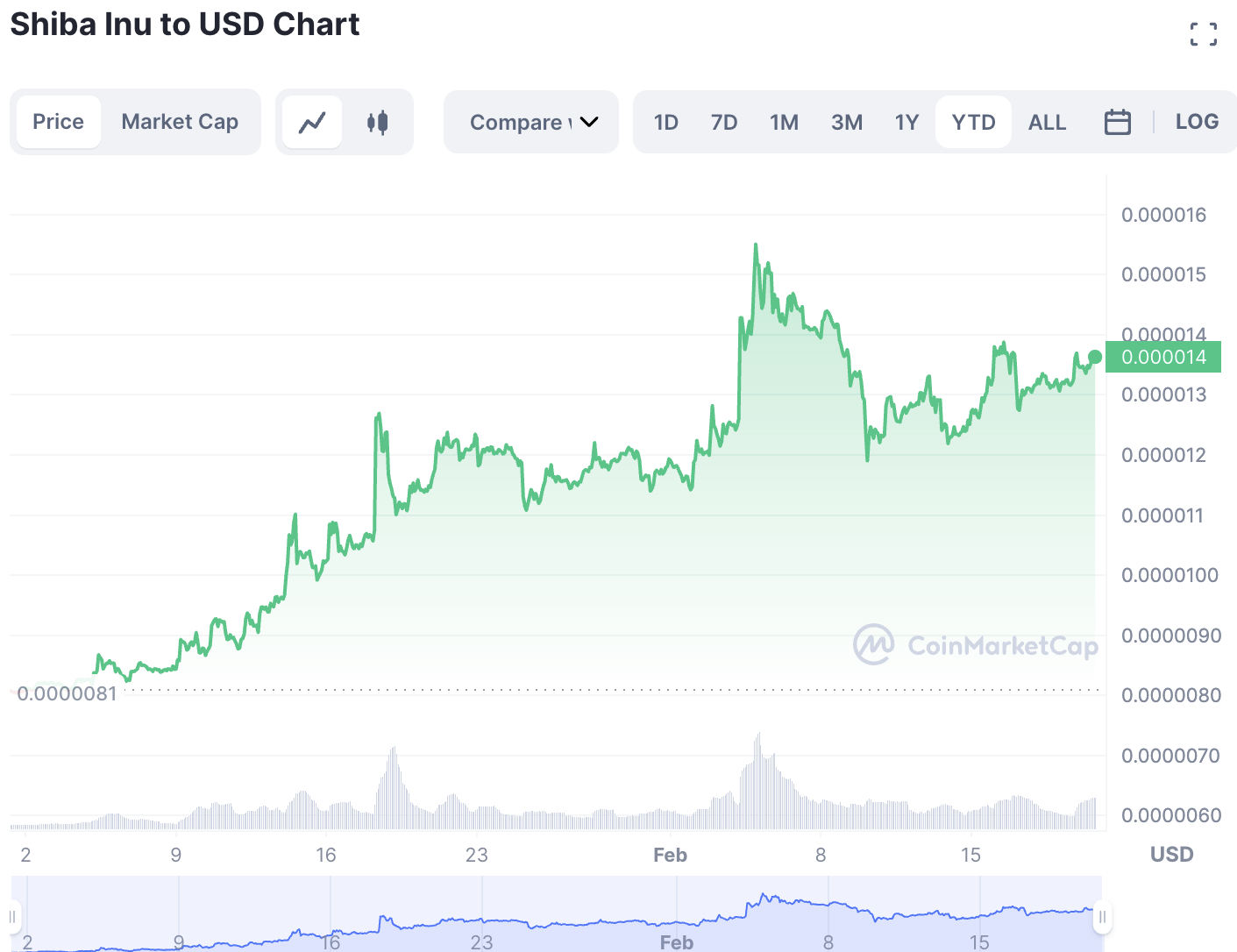 And the market has responded positively to this news. SHIB is currently trading at $0.000014, which is up by 3.02% in the last 24 hours.
8. Blur
Blur is the little-known crypto that has shown major action in the price charts in the last 24 hours, due to which it is the #1 trending cryptocurrency on CoinMarketCap.
It is the governance token of a unique NFT marketplace offering advanced features like real-time price feeds, multi-market NFT comparison, and portfolio management.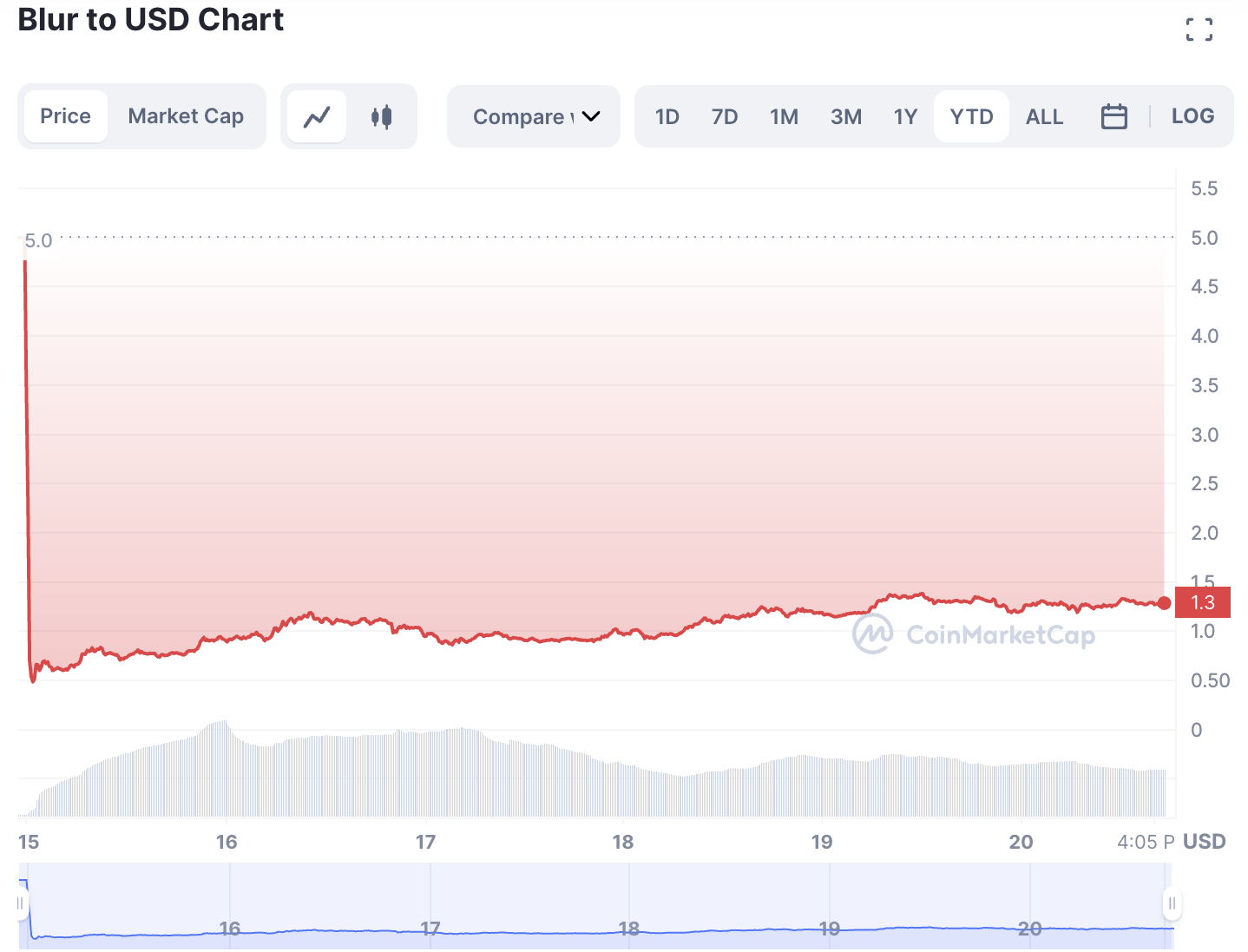 Blur is a recently-released asset that has dropped by 70% in value since its release a few days ago. Blur is currently trading at $1.2 with a 24-hour trading volume of $546 million.
9. Polygon
The #2 most trending cryptocurrency on CoinMarketCap is Polygon. Polygon is one of the OG cryptocurrencies that still managed to hold onto customers' trust during the bear market. People still have faith in this asset which has recently been shown by the recent surge.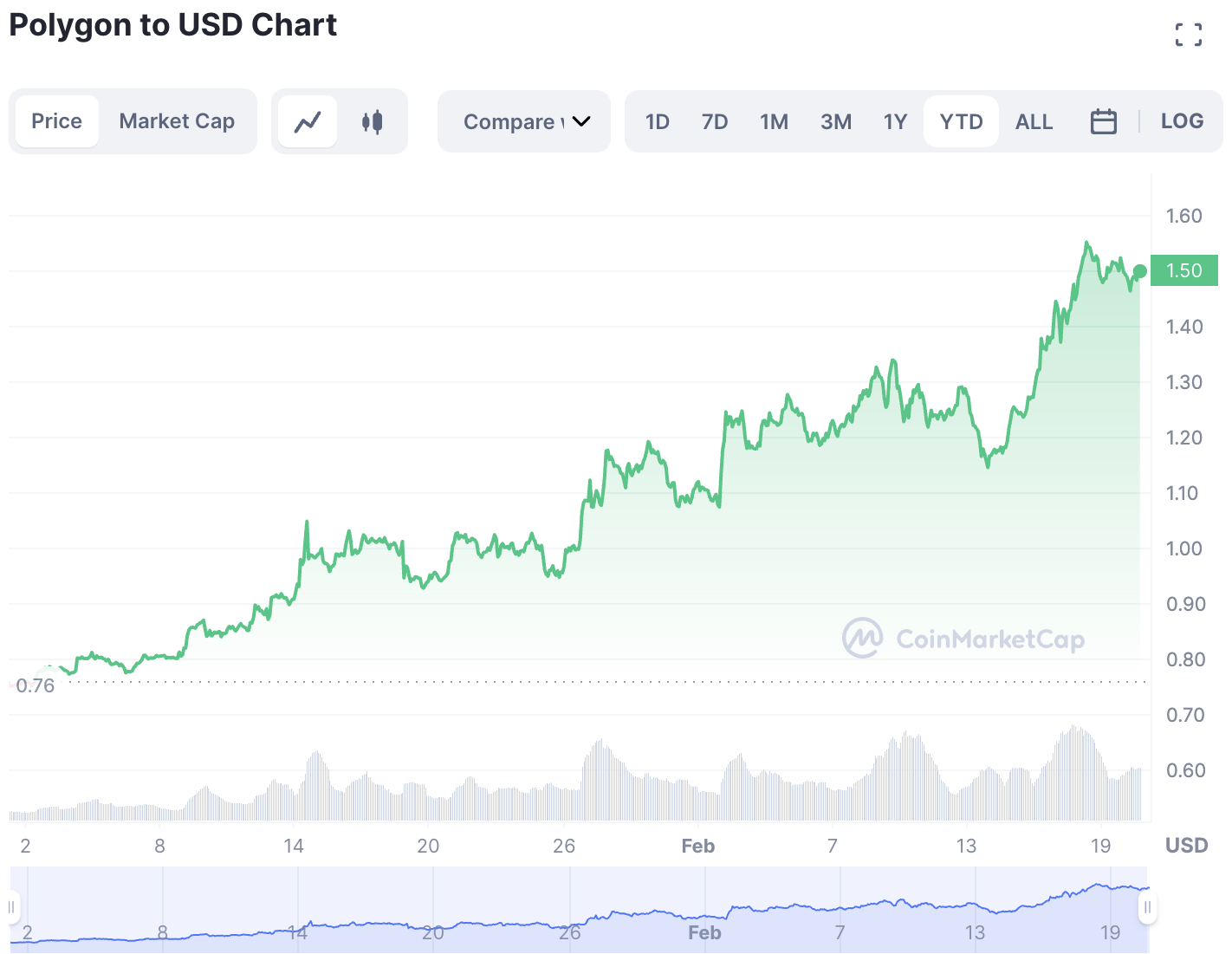 Polygon is up by 100% since the beginning of 2023 and is currently trading at $1.5.
10. Bitcoin
The 10th most trending cryptocurrency in the is the one that is pretty much moving the entire market right now. Bitcoin showed a glimpse of hope after crossing the $20k threshold in mid-January thanks to the community believing that the Fed rate hike might dampen a bit. But since there was no such news and the US CPI data showed better results than normal, BTC started to lose its $23k support.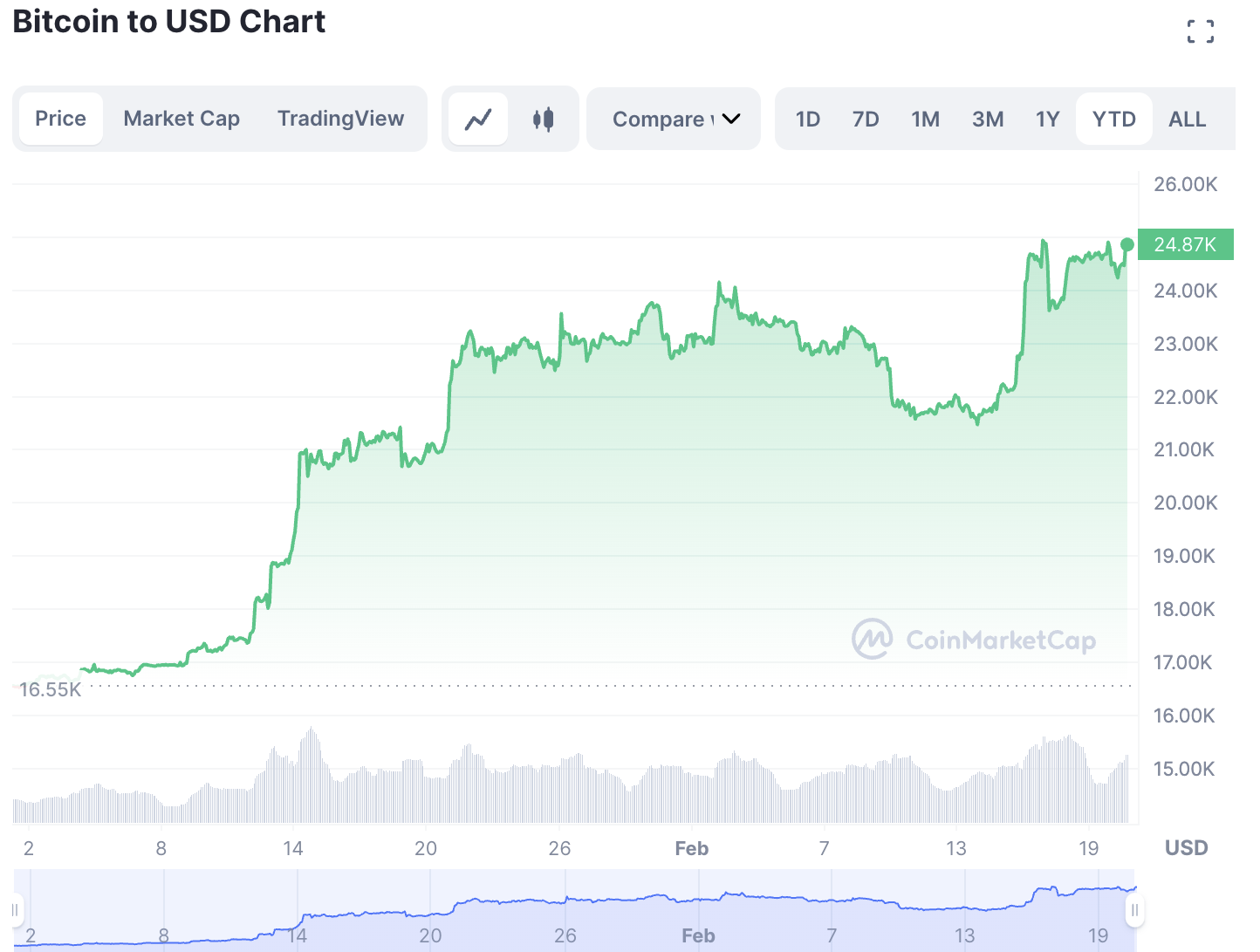 But the token is up once again and briefly crossed its $25k resistance. After a slight correction, it is heading back to test that price point.
The Top Trending Cryptocurrencies Aren't Necessarily Ruling the Price Charts But…
Trending doesn't always mean good news. CoinMarketCap trends for the current tokens being traded show that many of them are still in the bearish zones. But being in trend keeps the talk about these assets in conversation – which can prove fruitful in the long run.
Stay tuned with Insidebitcoins as we keep you updated about the latest trends in the crypto space.
Related Articles
Best Altcoins to Buy
Bitcoin Price Prediction
Fight Out (FGHT) – Newest Move to Earn Project
CertiK audited & CoinSniper KYC Verified
Early Stage Presale Live Now
Earn Free Crypto & Meet Fitness Goals
LBank Labs Project
Partnered with Transak, Block Media
Staking Rewards & Bonuses
Join Our Telegram channel to stay up to date on breaking news coverage