This New Move-To-Earn Crypto Raises $5.2M
Join Our Telegram channel to stay up to date on breaking news coverage
The innovative move-to-earn crypto Fight Out has already raised more than $5.2 million in the ongoing presale. Fight Out, which is taking over the move-to-earn (M2E) and metaverse spaces, continues to perform well in the public presale after onboarding elite athletes as ambassadors and offering bonuses to early investors. 
FGHT In The Knockout Round Of The Presale
Fight Out stands out as one of the most successful move-to-earn cryptos after having raised more than $5.2 million from early investors. It is important to note that the price of the token increases every seven days. At the moment,  1 FGHT token goes for  $0.02610 and will increase to $0.0285 a few days from now. 
Remember, the price of $FGHT is increasing every 7 days, so secure your tokens now before it's too late ⏰🚀

Join the Fight Out revolution now! 👊⬇️https://t.co/9pikKGRjSd#Crypto #Presale #PlayToEarn pic.twitter.com/8ahIfacGq1

— Fight Out (@FightOut_) March 6, 2023
Investors are, therefore, advised to visit Fight Out here to get their tokens before the price increases. 
The presale is aimed at raising funds to complete the Fight Out project road map which includes developing the FightOut platform, building physical gyms, and onboarding ambassadors for special training sessions. 
Fight Out Road Map 
Fight Out is set to be listed on seven exchanges including LBank, XT.com, BKEX, Changelly Pro, BitForex, DigiFinex, and Uniswap. The exchange listing price is expected to be $0.0333 after the presale stage ends on 31st March.
Fight Out Fuels Marketing Campaigns With Bonuses
Unlike previous presales, the team behind this move-to-earn crypto has put in place a bonus structure that is paid out depending on the level of investment. Firstly there is a purchase bonus as below.
Fight Out Bonus Structure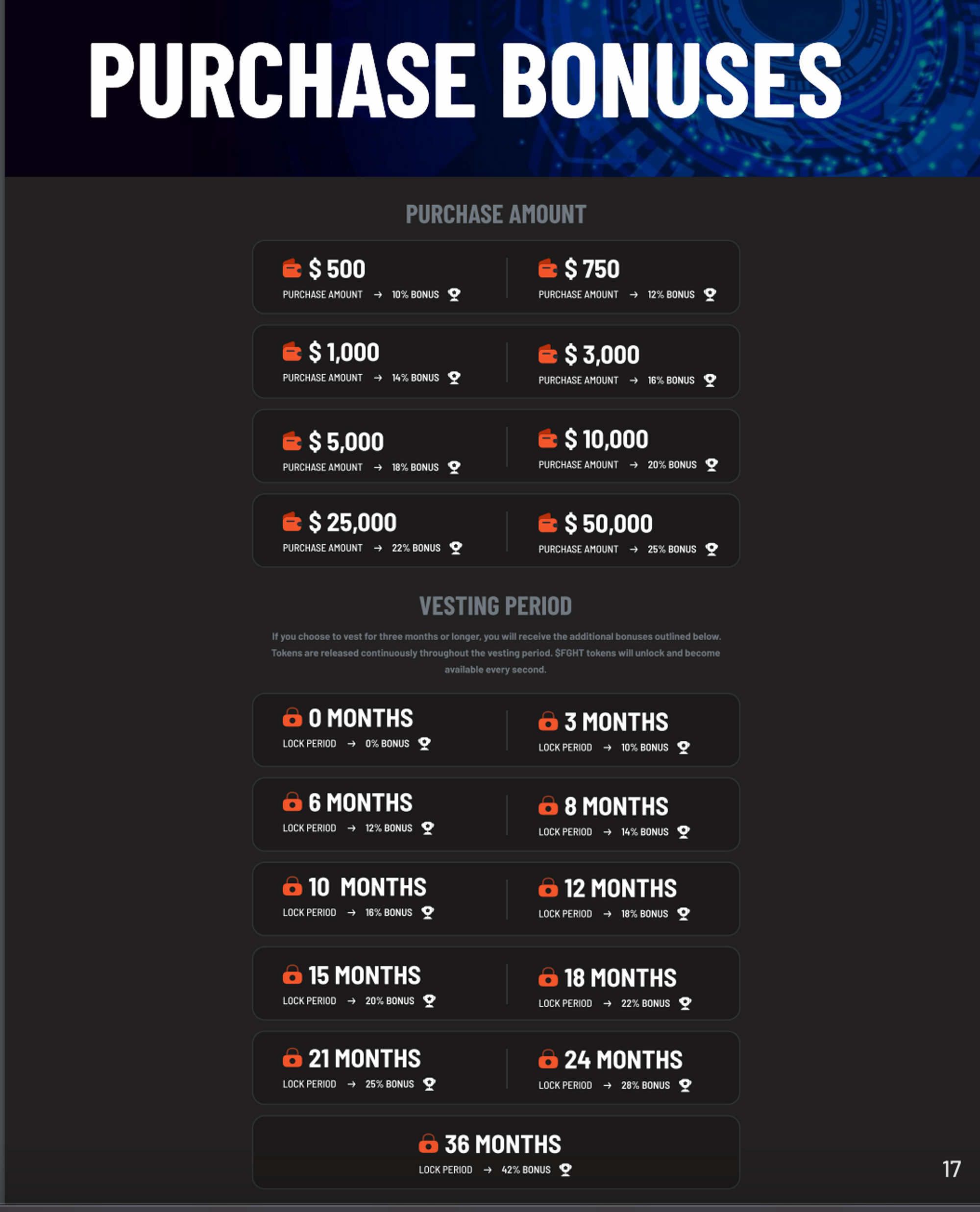 Investors can get bonuses depending on the level of investment and vesting period selected. Add bonus percentages for the number of tokens you buy and the vesting period to get the total bonus. You get a bonus when you buy at least $500 worth of FGHT tokens, getting a 10% bonus. The highest bonus you can get is 67% which you can get if you buy at least $50,000 worth of FGHT (25%) and vest it for a period of 36 months (42%).
According to the latest reports, only two days are remaining for investors to claim up to 67% presale bonus.
Don't miss your chance to grab a presale bonus of up to 67% for $FGHT.

With only four weeks left, the clock is ticking! ⏰

Take advantage of this amazing offer before it's too late 🚀👉 https://t.co/9pikKGRjSd pic.twitter.com/mze6R3eb6k

— Fight Out (@FightOut_) March 6, 2023
Visit the Fight Out presale page here to take advantage of this bonus offer before it ends. 
Note that there is no vesting sales option, meaning the mandatory vesting requirement has recently been removed allowing buyers to vest tokens from 0-36 months for additional bonuses. Bonuses will be paid in extra $FGHT tokens once the presale is over.
Fight Out Partners With Elite Athletes To Make Fitness Fun
Fight Out is already making big strides in the sporting world with an impressive line-up of brand Ambassadors drawn from a pool of elite athletes the latest being professional boxers and elite UFC fighters joining the project as Ambassadors.
These include Amanda Ribas who took to her Instagram earlier in February to show off her beautiful Fight Out avatar saying, "I can't wait to start training and seeing her grow with me", as she invited her fans to "check it out".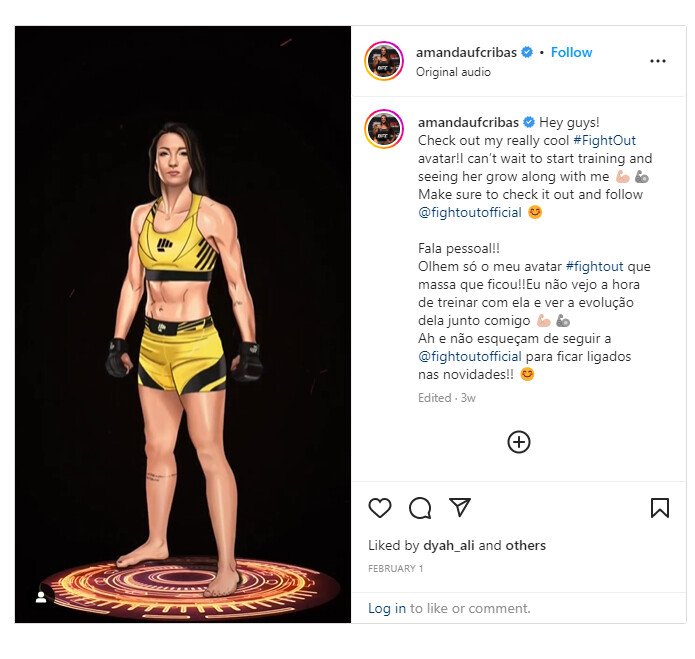 One of the unique selling positions for this move-2-earn crypto project is that users can participate in challenges set by ambassadors including on-demand video classes centered on Strength and Conditioning, Cardio, Technique, and Mobility. This differentiates Fight Out's ambassadors from those that promote other blockchain projects by only talking them up to attract investors. The Fight Out Ambassadors actually use the platform and grow their Avatar as they complete the challenges on the network.
Note that these are professionals who have amassed online following and proven their mettle in Combat Sports. For example, Amanda Ribas is a top Ultimate Fighting Championship (UFC) fight star and is considered among the best athletes in the sport. She is ranked the 9th best fighter in the UFC strawweight division and 15th in the flyweight category. Another UFC fighter making it to the Fight Out Ambassadors' list is Talia Santos, who ranks number 2 in the UFC Flyweight division. 
Savannah Marshall is another ambassador for this move-to-earn crypto ecosystem. In addition to being one of the top women boxers in the world, Marshall has achieved the most viewing figures for her fight with Claressa Shields, an American professional fighter. While she already has a healthy number of  Instagram followers – 122,000 – more are coming thanks to her candid and appreciative attitude after her win against her American rival.
By getting the support of experts of such a high ranking, FightOut is bound to generate more interest among fitness enthusiasts.
Fight Out: A Unique Move-To-Earn Crypto Project
You might be wondering, apart from being endorsed by such fighters of high caliber and its impressive presale performance, why would anyone be interested in Fight Out?
Well, Fight Out's web-based content app, is designed to act as a bridge between Web2 users and the Web3 world. It is a decentralized application (dApp) that tracks innovative metrics using an in-built inertial measurement unit that can be installed on a smartphone. Using blockchain technology, you can work out and get rewarded with $REPS.
This is a big advancement from those of other M2E projects such as STEPN's pedometer technology which only rewards you depending on the number of steps you make. Fight Out is able to track and reward every type of workout, from the time you spend hammering away on the punching bag, to your time on the driving range, including your progress lifting weights in the gym.
Fight Out also has a secondary play-2-earn (P2E) layer which pits users head-to-head in challenges and competitions to win rewards. After Fight Out announced a lineup of UFC athlete ambassadors, users can now put their statistics to the test in a challenge against their favorite fighters. 
Your journey within the ecosystem is centered around a 'Soulbound' NFT avatar. Soulbound means that the NFT cannot be resold and will be a permanent representation and record of the user's fitness progress on the platform.
With customization and deep-seated character development, these NFT avatars become the digital personification of a user's hard work and progress. Note that, the avatar's physique and data level up based on the real-world achievements in the gym and the dojo made by the user.
The Soulbound avatar is an exciting development in the M2E space that removes long-standing expensive barriers to entry in the M2E space. With no start-up costs, it is hoped the promise of M2E will entice fitness lovers and gym-goers around the globe.
Users will be rewarded with REPS tokens for completing tasks. REPS is an in-app currency that can be used to buy accessories. The accessories can in turn be used to enhance the look of your NFT. But REP's use is not limited to the virtual world.
REPS tokens are also used to enter the FightOut gym – the first of which is coming in Q1 of 2023 (see roadmap above). This currency is also used to pay the fitness trainers and other utilities.
Most importantly, you can use FGHT tokens to buy REPS on the ecosystem. FGHT powers the FightOut ecosystem in a number of ways:
You can use FGHT to make monetary gains in this unique M2E space.
Fight tokens can also be staked to earn more than just APY. By staking $FGHT tokens, you can get stake-for-membership benefits, including one-on-one training, workspaces within the FightOut gyms, and more.
FGHT accumulated by the user can be cashed out to provide a real-world monetary reward for the efforts made in the gym.
Functionally, FGHT is the means of payment across a huge marketplace of in-app goods, services, items, NFTs, and more.
FightOut tokens have been audited by Certik, a leading security-focused ranking platform to analyze and monitor blockchain protocols and DeFi projects. 
It goes without saying that Fight Out is a token with so many upsides and if you want to get your hands on some, this is the time. Visit the official website to participate in the current presale phase before prices increase.
Related News:
Fight Out (FGHT) – Newest Move to Earn Project
CertiK audited & CoinSniper KYC Verified
Early Stage Presale Live Now
Earn Free Crypto & Meet Fitness Goals
LBank Labs Project
Partnered with Transak, Block Media
Staking Rewards & Bonuses
Join Our Telegram channel to stay up to date on breaking news coverage