This Is Why Bitcoin Price Can Break Above $40,000 in April, and Love Hate Inu Can Smash $10 Million


Join Our Telegram channel to stay up to date on breaking news coverage
Following a bullish wave, analysts and traders are anticipating further gains in the cryptocurrency market. 
BTC Price Market Price Analysis
Over the past 7 days, Bitcoin (BTC) has outperformed the global cryptocurrency market, with its price increasing by 5.64% compared to the market's 3.80% increase. At the time of writing, the price of Bitcoin is trading at $29,945.56, representing a 1.31% decline in the last 24 hours.
BTC Price Chart. Source: CoinGecko.com
Despite this decline, Bitcoin's trading volume has increased by 25.60% over the past day, reaching $13,411,814,416. With a circulating supply of 19 million BTC, the market capitalization of Bitcoin stands at $579,401,001,952, making it the top-ranked cryptocurrency on CoinGecko. However, this valuation is -56.64% lower than Bitcoin's all-time high price of $69,044.77, recorded on November 10th, 2021, over a year ago. The fully diluted valuation (FDV) of Bitcoin is currently $628,856,655,000.
Analysts' Views on BTC's Climb to $40000
One notable analyst, DonAlt, has boldly predicted that Bitcoin will surge and reach levels similar to its all-time high of almost $69,000. However, DonAlt has emphasized that Bitcoin bulls must successfully overcome a crucial resistance level of approximately $33,000 to launch a bull market.
I think if it goes full bull it'd look something like this pic.twitter.com/x74mmABFZ6

— DonAlt (@CryptoDonAlt) April 14, 2023
If Bitcoin surpasses its primary barrier, the crypto trader believes a direct ascent towards its all-time high is unlikely. Instead, he anticipates a swift corrective reaction to follow the breakout rally once Bitcoin reaches the $33,000 mark.
According to a trader's chart, Bitcoin could experience a significant surge and break above $40000 before undergoing a decline and stabilizing near $30,000. 
This forecast aligns with the predictions of Cred, another analyst, who expects Bitcoin to hit $32,250 without facing any resistance, with the following potential barrier at $35,000. Cred also anticipates that if Bitcoin surpasses these levels, it could quickly climb to $40,000.
BTC/USD Technical Analysis: A Possible Rise to $40000
Bitcoin has had a volatile start to the year, but recent price action suggests a possible rise to $40,000. Notably, Bitcoin has been in a downtrend since its all-time high of nearly $69,000 in April 2021. However, we've seen a bullish reversal pattern forming on the charts in recent weeks.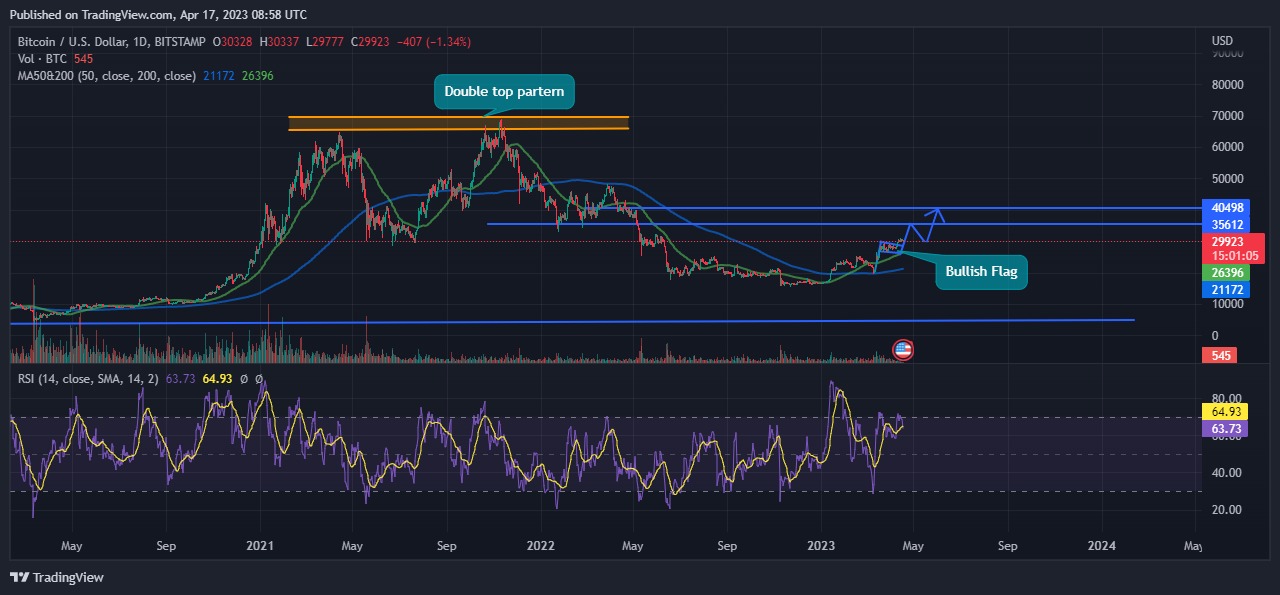 BTCUSD Chart Analysis. Source: Tradingview.com
The first critical level to watch is the $35,000 resistance. Bitcoin has been rejected at this level multiple times, but the resistance level weakens each time it tests it. If Bitcoin can break through this level and hold above it, we could see a strong move up to $40,000.  Looking at the moving averages, the 50-day moving average has crossed above the 200-day moving average, indicating a bullish trend. 
Furthermore, the Bitcoin price chart's formation of a bullish flag pattern. This pattern is characterized by a sharp uptrend followed by a consolidation period, during which the price forms a channel pattern resembling a flag. A solid breakout to the upside usually follows this consolidation period, and analysts believe this could be the case with Bitcoin.
Additionally, the Relative Strength Index (RSI) is hovering near the overbought territory at 67, indicating that the cryptocurrency is undervalued and potentially ready for a rebound above the 70-level mark. If these indicators hold, Bitcoin could rise to $40,000, a critical psychological resistance level that the cryptocurrency has struggled to breach. 
LHINU Could Hit $10 Million – Here is Why You Need To Enter Early
The successful presale of Love Hate Inu (LHINU) tokens has generated significant interest in this initiative. Each milestone achieved indicates its potential future success, making it an attractive opportunity for potential investors. To ensure legitimacy, the presale is selling 90% of the LHINU tokens, making it an appealing time to invest and determine the project's success.
In its fifth phase, the LHINU presale has raised an impressive $4.1 million. Investors who act fast can purchase LHINU tokens at a reduced price of $0.000115. However, in less than nine days, the price will increase to $0.000125. The rapidly growing community of Love Hate Inu suggests that its LHINU token could become as popular as other top meme cryptocurrencies like Dogecoin and Shiba Inu.
As the presale is selling quickly, investors can take advantage of the discounted price and earn up to 70% of the nominal profit even before the token gets listed on multiple crypto exchanges, which could lead to even higher prices. LHINU could hit a new presale milestone at $10 million. You want to take advantage of this opportunity to invest in LHINU tokens.
More News
Love Hate Inu – Newest Meme Coin
Decentralized Polling – Vote to Earn
Early Access Presale Live Now
Ethereum Chain
Mint Memes of Survey Results as NFTs
Staking Rewards
Viral Potential, Growing Community
Join Our Telegram channel to stay up to date on breaking news coverage