These 3 New ERC20 Tokens May Be a Good Investment Amid Sideways Crypto Prices


Join Our Telegram channel to stay up to date on breaking news coverage
On the Ethereum blockchain, there is a class of digital asset known as ERC20 tokens. To ensure compatibility and interoperability across various tokens and wallets, the ERC20 standard outlines a set of requirements that all tokens on the Ethereum network must adhere to. These tokens are fungible, which means that they can all be used interchangeably and are all similar. They can serve a number of functions, such as serving as a medium of exchange, a store of value, or a utility token for gaining access to a certain good or service.
Utilising hardware- or software-based Ethereum wallets, ERC20 tokens are handled and saved. These wallets offer users a safe way to transfer and receive tokens as well as store and manage their tokens. They are employed in a variety of activities, including trading, investing, and making payments. The most widely used token standard on the Ethereum network is now ERC20, which makes it simpler for programmers to construct and use smart contracts.We will discuss in this article why DeeLance, Ecoterra, and Love Hate Inu are considered some of the top ERC20 tokens available on the market today, and why we believe they are worth investing in.
What is DeeLance?
The DeeLance (DLANCE) platform is the industry's first Web3 network that links independent contractors with potential clients. An NFT marketplace, Metaverse, and recruiting platform make up its three main parts, which when combined provide the first decentralized Web3 network for independent contractors and businesses wishing to hire workers.
DLANCE uses blockchain technology to operate, making it quicker and more affordable than rival marketplaces like Upwork and Fiverr. The platform offers less rates and supports safe, immediate money transactions. Furthermore, DLANCE uses blockchain-based escrow accounts to protect both employers and freelancers from possible losses.
DeeLance encourages freelancers and buyers to collaborate in a just system that is advantageous to all parties by doing away with middlemen. Additionally, the platform eliminates any foreign exchange expenses by allowing payments to be made in both fiat currencies and cryptocurrencies.The management of intellectual property presents a substantial challenge for Upwork and Fiverr, two popular Web2 freelancing marketplaces. After a project is finished, disagreements over ownership rights frequently occur. Fortunately, DeeLance and its use of blockchain technology can alleviate this problem right away. DeeLance provides a secure method for transferring work ownership to recruiters by tokenizing work deliverables into NFTs.
Visit DeeLance Presale
What is Ecoterra?
Ecoterra is another ERC20 token that aims to make a difference in the world. Through the use of blockchain technology, Ecoterra is a business dedicated to promoting and making recycling easier while also combating climate change. Despite more public awareness of the need to act quickly to combat climate change, many people still have difficulty recycling because of things like limited access to information, inconvenience, and time restraints.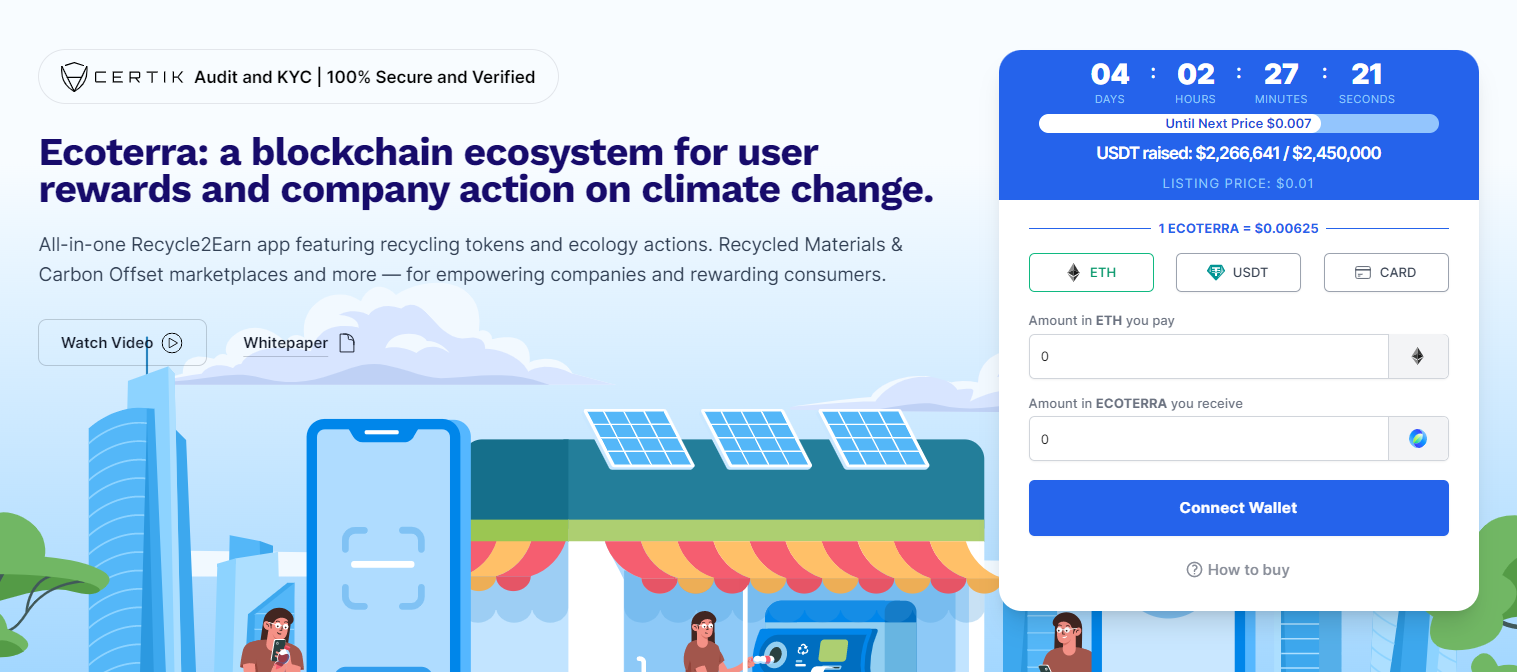 These difficulties contribute to a lack of internal motivation to recycle since people could be hesitant to put up extra effort in the absence of rewards from themselves. Ecoterra uses blockchain-based incentives and rewards to get beyond these barriers in the recycling sector. In order to more effectively reduce the effects of climate change, the company wants to promote sustainable practices.
Market analysts think that Ecoterra's presale, which is already generating a lot of attention in the industry, will be the most notable presale of 2023. The company is a distinctive and effective answer because of its ground-breaking approach to some of the most important environmental issues of our time. Due to its commitment to sustainability and cutting-edge features, Ecoterra is in a position to make a huge difference in the world.
Visit Ecoterra Presale
What is Love Hate Inu?
Love Hate Inu is a new ERC20 token that has gained popularity in recent times. LHINU is a meme coin that intends to encourage a community-driven platform and reward active user engagement, both of which raise the market value of the coin.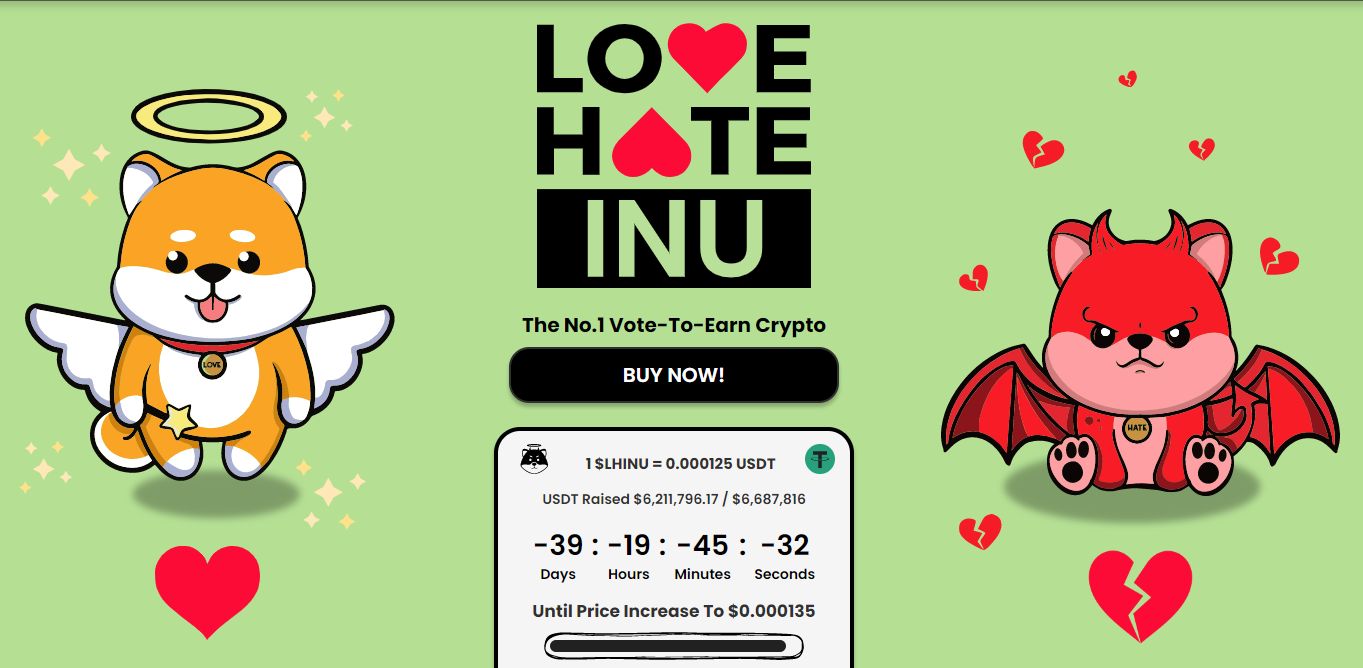 The platform stands out from competitors in the industry thanks to its distinctive vote-reward structure. Users may vote by staking LHINU coins over a 30-day period. Users can choose to vote "Love" or "Hate" and receive LHINU tokens in return, depending on the quantity and length of their stake in LHINU tokens. Users can increase their future voting power or use their stakes for future voting opportunities by getting involved in the community and this process.
As a result of the announcement of its own platform, Love Hate Inu has gained a lot of popularity. The user interface, the platform for submitting votes, and the administration dashboard make up the three basic parts of the Love-Hate Inu platform.
Visit Love Hate Inu Presale
Why Deelance, Ecoterra, Love Hate Inu Are Top ERC20 Tokens to Invest In
Deelance, Ecoterra, and Love Hate Inu are all unique ERC20 tokens that offer different benefits to investors. Deelance offers a decentralized freelance platform that has the potential to disrupt the freelancing industry. Ecoterra has tremendous potential because of its emphasis on sustainability and environmental responsibility. Users of Love Hate Inu have the opportunity to cast ballots on hot-button issues and receive payment for their opinions. Users of the website can engage in supportive community discussions about social, political, and entertainment issues. It provides a playful and laid-back perspective on the world of cryptocurrency.
Although investing in these tokens has the potential to yield rewards, it's crucial to conduct your own research and weigh the dangers. It's also critical to remember that the cryptocurrency market is extremely unstable and that values can change drastically.
Analysis of DeeLance's Market Performance
Since its introduction, DeeLance has succeeded well in the eyes of potential investors. In the world of freelancing, the token has grown in favor, a fresh platform for non-fungible tokens that provides users more ownership over their works.
One of the strengths of DeeLance is its unique value proposition. The platform offers a decentralized freelance marketplace that provides transparency and security for both freelancers and clients. This has the potential to disrupt the traditional freelance industry and attract a large user base.
Comparison with Other Top ERC20 Tokens – Ecoterra and Love Hate Inu
Ecoterra and Love Hate Inu are also unique ERC20 tokens that offer different benefits to investors. Ecoterra focuses on sustainability, while Love Hate Inu offers a fun and lighthearted approach to the world of cryptocurrencies.
When compared to DeeLance, both Ecoterra and Love Hate Inu have lower actual utility. Ecoterra has currently raised over $2 million, and will launch at a trading price of $0.01. Love Hate Inu is currently trading at $0.000125 and is expected to rise to $0.000135 within a day. It has raised over $6 million. Soon, the token will begin trading for $0.000145.
Conclusion
Unique ERC20 tokens like DeeLance, Ecoterra, and Love Hate Inu each provide different advantages to investors. DeeLance provides a decentralized network for freelancers, Ecoterra provides sustainable finance for environmental projects, and Love Hate Inu presents a playful and amusing perspective to the cryptocurrency world.
Although investing in these tokens has the potential to yield rewards, it's crucial to conduct your own research and weigh the dangers. There are dangers associated with investing in these tokens because of the volatile nature of the cryptocurrency market. However, with proper thought and investigation, these tokens could eventually provide significant profits.
DeeLance – New Web3 Coin Presale
First Decentralized Freelancing Network
Find Employers in the Metaverse
NFT Marketplace, $100k Giveaway
Presale Stage One Live Now
SolidProof & Coinsult Audited
Join Our Telegram channel to stay up to date on breaking news coverage