The Bulls Dominate THETA Market As It Continues Its Uptrend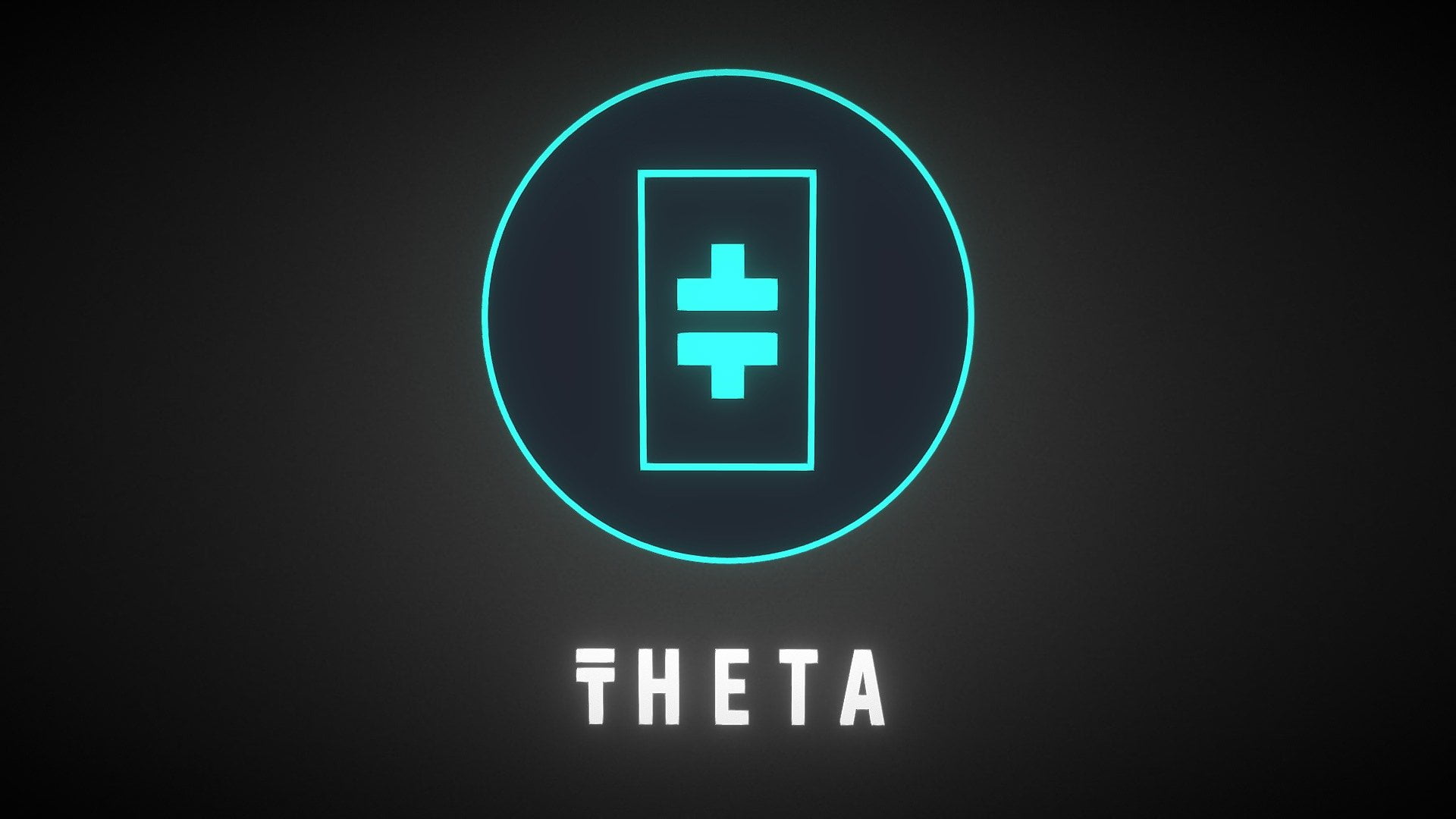 Join Our Telegram channel to stay up to date on breaking news coverage
Theta Network's price currently shows signs of bullish momentum in the market. As of 10:00 am EST, THETA stands at $0.8151, representing an increase of over 4.80% in the past day.
This recent price surge indicates increasing buying activities, increasing the token's value.
THETA's Market Status Today
The rise in buying activity is evident in the token's trading volume, which has surged significantly by 80% in the past day. This growth has brought the value to nearly $30 million.
Interestingly, the current price range of $0.8 for THETA was observed a few days ago, specifically between July 13 and 16. Following that period, there was a slight drop in the price range, with THETA trading at around $0.7. 
However, the recent rise in trading volume has helped push the price back up to the previous range, as shown in its price now.
THETA's Price Prediction Based On Technical Analysis
As for the current short-term price path of the THETA coin, it appears to be maintaining an uptrend that began on June 14th. This trend comes after a significant plunge in its price. The price of THETA is currently above the 50-day moving average (MA), which is a positive sign.
 It suggests that the recent price movements have been generally higher than the average price over the last 50 days, which shows an upward trend in the short term.
However, investors and traders should also note that the price of THETA is still well below the 200-day moving average, indicating that the long-term trend might not be as bullish as the short-term one.
The Moving Average Convergence Divergence (MACD) line above the signal line is another positive signal. This crossover implies that the bullish trend is continuing and gaining strength.
The Relative Strength Index (RSI) is currently just above 60, depicting that the token is not yet overbought. This leaves room for further price rises in the short term, supporting the ongoing bullish sentiment.
THETA's resistance and support levels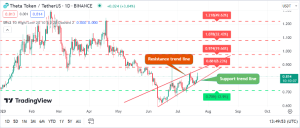 Another significant observation is that THETA follows the ascending trend lines shown on the chart, further confirming the bullish trend.
The token bounced off the support trend line recently, indicating buying interest at that level. It is now making its way back to the resistance trend line.
Based on this analysis, THETA could reach the next resistance position at $0.881, representing an approximate 8.23% increase from its current price.
However, there are uncertainties and risks in crypto investments. So investors should exercise caution and consider other factors before trading.
Experts' Foresight Of THETA's Price In The Long Term
According to predictions from DigitalCoinPrice and CryptoNewsZ, the future prices of the THETA token could be positive.
DigitalCoinPrice predicts that in 2024, THETA will reach a maximum price of $2.08. During the same year, it is expected to hold an average price of $1.95 and a low price of $1.75.
Between 2026 and 2029, DigitalCoinPrice foresees fluctuations in the price of THETA. The token may trade between $3.13 to $6.10 during this period while maintaining an average price of $3.57.
CryptoNewsZ also provides their THETA price predictions. In 2023, they expect the token to have a maximum price of $1.8 and a minimum price of $0.7.
In 2025, CryptoNewsZ predicts that THETA will reach a maximum price level of $3.2, suggesting a more optimistic scenario for the token's price growth.
Factors That Could Influence THETA's Price
Various key factors can influence the price of Theta Network, which plays significant roles in determining its value and market performance:
Total supply
The total supply of THETA is an essential factor that impacts its price. With a fixed supply of 1 billion tokens, which the team vested in December 2018, according to CoinGecko, scarcity can occur.
If demand for THETA increases, but the supply remains limited, it can lead to upward price pressure. Conversely, if demand decreases or remains stagnant, the fixed supply could result in price stagnation or decline.
Adoption and use cases
Adopting and utilizing THETA within the Theta Network ecosystem can greatly impact its price.
The demand for THETA may increase as more users and content creators embrace the network for decentralized video streaming and content delivery.
Additionally, if THETA becomes widely used as a means of payment for services within the Theta Network, it could drive further demand for the token and positively affect its price.
Trading volume
The recent rise in THETA's trading volume has been linked to its price increase. Higher trading volumes generally indicate increased interest and activity in the token, which can create upward momentum in the price.
Launchpad XYZ, A Major Player In The Crypto Space
Launchpad XYZ (LPX) is an innovative crypto project built upon the Ethereum blockchain. It was developed to embrace and smoothen the transition into Web3 technology.
The platform aims to empower individuals and businesses with a wide array of features and functionalities. It promises to guide them through the intricate landscape of the crypto space while harnessing the latest advancements in the field.
Launchpad delves into the immersive world of virtual reality and blockchain-based environments and presents its users with a remarkable Metaverse experience library.
This carefully curated library provides a gateway to immersive experiences, allowing users to explore and better understand the evolving landscape of virtual reality. For those seeking seamless and efficient trade execution, Launchpad offers a comprehensive trading terminal.
This terminal enables users to monitor market trends, execute trades swiftly, and access real-time data, ensuring they capitalize on favorable market conditions without delay. Recognizing the booming popularity of play-to-earn (P2E) gaming, Launchpad has dedicated a game hub within its ecosystem.
The game hub connects users to an exciting array of P2E games, wherein participants can earn rewards and actively participate in the rapidly expanding P2E gaming ecosystem.
Through this innovative integration, users can enjoy gaming entertainment and reap tangible rewards for their engagement.
Features of LPX
Launchpad empowers individuals and businesses by equipping them with cutting-edge technology and powerful features.
Fractionalized asset marketplace
A standout feature offered by Launchpad is its fractionalized asset marketplace, where users gain access to valuable assets divided into smaller, more affordable portions.
This innovation opens new investment opportunities for a broader audience, making previously exclusive assets accessible to more users.
Custom-built DEX
At the heart of the platform lies its custom-built decentralized exchange (DEX), providing users a secure and efficient environment for trading cryptocurrencies directly within the Launchpad ecosystem.
This DEX eliminates the need for centralized exchanges, enhancing security and facilitating seamless transactions.
Web3-based wallets
Understanding the importance of Web3 compatibility, Launchpad introduces a Web3-compatible wallet.
This specialized wallet enables users to securely manage, store, and interact with their digital assets while embracing the decentralized nature of Web3 technology.
Users retain complete control over their funds, and the wallet's flexibility ensures seamless compatibility with various decentralized applications (DApps) and platforms.
LPX presale program
The LPX presale has witnessed impressive strides since its initiation, drawing substantial interest from investors seeking early entry into the project. This phase offers a unique opportunity for investors to acquire LPX tokens at a discounted rate ahead of the official listing.
Currently, LPX tokens are available at a low price of $0.0445, a value that has garnered significant attention from individuals looking to capitalize on favorable rates and secure their tokens early on.
The success of the presale fundraising efforts has been noteworthy, with LPX having raised more than $1.17 million. This achievement is a testament to the project's strong appeal, inspiring confidence and trust among investors.
The raised funds represent a substantial step towards the project's ultimate target of $1,550,000, showcasing the substantial traction and support LPX has already gained in the market.
Investors who recognize the inherent value and potential for growth in LPX actively participated in the presale phase, contributing to the project's diverse and engaged investor base. LPX aims to build upon this initial success as the presale progresses, sustaining momentum and attracting further investments.
The project encourages prospective investors to seize the current opportunity to acquire $LPX tokens at the discounted value before the upcoming stage.
How to buy the $LPX coins
Intended buyers must acquire a digital asset wallet compatible with $LPX tokens. Choose a reputable wallet that securely supports the storage and management of various cryptocurrencies.
To participate in the $LPX token sale, investors must obtain USDT (Tether) or ETH (Ethereum) coins. 
Once the wallet is set up and funded with USDT or ETH, go to the official LPX presale website. Look for the option to connect your wallet and follow the instructions to establish a secure link.
Choose whether to use USDT or ETH for the transaction, depending on the available options on the presale platform.
After the presale period concludes, you can claim the $LPX tokens you acquired. 
Related Articles:
DeeLance – New Web3 Coin Presale
First Decentralized Freelancing Network
Find Employers in the Metaverse
NFT Marketplace, $100k Giveaway
Presale Stage One Live Now
SolidProof & Coinsult Audited
Join Our Telegram channel to stay up to date on breaking news coverage