Solana Price Prediction – SOL's Breakout Imminent Despite Network Outage Woes

Join Our Telegram channel to stay up to date on breaking news coverage
Solana's token SOL is in the process of reviving the uptrend in the wake of a 9.2% and a 13.6% loss in seven and 30 days, respectively. The smart contracts token was rejected from its aggressive push for gains from late December and throughout January below seller congestion at $27.00. SOL has mainly battled increasing selling activities in February with support at $20.00 coming in handy.
Investors are expressing concerns after Solana experienced the first network outage in 2023 over the weekend. The Solana Foundation says it is yet to find out what may have taken the network offline more than two days later.
(1) Solana Status on Twitter: "The root cause of the 2-25-23 outage is still unknown and under active investigation. The following document will be updated as new information becomes available https://t.co/kKYaTuizu0" / Twitter
According to an official blog post published on Monday, "at approximately 05:46:16 UTC 2023-02-25, Solana Mainnet Beta suffered a significant performance degradation, eventually leading the validator community to opt for a restart of the network."
However, the factors that led to this outage are still unknown and an investigation is underway. The degraded performance situation saw validator nodes automatically switch to "vote-only mode." This is "a 'safe mode' designed to help the network recover in the event of data unavailability," the foundation wrote.
Validators were forced to take steps to return the network online by downgrading to the previous stable release—v1.13.6 followed by a restart to bypass any traces of the recently rolled-out release—1.14.
"At approximately Feb 26, 2023 – 01:28 UTC Solana Mainnet Beta was successfully restarted and the network resumed processing user transactions," the Solana Foundation reported.
Solana Price Looks Forward to The Next Upswing Eyeing $40 – Time to Buy SOL?
Solana is on the verge of a breakout after exhausting the pullback from highs around $27.00. Confluence support at $20.00 is absorbing most of the selling pressure, which could explain the green candle forming on the daily chart.
The confluence support was created by the 50-day Exponential Moving Average (EMA) (line in red), the 100-day EMA (line in blue), and the ascending trend line. Another daily close above this critical level would mean Solana price has exhausted the trend correction in February and investors can look forward to an incoming spike to highs above $30.00 and $40.00, respectively.
Traders buying Solana must make sure the 50-day EMA has settled above the longer-term 100-day EMA. This will help them ascertain the uptrend is intact and that there would not be sudden bull traps.
A break and hold above the next significant hurdle highlighted by the lower yellow band around $25.00 would help repair investor confidence in SOL's uptrend to $40.00. It is prudent to lock in gains as the recovery continues, hence some investors may want to close their positions at $28.08 – an area reinforced by the 200-day EMA (line in purple).
A glance at the Moving Average Convergence Divergence (MACD) indicator reveals a sell signal on the same daily time frame chart. Solana price is yet to completely fight off the call to investors to sell SOL, which manifested when the MACD line in blue crossed below the signal line in red on February 25.
That said, the trend reversal would only hold if the MACD transforms the sell signal into a call to buy SOL. In this case, traders would be looking out for the MACD line in blue to flip above the signal line in red.
Short-Term Levels to Watch in Solana Price – 4-Hour Chart
The four-hour time frame chart shows Solana price has since mid-January been confined within a range with the upper limit around $27.00 and the lower limit at $20.00. The lower ascending trendline is still in place and providing SOL with the much-needed support to keep the new uptrend intact.
Bulls must focus on pushing resistance at the 200-day EMA (line in purple) in the rearview mirror as soon as possible. This move is required for Solana price to build momentum to attack the seller congestion at $25.00,27.00 and $30.00 in the coming days. It could also function as a signal for stability and a bullish comeback – two factors needed to build confidence for an upswing to $40.00.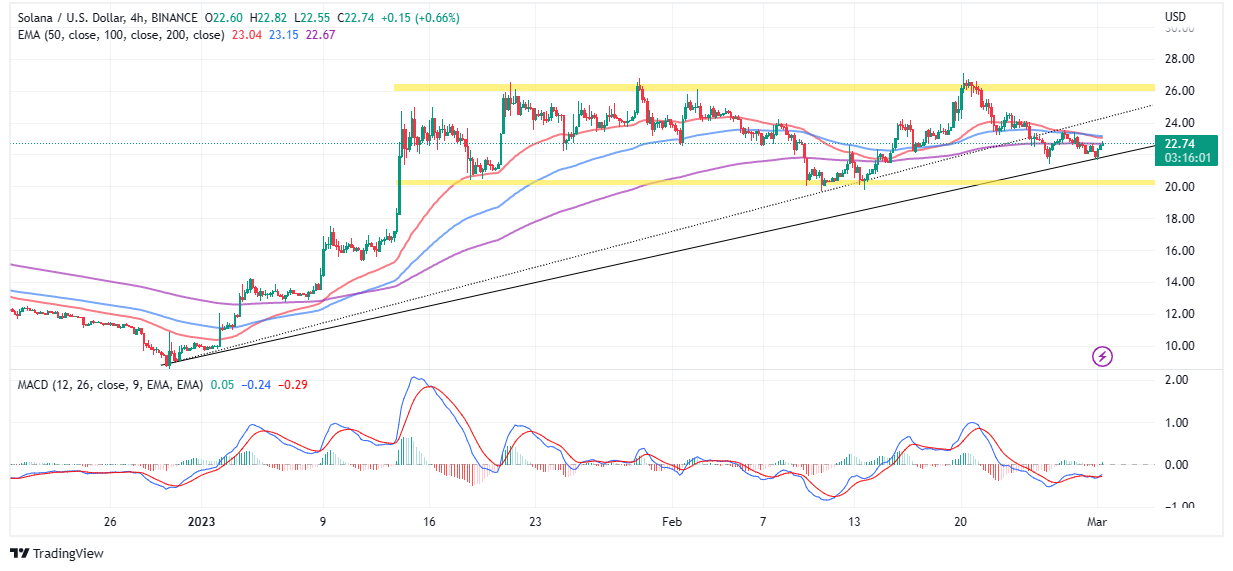 The MACD has already validated a buy signal in the four-hour chart. Traders are likely to be waiting for the indicator to confirm the same on the daily time frame chart, as analyzed. Short-term traders may have started to fill their wallets, hence the uptick from support at $20.00. Solana price is exchanging hands at $22.76 while battling an immediate resistance highlighted by the 200-day EMA (line in purple). The next breakout at $23.00 would open the door for gains to $27.00 and $30.00, respectively.
Solana Co-founder Vows to Improve Network Stability
Anatoly Yakovenko, the co-founder of the Solana ecosystem expressed his commitment to improving network security and stability. His statement came after the update on the most recent network outage.
"Delivering a fast, reliable, and scalable network to move toward a better, decentralized web remains a top priority. The issues around last week's 1.14 network update – which focused on improvements for speed and scale – made it clear how maintaining stability during these major updates remains a challenge," Yakovenko said via a blog post on Tuesday.
According to Yakovenko, Solana's core engineers are working on a method that will "improve the process for software release rollouts by bringing in additional external developers and auditors to test and find exploits." Core engineers are now working closely with validators to improve the software release process.
More information on the steps Solana's core engineering team is taking to prevent frequent network outages can be found in the official blog. Solana needs to achieve network stability to ensure investor confidence does not erode.
Solana Alternatives To Buy Today
Before you buy SOL, you may want to consider some of the best altcoins to buy for 2023. We have a dedicated team that reviews the best crypto presales to buy, especially for investors looking at diversifying their crypto portfolios.
Fight Out (FGHT), for instance, is a leading move-to-earn project currently conducting a presale ahead of its initial exchange listing expected in April. Investors scooping up this Web3 fitness platform have so far raised $4.87 million.
FGHT is the token powering Fight Out's ecosystem built around supporting the global population to live healthy lifestyles without breaking the bank by buying expensive NFTs. Fight Out is using Web3 solutions to transition the vast Web2 audience to Web3 products like the metaverse.
(1) Fight Out on Twitter: "Step into a new world of gaming with Fight Out's #Metaverse – where players can compete, socialise, and earn real rewards in a virtual world like no other. Join our #Presale before it's too late! ⏰⏰ https://t.co/9pikKGRjSd #FightOut #CryptoPresale #Blockchain https://t.co/W09iZDpwBd" / Twitter
Visit Fight Out Now.
Similarly, investors may want to diversify their crypto portfolios with Metropoly (METRO), the first NFT marketplace supporting the global real estate industry. The team at Metropoly is tapping the power of Web3 to channel investment in real estate while eliminating third parties like banks.
With a minimum of $100, one can buy an NFT and receive a monthly rental income. So far, METRO's presale has raised $574k far ahead of the first CEX listing.
Visit Metropoly Now.
Related Articles:
Fight Out (FGHT) – Move to Earn in the Metaverse
CertiK audited & CoinSniper KYC Verified
Early Stage Presale Live Now
Earn Free Crypto & Meet Fitness Goals
LBank Labs Project
Partnered with Transak, Block Media
Staking Rewards & Bonuses
Join Our Telegram channel to stay up to date on breaking news coverage