RobotEra Will Drive Investor and Player Interest Into The Metaverse

Join Our Telegram channel to stay up to date on breaking news coverage
The term "metaverse" has undoubtedly been the talk of the market this year. The reason is simple: the metaverse has tremendous potential to develop into a virtual social media platform of a magnitude that Web2 digital networks can only imagine. One project in this popular category has stood out in particular for the impact it has had: RobotEra. The game provides a rich social experience, but they also have certain game-changing elements that other metaverses lack.
What's All the Fuss About RobotEra?
By 2028, the worldwide market for the metaverse is predicted to reach $730 billion, and this is seen in the variety of new projects that are now under development. Launching a metaverse with a strong foundation and plan is essential right now for long-term success.
RobotEra is luring financiers to its presale because of this. The project offers several distinctive elements that might solidify its status as one of the top virtual worlds while providing gamers with a significant amount of control. Without any prior coding expertise, players may also make their own interactive experiences. Players may design structures and robots using the editor. Players can either retain their robot friends for themselves or sell them on the market.
The group also uses a creative technique to maintain the novelty of social interactions. Players can arrange events for which attendees must purchase tickets. The TARO token, the game's currency, offers several advantages, like staking on the network for players looking for passive revenue.
RobotEra: What Really Is It?
We've named RobotEra, a brand-new cryptocurrency presale project, as among the top cryptocurrencies to buy right now because it gives users several options to profit from its ecosystem.
Players use robot NFTs to buy and build on digital pieces of metaverse land to rebuild Taro, which was devastated by a catastrophic incident. They are allowed to develop infrastructure and structures on the ground, monetizing them in many ways in addition to using them to acquire minerals and other resources. These mean erecting buildings on the Metaverse terrain, including homes, swimming pools, music halls, community centres, and more.
It is possible to make money by charging entrance to events (although prizes are also given for attending other people's activities), renting out resources or billboard space for advertising, or selling individual plots of land as their value increases. Robot companions are necessary for players to restore Taro, and they can be maintained, used, or sold as NFTs on the market after being completely upgraded and customized.
RobotEra has specialized tools, including dynamic 3D scenery, audio, interaction techniques, and physics, that can all be introduced to the land without the requirement for coding expertise.
TARO Token
It is a newly established cryptocurrency project based in the metaverse that has a brand-new ecosystem with virtual property. The platform incorporates the metaverse as well as some P2E (play to earn) as well as PVP (player vs. player) game elements. The majority of virtual worlds need a specific native token to function, which players may use to purchase items, resources, accessories, and other items in-game.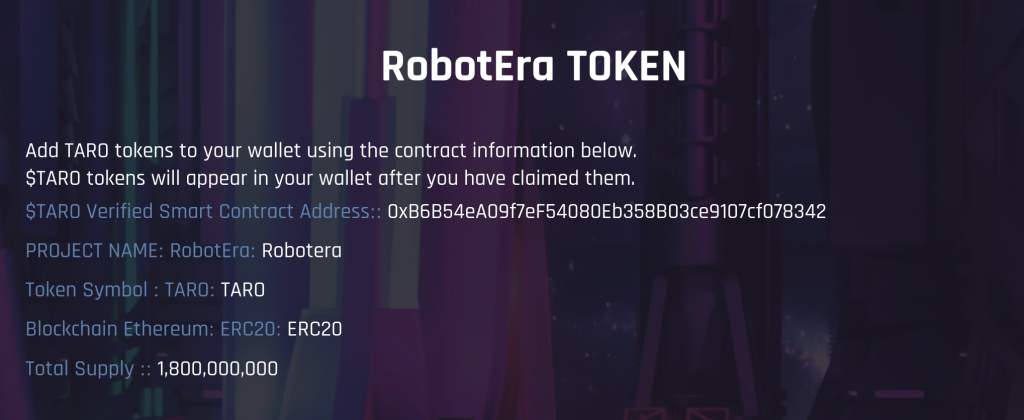 The aforementioned definition applies to RobotEra's native token, TARO. It is the primary cryptocurrency that is going to be accepted in the RobotEra metaverse for the purchase of products and services. There are several possibilities for players to discover and also have fun in the metaverse. It will be combined with parallel universes that have attractions like museums, theme parks, & music venues.
RobotEra might be the leader of the crowded metaverse pack
Check out RobotEra's presale if you're looking for a creative social metaverse platform. TARO is now valued at $0.020, and the project is at its initial stage. The price will increase to $0.025 in the following phase and to $0.032 in the third and last phases. The coin may be purchased for as little as $20 by using USDT as well as ETH.
The game takes place on the planet TARO. The background story revolves around how Australian aborigines created robots that eventually conquered the world. Each player has a robot-like character represented by a different NFT. NFTs are a sort of land that players may purchase and use to build things on. Each player can make extra avatars, known as "robot pals", to aid them on their adventures.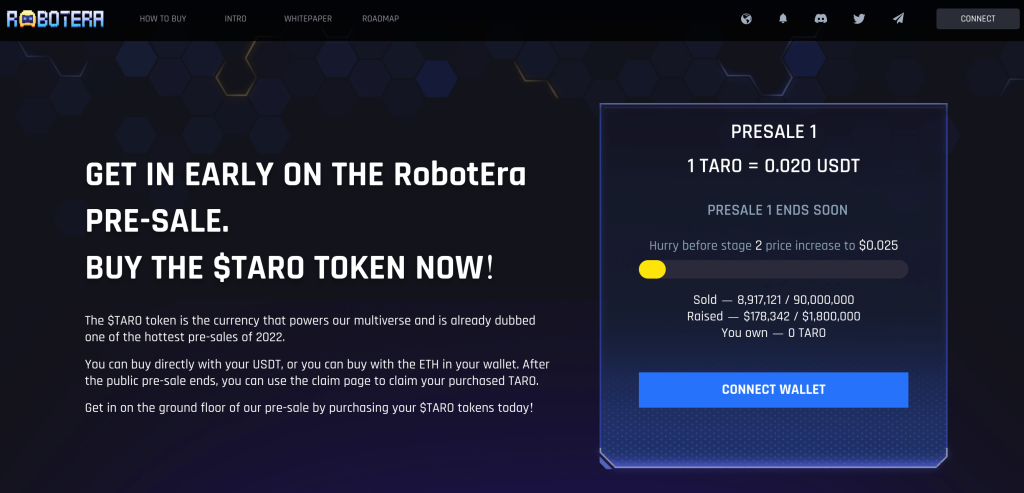 The fact that TARO has exceeded the $180,000 mark while being in the initial phases of its presale is impressive. At this time, the first stage of the presale, where 1 TARO is worth 0.020 USDT, is almost complete. RobotEra has currently raised around $181,000 of the $1,800,000 goal by selling about 9 million tokens.
Conclusion
By combining playability, engagement, as well as token usefulness, RobotEra has the chance to rank among the finest decentralised metaverse initiatives this year and the one after.
Read More:
Early Stage Presale Live Now
Doxxed Professional Team
Use Cases in Industry – Offset Carbon Footprint
Join Our Telegram channel to stay up to date on breaking news coverage