RobotEra NFT Game Review 2022

The arrival of Metaverse, such as the Sandbox, changed the virtual environment space for the better. It not only became a new frontier for the brands to prosper, but the early movers gained as much as 3500x when the native crypto of the Sandbox, SAND, peaked in 2021. RobotEra is a new metaverse NFT project trying to attempt the same feat, but with a difference. 
A sandbox-like planet-rebuilding metaverse, RobotEra is moving above and beyond to provide the NFT owners true control of the virtual space. They can create worlds within this virtual space, engage with others through games, and acquire resources from the land for monetary gains. 
However, in a world getting saturated with metaverse projects, what does RobotEra do differently? Does it have what it takes to resurge the interest in metaverse projects that has declined after the bear market? Let us explore this and more in this RobotEra review. 
What is RobotEra?
RobotEra is a sandbox-style metaverse where the player controls a robot, tokenized avatars in this virtual world to build planets, mine resources, manage land, and create robot companions. The platform aims to provide the ultimate freedom to the players where "they can create anything they can imagine" by ushering in a new "era of robots" in the virtual space. 
With a Robot and a Land NFT, you can create your own world, a universe with its rules, geography, and mechanics. You can then interact with other players in this RobotEra's "shared multiverse", creating theme parks, concerts, museums, and so much more. RobotEra aims to turn this shared multiverse into a community-centered project where players can participate in world creation, explore, and create a space for brands to display their products. 
Visit RobotEra
RobotEra Lore
A metaverse project can only generate interest if it has a lore that people can get behind, and RobotEra has taken care to define the characters.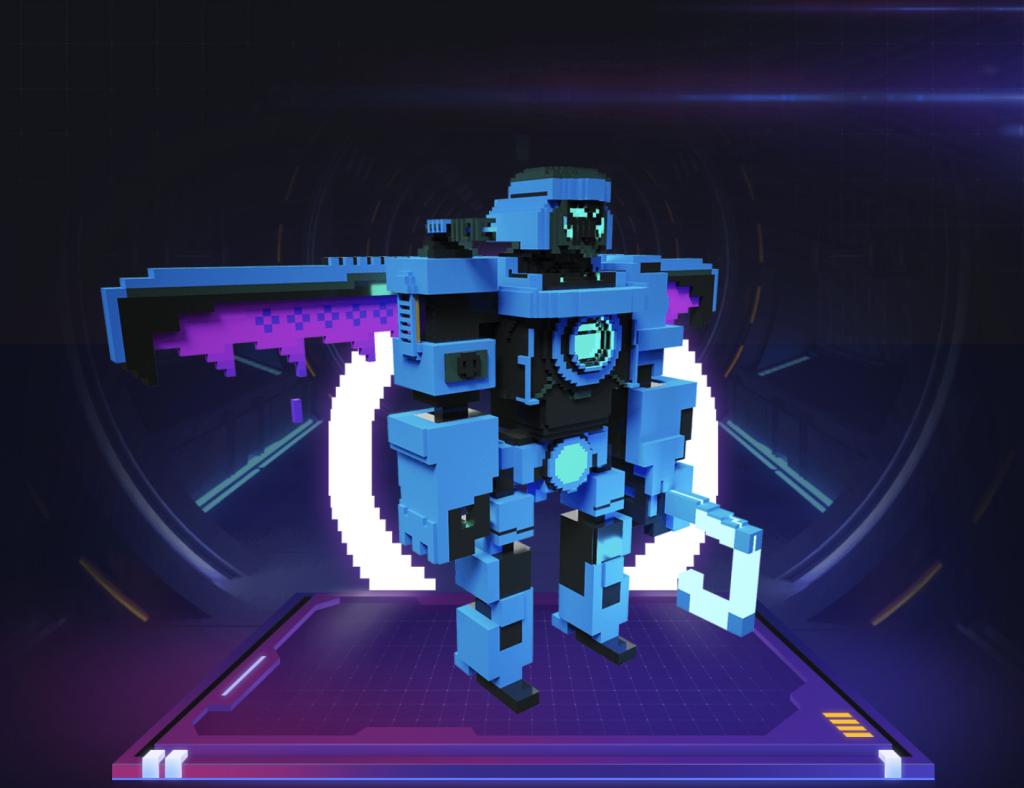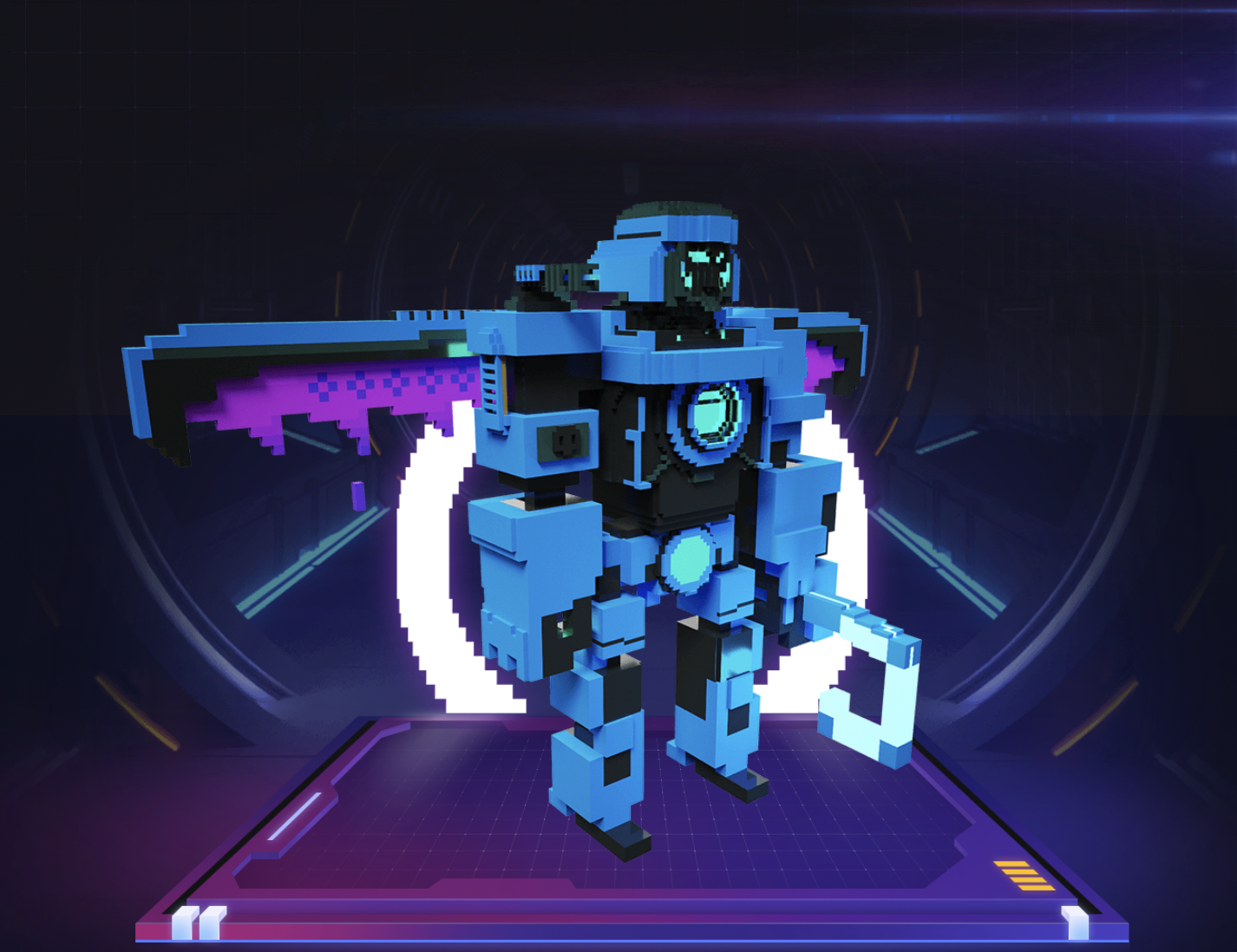 The story of RobotEra is centered around the planet of Taro, a beautiful world destroyed by the war between two clans of robots. New masters have now emerged. These robots have human minds on a mission to restore the planet's past glory and create a civilization that persists across the ages to come. 
The project's lore then goes even deeper to explain the origins of these new masters. They are the collective of 10,000 robots with varying traits hidden deep beneath the Taro's surface. Now awake years after the last robot war that ruined the planet, these robots emerge to create a new era of robots, the RobotEra.
As far as lore goes, RobotEra has done more than most. While putting a civilization back together after the events of the past is a trope that has been done before, the introduction of RobotEra gives an anti-Terminator vibe which is great for drawing in sci-fi and Minecraft fans that are looking for the next best virtual space with a great story. 
Robots, Robot Companions, and Continents
Robots
Robots are the main NFTs of the RobotEra metaverse. By owning these NFTs, players become the human minds of these new masters of Taro. Robots are divided into seven clans, each with different attributes and different numbers of members. These clans are Guardian song, Justice League, trailblazers, Ω (Omega), War College, Desire of Paradise, and Lava. 
These robots are created in the Central City, a hub world within the RobotEra metaverse where players can interact with each other outside the gameplay region.
Each Robot is an ERC-721 digital asset, a 3D avatar acting as a player's voice within the RoboTera metaverse. By carrying unique attributes, each Robot will have a unique look, allowing players to distinguish themselves from others in this virtual world. 
Robot Companions
Robot companions are loyal partners that players can create in the RobotEra metaverse. These robots have different attributes that come in handy when mining resources, collecting raw materials and creating factories. Like Robots, the companions are also tokenized assets that can be sold on the NFT marketplace.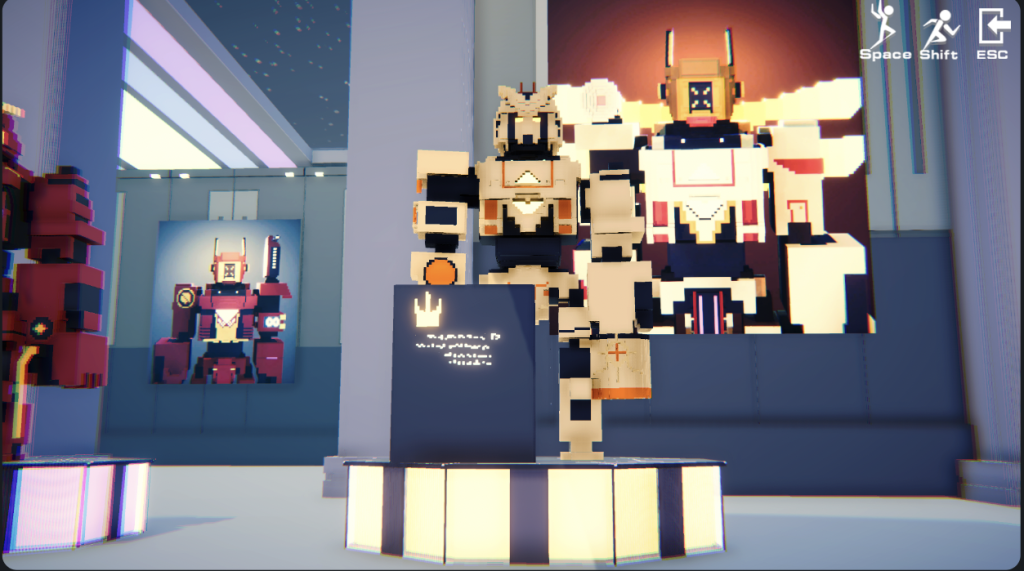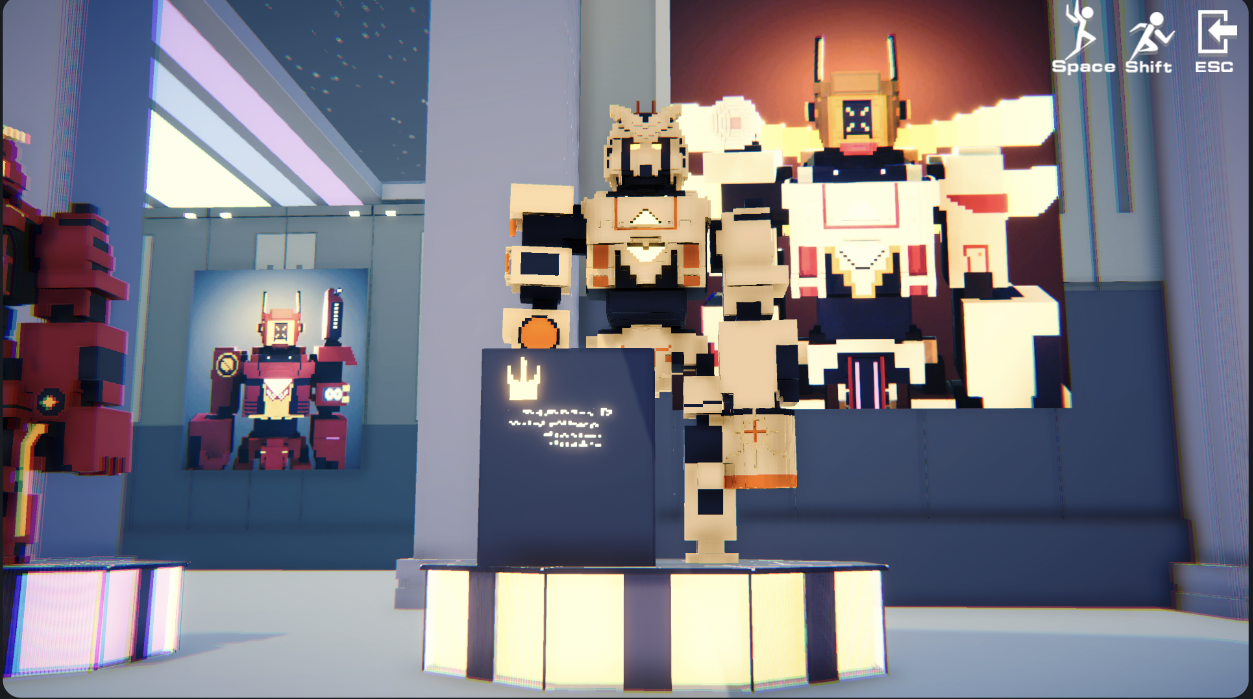 To create Robot Companions, players must mine resources spread throughout the lands they own and then utilize the raw materials in the Robot Editor.
Robot Companions are ERC-1155 tokens that players will craft using the robot companion workbench available in the RobotEra editor. Players will also have the freedom to change the appearance of these companions through unique attributes. They can also send these companions into combat. 
Continents
The planet of Taro consists of seven continents, which, according to the whitepaper, are the "seven continents of the new world". Each continent has different terrains, such as forests, deserts, islands, hills, and plains. These contents are then divided into parcels of land that players can own to mine resources using their robot companions.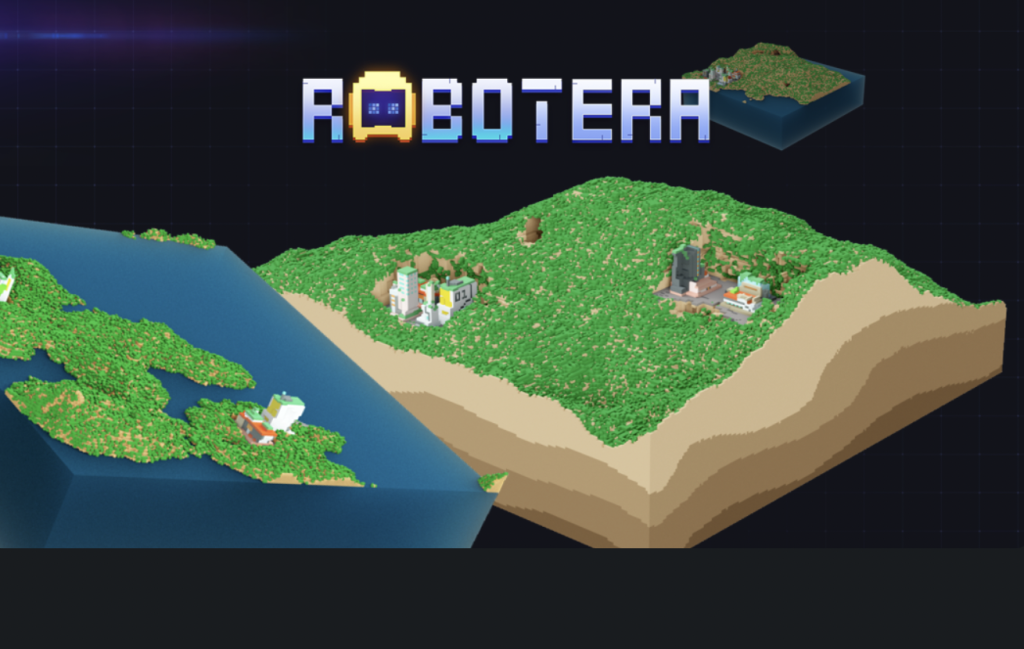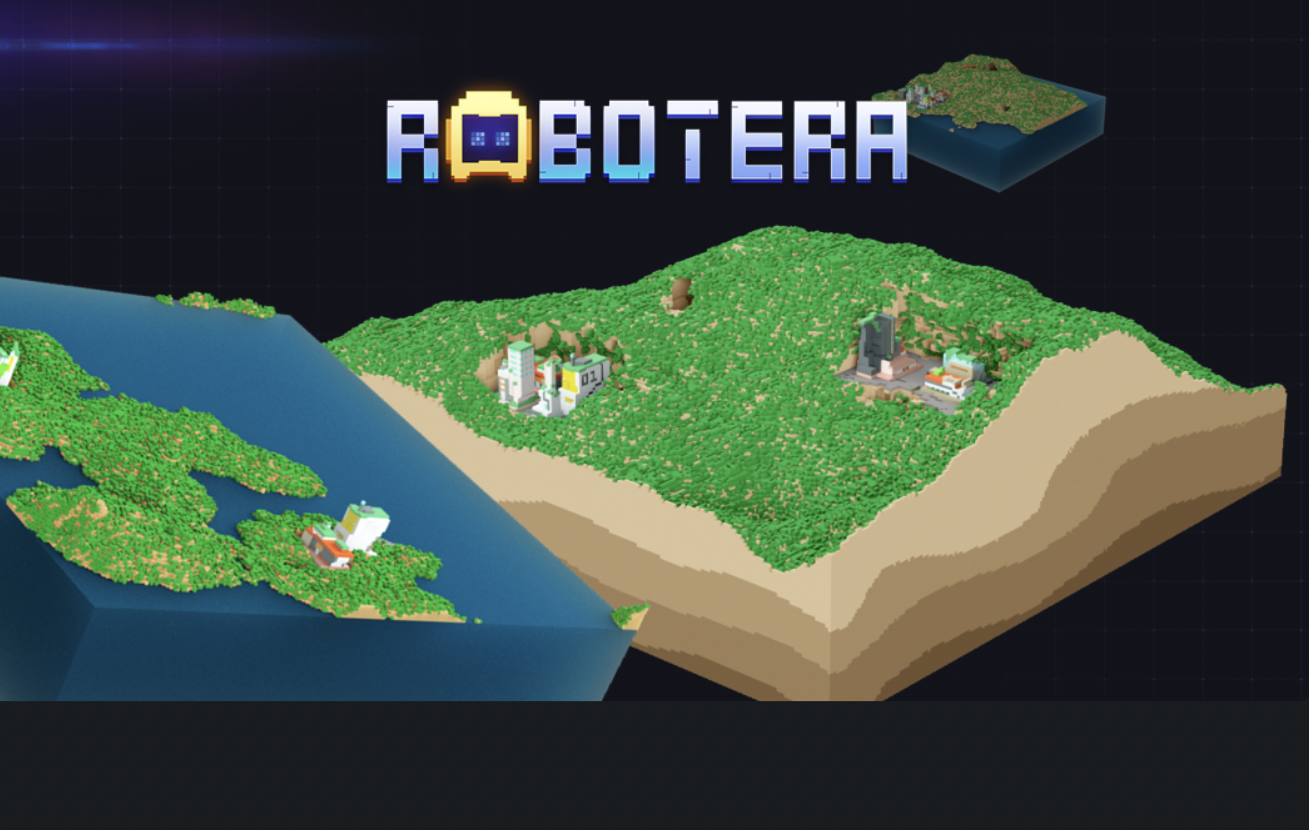 In addition to seven continents, RobotEra also features "public content", a land with renewable resources that players can collect. 
Players would have complete autonomy over the land they own. Known as "player continents", these lands come in three types: ordinary, medium, and large. Each land will be allocated resources randomly, with some resources more valuable than others. Players who own robots but no land will be tourists in player continents.
Check out our list of cool NFT projects of the same nature.
What does RobotEra Offer?
RobotEra features a wide variety of gameplay features that have the potential to appease the wider crypto community. It includes:
Land Creation
Land creation is the core gameplay feature of RoboTera. The platform arms players with RobotEra editor, a combination of Land and Robot editor. 
With the land editor, players can create buildings and all kinds of infrastructures. With Robot Editor, players will have the ability to develop Robot companions that they can use to explore or mine resources.
The tools RobotEra promises are robust, with all the facilities a player needs to create something beautiful in the sky or a great castle underground. This toolkit is an artist's dream, allowing them to express themselves in unique ways within the RoboeEra ecosystem. 
DAO Governance
Taking cues from The Sandbox, RobotEra also provides a decentralized system where the community created by the users controls the Metaverse. Players can come together and participate in RobotEra DAO (Decentralized Autonomous Organization) by pledging their TARO tokens, the native cryptocurrency of the RobotEra. By pledging the most tokens, players will be able to become managers and will have a say in the future development of RobotEra's ecosystem. 
However, RobotEra understands that appointing managers would be akin to centralized control. Therefore, the Metaverse has implemented a strategy that states that a manager's decision must align with most community members. The absence of that alignment will cause the manager to lose their status. This transparent approach to governance makes RobotEra one of the top DAO cryptos in India.
Interesting Play-to-Earn Mechanic
RobotEra has a unique play-to-earn mechanic focusing on four factors: mining, exploration, creation, and battle. These activities will reward players with TARO tokens they can sell on cryptocurrency exchanges for monetary gains. That said, Robots won't themselves go into battle but instead send their robot companions.
Going even further, RobotEra also has a deep underlying earning mechanic involving sacred trees, selling NFTs, staking tokens, advertising, and more. 
Visit RobotEra
What are the different Earning mechanics in RobotEra?
There are six ways through which players can earn in the world of RobotEra.
Trading NFTs
Players who also own lands can create NFTs within the virtual world and sell them. These creations include land, robot components, robot companions, robot components, artwork, and more. Basically, anything a player creates using the RobotEra editor on their land is a tradable NFT. 
Staking Tokens
RobotEra features a unique gamified staking mechanic that it markets with a unique backstory. Staking or "pledging" Taro tokens to reconstruct the now "destroyed" world of Taro will allow stakers to generate passive income. 
Event Benefit
Brands with their own Robots can hold events within the independent continents of Taro. These are "public continents" where brands can market their products and earn global exposure within the Metaverse. While it is, in many ways, similar to Decentraland, RobotEra has taken a more inclusive approach through its presale. 
Mining
Each land in RobotEra is rich with resources of various rarities. These resources can be mined to use as raw materials to create NFTs. The rare these resources are, the more valuable the NFTs will be. Another way to earn resources is by exploring the lands. RobotEra possesses a great open-world environment with hidden regions and precious materials. Players who are interested in something other than mining can also participate in random events to earn rewards. 
Land Management
Operating the player continent or going mining the independent continents is also a great way to generate income. 
Market Transactions
As we mentioned, all the assets players mine or create are tradeable on the in-game marketplace. While it is not clear whether these assets are tradable on an "open marketplace" such as Opensea, RobotEra's roadmap gives hints that the in-game marketplace would be equally robust. And since every digital asset is an Ethereum-based NFT, these assets will likely become tradable on other NFT marketplaces.
A Close Look at RobotEra's Tokenomics
RobotEra is powered by TARO, a utility crypto used for transactions and interaction purposes. Built on the Ethereum blockchain, TARO is an ERC-20 token that creators and players will be able to use to create assets and build a user-based platform for rewards while creating new gameplay experiences that diversify RobotEra's offerings. 
When it comes to tokenomics, RobotEra has taken a truly ethical approach, allocating only 10% to the team, 2% to the institutional investors, and 3% to the advisors. The remaining 85% to the RobotEra's ecosystem and community.
There are over 1.8 billion tokens in total that are 100% locked with a 5 years vesting period. Below is the breakdown of TARO's tokenomics.
Entities
Token Allocation
Percentage of Supply
Institutional Investors 
36 million
2%
Presale 1
90 million 
5%
Presale 2
90 million 
5%
Presale 3
90 million 
5%
Team Allocation
180 million
10%
Advisors
54 million
3%
P2E Rewards
450 million
25%
Treasury/DAO
594 million
33%
DEX Liquidity
54 million
3%
ECO Fund
162 million
9%
Visit RobotEra
RobotEra RoadMap
RobotEra provides a different kind of roadmap from the norm. It will change with the participation of the community and the new content that is bound to come. 
That said, the roadmap is divided into five milestones. So far, RobotEra has passed three of them. 
Milestone 1: Q1 2022
Developers completed the work on the official creative tool, the Land editor. The official website and the promotion videos were also released during this time. 
Milestone 2: Q2 2022
Developers completed the design for the Robot NFTs and started aggressive social media operations. They also partnered with an external agency and launched the first version of the whitepaper. 
Milestone 3: Q3 2022
Milestone 3 was reached once the devs completed testing the central city and creating the Robot Companion Editor 1.0. The creation of the public continent was also completed during the third quarter of 2022. 
Milestone 4: Q4 2022
Currently, the token has been released as a presale. After its conclusion, the devs target listing TARO on cryptocurrency exchanges and RobotEra NFTs on third-party markets such as Opensea. That said, the team has already developed and tested the battle system to be implemented in the game. 
Milestone 5: Q3 2023
By the first quarter of the next year, the RobotEra team will start building an alpha metaverse galaxy to introduce more gameplay elements. Players will also witness the arrival of VR and AR integration and get to experience the new" experience" mode. 
Why Invest in RobotEra
Here are the reasons why RobotEra is a good investment for crypto enthusiasts.
A huge Upside Potential
At its highest, Sandbox climbed 3500x, creating huge gains for movers who bought SAND when it was $0.020. Currently, in stage one, RobotEra has the same price. Considering its tokenomics and unique approach to the Metaverse, experts believe that RobotEra can mirror Sandbox's feat in the near future.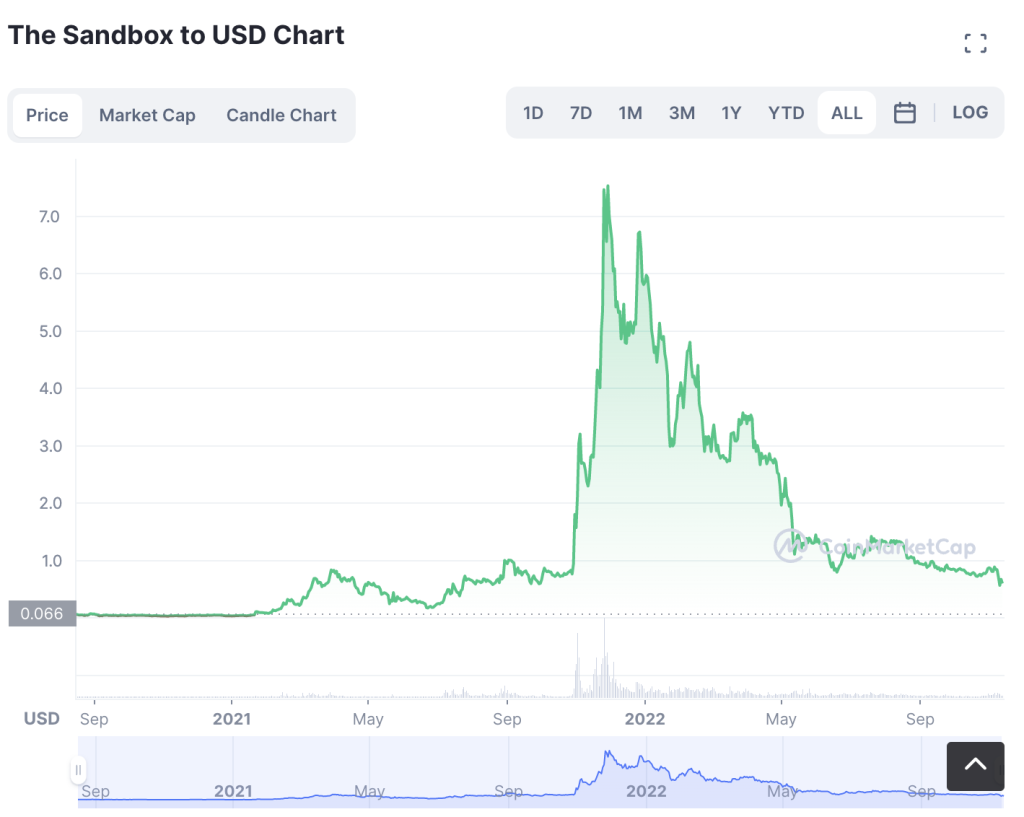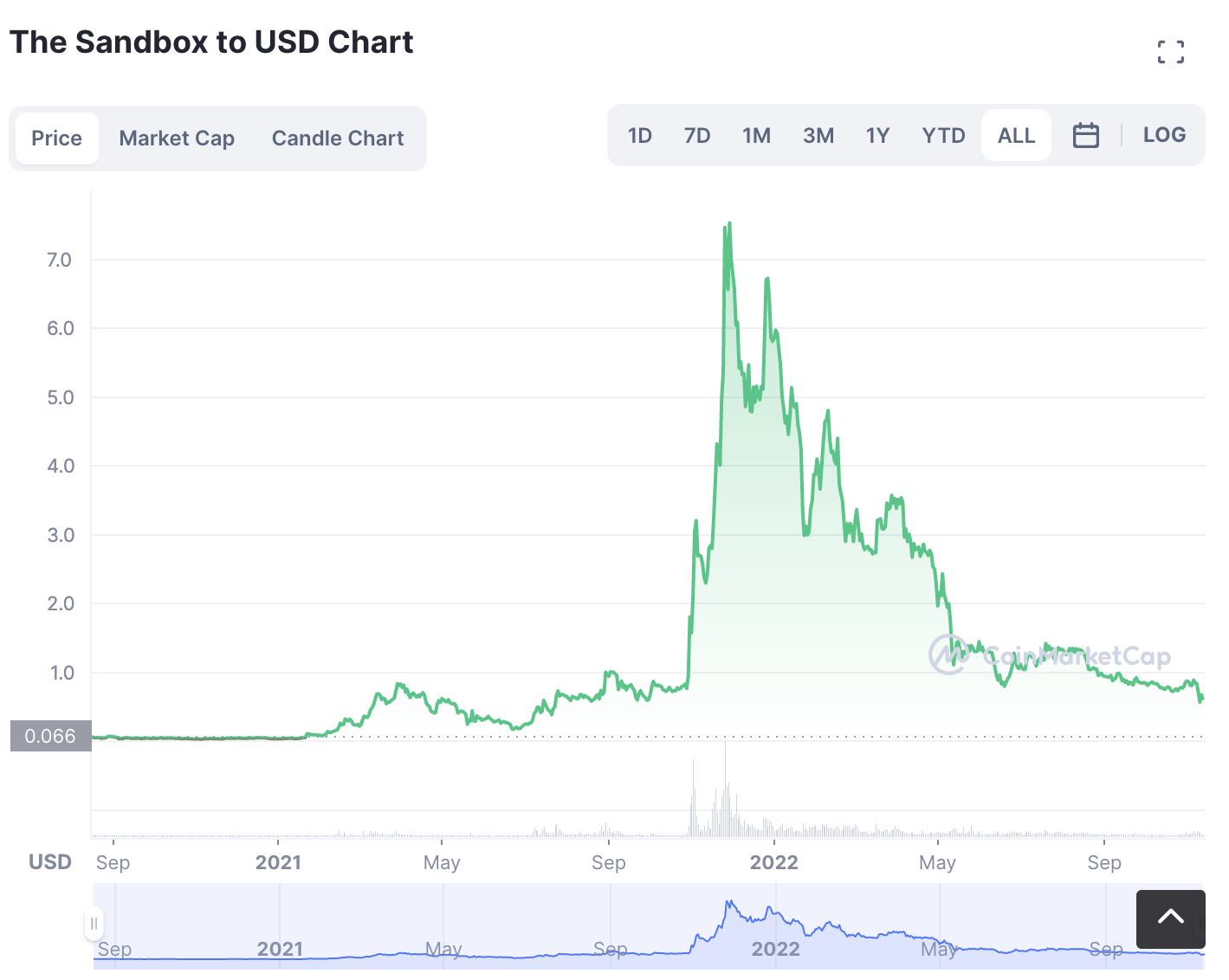 Popular Brands Rally behind Metaverse Projects
From Nike to Coca-Cola, brands have rallied behind metaverse projects like Dencentraland and the Sandbox. And since one of the main utilities of RobotEra is the "independent continent", where companies can host their brands, companies now have more options of metaverses to choose from. 
Multiple Earning Mechanics
RobotEra doesn't limit players by giving them one or two earning mechanics but offers them 6 ways to earn. Depending on their interests, crypto enthusiasts can select one or all of them to compound their earnings. 
Multiple Metaverses within RobotEra
Players can customize their lands however they see fit to reflect their identity or their brands. The customization options provided will allow players to create their own metaverses within the RobotEra ecosystem.  
Limited Supply for Robot NFTs
Initial research suggests that there will only be 10,000 Robot NFTs. A limited supply will help drive up the demand as the scarcity of these NFTs will attract buyers willing to get them at a higher rate. 
Doxxed Team
Most of the popular NFT projects in the past have anonymous teams. However, as the calls for transparency rise, developers of NFT projects have become more open to revealing their identities from the start. The same goes for RobotEra. The identity of the top three members of the team has been revealed. They are Jason Chan, CEO and CO-Founder, Alex Wong, COO, and Slimane Lee, CTO and CO-Founder.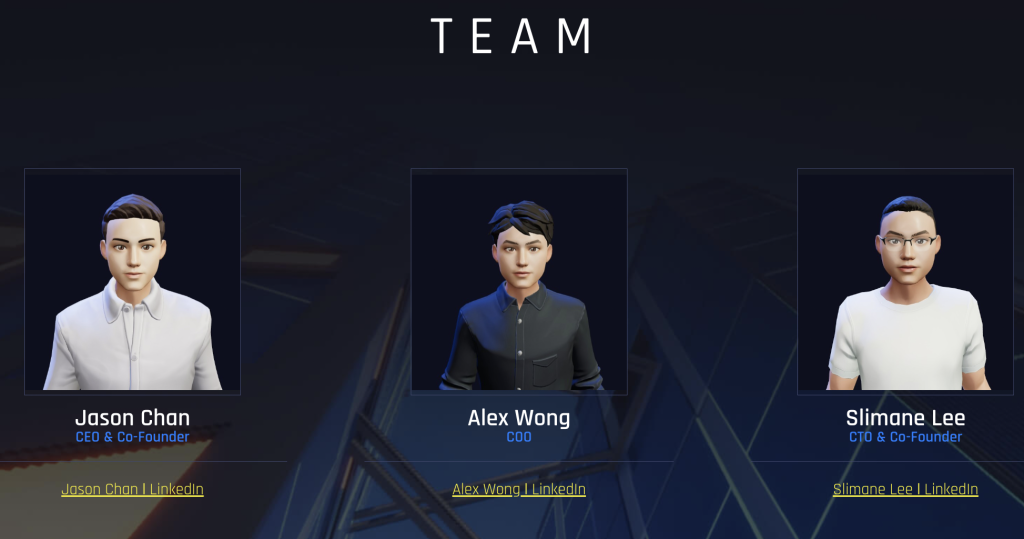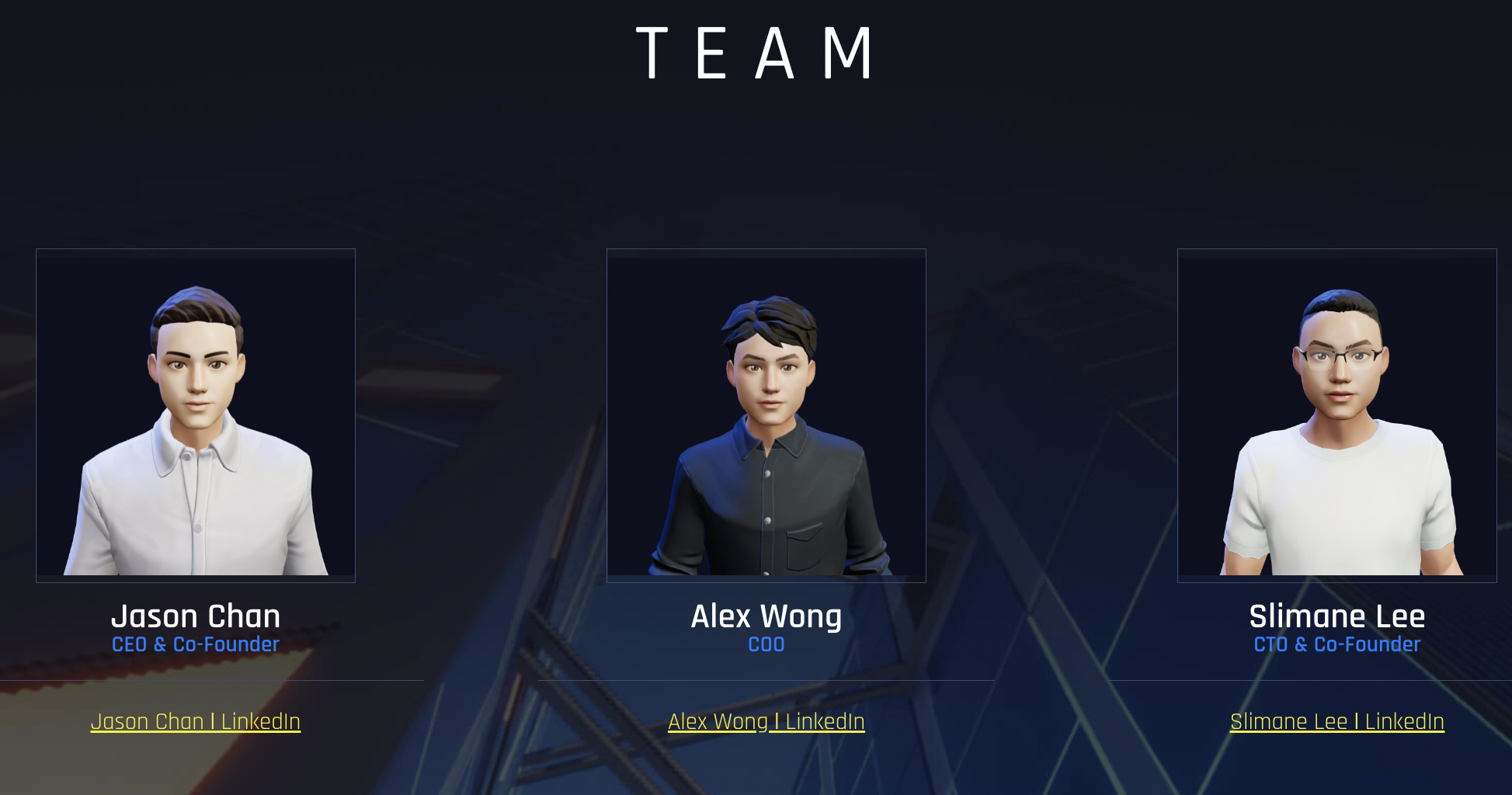 Visit RobotEra
How to Buy RoborEra?
Get a crypto wallet
The first step is to install the Metamask wallet. While you can choose other options, RobotEra recommends MetaMask since it offers a smoother buying experience to those buying using a desktop.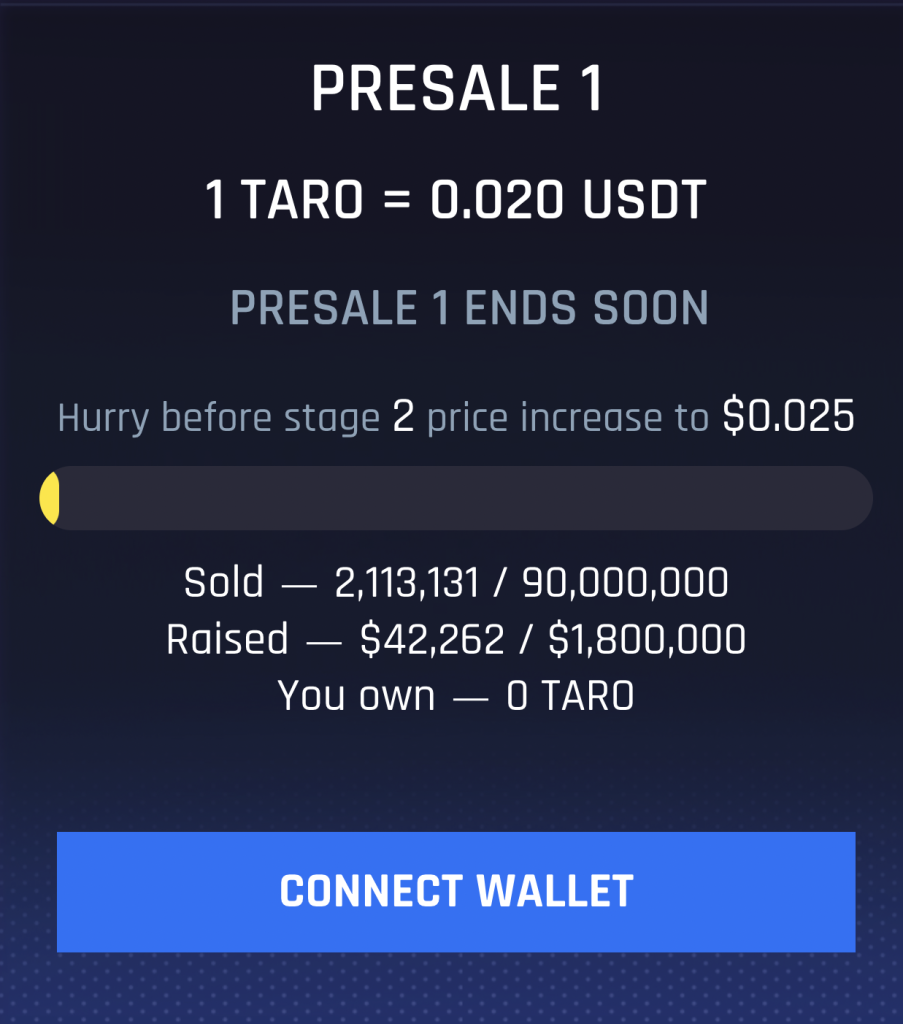 For those using mobile phones, TrustWallet is a better option. 
Make sure that the wallet has ETH or USDT
Go to a cryptocurrency exchange and buy or transfer ETH or USDT in your crypto wallet. Insidebitcoins recommends eToro. It is a great social trading platform that allows users to purchase crypto assets such as ETH or USDT using fiat. You can then transfer these tokens to your crypto wallets. 
Connect the wallet with the official website
Go to the official website and click on the Connect Wallet button. Here, you can choose between the 24 available options of crypto wallets to choose from. Or, if you're using a mobile phone, all you need to do is scan the QR code with a WalletConnect-compatible wallet.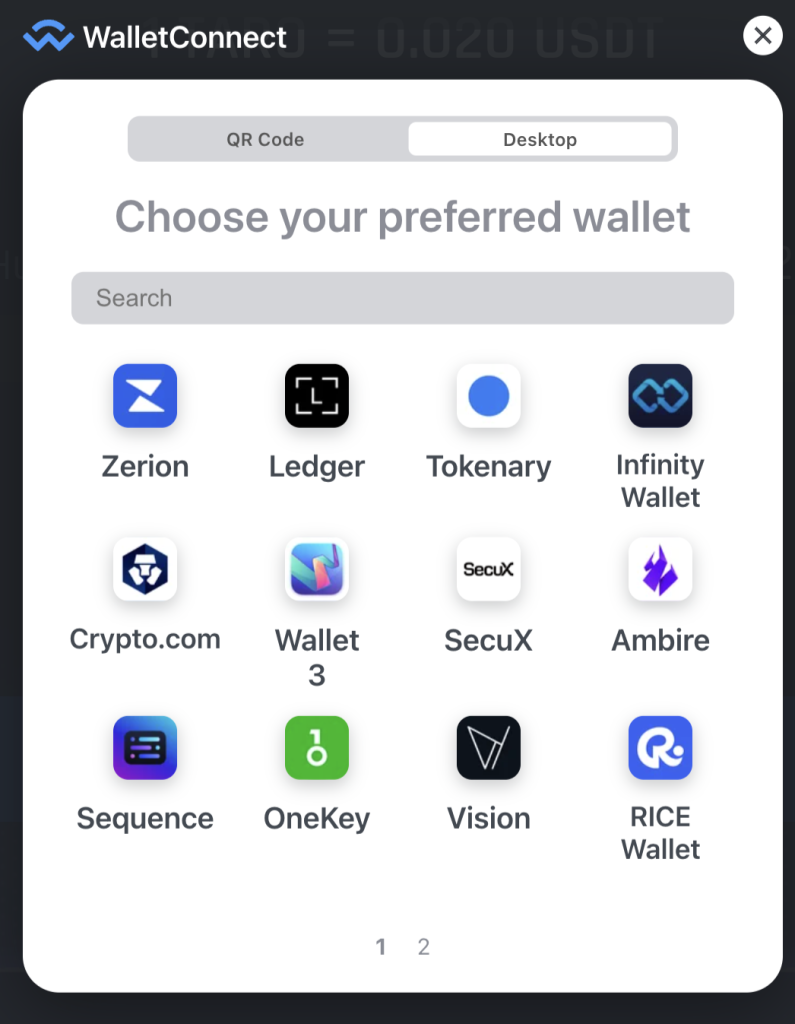 Chose between USDT or ETH to buy TARO
Once you have connected the wallet, you can choose either ETH or USDT to swap for TARO tokens. 
Complete the buying process
You will need at least $20 worth of USDT to buy TARO. The minimum amount of TARO that you must purchase is 1000. You will need to approve the purchase twist to complete the process.
Claim the TARO tokens after the presale
After you have bought the tokens, you will only be able to claim them after the conclusion of the presale. Keep up with our news section to stay updated about the progress of this presale. 
Conclusion
While the bear market has driven interest away from the Metaverse, RobotEra has all the right elements that renew community interest in its blockchain-based multiverse. From the unique Robot NFTs to the ability to create NFTs, RobotEra can become a haven for creators. 
These factors can compound to boost this NFT project's price once it gets dropped. 
However, the presale is live for those looking for an early mover advantage. TARO is currently being sold at a low price of 0.020 USDT. We recommend that you participate right now to gain TARO's price increases with each presale stage. 

Visit RobotEra
Related Articles
Frequently Asked Questions on RobotEra Game
What is RobotEra?
RobotEra is a metaverse project featuring Robot NFTs. Here, Robot owners can own land and customize it to create their own Metaverse within RobotEra's ecosystem. They can also create their own NFTs and sell them on the marketplace.
How to earn income in RobotEra?
RobotEra offers six different ways to earn an income: trading NFTs, staking tokens, event benefits, mining, land management, and market transactions.
Can I create my own Robots?
No, you cannot create your Robots NFT. You will need to buy one of the 10,000 designed Robot NFTs to interact with RobotEra's ecosystem. Once inside the ecosystem, you can either get land as an airdrop or buy it later. You can customize this land using the land editor. RobotEra also offers a Robot Editor to create and customize Robot companions.