Render Token Price Pumped 50% in April, And Analysts Predict DeeLance is the RNDR of Web3 Freelancers (DEELANCE)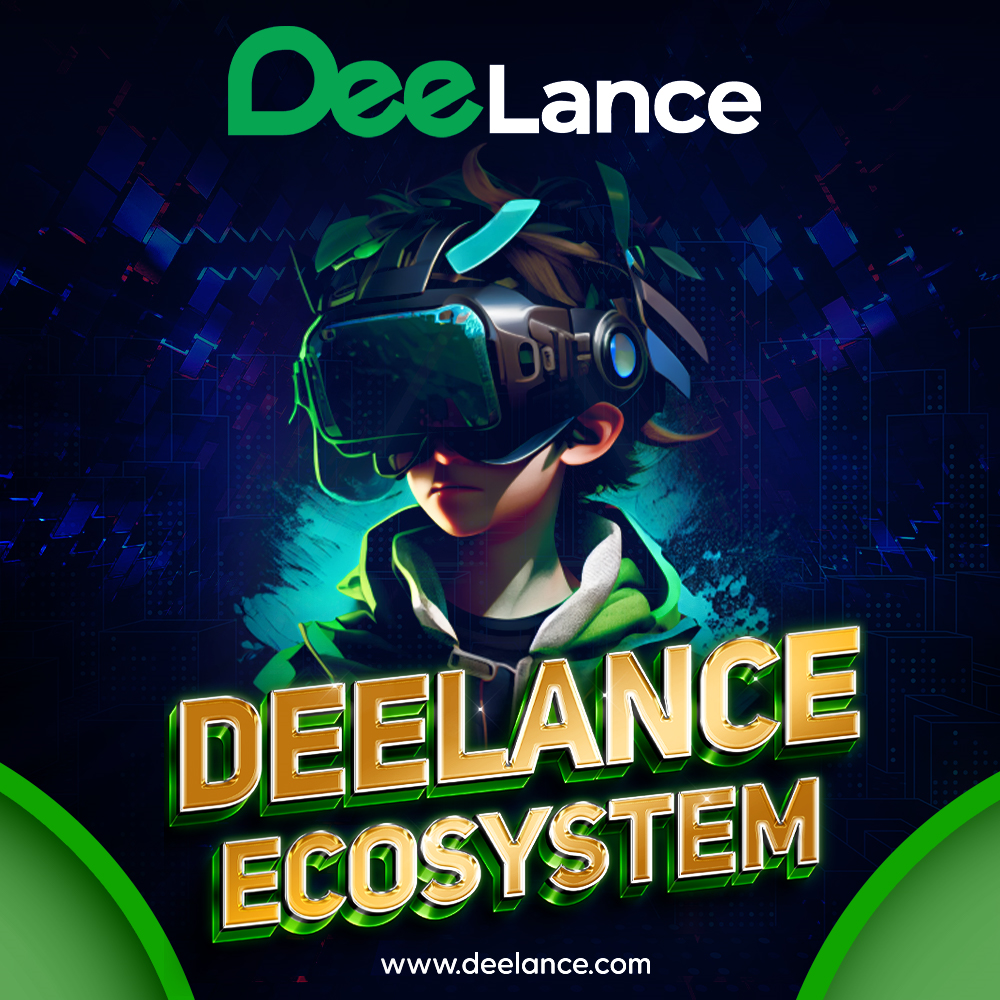 Join Our Telegram channel to stay up to date on breaking news coverage
In April, Render Token Price was among the best performers in the crypto platform, controlled mainly by Ethereum and Bitcoin, as it whooped a 50% increase in price. Built on the Ethereum Blockchain, Render Token aims to connect artists and studios with Graphics Processing Units (GPUs) needing computing power with mining partners.
The Token utilizes manual and automatic proof-of-work systems (proof-of-render) to approve that all art has been successfully rendered before payment disbursal and art release. However, all RNDR payments are stored in escrow during rendering and later released to node operators upon manual verification by the commissioning artist of successful work. The Token works in a peer-to-peer (P2P) blockchain, enabling improved and simplified streaming and rendering of 3D environments, objects for end users, and models.
Nonetheless, with the unprecedented crypto market growth, the most innovative projects with unique concepts have gone up, of which DeeLance is among the many. Like Render, the DeeLance project aims to connect like-minded individuals. DeeLance is among the entrants in the decentralized crypto market, which brings forth a space where the world works intelligently. It operates as a freelancing and recruitment platform based on Web3 technology to revolutionize how freelancers connect with potential employees.
On the other hand, Upwork and Fiverr were among the platforms where creators could help clients needing work, and for a while, they worked decently. However, a few issues began accumulating, including inconsistent payments, a lack of community to guide the industry further and poor work quality. Notably, DeeLance has stepped in to fill the gap by offering a web3 alternative that bridges gaps left by traditional recruitment platforms and enables industries to reach heights they once attempted to climb. In the previous weeks, its network token has gained significant support from the crypto community. This has pointed to its ability to become the RNDR stepping stone for the freelance industry.
Render Price
Render ($RNDR), launched in 2017, is the network token utilized in GPU rendering and connecting artists with studios. Additionally, it serves as a payment token and as a governance asset. The platform connects music artists and studios with mining partners ready to rent out their excess GPU capabilities in exchange for some fees. The transaction is conducted on the Render marketplace.
However, at the time of writing, $RNDR Token is trading at $1.943. Render Token has seen a significant surge in its price in the past few weeks. However, today's 24-hour trading volume of $RNDR Token is $103 M. Render token is down 5.63% in the last 24 hours and a 24.90% increase in the past seven days.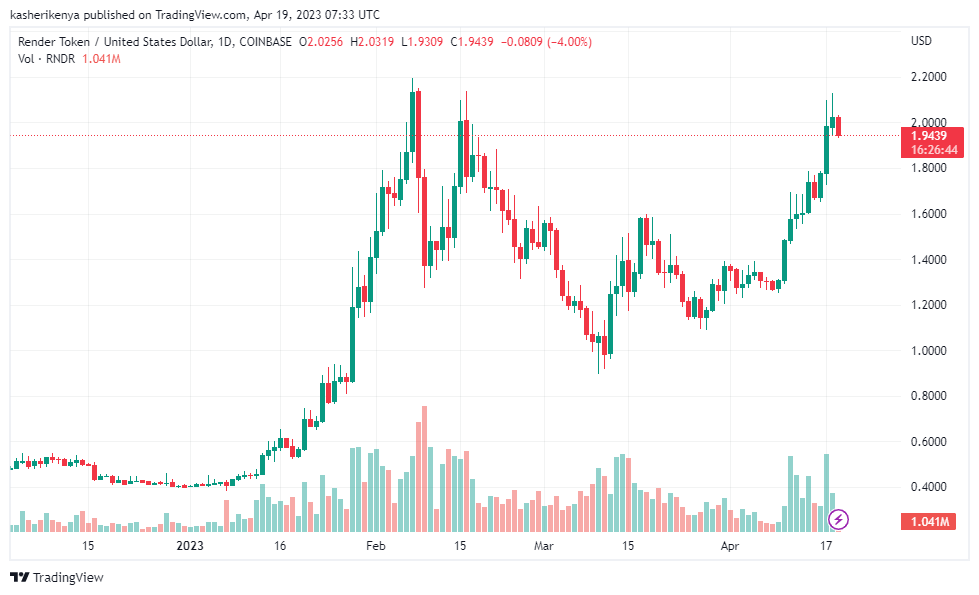 Source: Tradingview.com
According to CoinGecko, the $ RNDR's token market cap is at #76, with a live market of about 700 million. Its weekly foray has turned several investors' heads. The digital asset has crossed north, indicating the strong potential it holds for the music industry embracing web3 solutions. On the other hand, the utility of the Render coin resembled that of the DLANCE coin, with many uttering that its features resemble the RNDR features in striking semblance.
DeeLance and RNDR for freelancers
There are so many reasons why the Render platform can resemble that of DeeLance. On the Render platform, an individual can need any job carried out, including an engineering project, building a prototype and designing a product. On the platform, the professionals use 3D models to create realistic and detailed renders (a virtual representation of a product) that is in demand by their clients. Technology has become a necessary tool for all professionals in various industries. This enables them to create and visualize the created designs and ideas in a more detailed and realistic way.
On the other hand, the DeeLance project is quite similar to the Render project. It also provides a virtual reality or Metaverse supported by its $DLANCE token. This enables freelancers to pitch their jobs and connect with their employers in real time. However, DeeLance is a freelancing and recruitment platform based on blockchain technology. It is distinctive from other platforms due to its unique elements, including efficiency, ease, and security. It also provides lower transaction fees (2%) in the ecosystem, which resembles the Render token.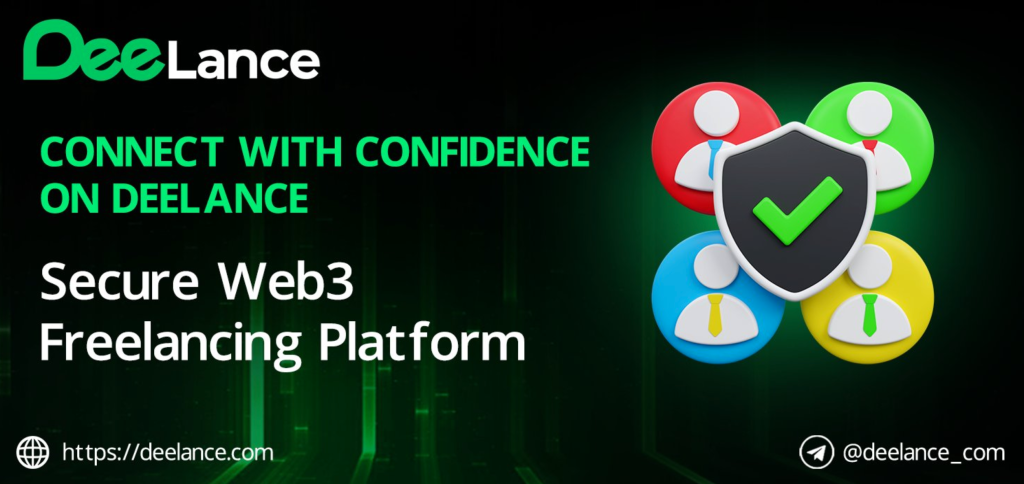 Compared to other industry standards in the recruitment forum, DeeLancer's freelancer fee is quite fair. Notably, DeeLance has other notable features, including Escrow payment. It sets up smart contracts for handling payments for every service they render or supply.
DeeLance Presale for the $DLANCE token
The DeeLance Presale, which debuted last month, has been on fire. As of now, its token network has raised over $250,000.
DeeLancers, it's time to celebrate! 🎉🙌

We have reached another incredible milestone by raising over $250,000! 👨‍💻

Presale Stage 1 is Live. Get your hands on $DLANCE now! ⬇️https://t.co/XHnTqVzMLN

#Cryptocoin #Presale #Crypto #Blockchain pic.twitter.com/CgZpncmEb2

— DeeLance (@deelance_com) April 18, 2023
The Token is tailor-made so users can benefit from a seamless transaction process that enhances their overall experience. Some of the token use cases include:
Advertising purposes
Leasing offices
Purchasing the NFTs within the NFT marketplace
Paying and buying for additional features within the DeeLance space
However, it's still possible if you still need to purchase your $DLANCE Token. This is the best time to purchase one to enjoy profits once the Token is listed. The early bird investors can get the digital asset at its current price of $0.025 before the next price increases to $0.029 in a few days. This comes after the DeeLance community requested an extension of Stage 1 of the presale. This is the last opportunity for any investor to get in early. The launch price is set at $0.053USDT.
To gain more information on the DeeLance presale, watch this video for an insightful review. Notably, you can subscribe to the YouTube channel for more updates to keep you on track with the project's developments.
Conclusion
As the crypto industry keeps on sprouting, many projects keep evolving too. However, it is wise to carefully consider the growth prospects of each initiative before taking a chance to invest in them. An entire project such as DeeLance can be essential to one's portfolio since it focuses on bringing end users value. DeeLance can be one of the best tokens to purchase simply because it emphasizes setting realistic targets and aiming to achieve them instead of mentioning ambitious goals. You can also see our guide on how to buy DeeLance or visit the official website at the link below to browse the whitepaper and roadmap for this year.
More News:
DeeLance – New Web3 Coin Presale
First Decentralized Freelancing Network
Find Employers in the Metaverse
NFT Marketplace, $100k Giveaway
Presale Stage One Live Now
SolidProof & Coinsult Audited
Join Our Telegram channel to stay up to date on breaking news coverage