Pepe (PEPE) Price Prediction, As Activity Spikes, Raising 24-Hour Trading Volume 

Join Our Telegram channel to stay up to date on breaking news coverage
Yesterday, Pepe (PEPE) dipped in its price. However, the token has remarkably increased today, July 20.
The key factor contributing to this bounce-back is the substantial increase in its 24-hour trading volume, indicating a surge in transaction activity within the network.
PEPE Recent Price Action
Over the past seven days, PEPE has demonstrated a positive trend in its price movements, with a surge of 3.40%. 
In the last 24 hours alone, the token has seen a modest rise of approximately 1%, and as of 07:20 EST, the PEPE price stands at $0.00000155. One of the most notable aspects of PEPE's current situation is its extraordinary growth in trading volume.
Within the past 24 hours, the trading volume has surged to over $63.5 million. This represents an astounding growth rate of approximately 11,000%.
Such a significant increase in trading volume reflects the growing demand for the token, likely contributing to its price resilience and upward trajectory.
PEPE Displays Ranging Movements on The Hourly Price Chart
As of July 20, 2023, the PEPE token has shown signs of a positive movement turn. However, the hourly price chart indicates ranging movements, suggesting that the PEPE's price has fluctuated within a certain level throughout the day.
Nevertheless, several technical indicators, such as the MACD, are projecting a potential rise in its value in this time frame. The MACD line has crossed above the signal line, which implies that the positive momentum is gaining strength.
Additionally, the PEPE price is above the 50-day moving average (MA), indicating a positive sign for short-term price trends. However, it's important to note that PEPE remains below the 200-day MA, meaning that the token's long-term price performance is still below the average price over the last 200 days.
Furthermore, RSI for PEPE is at 56.30, suggesting that the buying pressure is relatively stronger than the selling pressure.
PEPE's resistance and support positions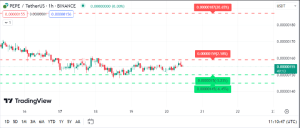 While the token has made progress and is holding a current price of $0.00000155, recognize that it has faced resistance at $0.00000159, a 2.58% increase from its present position. The token's inability to break past this resistance level indicates significant selling pressure at that price point.
Traders and investors should closely monitor price movements, technical signals, and any developments in the cryptocurrency market to make informed decisions.
Experts Share Possible Long-Term Prices of The PEPE Token
According to analyses from CryptoNewsZ, experts are slightly bullish about the future of the PEPE token. They predict that in 2024, the token's price could reach a high of $0.0000032 and a low of $0.0000026.
Moving on to 2025, CryptoNewsZ anticipates further price appreciation, with the token possibly reaching a maximum of $0.0000046 and a minimum of $0.0000035 that year.
On the other hand, DigitalCoinPrice predicts that in 2026, the price of PEPE may not dip below the $0.00000601 mark. In the same year, the expert believes that PEPE might reach a peak price of $0.00000717 while holding an average price of $0.00000675.
DigitalCoinPrice predicts that by 2030, the price of PEPE could reach a high of $0.0000163, a minimum price of $0.0000152, and an average price of $0.0000161.
Factors That May Influence PEPE's Price in The Future
Despite the recent surge in market cap within the meme coin sector, the iconic meme coin, $PEPE, faces challenges in gaining momentum as it continues to trade sideways within a specific range.
For the past 27 days, $PEPE has been oscillating between the support level at $0.00000147 and the resistance level at $0.00000187. This consolidation phase may be attributed to the emergence of new tokens that have captured the attention of global investors.
The broader crypto asset market's cap has experienced a notable increase, primarily driven by these new tokens. Additionally, a wave of Pepe-inspired clones has stirred the market, further adding to the volatility and uncertainty in the industry.
Moreover, amid all the buzz, the meme coin sector is witnessing a rush of investors flocking to its presale projects. Investors are eager to secure positions at the lowest prices possible before these tokens gain traction on platforms like DexTools.
Particularly, traders are showing swift interest in emerging meme coins like DeeLance ($DLANCE), Evil Pepe ($EVILPEPE), Wall Street Memes ($WSM), and Chimpzee ($CHMPZ). 
These investors hope to be ahead of the herd and capitalize on potential price surges by jumping in during the early stages. These occurrences may affect the PEPE token's price, as the attention could shift from it to these rising virtual assets.
Other factors to note
The price of the PEPE token could also be affected by a combination of internal and external factors.
Here are some additional factors that could impact the token's value:
Competition from rising tokens
As the cryptocurrency market evolves, new tokens and projects emerge, increasing competition for investors' attention to PEPE.
If new tokens with unique features and strong use cases gain popularity, they may divert investments from PEPE, potentially affecting its price.
Bitcoin price and market sentiment
Being the first and most well-known cryptocurrency, Bitcoin often sets the trend for the broader crypto market.
Significant price movements in Bitcoin can trigger widespread market sentiment changes, impacting other altcoins, including PEPE.
Total supply of PEPE tokens
The total supply of a virtual coin plays a crucial role in its price dynamics. With a total supply of over 420 trillion tokens, PEPE's price could be prone to inflationary pressures, particularly if new tokens are added to this figure.
High token supply may lead to dilution of value, which can negatively affect the token's price over time.
DeeLance – A Major Rival of Pepe (PEPE)
DeeLance, a platform operating in the decentralized space, is transforming the freelancer-employer dynamic within the Metaverse. With its presale that began on March 30, 2023, the platform aims to reach a $6 million hard cap in three months.
DeeLance's NFT marketplace is special, an all-encompassing ecosystem that seamlessly integrates The Metaverse, recruitment services, and a user-friendly freelancing platform.
At the heart of this project is tokenizing freelance work products into non-fungible tokens (NFTs), ensuring secure and reliable ownership transfer for freelancers' work, and instilling confidence in recruiters to acquire and utilize their services.
DeeLance native token circulation
The $DLANCE token, with a total supply of 1 billion, is distributed across seven different pools. 
The presale portion accounts for 30% of the token supply, with no vesting period. Another 10% is allocated for the liquidity pool, 2% for rewards, and 16% for listing on centralized exchanges (CEXs).
During the Token Generation Event, the presale tokens will be unlocked. The remaining token allocation includes 18% for developing the platform, 10% for the project's team, and 14% for partnerships and advisors.
These tokens will be locked for 12 to 36 months and gradually released over time. Importantly, the $DLANCE token is exempt from any transaction tax.
Key features of DeeLance
DeeLance offers a unique and innovative ecosystem with the following key features:
Integration with the Metaverse
DeeLance provides a virtual world where freelancers can create virtual offices and interact with potential employers. This immersive experience fosters remote collaboration and networking beyond physical limitations.
Robust job hiring platform
DeeLance is an efficient job hiring platform, connecting freelancers with employers and vice versa. It offers a diverse pool of professionals and opportunities for mutually beneficial work arrangements.
NFT Marketplace Services
The platform has an NFT marketplace that goes beyond traditional art offerings. It showcases and trades various NFTs, including photography, music, trading cards, virtual worlds, and event tickets. This diversity expands possibilities for creators and collectors.
DLANCE presale program
The ongoing presale of DLANCE, the platform's native token, is making impressive strides, already surpassing the $1.5 million mark in funds raised.
In this last presale stage, $DLANCE tokens are valued at $0.048, a slight increase from the previous amount of $0.043. Once the presale concludes, DLANCE will be listed on various trading exchanges, starting at $0.057 per token.
This presents an enticing opportunity for investors and traders who got in early.
How to purchase $DLANCE tokens
To participate in the ongoing DeeLance presale, follow these simple steps:
Open your Trust Wallet or MetaMask wallet and navigate to the browser tab.
Copy and paste the deelance.com link into the search bar to access the presale program.
To connect your wallet to the project's presale, select the "Connect Wallet" button on the site's main page.
Select your DApp Wallet (Trust Wallet, MetaMask) to establish the connection.
Choose to purchase with either ETH or USDT.
You may be asked to approve the transaction, so confirm it.
Once you've completed all the steps, you should see a notification indicating the transaction was successful.
Related News
DeeLance – New Web3 Coin Presale
First Decentralized Freelancing Network
Find Employers in the Metaverse
NFT Marketplace, $100k Giveaway
Presale Stage One Live Now
SolidProof & Coinsult Audited
Join Our Telegram channel to stay up to date on breaking news coverage