Participate In The Future Of Social Media Polls With This Groundbreaking Crypto Project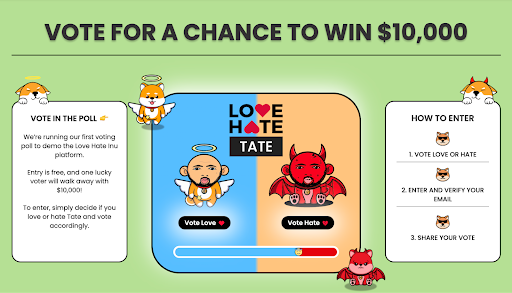 Join Our Telegram channel to stay up to date on breaking news coverage
Recently, the crypto community has been paying attention to LHINU, the newest meme coin. LHINU comes packed with a unique vote-to-earn (V2E) mechanism and staking. Love Hate Inu commenced its presale on March 7 and has already raised over $4.4 million to date, making it one of the fastest cryptocurrency assets of 2023.
Love Hate Inu Giving a chance to win $10,000
In less than a month, the new revolutionary vote-to-earn (V2E) crypto Love Hate Inu has raised over $4.4 million in the public presale. To celebrate the astounding success, the team has launched a contest to demonstrate how voting will take place on the platform. This is a Love or hate Andrew Tate poll giving participants a chance to win $10,000. It is free to enter competition that is carried out off-chain and is very easy to participate in. If you want to join the competition, visit the Love Hate Inu homepage. Below the presale contributions area, you will see the 'Vote for a chance to win $10,000' header; click the 'Vote Now to Win' button.
Further, you have to click the '' Vote Love'' or ''Vote Hate'' button next. Once you have voted, enter and verify your email. You can then share on your social media platform to indicate that you have cast your vote.
However, a British-American social media personality, Andrew Tate, currently under house arrest in Romania, feels the Love. The haters are lagging significantly, as the former kickboxer and businessman is fetching Love.
Notably, there can only be one lucky winner of the competition, whose closing dates have not been disclosed yet. However, it is best if one jumps in as early as now. If you are Andrew Tate's hater, this is a chance for you to step up in the platform's first poll and even up the score.
It is a fun and valuable way to thank the community for its enthusiastic support of the project. The first vote notably acts as a robust proof-of-concept for the business model.
What is Love Hate Inu(LHINU)?
LHINU aims to provide a community-driven platform that actively incentivizes user participation and contributes to the market value of the meme coin. Its inventive vote-reward structure separates Love Hate Inu from other meme coins. The very first vote-to-earn platform, LHINU, enables users to make income by sharing their opinions on a wide range of issues and controversial topics. From politics, sports, and music. Whether you love or hate Elon Musk, Donald Trump, or Andrew Tate. The users of this website will receive rewards for participating in discussions and casting their votes on sharing their opinions on a wide range of issues and subjects that cause social turmoil.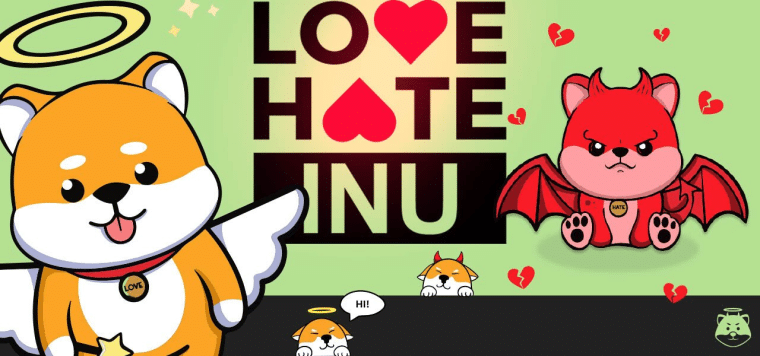 Nonetheless, suppose one joins the Love Hate Inu platform. In that case, one can fetch the freedom of expressing ''Love'' or ''Hate'' and get an LHINU token in return. This is a favorable or unfavorable opinion about a subject or opinion. Hence, with adorable angels or devil figures, one can definitely have fun doing it and be paid for it.
However, to participate in the Love-Hate Inu voting, the participant must possess a native LHINU coin. Love Hate Inu intends to legitimize online voting and get rid of bots and other forms of manipulation by requiring users to hold LHINU tokens before casting a vote.
By staking LHINU tokens, users can participate in the latest polls and earn tokens for voting. The community will also decide which polls to create over time.
Notably, the smart contracts serve as the LHINU staking mechanism's security. This serves as an indication that the voting procedure is both transparent and private. Hence, the participants can be confident that their voice is heard and that their vote will count.
The $LHINU staking mechanism is secured by smart contracts.🔒

This means the voting process is both verifiable and anonymous.👥🗳️

So, rest assured that your vote counts and your voice will be heard!🙌🗣️

Join our #Presale today and become a part of the #LoveHateInu Gang!💰🚀

— Love Hate Inu (@LoveHateInu) April 17, 2023
Get your LHINU Tokens before the price goes up
The Love Hate Inu presale project has raised an astounding amount, given a short period, making it a significant accomplishment in the industry. However, only seven days are left before the subsequent staged price increases from $0.000115 to $0.000125 in Stage 6 of the eighth-stage presale.
The LHINU presale started for $0.000085 in stage 1, and when the presale ends, it will be priced at $0.000145. The early investors in the LHINU presale will have received a 70% return on their investment by the end of the eighth and final stage. However, it is not too late for those who missed the first stage. Here is a guide on how to buy LHINU tokens. If you buy now in stage 5 at $0.000115, before the price increase, you will still be able to receive a 38% return on your investment.
LHINU's Potential Growth
Compared to other meme coins, including Dogecoin and Shiba Inu,  LHINU is a unique project. It aims at achieving two things. First, it is an innovative vote-to-earn system that incentivizes users. Secondly, it is a meme coin that aims to create viral memes that can be shared across social media platforms. LHINU plans to generate revenue for its investors, not only via the V2E system but also through brand deals.
The platform allows brands to conduct polls to gain genuine product feedback from an engaging community. Additionally, participants can also be rewarded with NFTs instead of LHINU tokens. Notably, LHINU can be used in upcoming metaverse projects to conduct polls in the digital globe, as users can be rewarded with poll-specific rewards. This enables a steady supply of rewards for every participant in the community.
Noteworthy, by analyzing the trends and evaluating LHINU's potential for growth, the investors can make personal decisions based on their analysis. This can help the investors avoid the trap of falling victim to FOMO and REKT. Instead, they will make sound decisions based on logic and analysis.
In conclusion, LHINU is a fascinating concept that seeks to encourage community involvement through its unique vote-to-earn incentive system. LHINU has the potential to impact the crypto industry due to its community-centric strategy and unique selling characteristics. Everyone is eager to follow the development of this initiative in the near future.
More News:
Love Hate Inu – Newest Meme Coin
Decentralized Polling – Vote to Earn
Early Access Presale Live Now
Ethereum Chain
Mint Memes of Survey Results as NFTs
Staking Rewards
Viral Potential, Growing Community
Join Our Telegram channel to stay up to date on breaking news coverage