Next Cryptocurrency to Explode Thursday 7 September – Launchpad XYZ,  THORChain, GMX

Join Our Telegram channel to stay up to date on breaking news coverage
The global cryptocurrency market cap is $1.04 trillion, marking a modest 0.09% increase in the past day.
In the last 24 hours, the total cryptocurrency market volume surged to $26.35 billion, representing an 8.54% uptick. Within this volume, the decentralized finance sector contributed significantly, with a total volume of $2.07 billion, constituting 7.85% of the entire crypto market's 24-hour trading volume.
Furthermore, stablecoins played a dominant role in the market, with their volume reaching $25.13 billion, accounting for a substantial 95.38% share of the total crypto market 24-hour volume.
While still significant at 48.18%, Bitcoin's dominance experienced a slight decrease of 0.08% during the day. The crypto market remains dynamic, with investors closely monitoring these trends. 
Global stock indexes experienced a decline, accompanied by a rise in the benchmark U.S. Treasury yield and the U.S. dollar, reaching its highest point in half a year on Wednesday. This shift followed robust U.S. services sector data, which exceeded expectations and indicated the persistence of inflationary pressures.
On Wall Street, the stock indexes faced significant downward pressure, primarily due to a 3.6% drop in Apple (AAPL.O) shares. The Wall Street Journal reported, citing sources familiar with the matter, that China had prohibited officials at central government agencies from utilizing iPhones and other foreign-branded devices for official purposes.
Next Cryptocurrency to Explode
In parallel developments on Wednesday, Susan Collins, President of the Fed Bank of Boston, acknowledged signs of progress in mitigating inflation. However, she emphasized the need for the central bank to exercise caution and prudence in its upcoming monetary policy decisions.
1. Launchpad XYZ (LPX)
The Launchpad XYZ project isn't your run-of-the-mill cryptocurrency project. It's emerging as the ultimate hub for all things related to Web3. This platform is an opportunity for exposure to various activities, including NFT trading and educational resources.
What adds an extra layer of allure to this opportunity is the ongoing presale offering a generous 18% bonus. However, time is of the essence as the presale is nearing its conclusion. During this presale phase, the token price was attractive at just 1 LPX, valued at $0.0445.
This attractive offering has triggered a surge in investor interest, propelling the LPX token price past the $1.6 million milestone. The presale offers multiple tiers to cater to a range of investor preferences.
Never miss out on a promising project again 🙌

Join our FREE signals group and get in on the action! 👉 https://t.co/ZUZaIKgy84#LaunchpadXYZ #Web3 #Altcoins pic.twitter.com/nE490BHWah

— Launchpad.xyz (@launchpadlpx) September 6, 2023
Higher-tier packages deliver more substantial perks, starting with a basic $50 package, which includes a weekly market summary email and basic access to the Telegram channel. These benefits encompass LPX token allocations, exclusive entry into a private community, and access to special investor updates.
A notable feature is that LPX holders receive allocations each time a project is launched on the platform, ensuring potential rewards irrespective of individual project performance. Dubbed "the solution to the Web3 world," Launchpad XYZ equips investors with the tools they need to thrive in the Web3 space.
It provides information, education, trading insights, and analytics to help investors identify potential Web3 projects and position themselves for their inevitable growth. A standout feature of the platform is that users can invest in the Web3 industry while retaining control over their data without leaving the interface.
The overarching goal of this project is to simplify Web3 ecosystem investing by creating a user-friendly interface accessible to a wide range of users. Given the current intricacies of the Web3 concept, it's no surprise to see this utility project generating significant interest during its presale.
Within the project, several tools are designed to assist users in uncovering potential 100x Web3 opportunities. Users can easily explore the latest NFTs, fractionalized assets, utility tokens, presales, and metaverse tokens. Launchpad XYZ's utility token in the Web3 space aims to facilitate the exploration of this terrain for both newcomers and seasoned veterans.
Given the rapid expansion of the presale, especially in the wake of the recent market downturn, investors are advised to act swiftly and secure their positions to preempt possible price surges when the token becomes available on exchanges. 
Visit Launchpad XYZ.
2. THORChain (RUNE)
THORChain's decentralized liquidity network ended on a high note in August. It achieved its highest monthly volume in the past year, surpassing $1 billion. This surge in trading activity was primarily driven by the introduction of "Streaming Swaps," a novel feature allowing users to break down a single swap into multiple sub-swaps executed gradually.
Streaming Swaps was designed to address the issue of price slippage, which refers to the variance between the expected trade price and the actual execution price.
Furthermore, THORChain expanded its presence in August by integrating with prominent networks like Cosmos (ATOM) and Avalanche (AVAX).
The protocol also unveiled its lending feature, enabling users to lend native Layer 1 assets, including Bitcoin (BTC) and Ethereum (ETH), to THORChain and borrow USD-denominated debt.
Interestingly, while the broader cryptocurrency market experienced a downward or sideways trend in August, RUNE bucked the trend thanks to its low positive correlation with Bitcoin. Over 31 days, the token surged by an impressive 66%, as reported by CoinMarketCap.
However, on August 22, the token peaked at $1.7, coinciding with profit-taking activities. It is trading at $1.58 after rising more than 7% in the last 24 hours. Its ability to recover from the latest downturn puts RUNE in the seat of the next cryptocurrency to explode.
3. GMX (GMX)
GMX is trading at approximately $33.23 on Thursday. It reflects a 5.77% increase in the past 24 hours, according to data from CoinMarketCap.
Despite today's modest gains, GMX has encountered an 11.7% decline in its price for this week, indicating ongoing market activity from sellers. Nevertheless, several network developments are poised to shift this trend positively.
GMX's recent launch of the Beta version on Arbitrum is likely contributing to its ecosystem's growth. This update has introduced new assets for trading and expanded the range of collateral types that can be utilized. Additionally, it offers faster trade execution with enhanced speed and reduced slippage.
On September 4, the developers thoroughly evaluated risks, opportunities, and potential issues with version 2 to ensure the security of users' funds. These developments are expected to provide ongoing support for GMX's price.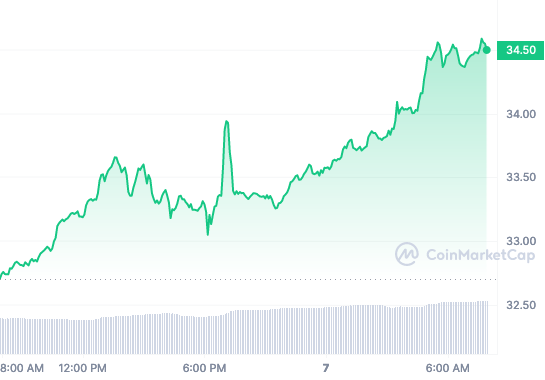 While GMX is showing signs of a minor recovery, with two consecutive green candles on the daily chart, the relatively small size of these candles indicates limited trading activity for the asset.
GMX faces bearish resistance at the $34.2 price level after finding support at $31.4. It is trading in proximity to the lower Bollinger Band, indicating the presence of sellers attempting to drive further price declines.
The RSI value stands at 31.62, nearing the oversold region of 30 but showing signs of an upward trend, confirming a potential resurgence of buying interest in the market. The MACD, positioned above the signal line, suggests that buyers may rally soon. Additionally, the gradual formation of green Histogram bars on the chart supports this prediction.
However, a decisive breakthrough above the $34.2 price level would serve as confirmation for potential further price increases in GMX. Bulls are set to take the lead as events unfold.
4. Aptos (APT)
Aptos, founded by former Meta employees, positions itself as a technologically advanced and developer-friendly blockchain. It has secured $350 million in funding from notable companies, including Binance, FTX, Andreessen Horowitz, Multicoin Capital, and Circle Ventures. Aptos boasts advanced capabilities, offering many blockchain use cases, including tokenized securities, efficient asset management, and support for DeFi and NFT projects.
The Aptos blockchain network ensures swift and secure transaction execution using the Move language. It provides flexible key management, transaction pre-execution, and other advanced security features, guaranteeing a safe user experience. Aptos achieves impressive throughput and minimal latency through its parallel and modular transaction processing pipeline.
The Aptos native token, APT, serves various functions within the ecosystem. These include giving token holders the ability to stake their tokens to earn additional APT tokens as rewards. The token holders can actively participate in the governance of the Aptos platform by voting on proposals and decisions related to its development and direction.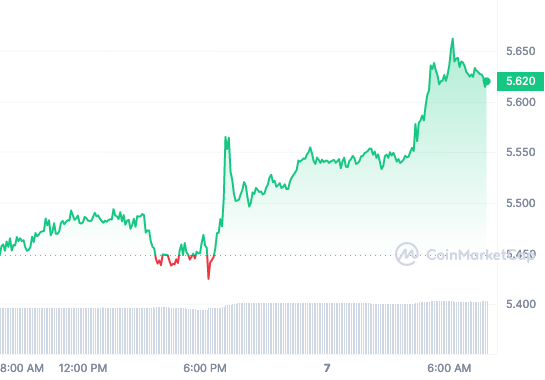 Furthermore, APT tokens can be used as collateral for borrowing other cryptocurrencies or stablecoins on the Aptos platform. They can also be lent to other users in exchange for interest.
These tokens are tradable on cryptocurrency exchanges, enabling users to speculate on their value or exchange them for other cryptocurrencies or fiat currencies.
Aptos boasts support for atomicity, enabling complex transactions and instant upgrades through its on-chain change management protocols. The network also features transaction pre-execution and replay protection, enhancing security for users.
Aptos extends its support to tokenized securities, including shares, bonds, and real estate, enhancing the accessibility and liquidity of these assets. With an impressive TPS (Transactions Per Second) of 160,000, Aptos ensures usability is not constrained by low throughput. Furthermore, Aptos facilitates efficient management of tokenized assets, including administering voting rights, dividends, and other corporate actions.
In addition, Aptos hosts over 100 projects on its network, spanning domains such as DeFi and NFTs. The network has achieved a DeFi Total Value Locked (TVL) of $47.4 million, an impressive accomplishment in just a few months, especially compared to other blockchains like Cardano, which has a TVL of $166.3 million.
Selling at $5.57, the token has risen by more than 3% in the last 24 hours.
Read More
.
Next Cryptocurrency To Explode 2023
Wall Street Memes – Next Big Crypto
Early Access Presale Live Now
Established Community of Stocks & Crypto Traders
Featured on BeInCrypto, Bitcoinist, Yahoo Finance
Rated Best Crypto to Buy Now In Meme Coin Sector
Team Behind OpenSea NFT Collection – Wall St Bulls
Tweets Replied to by Elon Musk
Join Our Telegram channel to stay up to date on breaking news coverage