New Hope For NFT Investors, As Bored Ape's New Boss Seeks To Revive NFTs Via Metaverse Gaming
Join Our Telegram channel to stay up to date on breaking news coverage
The non-fungible token market has significantly shrunk, with most NFT investors reporting losses in recent months. The NFT market woes began spreading sometime in June last year, leaving many NFT projects shedding more than 70% of their initial value.
Even though the NFT market has gotten smaller, the most exciting thing is NFTs are not dead and have strong potential to rise again. Interestingly, the new Yuga Labs boss has vowed to revive NFTs through the new revolution of metaverse gaming.
Daniel Alegre Bullish About NFT Gaming
In an April 27 interview with Bloomberg, Daniel Alegre, the new Chief Executive Officer at Yuga Labs, said non-fungible tokens have a brighter future. Alegre asserted that digital collectibles are essential to a new world of future metaverse gaming, events, and e-commerce.
Daniel Alegre, the former President, and Chief Operating Officer at Activision Blizzard, worked for the company for over 16 years. The high-profile executive joined Yuga Labs last month, taking over office from Nicole Muniz, the current strategic advisor at Yuga Labs.
Launched in 2021, Yuga Labs is a digital assets incubation studio and a home top popular non-fungible token collection, such as Bored Ape Yacht Club, Mutant Ape Yacht Club, and Otherdeed for the Otheside NFT collection. Others include Meebits, Sewer NFTs, Twelvefold, and Bored Ape Kennel Club NFTs.
Since its inception, Yuga Labs has been one of the most successful non-fungible token firms across the entire NFT space. The $4 billion startup launched several projects last year, gaining millions of dollars during the peak of the NFT market hype last year.
Unfortunately, the NFT market has plummeted following the recent extended bear market and regulatory uncertainty surrounding the general crypto industry. To cushion the market, Yuga Labs has launched several campaigns to revive the faded NFT market.
During the interview, the new Bored Ape boss said his company has begun exploring ways to make its existing NFT collections, including CryptoPunks and Meebits, more valuable than just digital artwork. The top executive believes NFTs have more use cases in entertainment and shopping experiences. "That's what I'm here for," Alegre remarked.
Bored Ape Boss To Revive NFTs Through Metaverse Gaming
The top executive asserted that the nascent web3 sector "can transform the community, creativity, and connection." Alegre noted that the firm plans to increase users' access to its games and allow other firms to develop products and events for Otherside. Yuga Labs has already partnered with top fashion brands Puma and Gucci.
The company, which features more than 100 employees all working remotely, began exploring video games last year and has since then developed several time-limited game titles, such as Dookey Dash and The Legends Of The Mara, in its virtual gaming venture, Otherside.
According to Alegre, the newly launched free-to-play games have significantly transformed the NFT industry. He has vowed to make Yuga Labs a brand that attracts influential users and keeps them engaged. He failed to disclose the revenue his company has made from gaming.
The State Of the NFT Market Today
Data market analysis shows the non-fungible tokens have yet to recover from the broader crypto slump. According to Crypto Slam, the total NFT trading sales volume stood at $736 million in March, down 29% from the start of this year and 89% down from the sector's $6.4 billion sales peak in January 2022.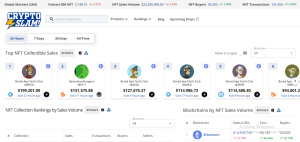 In the past 24 hours, the NFT market is down 5.8%, recording $23 million in trading sales volume. Ethereum-based NFTs take the lead, recording a sale volume of $14 million. Solana NFTs have distantly followed, amassing $2.7 million, while Polygon attracted $1.5 million.
Related NFT News:
Love Hate Inu – Newest Meme Coin
Decentralized Polling – Vote to Earn
Early Access Presale Live Now – Ends Soon
$7 Million Raised
Featured in Yahoo Finance, Bitcoinist
Mint Memes of Survey Results as NFTs
Staking Rewards
Viral Potential, Growing Community
Join Our Telegram channel to stay up to date on breaking news coverage