New Cryptocurrency Releases, Listings & Presales Today – Zyrri, Connext Network, Cloak Protocol 

Join Our Telegram channel to stay up to date on breaking news coverage
Considering their recent price performance, InsideBitcoins regularly provides a rundown of the best cryptocurrencies to buy now.
It's a new day in the crypto industry, and the latest cryptocurrency wing is also experiencing the crypto market's downturn. New crypto projects are less rampant than before, as very few hit the market daily. The trend indicates an overall drop in the morale of crypto enthusiasts.
New Cryptocurrency Releases, Listings & Presales Today
Nonetheless, a few projects got listed on CoinMarketCap today, and this review highlights their features and offerings. Similarly, it explores crypto presale opportunities to identify upcoming crypto projects with the potential of recording big wins. The details of these and many more are included below. 
1. Zyrri (ZYR)
The Zyrri project aims to provide a platform where users are protected from malicious data modification. As explained on its website, the platform uses blockchain technology to create an ecosystem prioritizing security and traceability. The project claims to envision a world where technology is used to combat social unrest and economic vices from digital insecurity. Furthermore, it also states that the Zyrri project would venture into humanitarian efforts with the revenue realized from the native currency of the platform, ZYR. Details of the project are included on its CoinMarketCap page. Below is a quick snippet that captures the essential information. 
The current general observation is that in these times of political, economic, and social turmoil, anticipating the disastrous consequences brewing by acting concretely and intelligently is more important than ever. Therefore, to respond to all the issues that will arise for European and American companies in the weeks, months, and years to come, ZYRRI will be the solution. The Zyrri is a cryptographic token (cryptocurrency) developed through blockchain technology and created to provide an ecosystem of data security and traceability. This technology eliminates malicious modification of data or codes and unauthorized intermediaries from any side. The Zyrri token was developed through a smart contract backed by the Wethio (ZRC-20) blockchain.
ZYRRI is a layer-one blockchain. Hence, it's not running on any existing platform. Its native token, ZYR, is priced at $0.003198 today, and it traded over $204.02 in volume over the last 24 hours. At press time, the ZYR has a market cap of $763,708.38 and ranks #5898 on CoinMarketCap. The asset's self-reported circulating and max supply is pegged at 170 million coins. The new cryptocurrency is listed on ProBit Global. 
2. Connext Network (NEXT)
Connext Network is rethinking interoperability in the web3 ecosystem. The information on its website describes the project as the platform where devs can build Web3 applications and interact with users securely. It further stated that the platform features the novel tech it named the xCall, a primitive that offers Web3 applications the capacity to interact with users, tokens, and other applications across the Web3 ecosystem. Furthermore, Connext adopts a decentralized mode of operation where the NEXT token serves as the native currency of the platform. The summary below features an excerpt of its CoinMarketCap description.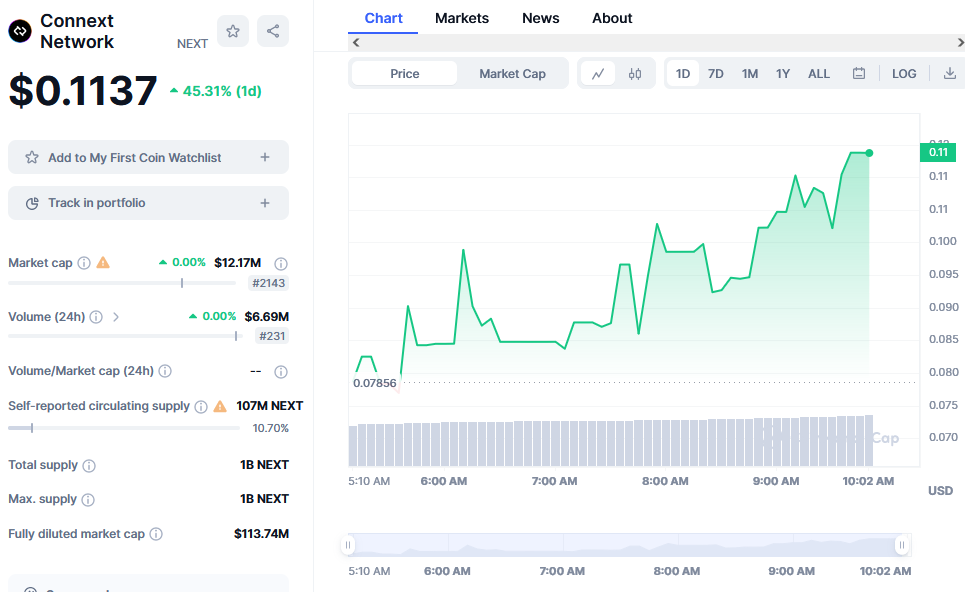 Connext is an open protocol that allows developers to build applications that can live on every chain and be used with every token. Since its creation in 2017, the project's mission has been to make Web3 accessible to everyday users by abstracting away the complexity of blockchains. Today, Connext is an open, thriving ecosystem of builders, researchers, and web3 enthusiasts from many independent organizations working together to redefine crosschain experiences through public goods and open standards. Connext is more than a bridge; it is a growing ecosystem of primitives that builders can seamlessly and permissionlessly compose to create groundbreaking apps and experiences. Leading projects such as Metamask, Alchemix, Gelato, Superfluid, Keep3r, Gnosis Zodiac, and many more are integrating Connext to build the next generation of dApps.
Connext is built on the Ethereum network and has NEXT as its native cryptocurrency. The new token has a price of $0.093793 today, with a trading volume of $6,101,466 in the last 24 hours. Based on its current price, its NEXT market Cap comes down to $10.92 million. Hence, CoinMarketCap ranks NEXT at #2146. Its reported circulating volume is 170 million coins, while its maximum volume is pegged at 1 billion coins. Next, is currency listed on Bybit, Bitrue, BitMart, Gate.io, and MEXC. 
3. Cloak Protocol (CLOAK)
Cloak Protocol is a new project in the privacy sector. The project reimagines the approach to anonymity in the crypto industry. According to its whitepaper, Cloak Protocol uses the zero-knowledge model to preserve the identity of every third party involved in any given transaction. It claims that the technology behind the project generates a random hash, which obscures the transaction details, including the origin and destination. Hence, users can complete transactions without anyone knowing the information of everyone involved. Besides the fundamental service provided by the project, it also claims to provide financial opportunities to users through its CLOAK token, which is the native currency of the project. These and other project overviews are captured in its CoinMarketCap description below.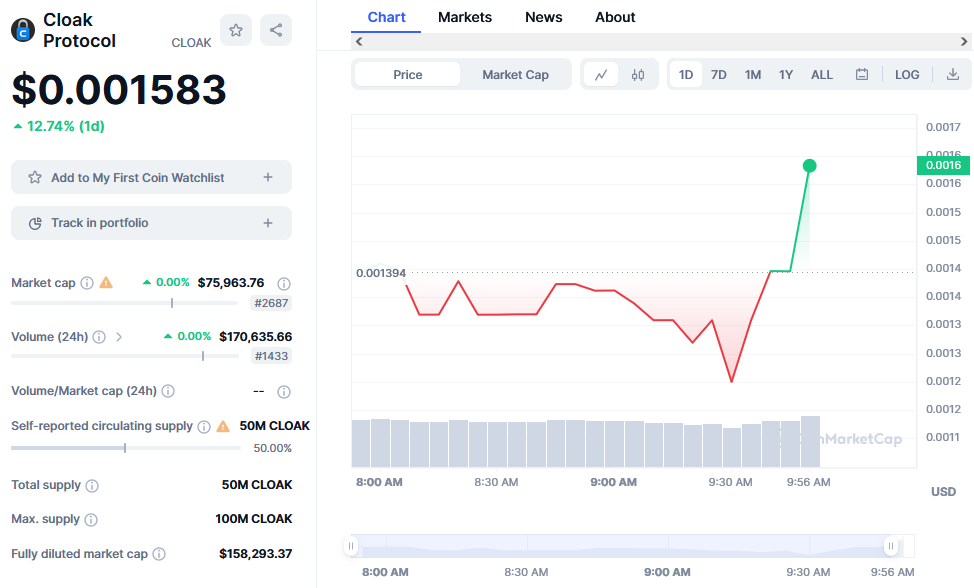 Cloak Protocol is an Ethereum mixer that allows users to send Ethereum on the Ethereum network without exposing their secrets. The protocol uses various techniques to obfuscate transaction data, including ring signatures, stealth addresses, and zk-SNARKs. It makes it difficult for third parties to track or monitor transactions on the Cloak Protocol network. The Cloak Protocol dApp is still under development but is expected to be released soon. The dApp will allow users to quickly and anonymously mix their Ethereum, making tracing their transactions more difficult. Cloak Protocol is a valuable tool for users who want to maintain their privacy when using Ethereum. The protocol's strong privacy guarantees make it ideal for various applications, such as Sending funds to friends or family without them knowing the amount or the source of the funds and buying or selling cryptocurrencies anonymously.
Cloack Protocol is built on the Ethereum chain, and its native cryptocurrency CLOACK is worth $0.001929 today. In the last 24 hours, CLOACK recorded a trading volume of $126,693 and a market cap of $75,197.38 based on its price today. Additionally, CoinMarketCap ranked the new token at #2815, and its reported circulating supply, according to its coin page, is 50 million coins, while its maximum supply is said to be 100 million coins. CLOACK is listed on MEXC. 
4. SKUYX (SKYX)
The SKUYX project is a positive memecoin that aims to give holders a robust opportunity. The SKUYX is a sub-platform of the Sekuya Multiverse, a collection of crypto projects encompassing NFTs, Blockchain tech, and the Web3 initiative. Hence, the project claims that the SKUYX project is kicking off with an established antecedent, providing the edge it needs to take off. The details of the SKUYX project and its ecosystem are captured below.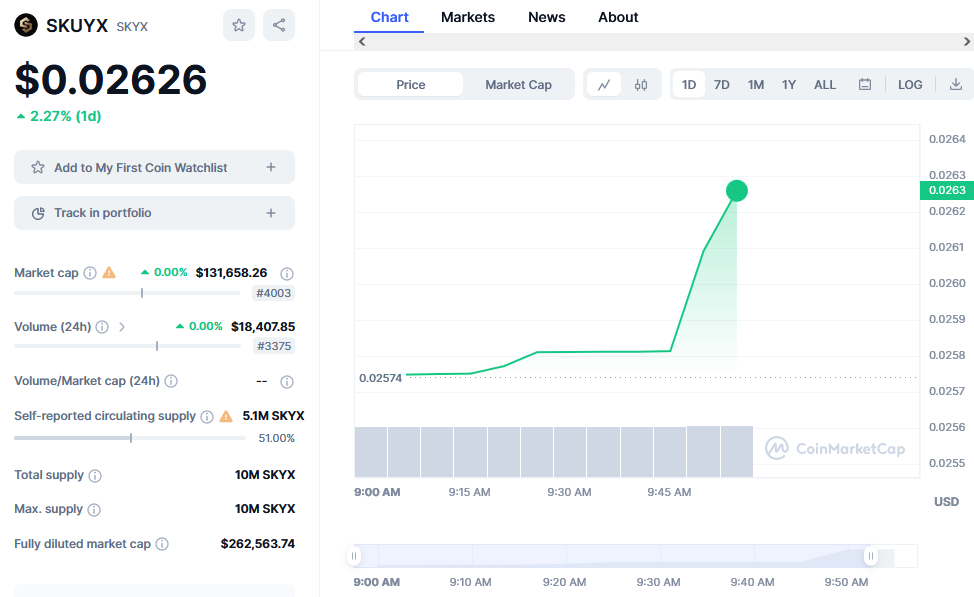 Sekuya, a pioneering force in community-centric metaverse platforms, has consistently redefined immersive gaming experiences. Building on its remarkable success, Sekuya introduces SKUYX, an innovative blue-chip currency that revolutionizes user engagement within the Sekuya Multiverse. Historical Background and Evolution of Sekuya: Founded by visionary entrepreneurs and gaming enthusiasts, Sekuya has seamlessly integrated blockchain technology, Web3 principles, and captivating gameplay. The platform's community-first approach fostered collaborations with 74 communities across nine countries, amassing a thriving user base exceeding 700,000 members. 
SKUYX is built on the BNB platform, and the native token of the project is the SKYX. Today, the price of SKYX is $0.025551, with a trading volume of $19,366. We update our SKYX to USD price in real time. SKUYX is down 0.47% in the last 24 hours. The current CoinMarketCap ranking is #3918, with a live market cap of unavailable. The circulating supply is not available, and a maximum supply of 10,000,000 SKYX coins.
5. Wall Street Memes (WSM) 
Wall Street Memes listing is only 20 days away. The goal to raise $25 million has already been achieved. However, the Wall Street Memes community has decided to leave the door open for other degen investors to join. The community looks forward to more nonconformist degens participating in the journey. 
Just a casual loan of $1 billion, no biggie pic.twitter.com/UJ1KqlJsZr

— Wall Street Memes (@wallstmemes) September 6, 2023
The WSM price is now fixed at $0.0337, pending when the coin goes live. The intention is to list the token on multiple tier 1 exchanges. It would allow early investors to win big and get rewarded for trusting the project. 
Wall Street Memes is taking a different approach to degen investment, and it's equally raising a solid community in the process. As the project unfolds, the crypto industry may have to brace for another round of memecoin season. The project's page contains further information about its presale and upcoming listing. 
Visit Wall Street Memes Presale. 
Read More
Wall Street Memes – Next Big Crypto
Early Access Presale Live Now
Established Community of Stocks & Crypto Traders
Featured on BeInCrypto, Bitcoinist, Yahoo Finance
Rated Best Crypto to Buy Now In Meme Coin Sector
Team Behind OpenSea NFT Collection – Wall St Bulls
Tweets Replied to by Elon Musk
Join Our Telegram channel to stay up to date on breaking news coverage