New Cryptocurrency Releases, Listings & Presales Today – DORK LORD, PymeDAO, Ethereum Express 

Join Our Telegram channel to stay up to date on breaking news coverage
New crypto tokens can explode by the highest percentage margin – In this article, we highlight a range of new coin listings on exchanges.
Today's crypto market welcomed a few new cryptocurrency listings, most falling into the memecoins category.
New Cryptocurrency Releases, Listings & Presales Today
Some new arrivals in the crypto market are covered in this article, and it offers an overview of their key features and missions. As usual, we also spotlight a progressive presale project with a high potential of becoming one of the next big cryptos. Today's special mention is the Wall Street Memes, a presale that successfully raised $25 million and is about to get listed on tier 1 exchanges. Read to the end for more details. 
1. DORK LORD (DORKL)
The Dork Lord is a memecoin project that's revisiting the early days of Pepe coin. According to its website, the Dork Lord artwork is the creation of Matt Furie, the artist behind the popular meme coin. The team behind the new project hopes to push Dork Lord to the status of Pepe and other memecoins that were gone before it. 
Just like the beloved Pepe meme, ᗪOᖇK ᒪOᖇᗪ is here to conquer the internet with its unparalleled memeability and charm. Get ready to join the ᗪOᖇK ᒪOᖇᗪ revolution and witness the fusion of dark side references and ᗪOᖇK ᒪOᖇᗪ's iconic appeal. 97% of the tokens were sent to the liquidity pool, LP tokens were burnt, and the contract was renounced. The remaining 3% of the supply is being held in a multi-sig wallet only to be used as tokens for future centralized exchange listings, bridges, and liquidity pools.
Dork Lord is an Ethereum-based platform with the DORKL as its native token. The new token has a price of  $0.010110 today and a trading volume of $17,212,555 in the last 24 hours. Its market cap is $10.1 million, and the new cryptocurrency is listed on LBank, Bitget, BitMart, Gate.io, and MEXC. 
2. PymeDAO (PYME)
According to the PYME whitepaper, the PymeDAO project is on a mission to become the leading Web3 DAO. It raises a community of passionate supporters who will help Web3 consumer products take off. It hopes to incentivize its community, who will become the initial users of any new project launched on its platform.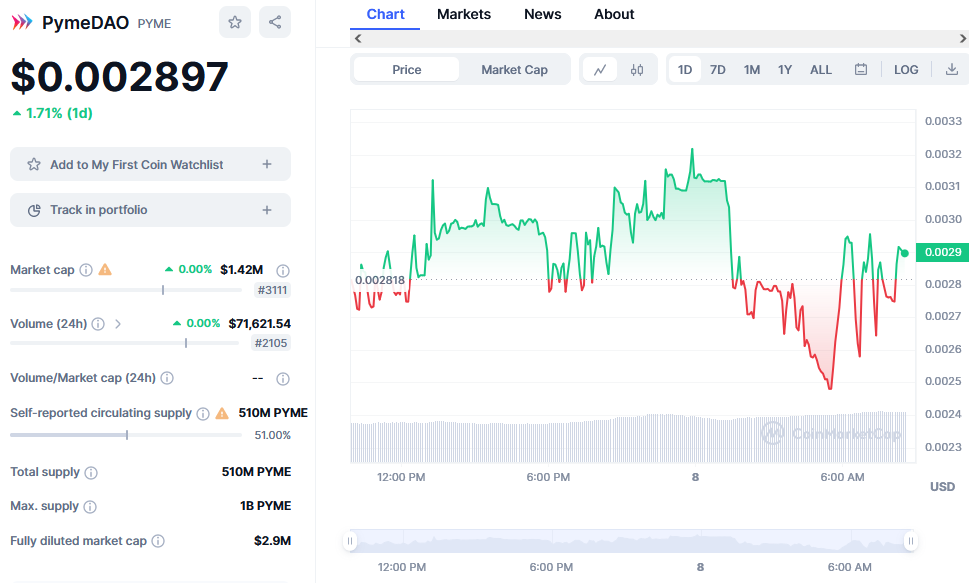 Pyme DAO is a decentralized autonomous organization (DAO) governed by our constitution and built to support, grow, and scale Web3 companies, communities, and projects. PymeDAO supports the broader Pyme ecosystem of Kikx, a web3 native Kickstarter; Superpower, a web3 consumer-focused pre-seed accelerator; and Day Zero, an incubator for consumer web3 products. It is done through a community of over 40,000 monthly active users, 400k connected wallets, and millions of views each month across social media platforms. 
PYME ranks #3135 on CoinMarketCap, currently valued at $0.002726. The new coin has a market cap of $1.39 million tokens and a trading volume of $68,759.93. Also, it claims to have a maximum supply of 1 billion tokens and a circulating supply of 510 million tokens. PYME is listed on Gate.io. 
3. Ethereum Express (ETE)
Ethereum is a revolutionary L1 network built on the Ethereum EVM framework. According to its website, the aim is to proffer a solution to the challenges of Ethereum without going through the layer-two route. Hence, the Ethereum Express solution dubs itself as the cheaper, safer, and faster alternative with the ETE as the native currency of the platform. 
The Ethereum network carries out more and more applications and smart contracts. As resource usage increases, the Ethereum network becomes congested, and the GAS consumed by transfers and calling contracts has soared. In this case, similar to the Ethereum Express Network, layer 1 will be more competitive and advantageous.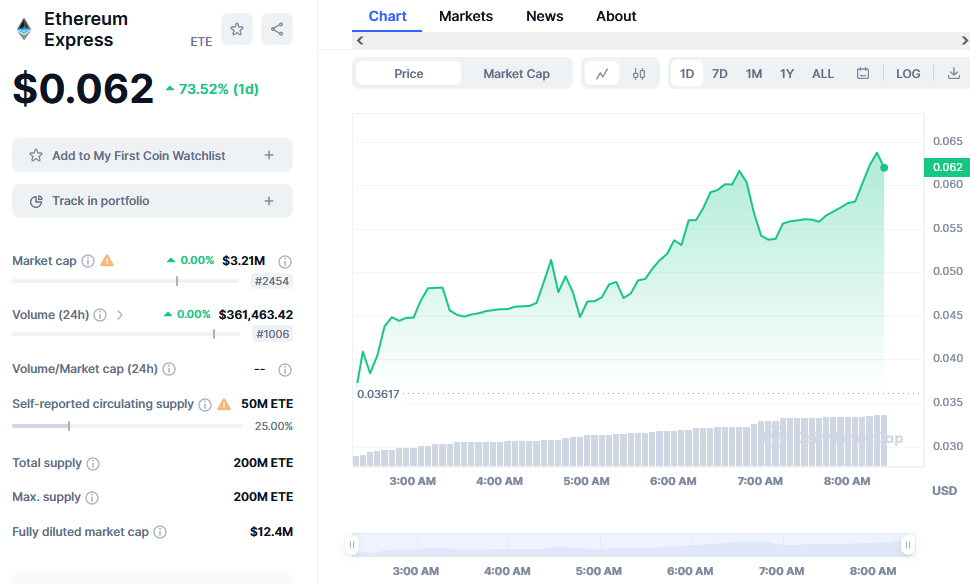 Today, the price of ETE is $0.074214, and about $429,058 worth of ETE moved across the market in the last 24 hours. Due to its current price and a maximum supply of 200 million tokens, ETE's fully diluted market cap amounts to $3.71M. Currently, CoinMarketCap ranks the new token at #2406 and is listed on Uniswap v2. 
4. MetaTrace (TRC)
MetaTrace is a Polygon-based gaming platform that's out to inspire millions of people to participate in daily physical activities. According to its website, the project will help users have a newer perspective of the world around them through various games and in-game activities and interactions. Furthermore, the platform claims that it's out to invent a new utopian metaverse where the real world is enhanced rather than replaced.
The MetaTrace application is a game incorporating a variety of game mechanics aimed at combining geolocation, blockchain environments, and classic game strategies. It is based on augmented reality technology, which offers users a unique gaming experience and an easy immersion into Web3 technologies. The project's team is diligently working on creating a platform that will allow each player to realize their ideas and become the creator of their adventures.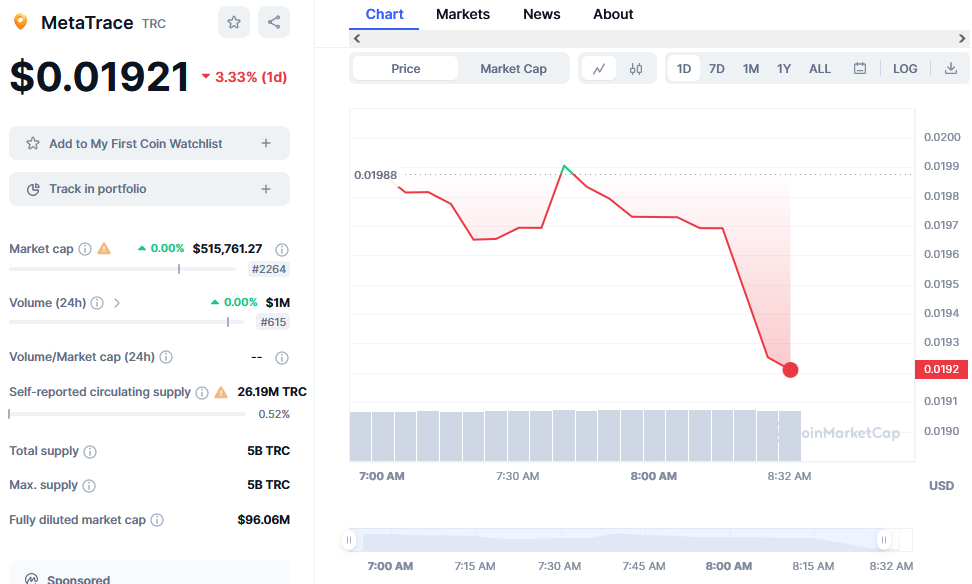 TRC has a value of $0.017833 with a 24-hour trading volume of $988,479. Its market cap at press time amounts to $467,054, giving it a #2265 ranking on CoinMarketCap. TRC reportedly has a circulating supply of 26.19 million tokens and a maximum supply of 5 billion tokens. The new coin is listed on MEXC.
5. Wall Street Memes (WSM) 
The Wall Street Memes project recently rounded off its presales, and its listing is only 18 days away. The project recorded over $25 million in investment from thousands of investors. It is now on its way to providing the opportunity for mutual prosperity to its community and the world. 
How are they still flexing pic.twitter.com/QVDvM7dsfb

— Wall Street Memes (@wallstmemes) September 7, 2023
However, the presale is over entirely. Investors who desire to participate in the movement still have the chance to fill their bags with WSM tokens. Currently, WSM is still available at a discounted price of $0.0337. 
The team is currently working towards listing the token on multiple tier 1 exchanges, meaning the token's price is bound to spike remarkably.  Hence, it's best to take advantage of the short window of opportunity before it closes. 
Visit Wall Street Memes presale. 
Read More
Wall Street Memes – Next Big Crypto
Early Access Presale Live Now
Established Community of Stocks & Crypto Traders
Featured on BeInCrypto, Bitcoinist, Yahoo Finance
Rated Best Crypto to Buy Now In Meme Coin Sector
Team Behind OpenSea NFT Collection – Wall St Bulls
Tweets Replied to by Elon Musk
Join Our Telegram channel to stay up to date on breaking news coverage