Multiple Reward Streams with RobotEra (TARO) a P2E Game and Metaverse – How to Buy TARO During Presale

Join Our Telegram channel to stay up to date on breaking news coverage
RobotEra is a platform that combines real estate, the metaverse, and gaming to create a unique gaming experience. It aims to engage players through innovative gameplay. 
The platform is currently in its presale stage, offering its proprietary token, TARO, at affordable prices. So far, it has raised over $955,000 in funds. Built on blockchain technology, RobotEra allows players to become robots, explore a fully immersive metaverse, and earn rewards through play-to-earn mechanics.
Players on RobotEra reside on Taro, a planet that has recently undergone destruction due to a conflict between indigenous people and ancient robots. The conflict resulted in the loss of many lives. However, there is a glimmer of hope among the ruins, as only 10,000 robots with unique forms have awakened human-like emotions and ideas that were previously hidden deep within the planet.
TARO Tokens Available at Discounted Rates During Presale with Limited Availability
During the presale, investors have the opportunity to purchase TARO tokens at a discounted rate. In the first phase, tokens are going for $0.02, while in the second stage, the price will increase to $0.025. The final stage sees a 60% appreciation, with tokens valued at $0.032.
It's worth noting, however, that the presale has limited availability, with RobotEra allocating only 90 million tokens to each stage. In total, there are only 270 million tokens (15% of the total supply) available ahead of the tokens' listing on exchanges. As such, investors who are interested in acquiring TARO tokens at a discounted rate should act quickly to avoid missing out on this opportunity.
The presale tokens will not have a vesting period, and the hard cap for the presale is set at $6.93 million.
The TARO supply is divided into several categories, with the DAO receiving the largest portion (33%) for voting purposes, and 25% allocated for the game's rewards and play-to-earn pool. 10% of the supply will go to the team, and the rest will be split between the ECO fund (9%), liquidity (3%), advisors (3%), and an early institutional investor, LBank, who will get 2%.
Visit RobotEra
Design Your World Using RobotEra (TARO)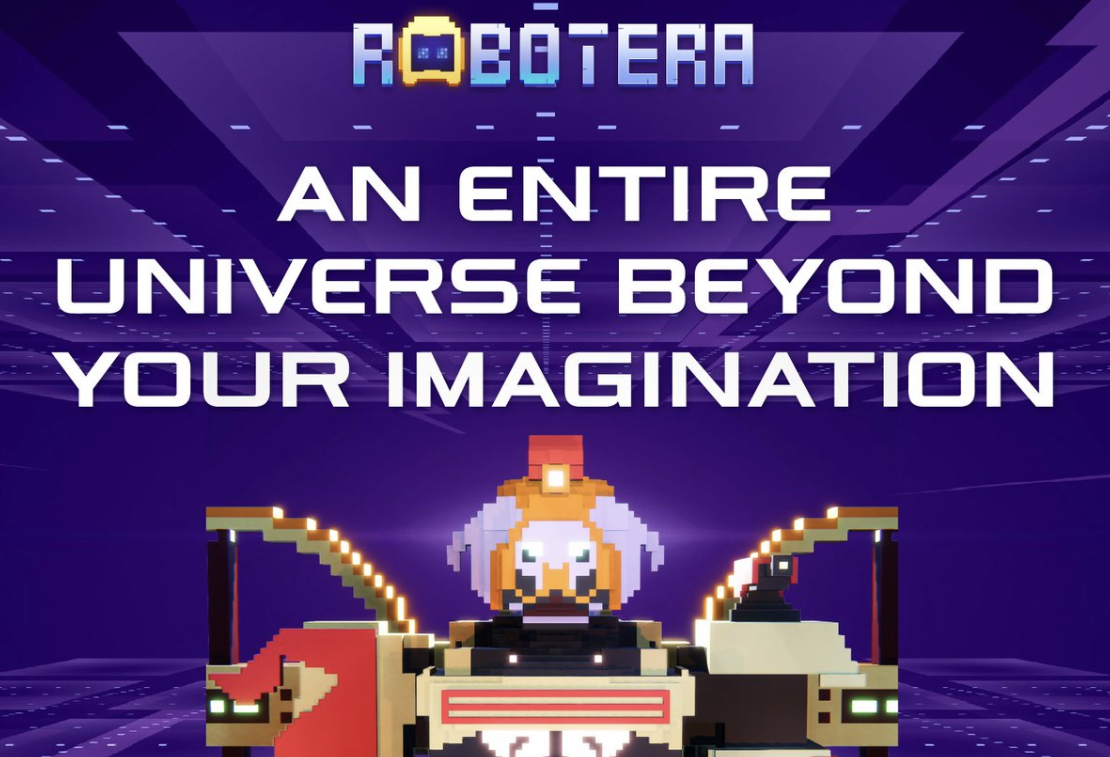 RobotEra offers an exceptional avenue for players to express their creativity by assuming the role of creators and engaging in diverse tasks, including mining, building, gathering resources, producing energy, and playing on their continent called Taro.
The game's uniqueness lies in the fact that players are the sole proprietors of their world and have the freedom to design anything they can conceive, ranging from an exquisite sky garden to a luxurious subterranean palace. Additionally, the non-fungible tokens (NFTs) they acquire will reflect their distinct artistic style, showcasing their creations and visions to players around the globe.
Create your own Robot companion and watch 'em come to life! 🤖

Collect minerals, build factories and get yourself a one-of-a-kind Robot that can join your adventures and be sold as an NFT!

Unleash your inner artist ⬇️https://t.co/nBnvUcnbzU#NFTCollection #NFTCommunity #P2E pic.twitter.com/4qBfg8LsaP

— RobotEra (@robotera_io) March 2, 2023
The "New Taro" is a world created and managed by a community organization. Here all users have an equal say in determining their faction's strategies and how their treasury's tokens are utilized. The absence of centralized leadership or systems means that every player can contribute to the decision-making process.
Interested individuals can take up administrative and governance positions upon successful token deposits. The candidate with the highest number of votes becomes the manager of their respective faction, wielding the authority to shape the future direction of their forces.
Visit RobotEra
Virtual Game Creation Tool 
RobotEra is a top-rated metaverse game where players have the freedom to create and design various structures, infrastructure, and buildings on their virtual land. Players can also host concerts and events and invite other players to their land. And monetize their creations through events or advertising billboards.
One of the unique features of RobotEra is that players can mine minerals on their land and construct robot companions, which they can then sell and earn rewards for. Furthermore, the game offers players the opportunity to create and sell NFTs, which can also earn them rewards.
Despite the vast array of creative possibilities, players don't need coding knowledge to participate in the game. The game provides custom tools that allow for 3D scenes, physics, user interaction, sound, and payment features.
Visit RobotEra
Investing in TARO Token – How to BUY TARO
The presale utilizes a staggered pricing structure, meaning that the price of TARO tokens increases with each batch sold. Investing early ensures you receive the best price before TARO'S listing on cryptocurrency exchanges.
To help you navigate the presale campaign and purchase TARO crypto, we've put together a step-by-step guide:
Step 1: Visit the official website of RobotEra and click on the "Buy Now" button to land on the presale page.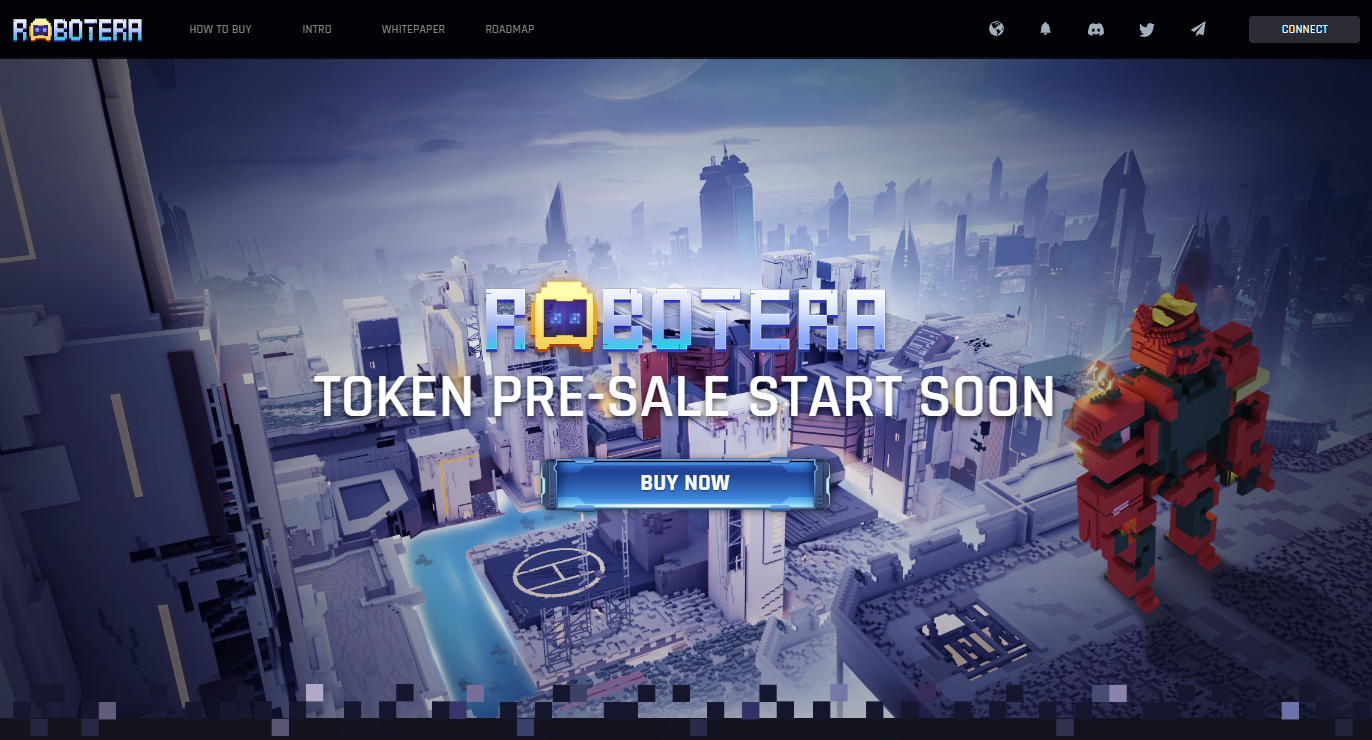 Step 2: Click on "Connect Wallet," select the wallet of your choice, and follow the prompts to connect your wallet of choice. You'll need a cryptocurrency wallet that supports ERC-20 tokens. That are popular wallets such as Trust Wallet, MetaMask, and MyEtherWallet. We will use Trust Wallet in this example, although the steps are similar to other wallets.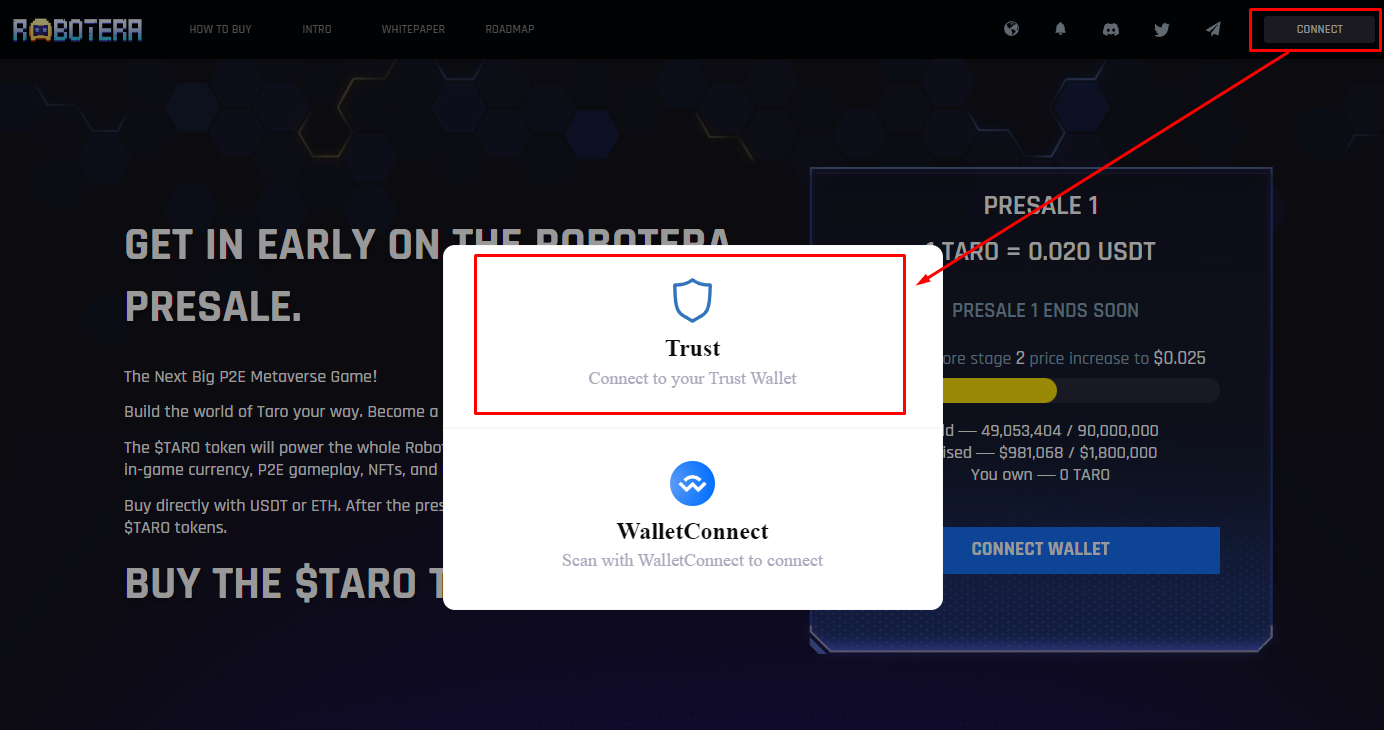 Step 3: Once connected, make sure your wallet is funded with either ETH or USDT. Here Click your option of choice, either "BUY TARO WITH USDT" or "BUY TARO WITH ETH."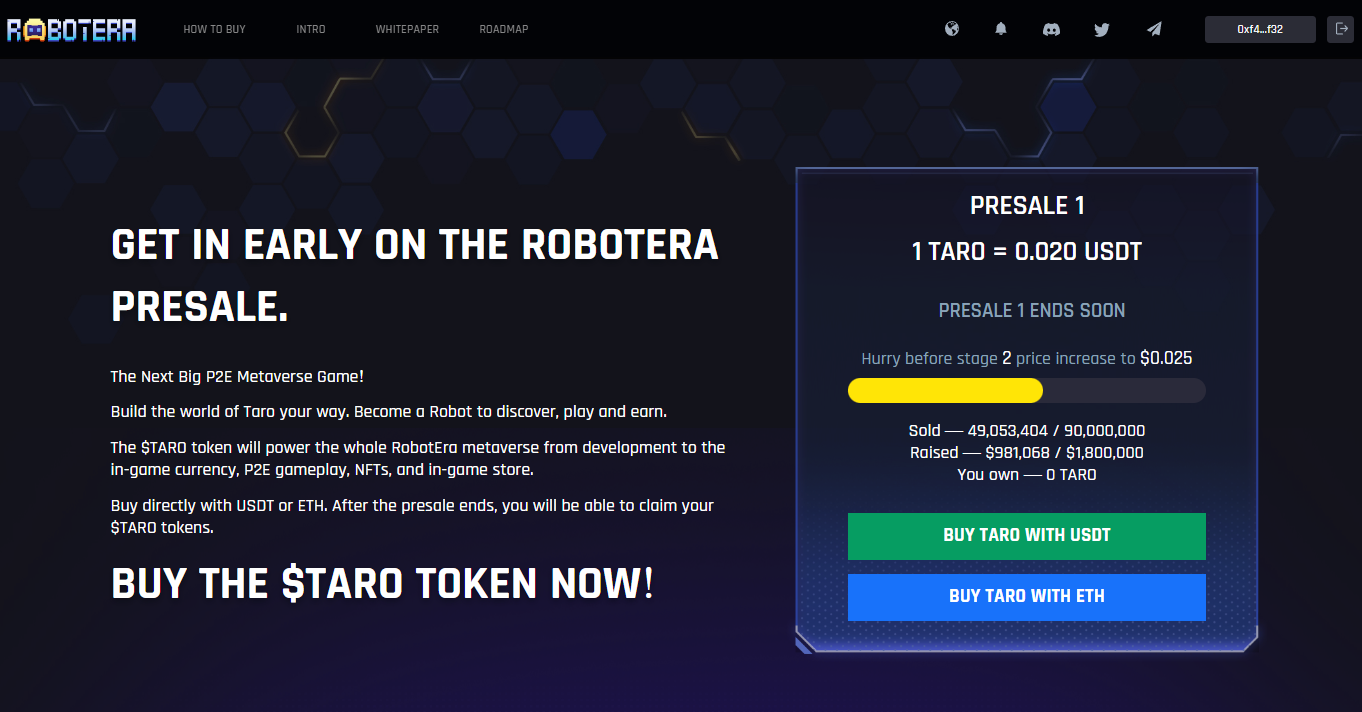 Step 4: Now enter the amount of TARO you want to buy. The minimum being 1000 TARO, and click "BUY NOW."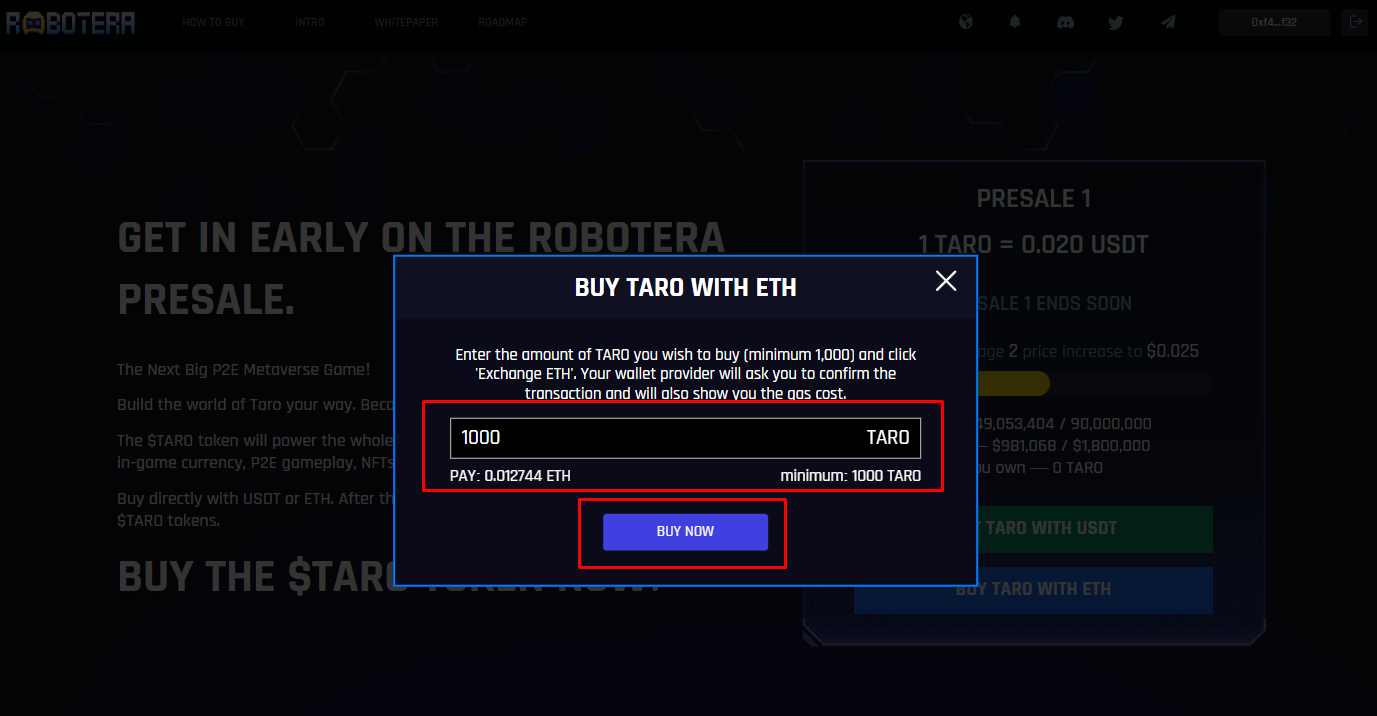 Step 5: In the pop-up window, click "Confirm" to successfully buy your TARO.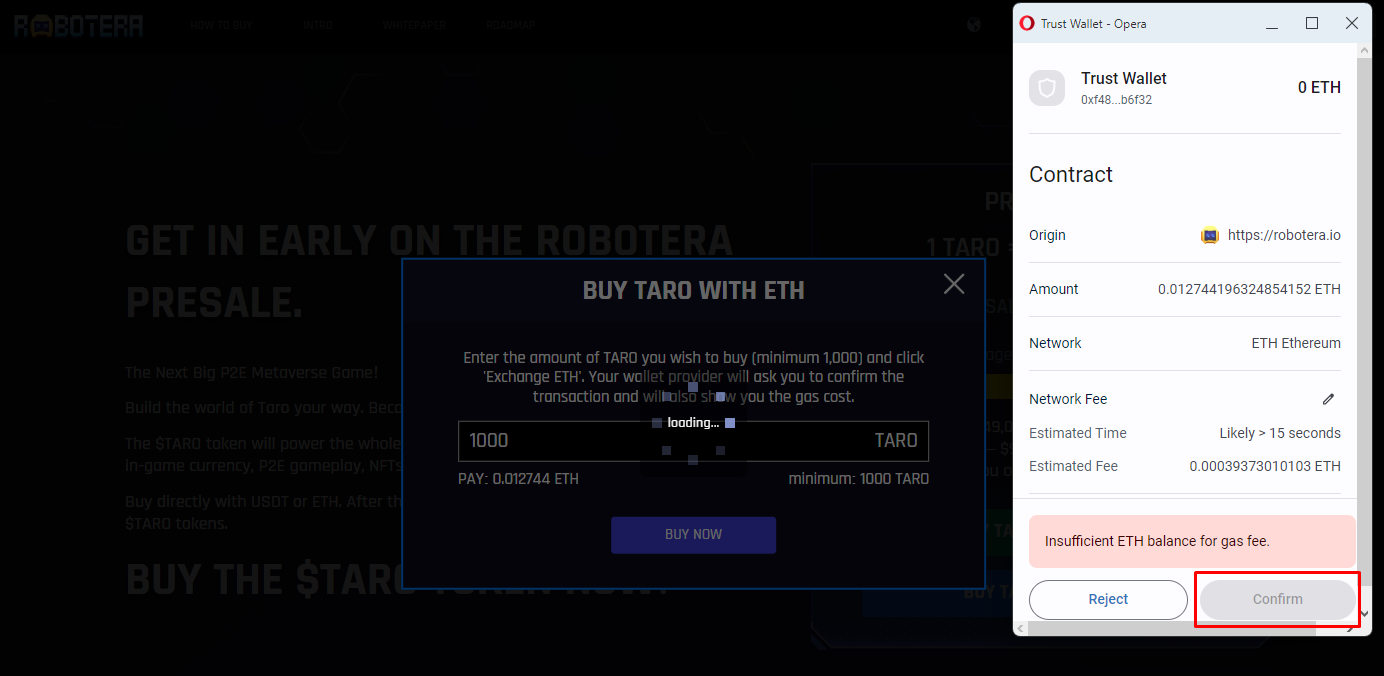 Once the presale ends, you can withdraw your TARO tokens to your cryptocurrency wallet. Follow the instructions on the presale page to initiate the withdrawal prices.
Visit RobotEra
Related
Fight Out (FGHT) – Newest Move to Earn Project
CertiK audited & CoinSniper KYC Verified
Early Stage Presale Live Now
Earn Free Crypto & Meet Fitness Goals
LBank Labs Project
Partnered with Transak, Block Media
Staking Rewards & Bonuses
Join Our Telegram channel to stay up to date on breaking news coverage