Moonbirds, Doodles and Bored Apes

In this roundup, BeInCrypto takes a look at some of the most exciting NFT news items of the week.
In the past seven days, a Paris gallery put on an important NFT exhibition, Moonbirds and Doodles launched new products, and a Bored Ape Yacht Club NFT sold for 60 ETH.
Paris Gallery Showcases NFT Art
Earlier in the week, the Centre Pompidou began exhibiting its first collection of NFTs. In a show that will run until February 2024, the Parisian modern art museum has dedicated two rooms to the collection of 18 digital works.
The exhibition includes examples of genre-defining NFT collectibles like CryptoPunks and Bored Apes. These are displayed alongside the works of pioneering blockchain artists and emerging French and international NFT creators.
The show is intended to put NFTs on the same platform as institutional fine art. It also seeks to contextualize NFTs' contemporary popularity within a broader conversation about art and digital media.
As curator Philippe Bettinelli explained:
"The recent media hype accompanying the NFT craze may have given the impression that digital art had just been born, whereas it has existed since the 1960s in very experimental forms that were much less widely disseminated at the time."
Moonbirds X MONA
Like similar generative NFT projects, the 10,000 Moonbirds NFTs take the form of tokenized avatars. In this case, in the guise of colorful owl-like creatures.
Collectors can personalize their Moonbird's appearance based on their wallet holdings or achievements within the PROOF ecosystem.
In the latest development of the project, the NFT collective revealed this week that it is working with Mona to build "Moonbirds Monaverse," a new virtual world for the Moonbirds community.
Sharing a teaser video on Twitter, Web3 entrepreneur and Moonbirds founder Kevin Rose said the new metaverse would be a place to:
"host events, connect, explore art, have conversations, and get out of Discord for some fun."
Exciting News for Doodles NFT Fans
In other NFT news, ahead of the upcoming Doodles 2 Beta launch, the popular project launched the Doodles 2 Character Builder.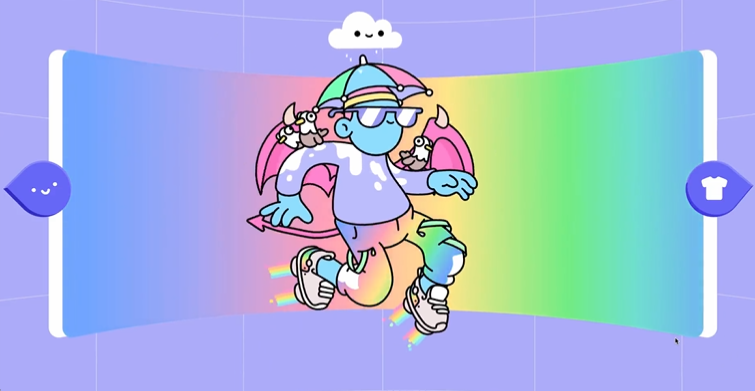 The Character Builder lets Doodles NFT holders change their apparel and attributes for a full-body avatar. Doodles has also announced an upcoming airdrop for a "Pharrell Pack," in partnership with brand ambassador Pharrell Williams. 
Each pack includes digital apparel from brands including Adidas. A token that can be redeemed for an exclusive physical piece of clothing is also included.
Bored Ape Yacht Club NFT Sells for 212 ETH
In the past week, four Bored Apes have made the news for hitting or surpassing the critical 70 ETH milestone. This a noteworthy achievement in a market where individual NFTs have seen a slump in prices in recent weeks. The average sale price of a Bored Ape Yach Club (BAYC) NFT is currently 49.3 ETH, equivalent to $93,000.
The week kicked off with the sale of Bored Ape #7403 for a whopping 212 ETH.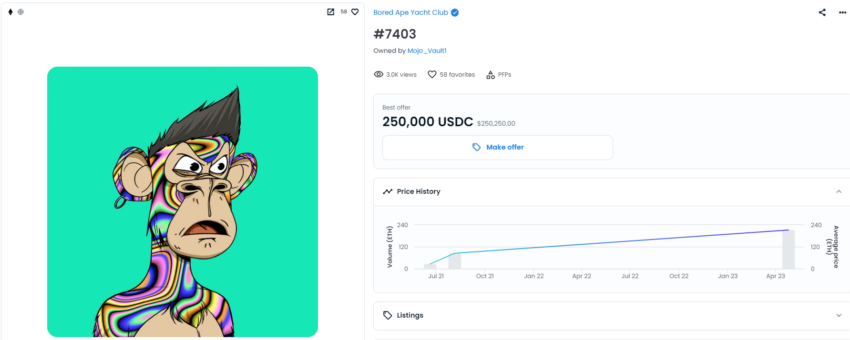 With a highly converted "trippy" fur attribute, which is shared by only 0.77% of all Bored Ape Yacht Club NFTs, #7403 changed hands for more than 400,000 USD. That makes it one of the most expensive Bored Apes ever sold. Currently, BAYC #7403 has an open offer for $250,000 USDC.
As an important indicator of overall NFT sales, collectors often track the price of Bored Apes. As such, news of high-value transactions is followed closely by anyone trying to make sense of the volatile NFT marketplace.
Certainly, the past week's flurry of activity stands in contrast to news earlier this month that NFT sales had hit their lowest level in almost a year.
Disclaimer
In adherence to the Trust Project guidelines, BeInCrypto is committed to unbiased, transparent reporting. This news article aims to provide accurate, timely information. However, readers are advised to verify facts independently and consult with a professional before making any decisions based on this content.