LUNC price prediction – Will it Finally Reach $1 in 2023?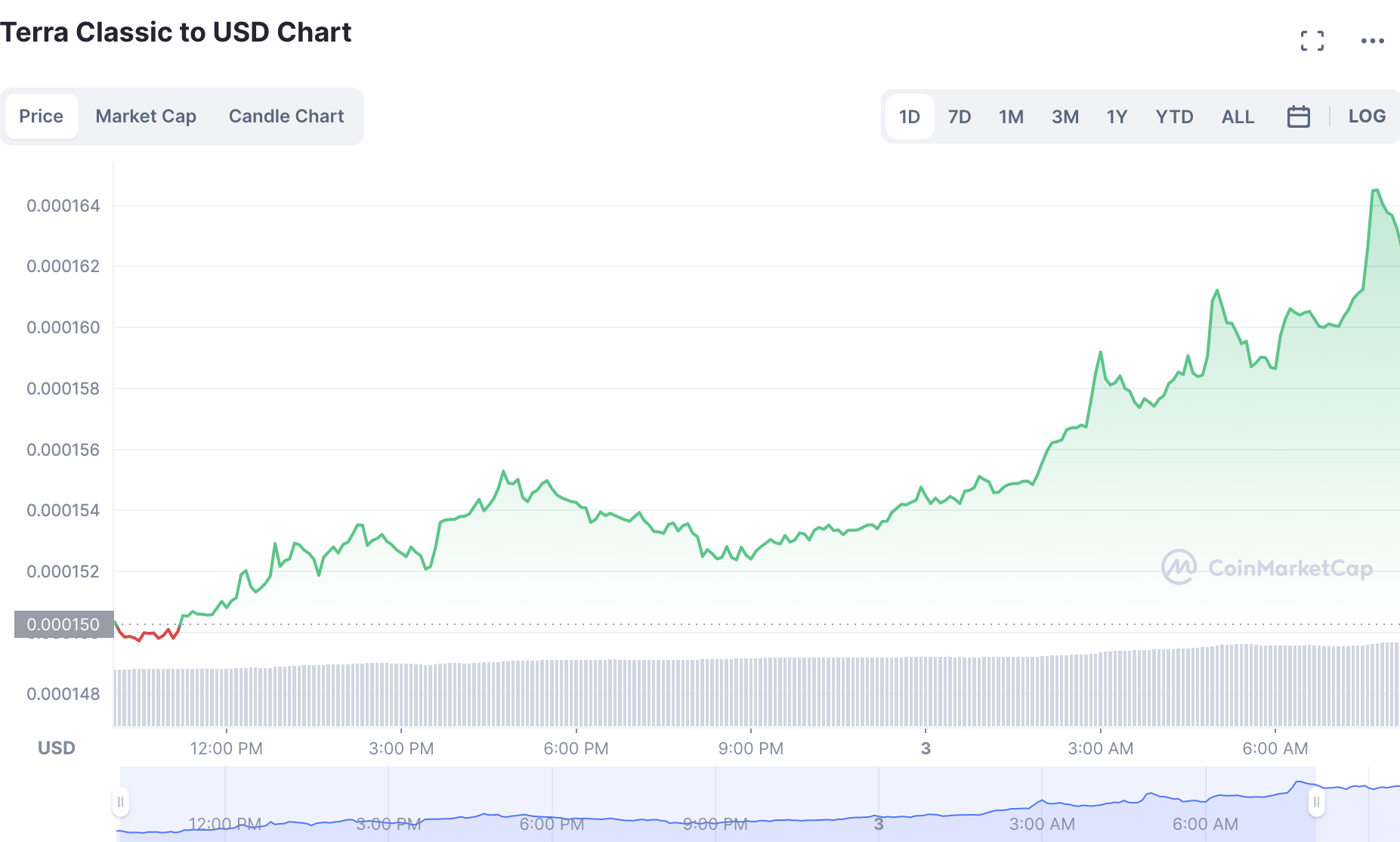 Join Our Telegram channel to stay up to date on breaking news coverage
LUNA was once one of the most trusted cryptocurrencies. But after people started to withdraw their holdings, which created a death spiral, the LUNA crash dropped the value of the entire cryptocurrency market. The damage was to such an extent that investors can feel the loss to this day. However, not everything was bad. LUNC, the hard fork of LUNA, was handed over to the community that has done everything in its power to return this cryptocurrency to its glory days. First, there was the #lunaburn campaign, and then came an increase in LUNC burn tax; staking came afterward, and now, a new task force has arrived to help redesign LUNC's layer 1. Will the LUNC price see a rise due to all of these positive developments, or is it time for us to know better and look for better alternatives?
LUNC Price History in 2022 – Full of Volatility and No Regards of Market Fundamentals
The entire cryptocurrency market awoke rudely to the news of the LUNA crash in May 2022. Do Kwon was giving roundabout answers, and many investors sniffed a big bag of copium, thinking maybe, just maybe, things would get better. That was something you could see on Twitter spaces when many people said that it might be just a "minor" setback. It was only after the complete obliteration of the LUNA price on charts that people realized that their funds were no more.
But they weren't going to let go so easily.
Thus began the LUNAburn campaign. Despite Do Kwon's warning that burning tokens is akin to burning money, the community asked for the burn address and sent their tokens to it to buy hundreds of thousands to move them out of circulation. But the hyperinflationary cycle that LUNC got into wasn't going to go down that easily – and it didn't. No matter how many swaths of holders send their tokens to the burn address, taking the tokens from 6.5 trillion to a more palatable value wasn't an easy task. Fortunately, investors understood that, but that didn't stop them not trying to limit the LUNC numbers.
The Introduction of LUNA Staking and a New Burn Tax
Investors knew their goal and the key to reaching it – burning tokens and motivating people to burn by increasing the tax it takes. This resulted in multiple individual investors and whales joining up and collectively starting to further burn the LUNC tokens. Thankfully, these investors were not alone. Binance, always willing to give a hand to cryptocurrency traders, decided to add support for burning LUNC.
The investors' enthusiasm merged with Binance's effort to exasperate the LUNC price. Soon, the entire crypto community was surprised as Terra classic broke market fundamentals to reach its all-time high. Even we were surprised, and just when we thought that the sudden outbursts of price increase were finite, the community rallied against our predictions to pump LUNC price further.
And on 8th September 2022, the LUNC price finally reached its peak – $0.00055. That was the end of LUNC's rally. From that point forth, the Terra classic went into a volatile cycle due to the tug-of-war between the bulls and bears.
LUNC Price After FTX Crash – Another Massive Retrace
The to-and-fro between the bears and bulls went well into the beginning of November, with the LUNC price reaching $0.00025. Experts postulated that the volatility might persist longer, but then the FTX crash happened. As a result, Terra Classic suffered the same fate as most of the altcoins – it retraced.
The 2nd crash of 2022 vaporized people's belief in LUNC, and the price retraced by almost 50%. And with a long-held $0.00020 support now gone, LUNC dropped to $0.00013 before bouncing. But naturally, the bounce wasn't that effective. In fact, it failed to make any dent against the recent losses.
However, we all know that LUNC holders don't give up that easily. So they persisted; they continued to fight tooth and nail to ensure that the LUNC price didn't lose its $0.00010 support. They succeeded, and the token developed stability until 15th December.
But another retrace happened in mid-December that pushed the LUNC price to $0.000129. Thankfully, the bulls were ready to make it bounce, and until Christmas, we saw multiple green candles forming, increasing LUNC's value to $0.00017.
Another massive red arrived two days after Christmas, dropping LUNC's price to $0.00014.
LUNC Price in 2023 – The Token is Going Up Again
The bulls rallying behind LUNC in the last days of December indicated that 2023 would be a good year for this. And from how well this token has fared since 1st January, that's exactly what has happened. Terra Classic is steadily marching upwards, and in the last 24 hours, it has risen by 8.91%.
But the crowd's blind optimism is not the only thing that's driving the price of this token. There is a big development happening.
JUST IN: One of the MOST Important $LUNC Proposals In HISTORY Just Passed. 11168 funds a #LUNC L1 Team for Q1.

We are now UNITED with a development team for L1 SECURED!

Retweet to spread the word! 🔥🔥🔥 We speak with @ZaradarBH A CORE Dev in #LUNACLASSIC @ 12 PM EST! pic.twitter.com/3sOQRVBvtx

— Classy 🔮 (@ClassyCrypto_) January 2, 2023
$LUNC DAO has recently passed the "most important" proposal in the history of Terra Classic. The community has come together to create the "Joint L1 Task force". Led by a team of three senior L1 blockchain developers, the Joint L1 Taskforce will further develop LUNC's blockchain and remove its kinks to push LUNC to new levels in 2023.
The recent uptrend in the LUNC price is likely because of this announcement. But will it hold up?
LUNC Price Hourly Charts Analysis – LUNC is Way too Overbought
LUNC backers have a lot of reason to love Terra Classic's recent progress, but the intra-day trading chart shows worrying trends. In an ideal world, this continuous stream of green candles will be great. And the fact that LUNC has been moving above its 20-day Moving-Average since New Year's eve is a great thing to consider.
However, the current Relative Strength Index – RSI – of these tokens is 83.36. That puts this token way into the overbought zone. We don't know when it will happen, but a massive crash will likely come – and retrace won't be a pretty site.
But considering that this token is showing of signs of stopping at the moment, we might see it make another run for its all-time high. Does that mean LUNC is a great cryptocurrency to invest in?
Not really. The long-term potential of this token is not visible yet. And merely the declaration that an L1 task force is coming isn't enough – the team must show us something of value to make investors believe again. Meanwhile, there are better cryptocurrencies in the market that you must consider investing in.
2023 Has Better Utility-Based Cryptocurrencies
While on the one hand, 2023 was a bad year of cryptocurrencies on the open market, on the other hand, it was also a great year for crypto presales. Several new, unique projects emerged with huge potential upsides and multiple utilities that investors actually want to invest in.
One of the best ones among them is FightOut. It is a move-to-earn project that considers your entire training and fitness-oriented lifestyle to reward you. That unique approach and its unique staking benefits, which include membership to a real-life Web 3 gym, have helped FightOut raise more than $2.5 million within less than 20 days.
Those who invest in FightOut right now will also get a chance to get up to a 50% bonus by vesting their tokens from 6 to 24 months. Visit the official FightOut website to participate in the presale.
Other presale projects that have gotten the crowd's attention include Dash 2 Trade, Calvaria, and RobotEra. Dash 2 Trade is a DEX crypto that has raised more than $12 million and ends its presale in less than 4 days. Calvaria is a unique P2E project, and RobotEra is a novel metaverse project similar to the Sandbox but offers better rewards and utilities.
Related Articles
Best DEX Cryptos to Buy
How to Buy Dash 2 Trade
These Crypto Coins are Expected to Pump 55x by 2024
FightOut (FGHT) – Newest Move to Earn Project
CertiK audited & CoinSniper KYC Verified
Early Stage Presale Live Now
Earn Free Crypto & Meet Fitness Goals
LBank Labs Project
Partnered with Transak, Block Media
Staking Rewards & Bonuses
Join Our Telegram channel to stay up to date on breaking news coverage