Litecoin Price Prediction – Best Opportunity To Park Your Funds In LTC

Join Our Telegram channel to stay up to date on breaking news coverage
Litecoin has enjoyed a positive week showing signs of a strong bullish rally. While the cryptocurrency market has been sluggish, the tide is turning for some projects.
The Litecoin trading volume in 24 hours is up by 3.53% – trading at $712,278,897.61. Litecoin ranks among the top 20 cryptocurrencies at number 12. The recent price upsurge is partly due to Litecoin's integration into MoneyGram's platform.
Also, with the recent upheaval in the crypto market caused by negative events, Litecoin has enjoyed increased adoption. Investors are banking on Litecoin to continue on its upward trajectory, hoping that the bearish market ends soon.
Litecoin Price Prediction
Litecoin has picked up momentum in recent days. Here is all you need to know about the price direction of Litecoin.
Resistance and Support
Litecoin is on a bullish run and has bounced off its support levels on its upward move. Its current support levels are $73.29, 60.44, and 47.5. The coin needs more investors' support to maintain its momentum.
If the bulls prevail, Litecoin will re-test the resistance level of 83.43 in the coming days. Other key resistance levels are 107.03 and 138.20.
With more adoption and use cases, Litecoin will likely retain its positive increase. And some twitter users believe LTC will outperform the crypto king.
Litecoin Price Prediction With Technical Indicators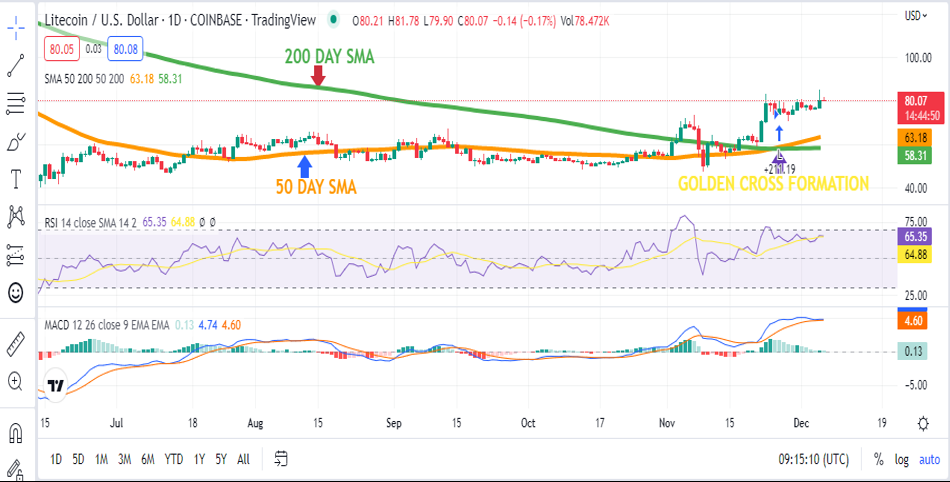 Litecoin is enjoying a positive price upturn, especially in the past week. The 50-day SMA has formed a golden cross, crossing over the 200-day SMA on the chart. It indicates a possible bullish run in the short term.
The candlesticks on the chart are more green candles and are currently in an upward trend.
The RSI reading is currently 65.39 – close to the 70 overbought regions Litecoin is giving off a buy signal.
The MACD is above its signal line and also depicts the positive price movement of LTC. Expect Litecoin to finish 2022 strong, ranging between $80 – $110, and carry the momentum into 2023.
Should You Park Your Funds In Litecoin Before 2023?
The Litecoin price spiked last week, sparking a renewed belief in the project. Due to fear of missing out (FOMO), investors have sustained this surge for the time being.
As long as the general crypto market is still bearish, a sustained rally for the long term is not likely. Litecoin's price chart suggests that it will remain relevant in 2022 and record significant gains in the future.
Since there is no certainty in the crypto market, all investments require proper research and risk management.
Projects That Can 10x Your Investment
While Litecoin's price is currently on the rise, there are other altcoins investors can benefit from. These coins have shown great potential even at presale and are worth holding.
Dash 2 Trade (D2T)
Dash 2 Trade is a platform that successfully combines intelligent trading and analytics. Users can evaluate their trading strategies on this platform and measure the success rate. This platform is fully automated and supports artificial intelligence (AI).
The platform is equipped; with features that are ideal for traders. Trading signals are available to alert investors of market opportunities and help them decide to buy or sell.
Strategy builders are also available for traders with a social trading platform feature.
The native token of Dash 2 Trade (D2T) has been on pre-sale and will soon list on BitMart and LBank exchanges.
The pre-sale is at stage 3, close to the conclusion. D2T has enjoyed a successful pre-sale amassing over $8.2 million.
The D2T token will be used on the platform to unlock its features,
Calvaria (RIA)
When it comes to virtual reality gaming, Calvaria is probably – "the next big thing" It offers users a platform for free gaming, unlike traditional pay-to-earn games.
Once a user signs up, they are rewarded NFTs for in-game use. The network aims to expand the reach of Web3 gaming. Tedious entry requirements for non-crypto gamers have slowed the adoption of Web3 gaming.
Calvaria has plans to grant non-crypto players access to all their gaming features. Players earn rewards for competing with trade cards and NFTs. The RIA token (an ERC-20 token) will control the ecosystem since it is the governance token.
Investors have shown keen interest in the Calvaria project, with the first four presale stages sold out. Stage five has sold out over 72% of the tokens. Investors can purchase 30.77 Ria for 1 USDT. The price increases at each stage of the presale.
Calvaria has realized close to $2.2 million since the start of its presale. The figures will increase to $ 3,075,000 when stage five of the presale is complete.
RobotEra (TARO)
It is another innovative gaming project currently making waves. On the RobotEra platform, the game is free-to-play, and users can build their planets in the Metaverse.
Each player stands for the core RobotEra NFTs as a Robot. The players can team up – with fellow robot buddies to rebuild the planet Taro.
Rebuilding will increase the value of plots of land in the Metaverse. Gamers passionate about creating and maintaining games will find RobotEra quite thrilling.
In this game, players can earn actively and passively; by partaking in activities. These activities include Planting holy trees, mining, concerts, and staking. LBank Labs also provides much-needed financial and advisory support to ensure success.
The presale kicked off on November 9 and has grown in popularity. TARO is the token that serves as the currency in RobotEra's multiverse. TARO can be purchased directly using USDT or ETH.  0.020 USDT is equivalent to 1 TARO.
Conclusion
Litecoin has bounced back, giving investors hope once more in its chances. However, there are no certainties in the cryptocurrency market.
It is wiser for investors to diversify their portfolios and take advantage of pre-sale tokens like TARO, RIA, and D2T.
Related
GMX Price Prediction Today, December 2, 2022: GMX/USD Is Marching Towards the $56 Price Mark
GMX Price Prediction as GMX Token Surges Towards Record Highs Above $50
4 Best Cryptos to Buy Now, December 1: MATIC, GMX, TAMA and IMPT
Biggest Crypto Gainers Today November 22 – LEO, BCH, D2T, GMX, TARO, IMPT, Tamadoge
Join Our Telegram channel to stay up to date on breaking news coverage