Launchpad Price Prediction – $LPX Coin Potential in 2023

Launchpad is a new Web 3 crypto project set to launch in Q3 2023, shortly after the conclusion of its ongoing presale. This unique crypto project aims to humanize how people interact with the Web 3 ecosystem by making the entire interface more inviting, inclusive, and easy to access.
At the heart of the Launchpad ecosystem lies a platform that encompasses all that Web 3 has to offer. That includes NFTs, decentralized exchanges, metaverse experiences, and Play-to-Earn hubs. These elements are integrated through an AI-driven approach that may bring major upsides to those who move in early. The native coin of the platform – $LPX – has already raised $150k in its first presale round at launchpad.xyz.
But is Launchpad's offering enough for the modern crypto space? Isn't it trying to be too ambitious by combining a bit of everything? We explore this in our Launchpad price prediction based on the current needs of the market and the project's fundamentals.
LPX Coin Price Prediction
Its difficult to make a suitable Launchpad price prediction based on technical indicators as the project is currently under presale, and has no historical price action to review.
However, the 2022's bear market has taught us that a crypto asset's price moves more along the lines of utilities and market sentiment and less based on traditional market indicators. That can give us a better insight into where the Launchpad price might head. Below is a sneak peek at how we think how the Launchpad will perform this year and beyond.
2023
Launchpad has just recently been introduced to the market as a presale, and it has already raised upwards of $130k. Raising this amount over such a short period of time is indicative of things to come. The fundamentals of the native token of the project – $LPX – are strong. They are backed by strong tokenomics, a strong team, and a strong utility that meets all the pain points of the current Web 3 space. Furthermore, the team has chosen a more realistic roadmap to follow, which will also push the token to perform better till the end of 2023.
The presale price at the first stage is set at 0.035, and the listing price is $0.070. And according to the official whitepaper, Launchpad is set to close the presale in Q2 2023. If that comes to pass, we can see this token reaching as high as $0.1 by the end of 2023, on the condition that the macroeconomic conditions are conducive to the market's growth.
2024
2024 will see Launchpad moving to the fourth phase of its roadmap. The team is planning to launch the Launchpad Quotient, a unique metric that would give precise scores to a utility crypto, presale asset, or NFT. Other developments will include an AI search bar that follows thousands of language models to give precise answers, a trading terminal, an NFT DEX, a P2P NFT trading platform, and other features that will push the value of $LPX. If these developments happen without any hiccups, a rise to $0.15 might be possible by the end of 2024. Things like Bitcoin Halving will also play a role, which may push the value of this token even further to $0.2.
2025 and Beyond
Many experts say that the cryptocurrency space will grow more regulated by 2025. While many countries won't accept crypto as legal tenders, they will embrace blockchain technology. And since Launchpad will provide the perfect way to get educated about this tech, the potential for $LPX to grow will be strong in 2025. That said, many competitors in the AI-crypto niche will come in 2025. If Launchpad is able to go beyond what its contenders offer, the Launchpad price might 2x the 2024 highs and reach $0.4 by the end of 2025. And that's our conversative estimate – higher gains may be possible if parabolic trends return to crypto.
Buy LPX Coin
Read below as we deconstruct the different elements that Launchpad has going for it that might push its price to new levels.
Launchpad Price Stages
The table below gives the breakdown of the Launchpad presale, which is comprised of 10 stages.
Phase
Token Price
Percentage
Amount of Tokens
USD Value
Price Step
Raised Totals
Stage 1 Price
$0.035000
10.0%
25,000,000
$875,000
$875,000
Stage 2 Price
$0.037500
10.0%
25,000,000
$937,500
$0.002500
$1,812,500
Stage 3 Price
$0.040000
10.0%
25,000,000
$1,000,000
$0.002500
$2,812,500
Stage 4 Price
$0.042500
10.0%
25,000,000
$1,062,500
$0.002500
$3,875,000
Stage 5 Price
$0.045000
10.0%
25,000,000
$1,125,000
$0.002500
$5,000,000
Stage 6 Price
$0.050000
10.0%
25,000,000
$1,250,000
$0.005000
$6,250,000
Stage 7 Price
$0.055000
10.0%
25,000,000
$1,375,000
$0.005000
$7,625,000
Stage 8 Price
$0.060000
10.0%
25,000,000
$1,500,000
$0.005000
$9,125,000
Stage 9 Price
$0.065000
10.0%
25,000,000
$1,625,000
$0.005000
$10,750,000
Stage 10 Price
$0.070000
10.0%
25,000,000
$1,750,000
$0.005000
$12,500,000
100%
250,000,000
$12,500,000
There are 1 billion tokens in total. 250 million of the token supply – 25% – has been dedicated to the presale. The remaining 75% has been broken down in the following format.
12.5% of the tokens – 125 million – goes to the team behind the project
15% of the tokens – 150 million – go into user acquisition procedures
40% of the tokens – 400 million – are for platform development
10% of the tokens – 100 million – are for market making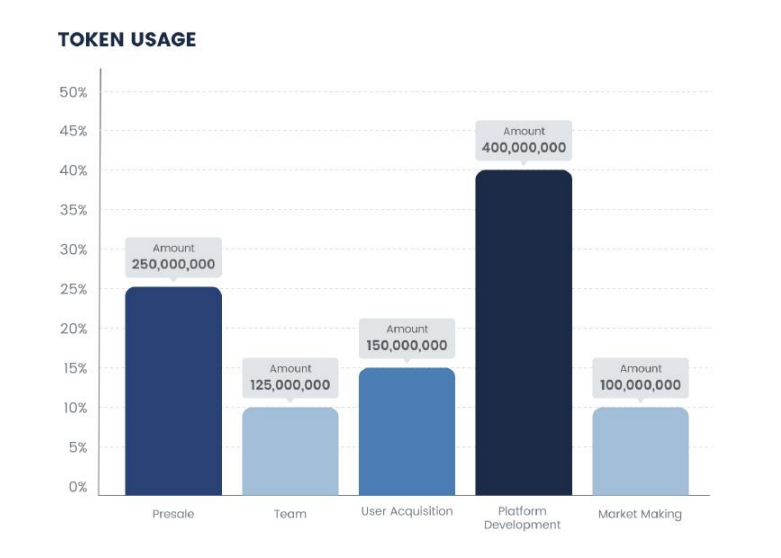 The team has also been transparent enough to tell how the proceedings of presale tokens will be used after the token generation event.
75 million tokens will be directed to develop the platform
50 million tokens will go into marketing
50 million tokens will go into user acquisition
50 million tokens will go into the market making
25 million tokens will go to the team
That approach will ensure that no tokens gets wasted. It is an obvious step considering the multiple things that Launchpad is trying to achieve simultaneously.
The presale price of the Web 3 crypto starts at $0.035, which will increase to $0.070 during the listing. That means those who participate in this project today will get to make 2x gains once $LPX hits the listing charts.
Buy LPX Coin
What is Launchpad?
Launchpad is a customer-centric portal that wants to make the entire Web 3 space more accessible to those who lie outside the crypto space. Understanding Web 3 is critical for mass adoption. However, the technical jargon and knowledge requirement has stifled its adoption rate. Furthermore, there has been an introduction of many bad actors – middlemen and rent seekers – that seek to control the space. In light of that, Launchpad has come up with a unique solution.
Launchpad aims to create a home for Web 3, which will be a "humanized, curated portal," providing users access to the best Web 3 projects and crypto assets that they can hold complete custody of.
These projects will range from NFTs to play-to-earn games and more elements that combine all of what Web 3 has to offer. Launchpad also seeks to create a simple Web 3 wallet for the Web 3 entrants, which would allow bridging the gap between Web 3 and Web 2.
👽 Hey there, ready to blast off to the ultimate home of #Web3?

At Launchpad, we are building a platform that has everything you need to find the next Web3 assets that could do 100x 💥

Join our #Presale now 💻💰https://t.co/yYq4jnPZiL pic.twitter.com/HFIVAdlW8F

— Launchpad.xyz (@launchpadlpx) April 27, 2023
Launchpad seeks to achieve that by creating a platform that has everything in one place. A place that would have simple features to increase blockchain adoption and tools that will help Web 3 natives create applications and assets. The platform will also provide a range of content and tools that will allow everyone to interact with the Web 3 space easily and without any friction.
Vision to Create a Frictionless Space for New Entrants
The original vision is to create a platform that allows users to interact with Web 3 in any way they see fit. The current infrastructure of Web 3 is crowded with disparate elements that make it difficult for people to pick and choose. But on Launchpad, users can find what they are interested in easily and start interacting with it.
Helping this make a reality are different Launchpad features.
Non-Fungible Tokens
NFTs – Non-Fungible Tokens – were once the talk of the crypto town in 2021. Bolstered by the burgeoning support of many who saw NFTs as the "next phase of artworks", Non-Fungible tokens made many millionaires in late 2021 and early 2022. However, the growth of such projects was stopped as soon as the bear market arrived.
Interest in NFTs slowed down so much that many thought that this part of the crypto ecosystem would disappear. But thanks to many crypto presales, some of the best NFTs have come back in action. Launchpad is a project that will help NFT enthusiasts in the following ways.
Searching through the marketplace and checking out the top NFTs in real-time.
Assessing the NFTs through their whitepapers and other indicators to gauge their value.
Creating and curating your own NFT.
Getting access to exclusive deals for listing, staking, and buying blue-chip NFTs.
Launchpad will also feature a decentralized exchange for NFTs that will allow Peer-to-Peer transactions of NFTs. Staking  $LPX tokens will also help reduce the transaction fee.
Decentralized Exchange
Launchpad is set to feature its own decentralized exchange that would have all the perks of a standard DEX, but it would be easier to understand. This exchange would offer hundreds of trading pairs and perpetual contracts for a few selected pairs. Reduction of the fee is also possible here by staking $LPX tokens.
Web 3 Wallet
Interacting with the Launchpad platform would be possible using the standalone Web 3 wallet by Launchpad. Unlike the standard software wallets that can be painful to set up, Launchpad's wallet could be set up using email and mobile numbers. That will introduce a high level of accessibility, and Web 3 would appear less intimidating to entrants. Through this wallet, users will be able to swap tokens, interact with decentralized applications, hold custody of their own assets, and check out Web 3 services anywhere.
Analyzing Utility Tokens
After seeing that people are more interested in tokens that have utility than assets that are only used for trades, the number of utility tokens has skyrocketed. Assessing them and finding the best ones is still a difficult task, which is why Launchpad provides a unique utility token analysis platform. Users can also check which exchanges have the best liquidity and can access trading insights of top traders on the platform.
Web 3 Presales
Launchpad will be ground zero for many Web 3 presale projects. That would allow users to find new early-moving possibilities. Crypto presales were a hit in 2022, and the same has been the case with year as well. Through Launchpad, users will be able to participate in multiple verified presales with high upsides and great fundamentals.
Trading Terminal 
For those looking for an API-driven trading platform with vast utilities and multiple upsides, Launchpad will provide a trading terminal. It will offer live-trading insights as well as nuanced indicators that investors can play around with to predict the price of their favorite asset.
Play to Earn Hub and Metaverse Experience Library
Play-to-Earn games really hit a stride last year with many crypto games, like Gods Unchained, which have entered the fold with great GameFi mechanics and great gameplay. Launchpad will act as a hub for in-house P2E games that users can leverage to compound their earnings or watch others play the game live.
In addition to a P2E hub, Launchpad will also feature a metaverse experience library, which will help developers create metaverse projects and users explore them. Investors can get access to a variety of brand experiences and can pick which one to put their energy towards.
Buy LPX Coin
Launchpad Price Analysis and Profit Potential – A Case Study
In order to give a proper Launchpad price prediction, we have to look at similar assets and see if $LPX has what it takes to follow their tracks and attain the same level of success.
Launchpad is all-encompassing. It is an AI-driven platform that is doing multiple things, from providing an NFT platform to offering a DEX and a P2E Hub. And with the metaverse being also a part of this ecosystem, we can say that Launchpad bears a lot of similarities with the world's first altcoin – Ethereum.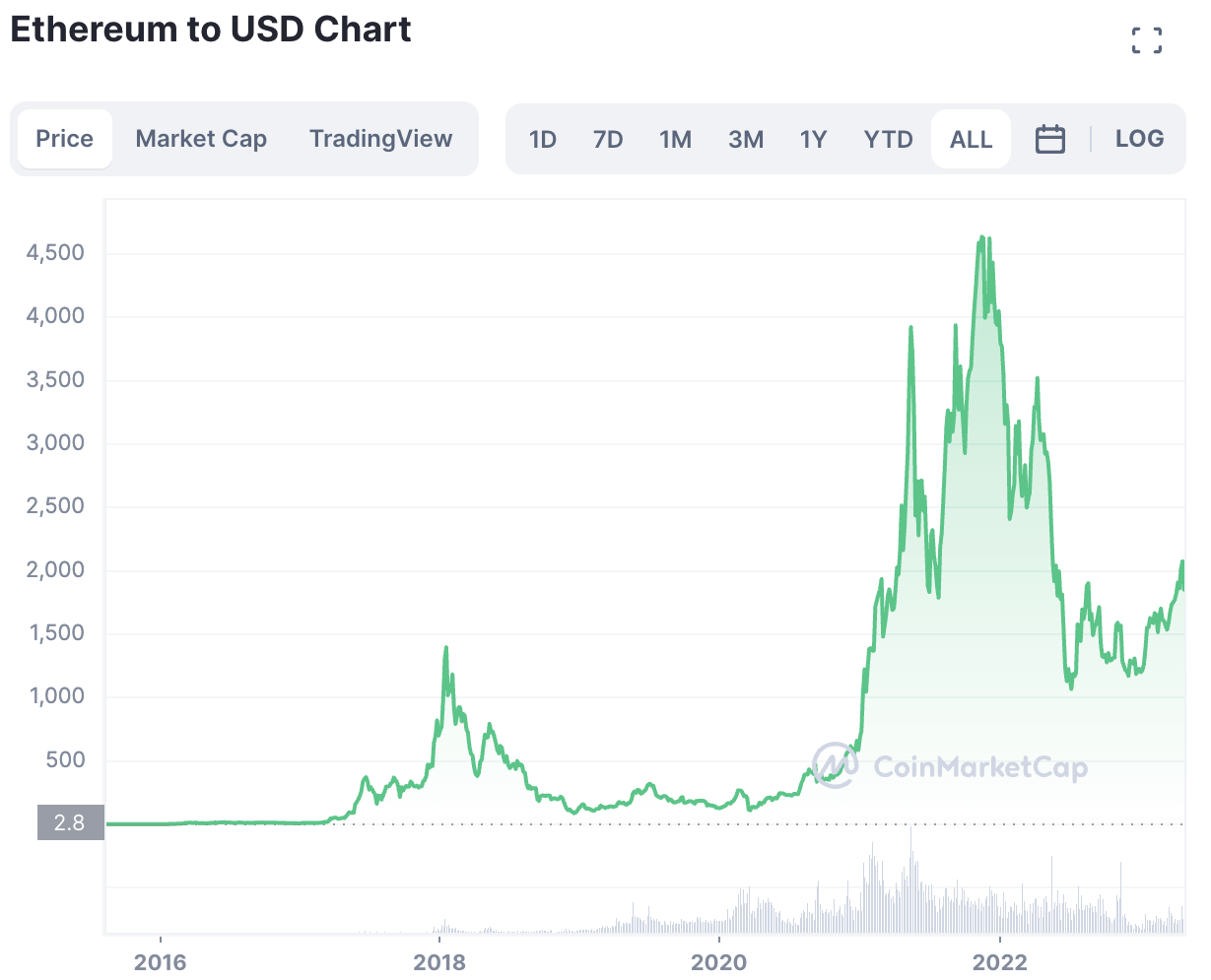 We say this because, like Launchpad, Ethereum is all-encompassing as well. Ethereum's charting on CoinMarketCap started in 2016, but it wasn't until 2018 that it hit the first bull run and went from $2.8 to $1400. A retrace later happened that persisted across 2020 to only diminish with the arrival of the longest bull run of 2021, where the ETH price went from close to $200 to $4.6k.
Although there have been many bearish trends for the world's first altcoin since then, the token is now trending around the $2k mark.
So, even now, Ethereum is trading at approximately 1000x of its original price. And the reasons behind this asset's performance are two-fold. One is the price action of Bitcoin, which directly funnels into how Ethereum moves, and the second is the recent updates. After a slew of utilities and a shift to a more eco-friendly, proof-of-stake model, Ethereum has found stable ground in the market.
That said, despite many positives, ETH still remains a token that is out of reach for many.
Launchpad, on the other hand, provides an inclusive solution to the Web 3 issues. It is creating a platform through which anyone – regardless of their level of expertise – can interact with the Web 3 space. And the fact that it covers all the verticals of Web 3 means that users get one space to which they can dedicate themselves.
And the second reason is that Launchpad is holding a public presale. This means it would have more participants – which would create more interest in this token. Due to these factors, we believe that the Launchpad price may bypass ETH a few years from now.
Launchpad Bullish Catalysts
Judging by the presale alone, we can compare Launchpad to the more successful presales that have happened in the past, including Meta Masters Guild and Dash 2 Trade. These tokens have accumulated vast wealth for early investors even during the bear market. However, Launchpad is a unique project by itself, with great fundamentals that further create more bullish catalysts for its growth.
Bringing Web 3 to the Non-Crypto Crowd
The Web 3 space, despite all of its popularity, has vexed most of those who don't belong to the cryptocurrency space. Hardware limitations aside, the technical requirement to interact with the space is perceived to be high, which deters many from trying out what blockchain projects have to offer.
Launchpad is changing the game with its all-in-one platform that makes it easy for non-crypto people to interact with the Web 3 system. Everything from DeFi to P2E to Metaverse to DEX has been covered by Launchpad. That is one reason why Launchpad was able to raise upwards of $100k within a single day.
🌐 Join the #Web3 future with Launchpad!

We're making Web3 simple for anyone – even Grandma can use it! Find what you need with our #AI search and filter what has the most potential with our LQ score

Join $LPX #Presale today 💰🎨https://t.co/yYq4jnPZiL pic.twitter.com/NAiDpLjABO

— Launchpad.xyz (@launchpadlpx) April 27, 2023
Offering One Metric to Access Multiple Assets
People have always had a hard time assessing the quality of an asset. One look at the whitepapers, and you will note that most projects look and read the same. And when these assets go live on charts, people need to look at technical indicators as well as social media platforms to gauge their potential.
This approach of looking at multiple platforms wastes time, time which is better spent making quick trading decisions. Launchpad resolves this issue by introducing Launchpad Quotient. It is a unique metric that scores an asset based on over 400 data points that consist of moving averages, Fibonacci retracement levels, RSI, social indicators, and more.
Offering DEXs to Users
More users are now pivoting to decentralized exchanges as CEX doesn't necessarily give them the freedom to explore the market properly. Launchpad has come up with its own DEX that allows users to trade 100s of assets without any hiccups.
Tailored Web 3 Experience
When people have to interact with the Web 3 space, they must go through everything, even parts that have nothing to do with them. These elements act as a deterrent that stops people from having the right digital experiences that come with blockchain technology. With Launchpad, however, you can interact with the Web 3 space however you see fit. If you want to buy tokens, you interact with the DEX. If curating NFTs is your wish, you can interact with the NFT DEX or the NFT curation platform.
And if you want to get straight into the metaverse, the metaverse experience library will let you explore multiple metaverses on the platform.
This approach to interacting with Web 3 is better, more reliable, and more inviting.
AI Search System
The official roadmap of this project suggests that Launchpad will launch the AI search bar by the start of 2024. That utility will allow people to search for their next best Web 3 project easily. The official whitepaper states that users can put questions like "find me the next token that might perform like Ethereum," and Launchpad will provide an answer.
People have been asking for more AI projects, and Launchpad is one of the few to deliver them.
It is the Right Time to Launch this Token
The current cryptocurrency market is volatile, and people have been looking for better investments that carry fewer risks and bring more rewards. Crypto presales – legitimate ones – have, thus, come up as a sure bet to make gains in the market.
As the token's value increases during the presale before the listing phase, you get to generate profits outside the volatile charts. That is one of the best reasons that will push the value of Launchpad in many days to come.
Industry-Leading Professionals
The team behind Launchpad is led by Terence Ribaudo. With over a decade of experience in trading crypto and building consumer products for companies such as Rolls Royce, Nike, and NBA, Terrence is the perfect person to lead this project. Another reason that he is perfect for Launchpad is because of his extensive experience in TradeFi and Web 3 markets.
Other professionals behind Launchpad are of the same caliber. They have doxxed themselves already, which is positive news for those looking for more transparency.
Buy LPX Coin
Launchpad Social Media Channels
Launchpad is still in its early stage of presale, and much information about this project is yet to be delivered. So, if you want to learn more about it, you can join up with Launchpad's social media community. However, make sure that you are only using official links to interact with the website since its recent success will see many copycats emerging.
Here are the official links to get in touch with Launchpad's community.
Twitter
Instagram
LinkedIn
Telegram
Discord
When interacting with these social media platforms, remember the developers won't DM you first – scammers commonly impersonate crypto project admins.
The Verdict
Launchpad has launched as a presale with a bang, raising more than $100k within a day. And while we don't have a chart to base our Launchpad price prediction on, we have assessed the token's upside potential based on various positive attributes it has, including its utilities and its relevance in the community.
$LPX has raised $150k at the time of writing, and the token is currently available at a discount price of $0.035. The listing price of this token has already been set – $0.070 – which means early investors would receive a 2x return at launch. See our guide on how to buy LPX token.
Visit LPX Presale
FAQs on LPX Coin
What is Launchpad?
Launchpad is a Web 3 portal that will provide valuable insights and analytics about the Web 3 space through a simple language and beautifully designed platform that can increase the Web 3 adoption rate.
Is Launchpad a good investment?
Launchpad is a crypto project that focuses on all the aspects of Web 3 and makes them palatable for the general market. It is breaking the technical barriers and making the blockchain space more inclusive. Furthermore, the project has been led by a Web 3 veteran. These factors alone make it a legit investment.
How to redeem LPX tokens
Users will be able to claim their LPX tokens seven days after the end of the presale.
When will LPX go live?
Launchpad is planning to go live by the end of Q2 2023, thanks to its bullish marketing efforts and great fundamentals. That said, the tokens will only go live on the Launchpad's internal DEX first. Listing on CEXs will only start when the platform has delivered on its promises.