Is It Too Late To Buy Shiba Inu in 2023? Trader Predictions
Many large crypto companies went bankrupt and into receivership as a result of the 2022 bear market and 'crypto contagion', and lots of altcoins crashed to new lows. One that held up better than others thanks to its strong community was Shiba Inu (SHIB).
With the impending release of the Shibarium layer-two scaling network, the price of Shiba Inu has increased by 2.5% in the previous 24 hours, hitting $0.00001208. Even if its price has increased by about 10% in the past week, the meme token is still down by 10% in the past month due to the fact that interest in Shibarium has not yet been sufficient to entirely balance weeks of market criticism.
The long-awaited release of Shiba Inu's Metaverse and the impending release of the layer-two scaling solution demonstrates the currency's commitment to becoming more than simply another gimmicky joke coin. Because of this, SHIB may be one of the most exciting cryptocurrencies to keep an eye on this year, with substantial price increases on the horizon. 
Is it too late to buy Shiba Inu or is there still scope for new investors to book some profits in 2023? Stick around till the end of this article to get all your doubts cleared.
More on Shiba Inu Coin
Shiba Inu is a cryptocurrency based on Ethereum that uses the Shiba Inu dog as its mascot. Fans of SHIB army refer to it as "the Dogecoin killer," and the general public typically considers it to be a substitute for Dogecoin.
Shiba Inu was developed on and is stored on, the Ethereum blockchain since it is an ERC-20 token based on Ethereum. The project's inventor, Ryoshi, believes that Ethereum was his first choice since it was already safe, and reliable, and would allow the Shiba Inu ecosystem to maintain its decentralized nature.
Buy Shiba Inu
Your capital is at risk.
The Evolution of Shiba Inu
The Shiba Inu token was launched in August 2020 with a total quantity of 1 quadrillion. The birth of Shiba Inu may be traced back to May 2021, when its creator sent half of the supply to Ethereum co-founder Vitalik Buterin. Many others saw this as an attempt to ride on the coattails of a more successful cryptocurrency with a marketing gimmick. There is no brilliance without a weak place," Ryoshi said cryptically.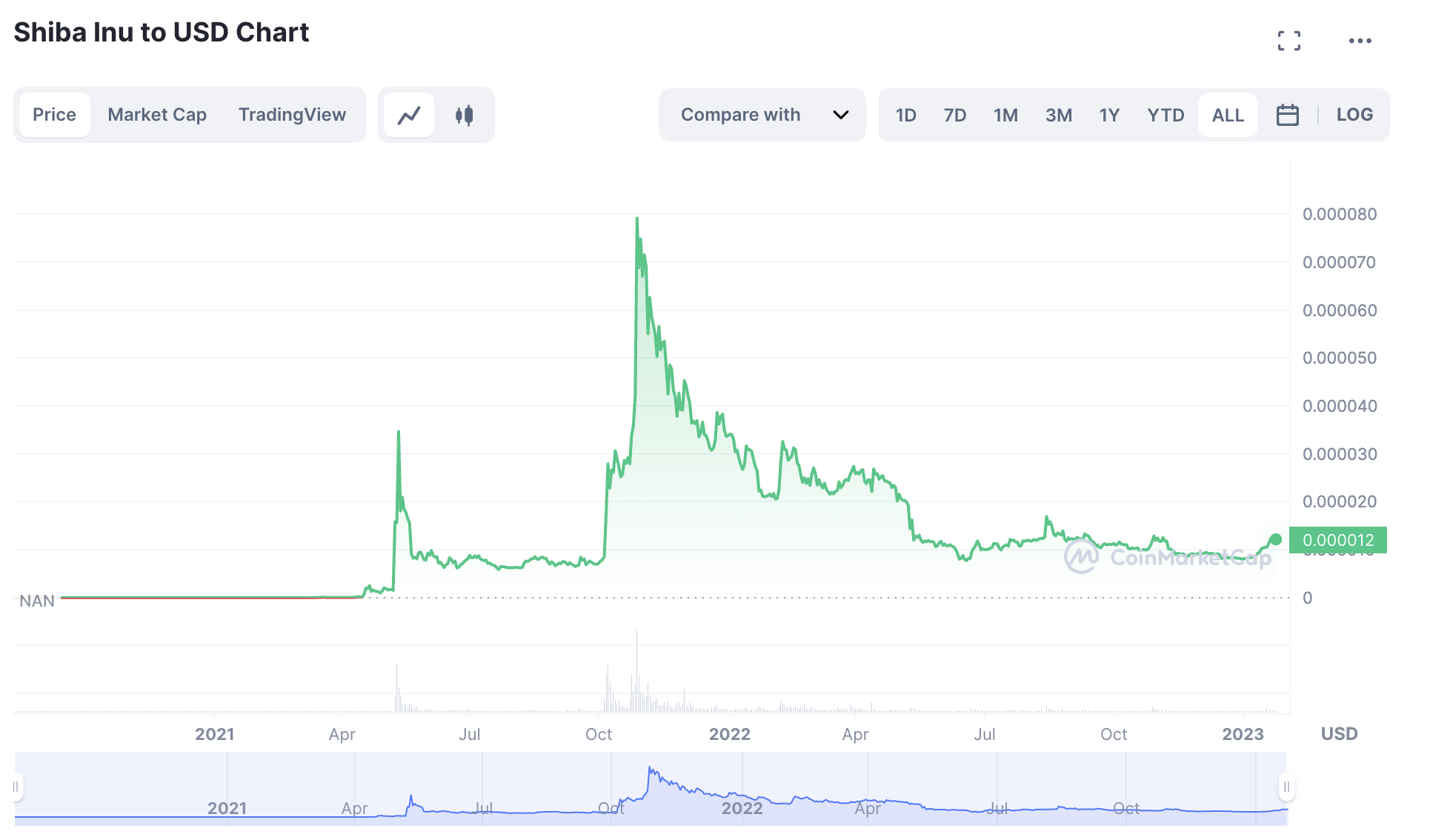 Buterin gave out 10% of the tokens and destroyed the remaining 90% by burning them. For this reason, there are presently 549 trillion Shiba Inu tokens in circulation.
In July 2021, Shiba Inu introduced its own decentralized exchange called ShibaSwap. It formed a partnership with Activision's former VP of technology, David Folk, in November to create a cryptocurrency gaming platform.
When it comes to 2023, while the entire crypto market was facing a downtime, certain developments in Shiba Inu pumped the price up and regained the faith of investors to hold on to Memecoins.
Buy Shiba Inu
Your capital is at risk.
Shibarium Announcement Spiked Shiba Inu's Price
The Shibarium token is a fork of the original Shiba Inu token that was developed to solve the problems with the original coin, such as its extreme volatility and the absence of a defined strategy for how the token will be used. The Shibarium team has been working hard to establish a Layer 2 network, which is a huge step for the coin.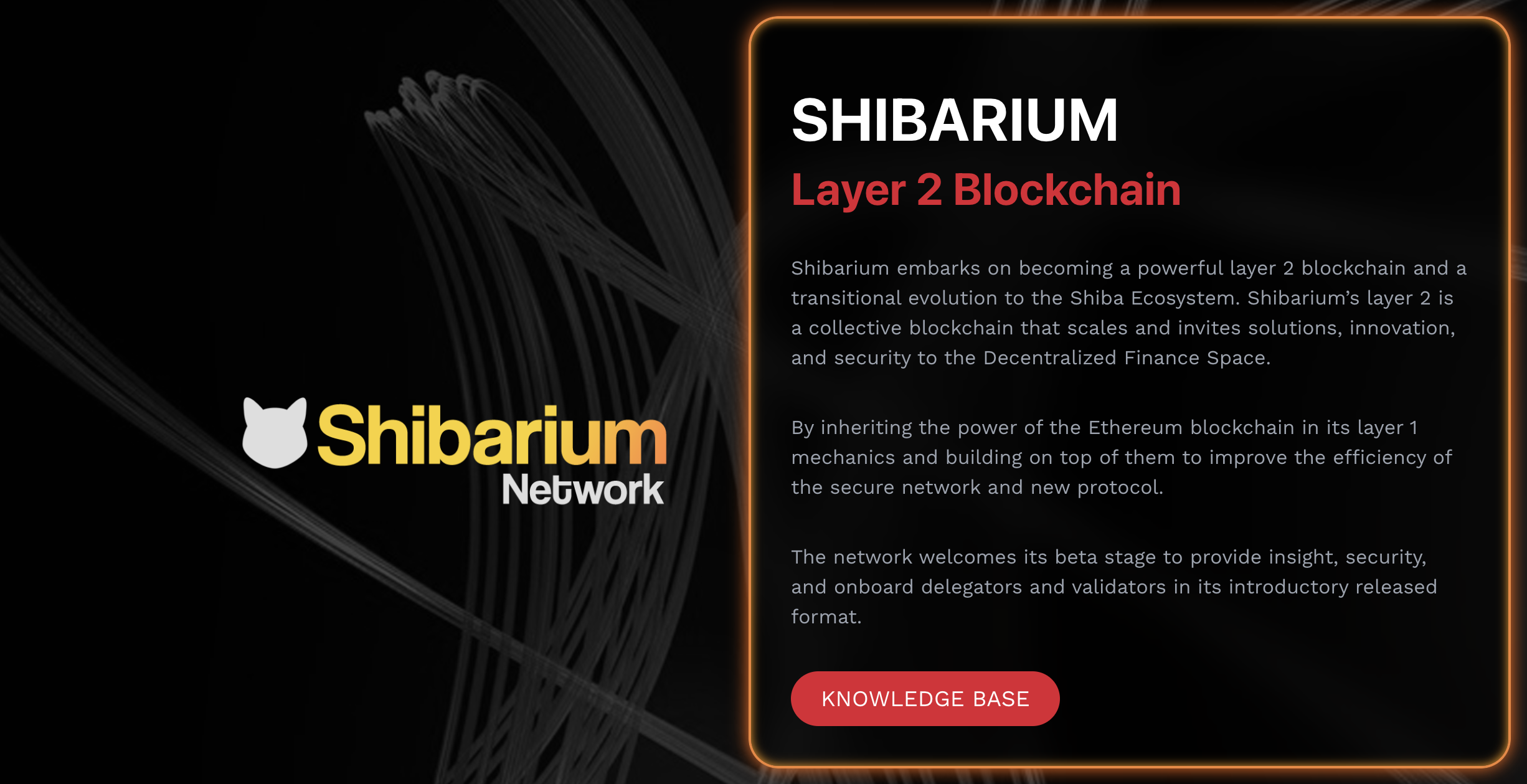 This update will improve Shibarium's standing in the cryptocurrency market and make it easier to use. Due to the Layer 2 network's ability to facilitate faster and cheaper transactions, it is anticipated that Shibarium's acceptance and value will improve and that more developers will be attracted to the blockchain.
By checking that transactions are legitimate and follow the standards of the network, the validator ensures that the Shibarium blockchain remains secure. In order to process and validate a transaction, validators must use computational resources. As a reward, they will receive a tiny percentage of the network's transaction fees and prizes.
The investors' excitement and Ethereum whale interests largely propelled the price of the Shiba Inu (SHIB) to an all-time high in 2022, when it was the fifteenth biggest cryptocurrency by market value in the world. 
Current market data shows that one Shiba Inu (SHIB) token can be purchased for about $0.00001208 with a 24-hour trading volume of 268,608,428. As key technical indicators are flashing a buy signal for SHIB, now is a good time to invest.
In addition, after Shibarium's debut, SHIB holders will have exposure to bonus features like the SHIBDAO airdrop, which will provide them with more opportunities to profit.
Shiba Inu, a decentralized meme innovation platform, is ushering in a new age in 2023. Developers have far more leeway and scalability in the creation and testing of digital assets using its Layer 2 blockchain. This news suggests that the price of Shiba Inu might increase even more if the Shibarium mainnet is launched and embraced by the community for development on its blockchain.
How Does This Shibarium's Announcement Impact Shiba Inu's Price?
Since it was just another Ethereum-based ERC-20 token, Shiba Inu didn't bring anything particularly utility to the table. The imminent release of Shibarium, a Layer 2 protocol that will effectively sit atop Ethereum and function more like Shiba Inu's own network, may soon change that.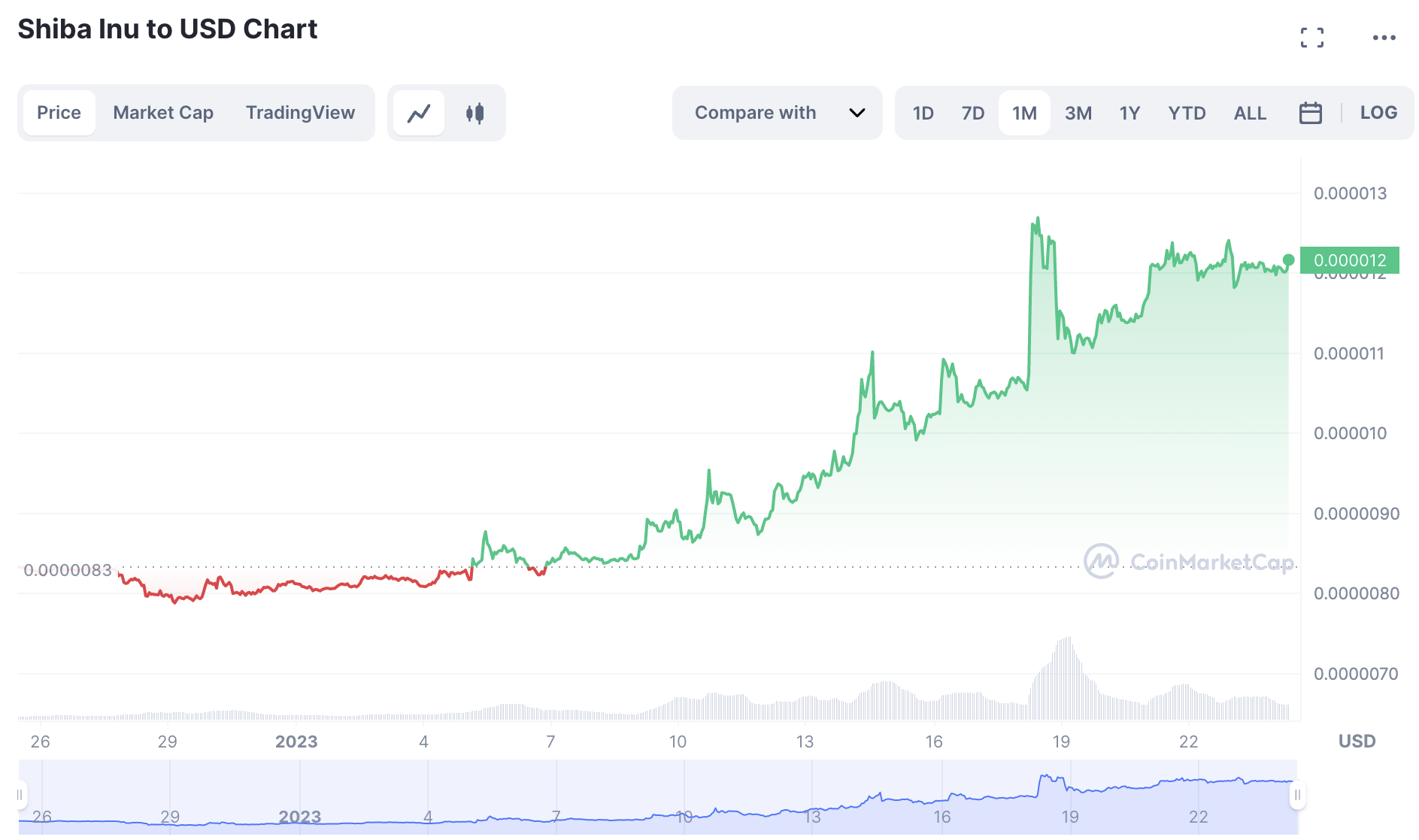 Is it too late to buy Shiba Inu? – 2023 SHIB price chart
Latency on Ethereum's blockchain will be reduced thanks to the Shibarium network, allowing for smoother and more affordable transactions. It is anticipated that Shiba Inu will be supported by Shibarium, which will also be utilized for the Metaverse, NFTs, and other gaming purposes.
In addition, Shibarium will include a burning function that can eventually normalize the supply and demand of Shiba Inu tokens.
Shibarium is being developed so that Ryoshi's dream may be realized and so that the community can have access to a resource that will allow them to shape and expand the project as they see fit. The Shiba Inu team recently wrote on their blog that while some may view Shibarium as a price-pump tool, it is not, and never has been, the project's aim.
Shiba Inu Technical Indicators
Some investors suffered huge losses while others made substantial gains in January due to the asset's erratic performance as its value fluctuated significantly. However, the token is now at a critical juncture where a break is required for further movement.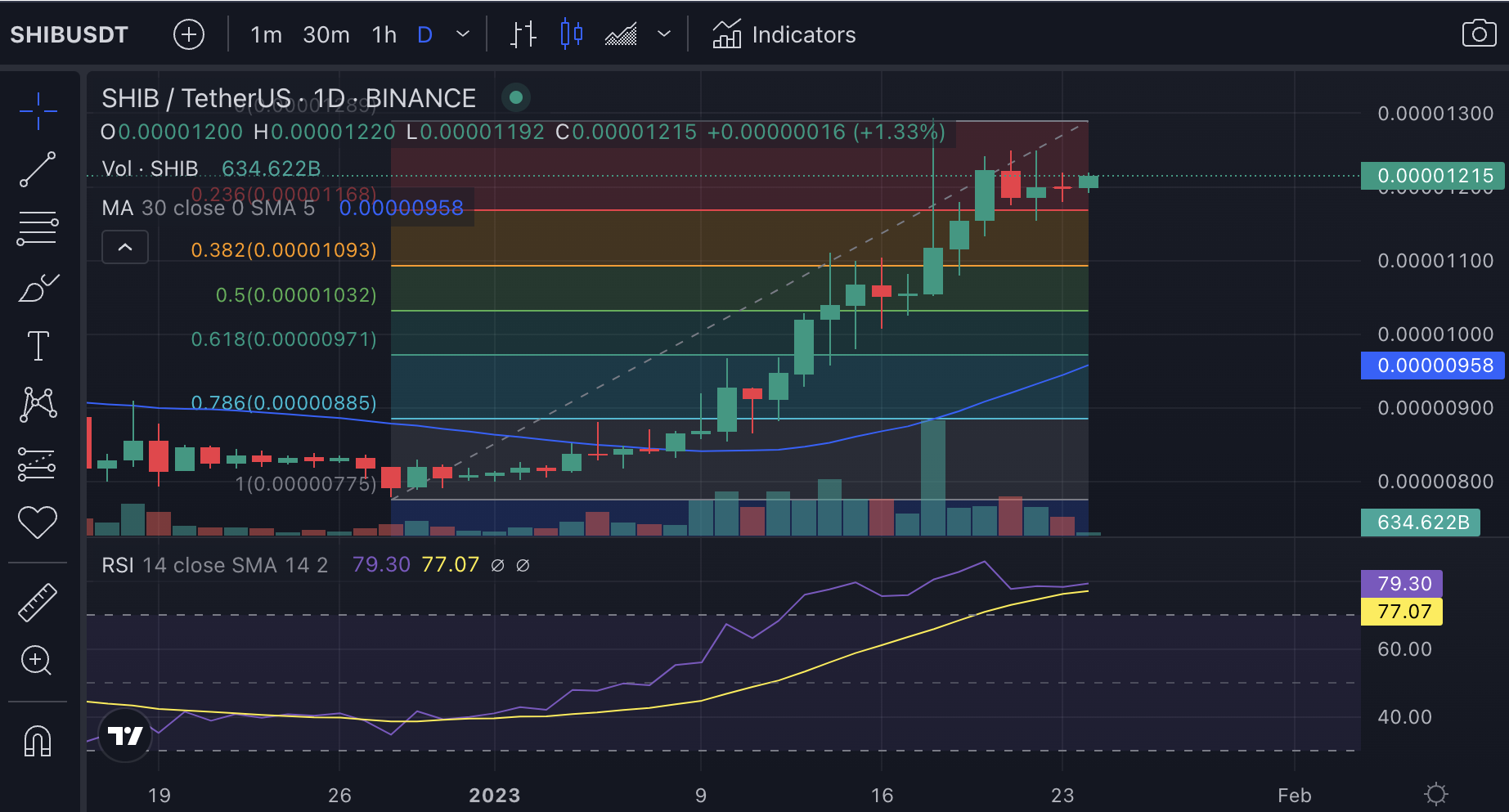 The daily chart for SHIB on CoinMarketCap shows that the token price has risen to the trendline resistance level it first encountered about six months ago. The asset failed to establish a footing after first breaking the 200-day moving average, but it was able to do so during the second market-wide upswing.
The price chart on CoinMarketCap shows a clear upward trend. However, this information is insufficient to say whether or not this trend will continue. On the other hand, due to the transparency and decentralization of blockchains, it is easy to see where the money from major investors is going.
On-chain data suggests that whales were selling off big numbers of SHIB at the outset of the rise, but that this trend has now reversed and that whales are now buying up tokens, which may have contributed to the current price surge.
At least three times, Shiba Inu has attempted to breach the local resistance level at the 200-day moving average, but each time, the lack of purchasing power and funding on the market has led to reversals, rendering the breakout attempts useless.
Whether or not things have changed, the market is experiencing high levels of new money coming in, which hasn't been the case for the entire sector since the FTX collapse.
Buy Shiba Inu
Your capital is at risk.
Analysts' Shiba Inu Price Predictions
The price of SHIB on CoinMarketCap has been steadily declining for months, thus recovery is long overdue. The relative strength indicator had been below 50 for months, but its recent increase suggests a rebound may be starting.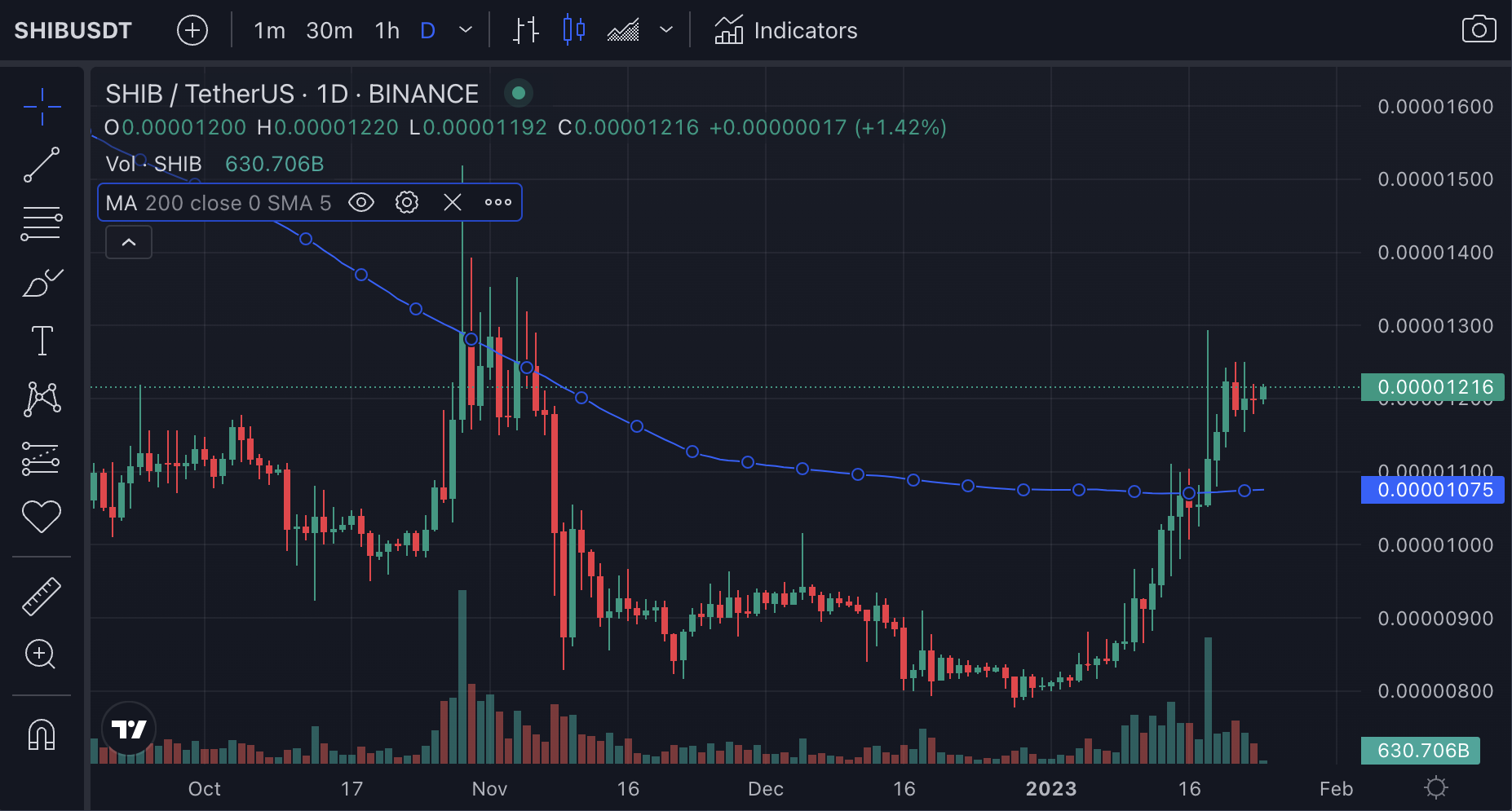 A similar pattern can be seen with its 30-day moving average which has been below its 200-day average for most of the previous 12 months and therefore also suggests that it really should break out and increase again in the near future.
New information from the Shiba Inu community suggests that this breakthrough might happen sooner than previously believed. The beta version of the Shibarium Network is expected to go live in the next several weeks.
Till now, the comparatively high Ethereum gas fees have been a serious problem for Shiba Inu and other Ethereum-based cryptocurrencies. When Shibarium is released, however, it will become much quicker and much more economical, which should lead to more adoption and use of SHIB.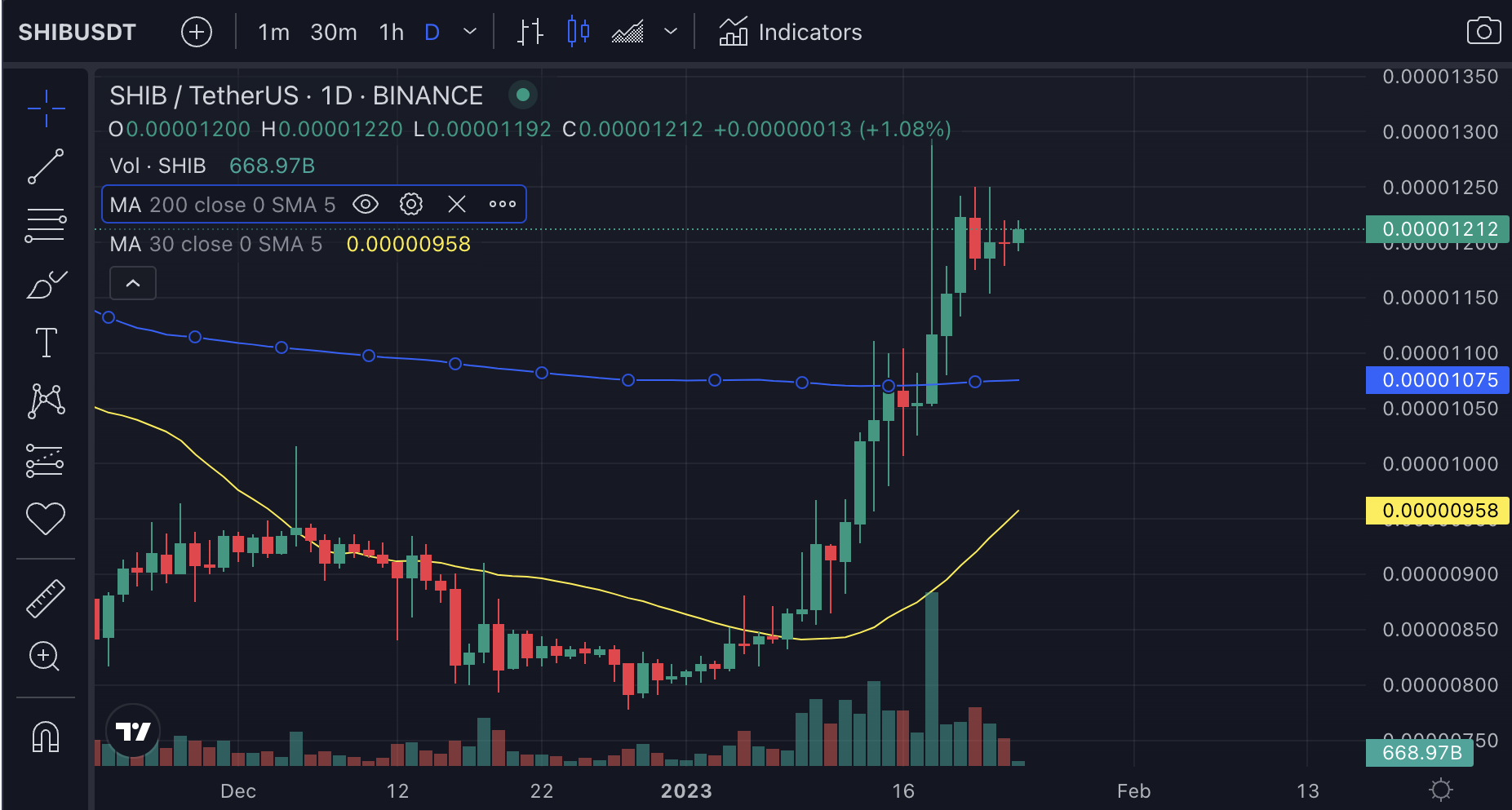 Shiba Inu, which is also anticipating the release of its own Metaverse, will be in the perfect position to enjoy the debut of Shibarium when it finally arrives. The latter is still in production, with the team releasing a constant stream of original artwork and demonstrations and promising to reveal more progress.
Even if SHIB: The Metaverse doesn't come out this year, the announcement alone would send the value soaring.
Many in the SHIB community believe the price of the token might reach $0.001 before the end of the year. This would require SHIB to outperform all other top 100 coins by a factor of nearly 10,000% from its present price, which is not implausible but would make SHIB an extreme outlier in the cryptocurrency market.
What Would Have To Take Place For Shiba Inu To Skyrocket To $0.01?
Shiba Inu would need to increase in value by almost 111,900% from its price at the time of writing in order to reach that level. Numerous triggers and events would have to coincide perfectly for this to occur.
Shibarium, a layer-2 blockchain project, is slated to be released this year, and its introduction might be the year's most influential event. Shiba Inu was developed on the Ethereum network and is a standard ERC-20 token. 
Ethereum is a reliable platform, but its popularity has led to congestion and hefty transaction costs. Shibarium intends to rectify this by drastically lowering transaction costs. For the Shiba Inu team to fully commit to other projects, they must first ensure the public's acceptance of Shibarium.
Shiba Inu's creators can shift their focus to blockchain-based gaming if the launch of Shibarium is successful and transaction costs are reduced. Games hosted on the blockchain have a distinct advantage over traditional ones since players may keep full control over their creations and progress by using non-transferable tokens (NFTs). Shibarium is required since these NFTs can be traded on NFT exchanges provided that the associated transaction fees are small.
A coin burn is analogous to a stock repurchase scheme by a publicly traded firm. Each remaining share of common stock will be scarcer and hence likely worth more if a corporation repurchases part of its existing shares. Through a process known as "coin burn," tokens are transferred to invalid blockchain addresses. This should increase the value of each surviving token by decreasing the total number in circulation.
Finally, Shiba Inu needs social media momentum and buzz on par with what was seen in the last few years. There is a lot of enthusiasm in the cryptocurrency social media community.
Could Shiba Inu Be Worth $0.01 in 2023?
The simple explanation may disappoint some of the investors who had hoped SHIB's price would soar to this level, but this is bad news for SHIB owners. There is still no way Shiba Inu will be worth $0.01 this year, even if all of these things happen.
For instance, it was speculated that Shibarium will debut to the general public sometime in the third quarter of 2022. However, the team behind the level-2 blockchain has revealed that technical difficulties have prevented its release. It's not a good sign for a project with such far-reaching implications for other plans. There is currently no word on when Shibarium will be released.
Shiba Inu may not benefit much from coin burning, however. For a currency with such a huge supply, it's hard to imagine a fire event that would have any meaningful effect. The valuation of a Shiba Inu at $0.01 is completely illogical, as it would make the breed worth nearly three times as much as Apple.
Despite the dearth of concrete data available to cryptocurrency investors, it is clear that Shiba Inu is only a payment coin, and not even a very popular one. Coins that may be used as payment are not unprecedented in the world of digital money, and Shiba Inu's acceptance as currency has grown very slowly over the previous eight months. 
As of January 2023, just 710 primarily obscure internet retailers accept SHIB as payment, according to the online business directory Cryptwerk. When compared to the competition, SHIB doesn't seem to have a shot at earning $0.01 by 2023.
Which Is The Best Place to Invest in Shiba Inu?
One of the best places to buy Shiba Inu is eToro. Since 2017, eToro has offered its services all around the world, and it has been approved by a number of different organizations. 
This comprises the Australian Securities and Investments Commission, the Securities and Exchange Commission, the Cyprus Securities and Exchange Commission and the Financial Conduct Authority. There are a variety of marketplaces available on the site. New currency listings, meme tokens like Shiba Inu and a wide variety of other digital currencies are all examples of crypto assets.
eToro provides its users with several resources, including a free demo account, data, charts, a mobile app, news, analysis and much more. eToro allows a wide variety of payment options, including major debit cards, credit cards, e-wallets like PayPal, and even wire transfers.
With cryptocurrency, the commission cost is modest and open at 1% on each purchase and sell transaction. Additionally to stocks and commodities, indices and ETFs, eToro users may trade currency pairs. To diversify their portfolios, investors may also engage in passively trading cryptocurrencies. As a result of the Smart Portfolios, of which around a dozen are dedicated to cryptocurrency investments, this is now achievable. 
With an investment of $500 or more, traders may have a number of digital tokens, including Shiba Inu, Bitcoin and 75+ others added to their existing portfolio. The platform uses cutting-edge technology to monitor and rebalance the Smart Portfolio on a regular basis. Alternatively, you might choose to implement tried and tested methods by successful traders. Copy Trading at eToro allows investors to mimic the trades of professionals for a minimum of $200.
Buy Shiba Inu
Your capital is at risk.
Conclusion
This guide analyzed arguments for and against some answers to the question 'is it too late to buy Shiba Inu?'
Although early adopters may have reaped significant financial rewards, their good fortune was more likely due to marketing than to any inherent product superiority. Selecting more utility-based cryptocurrencies or cryptocurrency stocks with greater long-term worth is a superior option.
To make matters worse, there are always alternatives that outperform Shiba Inu in every field. Despite being a currency, Shiba Inu is notoriously sluggish to process and expensive to use because it is based on Ethereum.
As an additional use for Shiba Inu, ShibaSwap competes in a saturated market. Uniswap and PancakeSwap, two industry leaders far larger than ShibaSwap, are only two of the many existing DEXs.
Some meme currencies or meme stocks become popular, but their popularity usually doesn't persist. And what is the most likely outcome? The heyday of the Shiba Inu has long since passed. Although Shiba Inu may have the best chance of any major cryptocurrency to have a rise this month, there are a few other altcoins in the presale stage that might see significant growth in 2018.
The token sales for the two cryptocurrencies below are currently ongoing but will expire shortly, providing early investors with a shot at above-average returns.
Meta Masters Guild
MEMAG stands for "Meta Masters Guild" and is a Play to Earn (P2E) project on Web3. It primarily targets mobile devices. The goal of the platform is to facilitate the development of a decentralized environment for cryptocurrency gaming. In addition, you will be able to gain rewards for contributing to the improvement of ecosystems.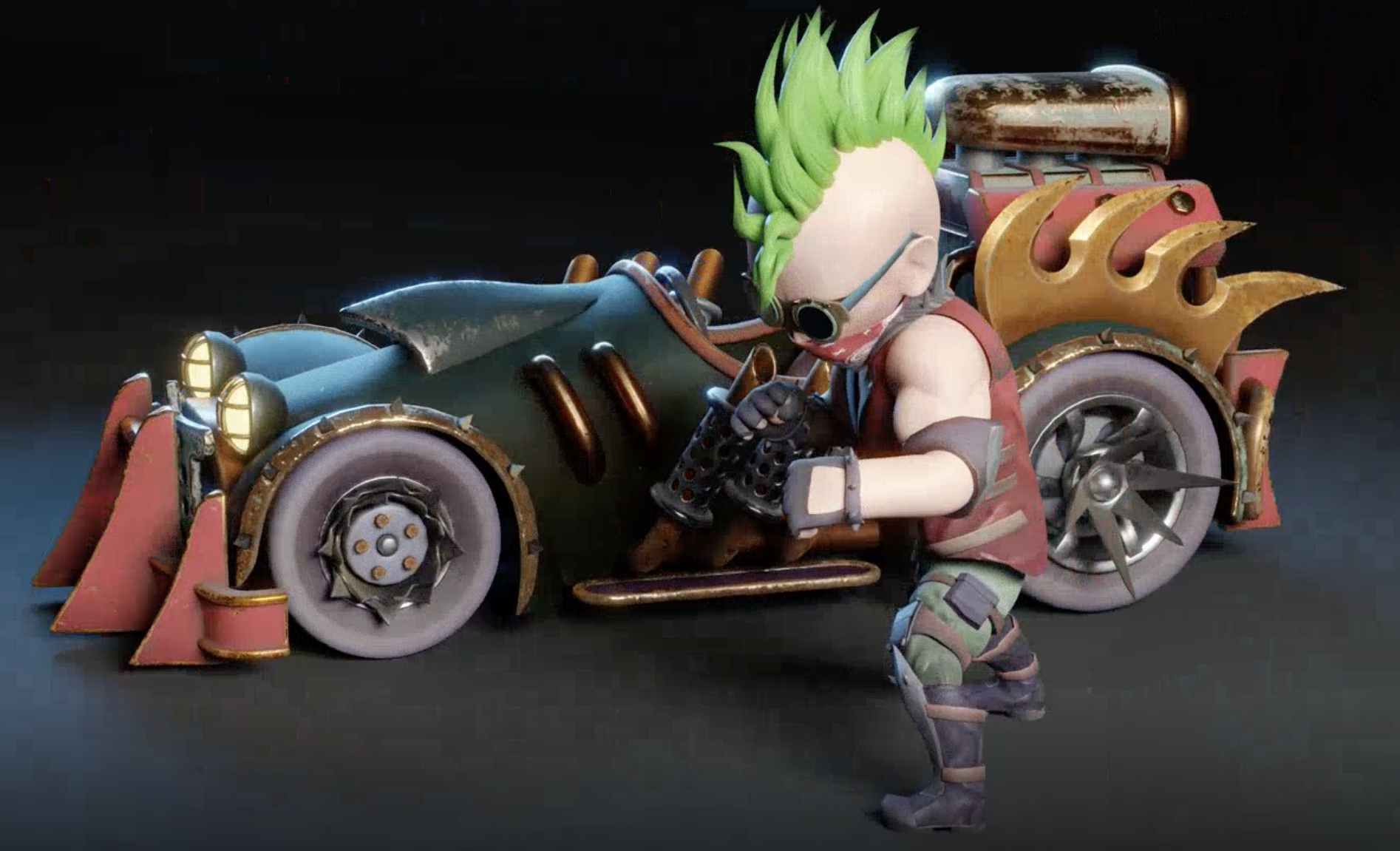 MEMAG is the main money, although players may also earn gifts known as gems. There is a simple and fast way to convert GEMS into MEMAG tokens or other cryptocurrencies like Ethereum and Tether. 
In addition to common NFTs, GEMS may also be used to acquire rare ones. Reports suggest that a turn-based combat game named Raid NFT will be one of the mobile games that include blockchain technology. Tasks completed in Meta Kart Racers, for instance, will award you with GEMS as a reward. Each player's kart and driver may be customized in this game.
Visit Meta Masters Guild
Fight Out
As a 2023 presale investment, Fight Out is one of the best cryptocurrencies you can make. The primary objective of the project is to combine professional fitness and endurance with elements from the Metaverse. Participating in this project earns you virtual cash for your time.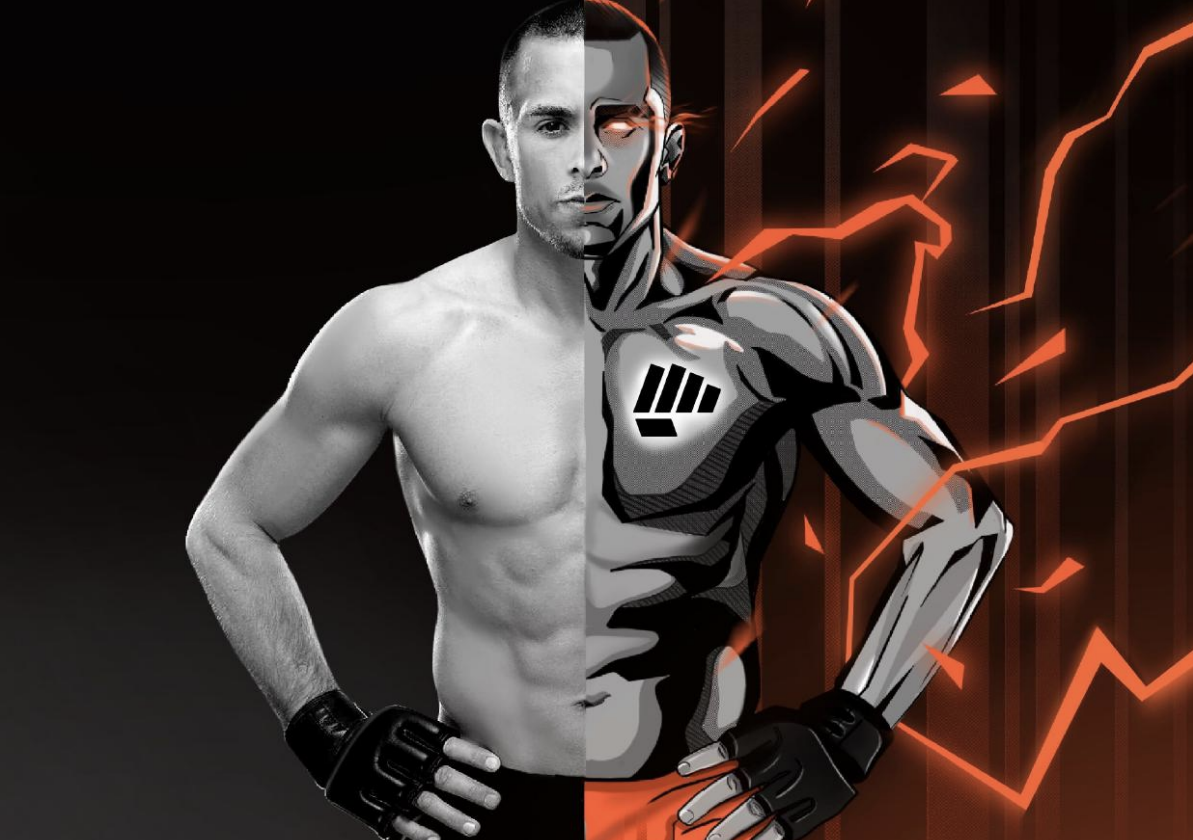 This concept, known as Move to Earn (M2E) is sweeping the bitcoin market in much the same way as P2E did. The FGHT coin serves as the ecosystem's utility currency. Within the Metaverse of the Fight Out coin, a fitness center will be constructed. Memberships, supplements, and personal training sessions may all be purchased using in-game cash here.
The Fight Out app monitors how often and how long you train. Doing so will increase the avatar's potential as the game progresses. In this situation, the avatar will be an NFT one with a soul. Each belongs only to its rightful holder and cannot be transferred to anyone else.
With the Fight Out app, you may follow routines that have been tailored to your specific needs and goals. There is a leveling system in place where you may progress through the ranks as you complete certain exercise programs. Pre-sale FGHT tokens are available now at a very cheap price, so don't wait to get your hands on some.
Fight Out (FGHT) – Newest Move to Earn Project
CertiK audited & CoinSniper KYC Verified
Early Stage Presale Live Now
Earn Free Crypto & Meet Fitness Goals
LBank Labs Project
Partnered with Transak, Block Media
Staking Rewards & Bonuses
FAQs on SHIB Coin
Is Shiba Inu a good investment?
The Shiba Inu community is vast and very active, which is great for creating positive momentum. With its deflationary nature, Shiba Inu is a cryptocurrency that stands to appreciate over time.
How many Shiba Inu coins are left?
The initial quantity of SHIB was 1 quadrillion, with half of that locked in Uniswap and the other half burnt to Ethereum co-founder Vitalik Buterin. With a total supply of 1 quadrillion, there are now 497 trillion SHIB tokens in circulation.
What will the Shiba Inu coin be worth in 2025?
According to the technical research of cryptocurrency specialists, the price cap of Shiba Inu (SHIB) in 2025 is projected to be around $0.0000314769, while the highest price is projected to be around $0.0000377162. The typical transaction fee is $0.0000323768, or around a penny.
Is Shiba Inu a high-risk investment?
If the Shiba Inu meme survives and experiences a subsequent renaissance, then purchasing one may be a great financial move. An investment in SHIB is the epitome of the high-risk, high-reward investing strategy.