How Bulls & Bears Prepare for Next Week

Cardano price analysis has recently caught the attention of both bulls and bears. It presents opportunities for savvy investors to capitalize on ADA price movements.
But what are the current market dynamics behind the price of Cardano? What are the technical indicators saying, and what are the potential trading strategies for the week ahead?
Cardano Price Analysis: The Battle Between Bulls and Bears
Cardano's price has seen a roller coaster ride, with significant volatility marking its trading history. The past few days have been no exception, with ADA experiencing a tug-of-war between bullish and bearish forces.
Bullish Sentiments: The Case for Upside Potential
The bullish camp has several reasons to be optimistic about Cardano's future:
Strong Support Levels: Cardano has established a robust support zone around the $0.38 mark, which has held steadfast even during the recent market turbulence. This level has been tested multiple times as resistance and now is proving to be a reliable foundation for the ADA price.
Positive News Flow: Cardano's development team has been actively working on enhancing the blockchain's capabilities, with regular updates and improvements being rolled out. Recently, Charles Hoskinson supported the idea of Cardano Bitcoin (cBTC), offering the opportunity to integrate the largest crypto into the Cardano ecosystem. This progress is likely to fuel investor optimism, leading to potential price appreciation.
Growing Adoption: Cardano's ecosystem is rapidly expanding, with an increasing number of projects and partnerships leveraging its blockchain technology. As the network's utility grows, the demand for ADA tokens also increases, which can drive higher prices.
Bearish Sentiments: The Case for Downside Risks
On the flip side, bears can also make a compelling case for potential downside risks in Cardano's price:
Resistance Levels: After the recent rebound of the $0.38 support level, ADA price has faced stiff resistance around the $0.40 level. This barrier has previously capped its upward momentum. This barrier must be breached for the bulls to gain control.
Market Uncertainty: The broader cryptocurrency market has experienced heightened volatility and uncertainty due to regulatory pressure in the US. This can impact Cardano's price performance. As a result, the bearish camp may argue that ADA could face selling pressure in the face of broader market headwinds.
Technical Analysis: Key Levels and Indicators
Moving Averages and Fibonacci Retracement
Cardano's price is currently hovering around the 50-day moving average, which can act as a crucial support level. Furthermore, the 100-day and 200-day moving averages can provide additional support for the long-term trend.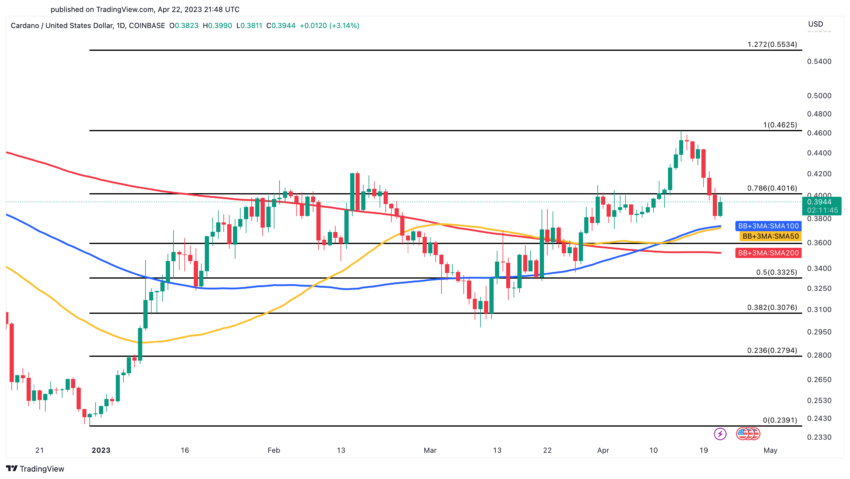 The Fibonacci retracement levels are also essential in determining potential price targets. The 78.6% retracement level at $0.40 is a key area of resistance to watch for potential bullish reversals after the recent correction.
Relative Strength Index (RSI) and Moving Average Convergence Divergence (MACD)
The RSI and MACD are essential tools for gauging the strength of a trend and identifying potential reversals.
Currently, the RSI is hovering around the 50 mark, indicating a balanced momentum between bulls and bears. A break above 70 could signal a bullish trend, while a drop below 30 may indicate a bearish reversal.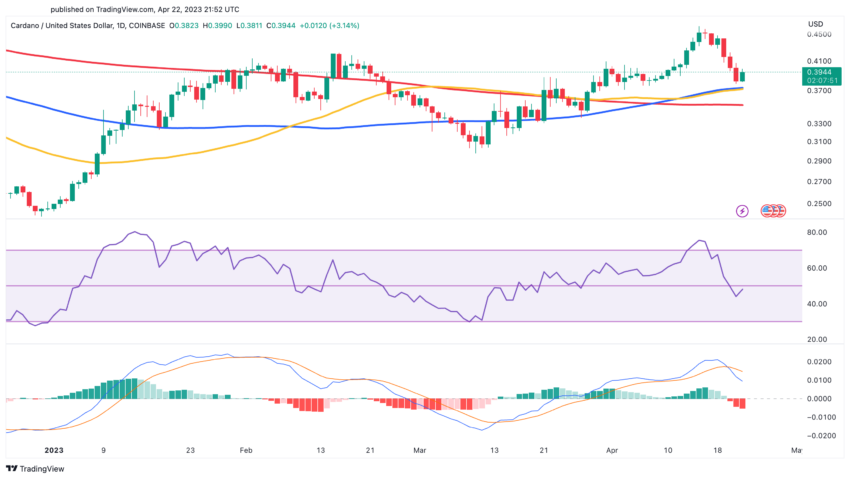 The MACD is currently showing a slight bearish crossover, with the MACD line just below the signal line. This could suggest a short-term bearish momentum.
However, the divergence between the two lines is relatively small, which may indicate that the trend is still undecided. Traders should keep an eye on the MACD for any significant crossovers that may signal a shift in momentum.
Trading Strategies: Capitalizing on Cardano Price Analysis
Given the current market dynamics and technical indicators, here are a few potential trading strategies for investors looking to capitalize on Cardano's price movements:
Bullish Strategy: Buying the Breakout
For investors with a bullish outlook, a breakout above the $0.40 resistance level could be an ideal entry point. This strategy involves purchasing ADA when it convincingly breaks through the resistance, with the expectation that the upward momentum will continue.
To manage risk, a stop-loss order can be placed below the breakout level, and profit targets can be set at the next Fibonacci retracement levels, around $0.46 and $0.55.
Bearish Strategy: Shorting the Rejection
Shorting Cardano's rejection at the $0.40 resistance level could be an effective strategy for those with a bearish perspective. This entails opening a short position when the price fails to break through the resistance and reverses downward.
Stop-loss orders can be placed above the resistance level at $0.42 to minimize risk, and profit targets can be set at the nearest support levels or Fibonacci retracement levels at $0.36.
Neutral Strategy: Range Trading
For traders who prefer a neutral stance, range trading between the support at $0.38 and resistance at $0.40 can offer lucrative opportunities. This strategy involves buying at the support level and selling at the resistance level, capturing profits from the price fluctuations within the range.
Risk management tools, such as stop-loss orders and profit targets, can help protect capital and lock in gains.
Preparing for Cardano Next Price Move
Cardano price analysis presents a battlefield for both bulls and bears, with opportunities for traders to capitalize on its volatile nature.
By carefully analyzing the technical indicators and employing well-thought-out trading strategies, investors can position themselves to profit from ADA's price movements in the coming week.
Disclaimer
In line with the Trust Project guidelines, this price analysis article is for informational purposes only and should not be considered financial or investment advice. BeInCrypto is committed to accurate, unbiased reporting, but market conditions are subject to change without notice. Always conduct your own research and consult with a professional before making any financial decisions.