Friday Frenzy: Floki Price Prediction Soars as Investors Brace for Game-Changing Weekend Rally

Join Our Telegram channel to stay up to date on breaking news coverage
Investors eagerly anticipate a potential game-changing weekend rally as Floki Inu's price prediction soars. Friday frenzy has market enthusiasts preparing for significant shifts in Floki's value. Excitement is mounting as investors closely monitor the coin's performance, aiming to seize potential gains.
Floki Inu (FLOKI) Partners with AliExpress, Boosts Crypto Payments, and Adoption
Exciting news for Floki Inu (FLOKI) enthusiasts as the meme coin announces a successful partnership with AliExpress, a popular online shopping platform with the help of Shopping.io crypto payments platform. This partnership enables FLOKI users to leverage the coin for purchases on AliExpress, significantly expanding its use case. AliExpress, known for accepting cryptocurrencies, boldly embraces Floki Inu, expecting to attract new crypto users.
$FLOKI Floki Inu, a popular meme-inspired cryptocurrency, has recently made an exciting announcement regarding its integration with AliExpress, one of the world's leading e-commerce… pic.twitter.com/PFFY1eLB3M

— WEB3 Market Insight ?? (@iftikharpost) June 2, 2023
This integration adds convenience and potential growth opportunities for both FLOKI and AliExpress. This new connection between Floki Inu and AliExpress will allow FLOKI holders to browse and purchase various items on the platform using crypto. It also promotes increased FLOKI adoption among AliExpress regulars and bridges the gap between the physical and digital worlds. 
Users can purchase goods from Floki holdings, making their crypto holdings tangible giving them real life utility.
Additionally, paying with FLOKI on AliExpress earns users a special incentive of 10% in SHOP tokens. This advantage improves the shopping experience and encourages people to try shopping with Floki Inu.
The partnership represents a significant advancement for the crypto sector and e-commerce industry. It opens up new avenues for crypto adoption and inspires other platforms to do the same. Other platforms may follow for benefits and competitive reasons.
Floki Inu Price Analysis: FLOKI Surges in Price and Volume after AliExpress Listing
The recent news of Floki Inu's addition to AliExpress has had a modest impact on the token's price. Despite experiencing price drops in the past few days, the announcement caused a slight recovery earlier today. Initially, FLOKI surged from $0.00003099 to a resistance level of $0.0000325. However, it failed to surpass this level and faced rejection, resulting in a decline to $0.00003191, where it currently stands.
At the time of writing, FLOKI Inu (FLOKI) is trading at $0.00003159. The token has experienced a 15.7% rise. The 24-hour trading volume for FLOKI is $21,092,915, indicating a 39% increase from the previous day and a recent surge in market activity. This represents the highest volume seen in the past 7 days.
With a circulating supply of 9.9 trillion FLOKI, the token holds a market cap of $314,052,564. In the last 7 days, FLOKI has outperformed the overall cryptocurrency market, which has seen a 1.80% increase but falls short compared to similar cryptocurrencies within the Ethereum Ecosystem, which have experienced a significant 12.70% increase.
Floki Price Prediction – FLOKI Price Surging Steadily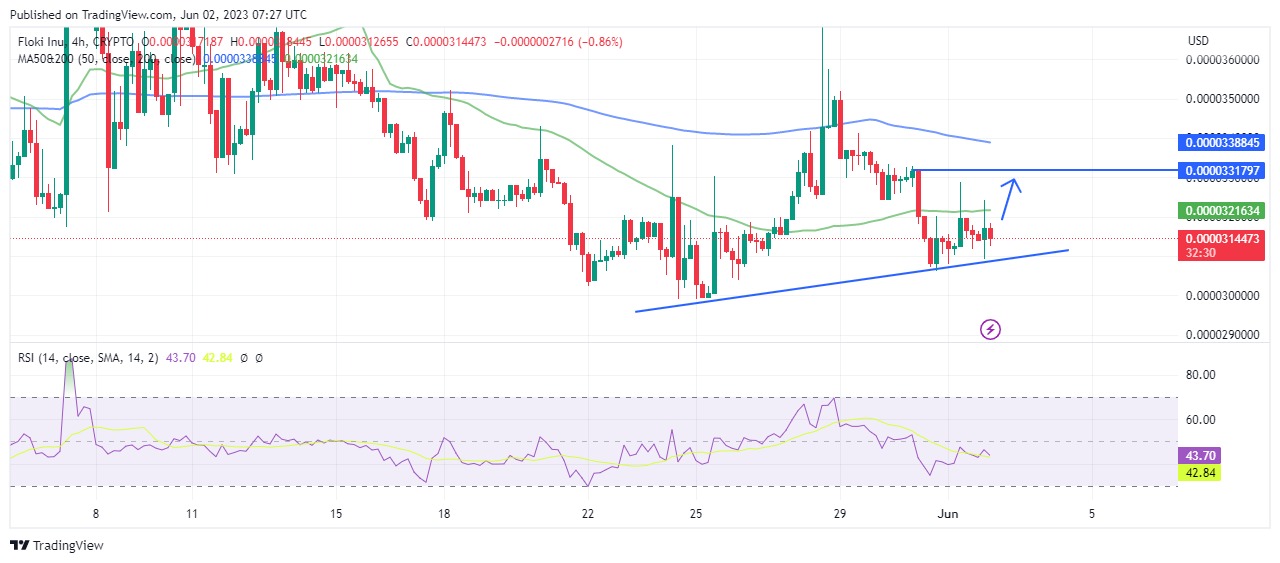 The price of FLOKI is rising steadily along the trendline. The news on Aliexpress integration has affected the price on the upside. However, in the 4-hour timeframe, the price is on the red candle. If the uptrend holds, the price should hit the resistance zone at $0.00003320.
However, bears are expected to come in at the resistance point as the price of FLOKI Inu will have formed a shoulder-head-shoulder pattern, which indicates a price decline. At the time of writing, the price is still trading below the 50 and 200 4-hour moving averages. 
Additionally, the relative strength index is trading below the 50 level mark at 43, which still shows signs of an upcoming surge. Based on our analysis above, we predict that the price of FLOKI Inu will reach $0.00003320.
$DLANCE Token Presale Experiences Rapid Sales and Projects Price Surge
DeeLance's token presale, $DLANCE, is selling at a tremendous speed of $0.038. In the next three days, the value of 1 $DLANCE is expected to increase to $0.043. Following that, there will be another increase in the next presale stage, and eventually, the token will list for $0.057.
The presale of DLANCE has achieved a milestone of $1,229,680.58 since it started. Once listed on exchanges, DLANCE is projected to experience potential price growth. DLANCE is a utility-infused token used on the DeeLance freelancing platform.
Attention DeeLancers! ?‍??

Stage 3 of our #Presale has sold out! ?

But don't worry, our Presale Stage 4 has just begun! ⏰

1 $DLANCE = $0.038 USDT

Grab some $DLANCE tokens today!⬇️??https://t.co/XHnTqVzMLN#Crypto #CryptoCommunity #Metaverse pic.twitter.com/E7NTPIZFsl

— DeeLance (@deelance_com) May 30, 2023
Users can use DLANCE to pay for completed work, billboard ads, and purchase office spaces in the metaverse. DeeLance ensures full ownership rights for users by utilizing smart contract audits and an NFT backing system.
The platform also provides a metaverse and NFT marketplace, revolutionizing freelancing. DeeLance operates an Audit and KYC system to minimize fraudulent activities, creating a safer environment for users to work, socialize, and earn in crypto.
Investors can still benefit by entering the presale this early before the next price increase and the eventual listing on major exchanges. 
More News
Wall Street Memes – Next Big Crypto
Early Access Presale Live Now
Established Community of Stocks & Crypto Traders
Featured on BeInCrypto, Bitcoinist, Yahoo Finance
Rated Best Crypto to Buy Now In Meme Coin Sector
Team Behind OpenSea NFT Collection – Wall St Bulls
Tweets Replied to by Elon Musk
Join Our Telegram channel to stay up to date on breaking news coverage