FOMC Meeting Result – Bullish & Bearish Bitcoin Price Predictions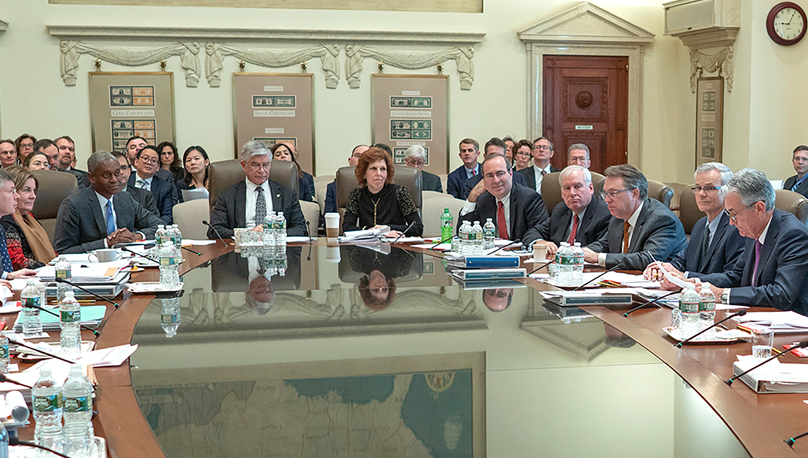 Join Our Telegram channel to stay up to date on breaking news coverage
Over the last couple of months, financial meltdowns have been a rather common story in several countries. For the citizens of the US; even on a global level, there has been speculation of a recession. While the global markets have historically reacted to it in unexpected ways, the blockchain industry in general has been first when it comes to volatility. The FOMC meeting transpired amidst this crisis, and as investors turn to an indicator of what it may mean for the market's short-term growth. 
Since the 2021 bull run, Bitcoin and other altcoins had been gaining popularity on a daily basis. The blockchain sector had gone mainstream, with a variety of categories popping up every now and then. But this growth became stagnant even before the major crash when governments rolled out reports where an upcoming financial crisis was evident. 
Currently trading at around $20,000, BTC has been an asset that has been on the watch list of several investors worldwide. However, breakdowns from major national institutions and banks had disrupted the engagement that crypto in general had gained in the past year. The recent subject of discussion, however, has been the US and its struggles on a macroeconomic level. 
The FOMC meeting
FOMC or Federal Open Market Committee is one of the main components of the nation's financial system. The duty of this entity is to direct monetary policies that have an impact on all existing markets. There are eight yearly meetings, where the members decide and announce the financial conditions of the US after reviewing its current economic state. 
The latest of these meetings was on the 2nd of November, which was a much-anticipated event for investors globally. This is because while other countries have their own markets and governing bodies, the US has always influenced them directly or indirectly. However, the outcome of this meeting was something that analysts and organizations had predicted for quite a while. 
The results were predictable to an extent
As mentioned above, several analysts had publicly mentioned their views on what the outcome of the meeting could be. In fact, some had even tweeted their strategies and what the next move would be if the interest rates did infact, raise to their expectations. 
For instance, an analyst who goes by the name CryptoChase on Twitter had stated that he would be looking to "long a sweep of equal lows on Bitcoin as long as data comes out as predicted".
$BTC

When I think about FOMC, I think about liquidity. Previous FOMC's often run liquidity and reverse or darthmaul etc. Will most likely long a sweep of the equal lows on Bitcoin as long as data comes out as predicted (aka 50/75 bps hike and not a 100 bps hike). pic.twitter.com/aoZEVQJgrz

— Crypto Chase (@Crypto_Chase) November 2, 2022
However, the most common anticipated technical indicator according to most of them was the "Darthmaul". Accurately known as the high wave spinning top", a small candle body with unusually large upper and lower shadows, it suggests that the prior trend has run into a period of indecision. The term "Darth Maul" comes from Star Wars, as the candle looks somewhat like a lightsaber.
Another crypto analyst by the name Crypto_y_tho .2.0. on Twitter also had the same view which was shared by others in the space. 
FOMC darth maul anyone? pic.twitter.com/GtXY38HomT

— Crypto_y_tho .2.0. (@BTC_y_tho) November 2, 2022
FOMC's 0.75% interest hike decision
It was announced that there will be an increase in interest rates yet again, this time seeing a surge of 0.75%. The chairman of the committee Jerome Powell said there may be an increase in the interest rates yet again in December after the next meeting. He added that officials may be looking for a smaller hike in December, and there may be a higher-than-projected increase in the rates in 2023. 
With the inflation percentage at a 40-year high, the current crisis was something that the government had been trying to get rid of aggressively in the form of interest rate hikes in the past few months. This move is something the institutions have adopted in order to slow down economic activity, thereby being able to curb inflation to an extent. 
Naturally, this is something that requires time, and that is exactly what Powell stated. "It is very premature to be thinking about pausing. We think we have a ways to go." the chairman mentioned while addressing a comment on stopping the rate hikes. The stock market shot up almost instantly after the meeting, only to start a downtrend right after.
The cryptocurrency market's condition
While the S&P 500 and stocks fell considerably, there was comparatively lesser movement in the crypto market after the announcement. The price of Bitcoin and other altcoins too seemed stagnant with little to no volatility. However, this may be temporary, since bitcoin has been impacted heavily by FOMC meetings and related announcements in the past. 
An accurate prediction for the asset cannot be speculated, since it would require more data and time. As of now, the community is split into two sides, where one part banks on the possibility of an extremely bearish movement, while the other seems bullish. 
On a smaller time frame, it was visible that Bitcoin too had some volatile movements soon after the meeting concluded. Despite this being a change of around 1% which doesn't seem a lot when considering its previous activity, the asset may be due for some major movements in the upcoming months. 
As of now, there are many other events scheduled that could act as a catalyst for these mentioned movements. 
Key Dates to Watch 👀

2 Nov: #FOMC Rate Decision (Expected 75 bps)4 Nov: Non-farm payrolls8 Nov: Midterm Elections10 Nov: #CPI (Expected 8.1%)

What dates are you watching?

— CoinGecko (@coingecko) October 31, 2022
These are some of the events that may have a direct impact on not just the blockchain sector but the global markets as well. At the time of writing, the cryptocurrency market is worth about $1 trillion. 
Read More:
Early Stage Presale Live Now
Doxxed Professional Team
Use Cases in Industry – Offset Carbon Footprint
Join Our Telegram channel to stay up to date on breaking news coverage