Dogecoin Shows Bullish Momentum Is The $1 Mark Near?


Join Our Telegram channel to stay up to date on breaking news coverage
Dogecoin, the world's largest meme coin by market capitalization, continued its upward trend today, July 21, while top coins like Bitcoin and Ethereum pulled back. 
Born without intrinsic utility, Dogecoin demonstrates that a simple internet joke can gain massively, with over $10 billion in market capitalization. Despite heightened volatility, DOGE has made notable gains in the past few days. 
However, the meme token is still a cryptocurrency whose prices often ride on tide-like waves. Therefore, there's no certainty when addressing future crypto price moves, but a close look at its past price actions and technical indicators could provide hints. 
Dogecoin Price Moves In the Last Week
Dogecoin had a rocky week, with three days of bearish market positions. Coingecko data shows a 2.9% price decline on July 15, which brought DOGE's valuation below $0.07, before it regained over 5% on July 16.
Dogecoin's price consolidated between $0.069 and $0.07 before today's sharp resurgence. CoinMarketCap data shows a sharp spike at 9:00 am EST, bringing DOGE to $0.7611, a 10% increase from a 1-day low of $0.06858, recorded on July 20.
While it continued with steep highs and lows, DOGE remained bullish. Dogecoin has receded from the 1-day peak value of $0.7611, as shown in the chart above, but the $0.7 support remains unperturbed. Dogecoin trades at $0.734, with an over 4% price increase.
Moreover, the forerunner meme coin has recorded a resurgence in its trading volume, suggesting a high investor sentiment.
Dogecoin's Daily Chart Suggests Bullish Rallies Ahead: How Far Can It Go?
Cryptocurrencies, including Dogecoin, follow a peculiar price pattern that makes it difficult to guess their future price action on face value. 
But the following technical indicators hint at DOGE's future moves.
Dogecoin's Market Outlook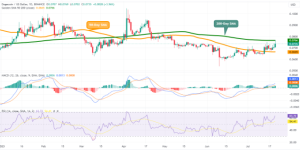 The chart above demonstrates a bullish market position for Dogecoin. It trades above the 50-day Simple Moving Average, a bullish short-term signal. However, Dogecoin's price is still below its 200-day SMA, depicting a bearish trend in the long term. 
In addition, the Moving Average Convergence/Divergence (MACD) is above the signal line, with dark green histogram bars. This observation depicts that Dogecoin maintains a strong uptrend. It also suggests increased trading activity and high buying pressure on DOGE. 
Its Relative Strength Index (RSI) is 61, approaching the overbought region (70). Moreover, the RSI graph is facing up, suggesting a positive market position as the bulls struggle to push the asset's price forward. It also shows DOGE's rally is far from over, as more buyers join the market.
If the bulls sustain momentum, DOGE could eventually cross the 200-day SMA, facilitating more rallies in the coming days. Otherwise, if the bears (sellers) prevail, DOGE could face a potential trend reversal in the coming days.
Dogecoin's Support and Resistance Levels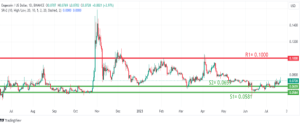 The chart above shows Dogecoin trades above its first and second support levels. The meme token found support at $0.0584 after recovering from a steep reversal. 
Due to the hype around Ripple's victory against the US SEC, DOGE witnessed a bullish trading activity that pushed its price to the $0.659 support level on July 13. 
Fighting its way through several ups and downs, DOGE has now surpassed the $0.0659 level. Its price changes hands at $0.0728, targeting the $0.1 resistance. If the bulls sustain the current momentum, DOGE could conquer the $0.1 resistance, ready for more gains in the coming months.
Experts are Bullish on Dogecoin's Potential Long and Short-Term Price Action
A notable crypto price prediction site, Changelly, is 71% bullish on Dogecoin's short and long-term potentials. 
According to Changelly's Dogecoin price, DOGE would trade at a high of $0.695, a low of $0.0635, and an average of $0.0754 in 2023.
The forecast suggests a minimum price of $0.12 and a maximum of $0.14 for Dogecoin in 2024. In addition, Changelly says, Dogecoin's price in 2030 will reach a high of $1.26 and a low of $1.01.
Meanwhile, Coincodex is 68% bullish on Dogecoin, following its historical price movements and BTC halving cycles. 
The coin tracker says Dogecoin dropped by 0.77% by July 26 and hit approximately $0.0733. It also predicted that DOGE traded at a yearly high of $0.1669 in 2025, $0.082528 in 2027, and $0.129 in 2030.
Factors that May Influence Dogecoin's Price Performance in the Coming Months
Like most Cryptocurrencies, Dogecoin's price is subject to several factors, including ecosystem events and developments, general market sentiment, regulatory atmosphere, and macroeconomic conditions.
Ecosystem Developments
Many cryptocurrencies have witnessed price increments as their ecosystem and utility expand. However, unlike most coins, Dogecoin is a meme token with no intrinsic utility. Its price movement only depends on how much hype and traffic its community can generate.
Nonetheless, this could change should the DOGE community decide to expand its functionality and usability, attracting more investors and users to the meme token. Dogecoin's price could climb higher in the coming months if the developers were to introduce a real-world utility to it.
Regulatory Outlook
The crypto industry is still novel, with little to no standard to guide market players. This issue has attracted criticisms against the industry, repelling top institutional and retail investors. But that's about to change as most nations have realized crypto's potential and have moved to institute comprehensive guidelines to oversee the market.
For instance, the cloudy regulatory outlook in the US crypto market caused several coin prices to crash as the SEC increased its enforcement moves in cryptocurrency service providers. 
But Ripple's landmark win in the multi-year-long suit with the US SEC generated enough buzz to clear off some mists in the atmosphere, improving the market sentiment. As such, most coins, including DOGE, rode on bullish waves as the news broke out.
Chances are high that more positive developments in crypto regulation will transfer positive energy to DOGE, boosting its price beyond the current value.
Macroeconomic conditions
Macroeconomic factors, such as inflation, deflation, and recession, often generate bearish pressure on the crypto and broader financial market. For example, the ongoing inflation in the United States led the Federal Reserve to increase interest rates, impacting investor sentiment.
Experts predict that the US may not avoid an economic contraction which might escalate into a recession before 2023 ends if the interest rate hike continues.
Fortunately, the June CPI data suggests the inflation is increasing, and if sustained, could end the Fed's hawkish stance on interest rates. It bears mentioning that Dogecoin will be among the top beneficiaries, whose prices will soar if the economic situation improves.
Best Dogecoin Alternative, DeeLance, Soars as Investor Interest Increases
DOGE's rally has stalled, and investors may need to consider projects with better upside potentials.
 If you're in this category, DeeLance may be worth your penny since the project has received massive investor interest since starting its presale.
Deelance ($DLANCE)
Deelance is a Web3-based platform for recruiting and freelancing. The project aims to redefine freelancers' interaction and connection with potential clients.
DeeLance plans to give freelancers complete creative control over their output by creating a brand-new freelancing economy and eliminating intermediaries. It also guarantees that clients retain ownership of purchased digital products. 
The decentralized platform of DeeLance consists of NFT marketplaces and micro-communities in a metaverse where traders of creative products can interact, exchange ideas, network, and establish friendships.
Other benefits of the DeeLancer Web3 freelancing platform include NO complicated demand for sign-up details, active security and openness, and fast payments method (NFTs AI chatbots in the metaverse marketplace for customer service).
DeeLance Features
Multi-Trillion-Dollar Market
Over 1.2 trillion dollars' worth of freelance business was conducted in the US alone during the COVID outbreak. This number could rise as more workers work remotely instead of commuting to an office. 
DeeLance thus competes in the growing online recruitment industry with unmatched development potential. Given its use of web3 technology, DeeLance has an advantage over its traditional competitors.
DeeLance is ruling the freelance market because of its crypto-specific payment method. That implies that freelancers will get paid once they complete a project. 
Moreover, there is no minimum withdrawal requirement for freelancers. Additionally, there is no waiting period nor any costs for currency exchange.
Collaboration with NFTs and the Metaverse
DeeLance's platform is working along with NFTs and the metaverse. A freelancer submits a completed task using a special NFT, which ensures the client has complete ownership of the work.
In addition, DeeLance is constructing a gig economy in the metaverse. Clients and freelancers can create personal virtual offices using an NFT in the metaverse, encouraging a collaborative and effective work atmosphere. 
Also, in exchange for DLANCE tokens, users may rent their virtual offices to others.
Deelance Presale Details
DeeLance has raised over $1.5 million since it started its presale on March 30, 2023.
Interestingly, the project has developed with massive success within a short time. The $DLANCE token has risen tremendously, from $0.025 to $0.048. 
The presale could sell out a few days before the set date, given the project is just a step from reaching its hard cap of $1.8 million. Interested investors should hurry to the DeeLance official website and secure their slot before the curtain winds down. 
How to Purchase Deelance
The chosen wallet must support ERC-20 tokens because the presale only accepts ETH and USDT (MetaMask).
After installing MetaMask, fund it with USDT or ETH tokens.
Put ETH or USDT in your MetaMask
Click "Assets" when the MetaMask wallet is open. You'll find the ERC-20 wallet address underneath "Account 1"; and copy the asset.
Next, visit the exchange or wallet where you hold ETH/USDT. Copy the MetaMask wallet address and carry out the token transfer.
Link MetaMask wallet to presale
Link your MetaMask wallet to the project's official website (DeeLance) by clicking the 'connect' icon and choosing MetaMask. 
Investors can choose to pay with USDT or ETH. Choose the amount of ETH or USDT tokens and swap for $DLANCE.
Investors can claim the $DLANCE token after the presale and receive their tokens in the MetaMask.
Related
DeeLance – New Web3 Coin Presale
First Decentralized Freelancing Network
Find Employers in the Metaverse
NFT Marketplace, $100k Giveaway
Presale Stage One Live Now
SolidProof & Coinsult Audited
Join Our Telegram channel to stay up to date on breaking news coverage