DOGE Price Prediction – Back to $0.12 By Christmas?


Join Our Telegram channel to stay up to date on breaking news coverage
Dogecoin wicked above $0.10 in the middle of last week, leading crypto watchers to believe maybe an uptrend is on the way. All the speculations were thrown out of the window after the DOGE price dropped below its $0.10 support and back into the $0.09 zones. But the latest chart shows the memecoin getting close to the $0.10 mark  — will DOGE be back to $0.12 by Christmas?
DOGE Price Action Last Week
Dogecoin performed in extremely volatile zones last week. As Elon Musk's decision to fire the ex-FBI General counselor in light of the suppression of the information about Biden Hunter's laptop went public, the DOGE community responded by rallying Dogecoin above the $0.10 mark to $0.11.
Like always, however, the drop later was swift. But the community wasn't ready to give up on its rallying cry that easily, and the coin's value rose from $0.10 to $0.102.
But that didn't last, as all it took was one red candle to push Dogecoin back below its $0.10 support. While there is some attempt to boost its value back, nothing of value is coming up so far.
DOGE Price Prediction – Analyzing the Intra-Day Trading Chart
Dogecoin's intra-day hourly trading chart shows that the token performs in zones divided between volatility and stability. After the last long green, the DOGE price accumulated around $0.98, where the bulls and bears held equal ground. The bears soon overtook the market dropping Dogecoin's value to $0.096.
The good news is all Dogecoin has to do create support at 0.786 fibs ($0.99) to retest the $1.10. But to return to $0.12 by Christmas, Dogecoin has to punch above the $0.11 mark, something that we can't see this token hitting in the next few hours.
FTX Crash Dropped DOGE's Value
Dogecoin peaked at nearly $0.15 at the beginning of November, but the FTX-triggered crash pushed its value just above $0.070. The community tried to rally behind this token, but it was a vain effort since another pushback dropped DOGE's value further.
However, Elon Musk's incessant comments about free speech on Twitter and some slight jabs at the "mainstream" media have continued to be the source of entertainment for people, and for the DOGE community, they are just another reason to rally the price.
Does that mean the DOGE price will hit $0.12 by Christmas? Well, with the way things are going right now, anything can happen. That said, Dogecoin shouldn't be seen as anything more than a short-term investment. With no use cases associated and the disastrous level of dependence on Elon Musk's tweets, Dogecoin is not something that long-term holders would recommend.
There Are Much Better Tokens For You To Invest In this Market
2022 has seen two bear markets. And the second one almost led many on the verge of stopping trusting crypto altogether. The good news is amidst these turbulent times, utility-based cryptocurrencies have emerged that cater to the exact needs of the modern crypto space – offering use cases that can increase more people to adopt blockchain technology.
Dash 2 Trade
Dash 2 Trade is a crypto intel platform designed to bring highly sophisticated market analytics tools to crypto traders of all levels. It has utilities that will enable users to gauge the social sentiment of a particular asset – allowing them to predict the coin's price trajectory.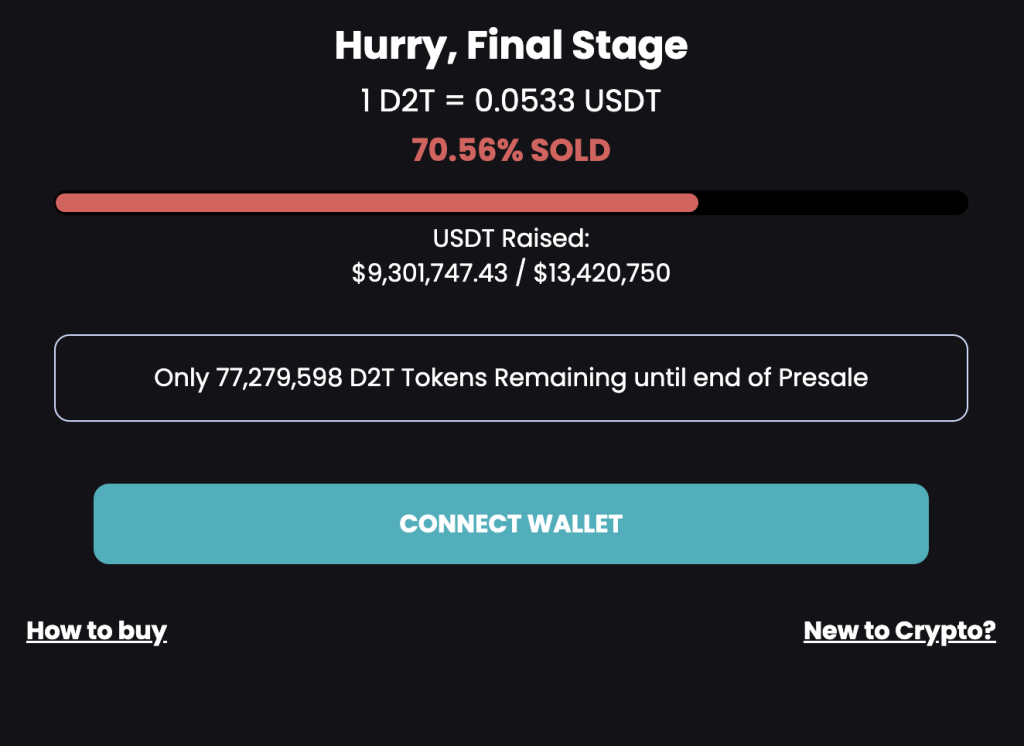 And the developers have just dropped the first look at the presale dashboard – a utility that will assess presale crypto based on 12 metrics and see if it is worth the time of those wanting to be early moves.
The presale is about to end. 70.56% of the tokens assigned for the final stage have already been sold, and the $13.4 million target is about to be crossed. Listings on sites like Changelly Pro have already been confirmed. Visit dash2trade.com today to grab your D2T tokens before the time runs out.
RIA
The market is flooded with P2E crypto, but only a few are worth your time; Calvaria is one of them. This presale crypto has quickly gained the attention of the crypto crowd, raising more than $2.3 million within a short span of time.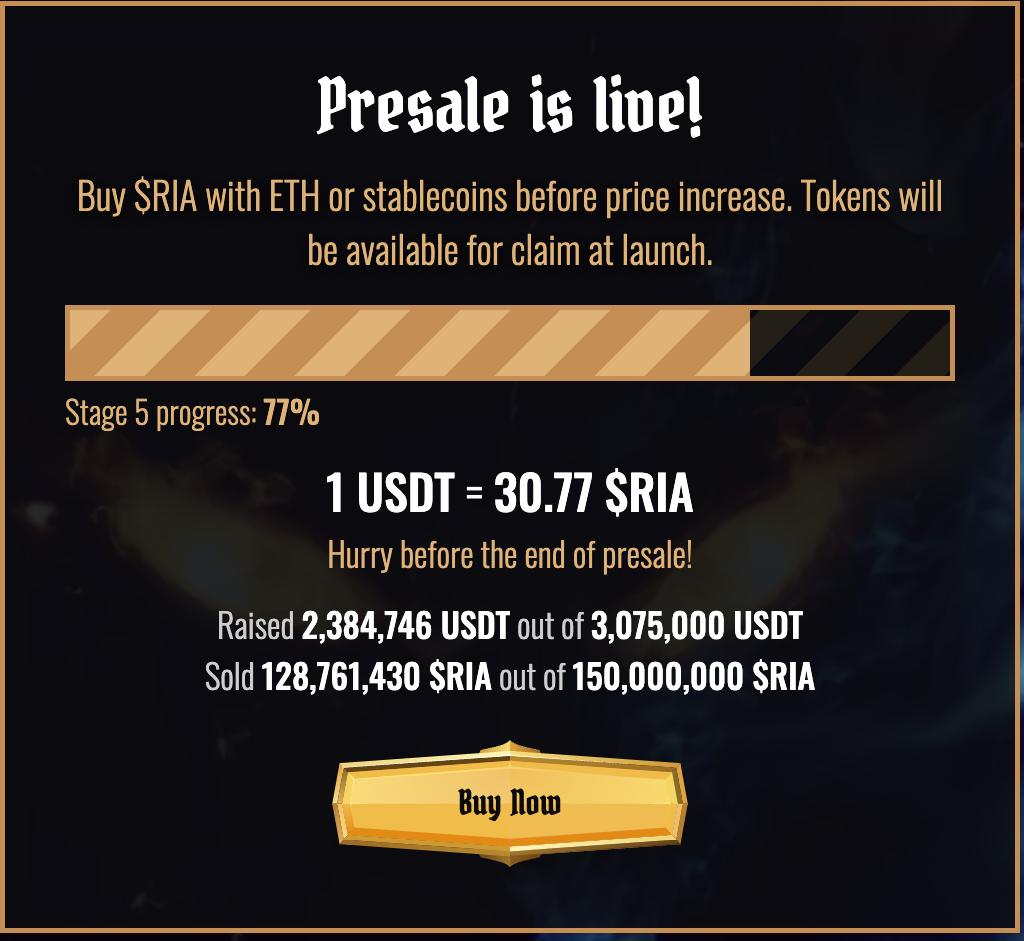 Calvaria: Duels of Eternity is a P2E game that is similar to God's Unchained. But this game differentiates itself by being more gameplay-focused, allowing even non-crypto gamers to engage with this platform.
Calvaria would have two modes: P2E and F2P (Free to Play). The free-to-play version will be accessible to non-crypto gamers and will introduce them to the gameplay mechanics. Calvaria has gone above and beyond to make crypto games more appealing for non-crypto players. Join the presale at calvaria.io if you want to become an early mover.
TORA
For those who wanted something similar to the Sandbox to invest in but couldn't because of the steep price of the supporting token, SAND, Robotera is a much better option. This metaverse crypto has taken the crypto worked by storm with its unique collection of assets, including Robotera Editor, Robot NFTs, and most importantly, the TARO token.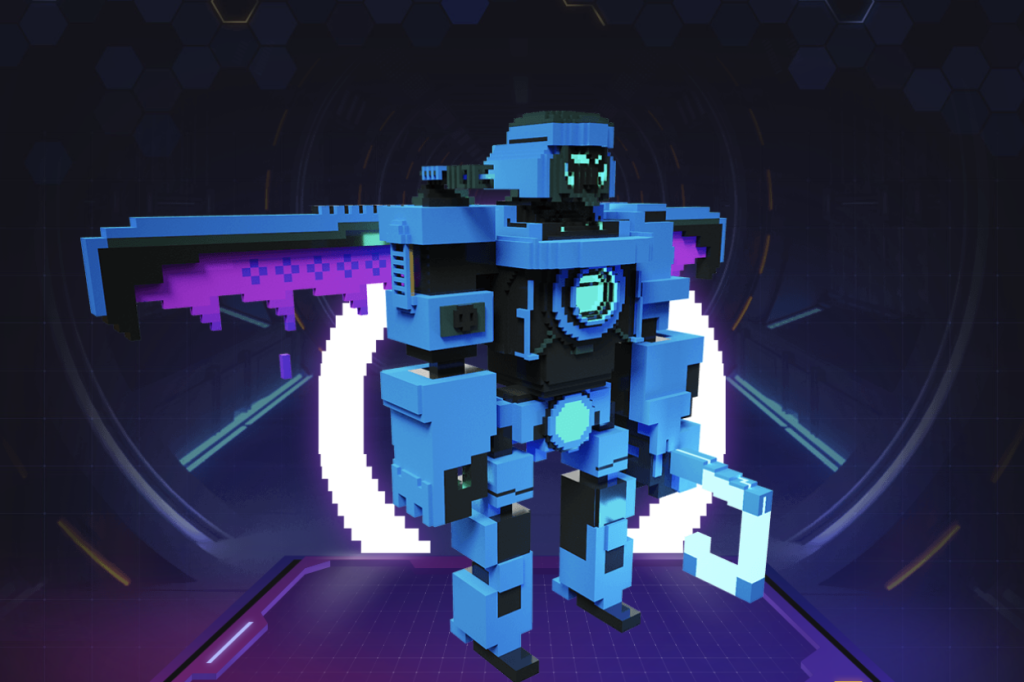 The TARO token is currently undergoing its presale and has recently crossed its $465k milestone. Go to robotera.io to move in early.
Tamadoge
Tamadoge is an actively traded P2E token With Dogecoin aesthetics that has taken the crypto space by storm. This unique crypto comes with a bouquet of promises in its roadmap, and so far, it has delivered on all of them.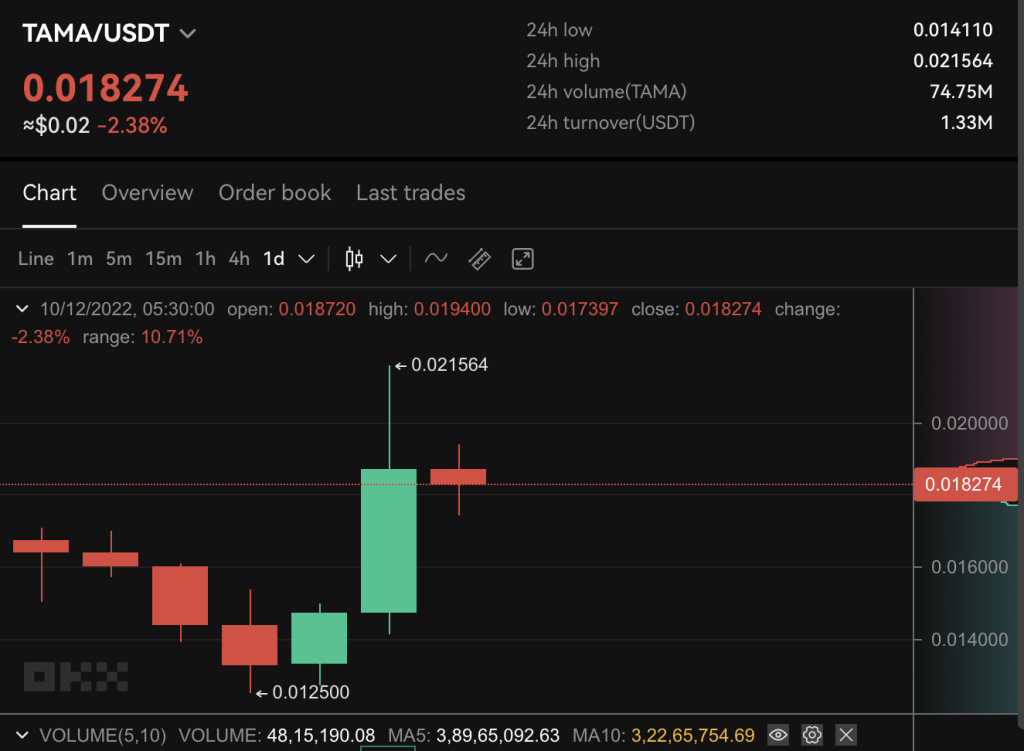 Tamadoge raised $19 million in its presale round before landing on OKX DEX, OKX CEX, LBank, Uniswap, and other exchanges.
After being impacted severely by the FTX crash, Tamadoge is back on track. It has painted continuous green candles and has wicked to almost $0.021 at the time of writing.
If you want to hedge against the current volatility of the crypto market, invest in assets that hold more value than just a tradable asset.
Related articles
How to Buy Tamadoge?
How to Buy Dash 2 Trade?
SBF Refutes He Tried to Attack Tether and "Hunted" Terra Positions of Three Arrows
Dash 2 Trade – High Potential Presale
Active Presale Live Now – dash2trade.com
Native Token of Crypto Signals Ecosystem
KYC Verified & Audited
Join Our Telegram channel to stay up to date on breaking news coverage