Did The Dogecoin Price Top Out At $0.15


Join Our Telegram channel to stay up to date on breaking news coverage
Many positive crypto ecosystem events have transpired in the last few days, from the UK accepting cryptocurrencies to Elon Musk pressing through with his purchase of Twitter. All these factors hiked the price of cryptocurrencies.
Dogecoin was one of the best performers, and its adoption may increase now that Twitter has a new board of directors. But will DOGE set a new high for 2022 is the real question?
Dogecoin Top Out At $0.15
Top cryptocurrencies fell around 8 per cent today, including Bitcoin, Ethereum, Cardano, Dogecoin, and Shiba Inu.
With DOGE breaking out amid a Twitter frenzy, it seems a bullish week for crypto. Dogecoin, which surged 105 per cent in the seven days following Elon Musk's acquisition of Twitter, was spotted trading in a downtrend. The coin saw a breakout session due to investor response to Elon Musk's acquisition of Twitter.
Dogecoin was the first meme coin built as a decentralised payment system, debuting in 2013. DOGE was relatively unknown for a long time until catching the attention of cryptocurrency investors during the 2020 price spike. Later, celebrities such as Mark Cuban and Tesla CEO Elon Musk often tweeted about Dogecoin, causing the coin's price to skyrocket.
Dogecoin reached 0.75 USD moments before Musk spoke on live television. He has publicly stated his support for DOGE. Many speculators, however, reaped the benefits of rising prices. DOGE then plummeted as a result of widespread short-selling. The worldwide crypto market cap was 1.01 USD trillion, down by approximately 1.28 per cent from the last day. In addition, over the previous 24 hours, the volume in the crypto market fell by more than 18 per cent to 73.05 USD billion.
Musk's purchase of Twitter boosted DOGE prices, which increased by more than seventy per cent in the previous week to reach their current level of 0.1183 USD. Despite this, DOGE still hasn't set a new high for 2022.
DOGE Price Prediction
The DOGE/USD has been climbing towards higher price levels. Analysing the numbers and trends of Dogecoin price prediction, the price of Dogecoin has broken through many Fibonacci levels after finding sustenance at the 78.60 Fibonacci level.
As a result, price action has risen considerably above the Smooth Moving Average. The moving average convergence/divergence (MACD) indicator also depicts the dominant trend in this market. Price action is now well positioned for more upward movement. For the first time since breaking over a key declining trendline on the daily chart at 0.0632 USD, Dogecoin has printed a bear candle. After breaking above resistance at 0.1200 USD, Dogecoin's price could not reach highs over 0.2000 USD.
Dogecoin Alternatives and Top Gainers – TAMA And Calvaria
As Dogecoin rises owing to the excitement in the aftermath of Elon Musk's Twitter takeover, investors should be cautious in examining other meme coins in the market that have the potential to outperform DOGE in the race to 1.0000 USD.
If you are looking for huge returns, TAMA and Calvaria have remained in the top 10 gainers for a few days.
Calvaria
Calvaria is the next cryptocurrency to consider while looking for the finest cryptocurrency to invest in. According to the Calvaria whitepaper, 1 billion RIA, the native token, are circulating worldwide. This ERC-20 token will fuel the Calvaria ecosystem, which employs a P2E gaming concept.
Calvaria, a new cryptocurrency game startup, has collected roughly 1 million in its presale after drawing a flurry of investors in the previous week. Given its unique solution to two fundamental difficulties in blockchain gaming, the project, which is present in stage 3 of its 10-stage presale, is generating much excitement in the crypto community.
While GameFi's enormous potential is clear, the area has struggled to attract regular players. Despite having market valuations of more than 1 billion USD, Decentraland and The Sandbox had just 20,000 combined gamers in October.
Several play-to-earn games will be accessible in the Calvaria virtual world, most of which will revolve around battle cards. Each card has distinct abilities that may be used to defeat other players. In addition to awarding RIA for winning matches, each Calvaria card is powered by an NFT hosted on ETH. This means that, unlike traditional online games, users own every virtual object they gain. By earning RIA tokens ($RIA), players may also monetise their battle card NFTs on the Calvaria marketplace. To advance in the game, players were urged across the Calvaria ecosystem to maximise their earning potential
As a brand-new initiative, the Calvaria presale offers low-cost access to its RIA tokens. This means that the current price of 0.01 USD per token is lower than the expected exchange listing price. When the 1st  batch of RIA tokens is sold, the presale price will jump to 0.0125 USD. The earliest you invest, the more significant returns you will have by the end of the presale.
Given all that has been said, there is great anticipation around the Calvaria presale.
Visit Calvaria Presale Now
TAMA
Tamadoge is a play-to-earn token that mixes enjoyment and earning money in the same project. Tamadoge offers you endless entertainment, including breeding, minting, and warring with your dog-themed NFTs in Tamadoge's immersive metaverse, the Tamaverse. It does not stop there. You may also make money while engaging in fascinating activities in the metaverse.
Tamadoge is one of the most significant meme currencies, with a market valuation of $25 million. It distinguishes itself from its competitors by having excellent tokenomics. Besides, there are reports of more listings on the way to help it gain traction in the crypto market.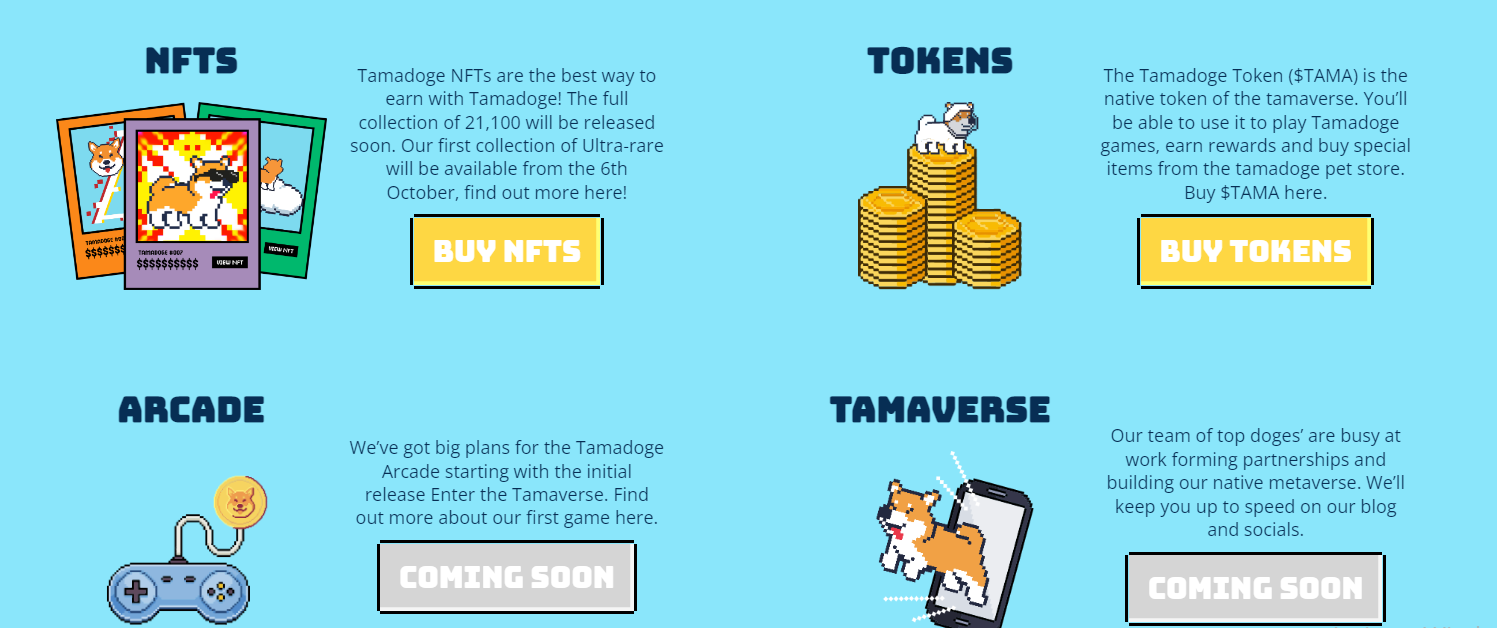 Tamadoge provides higher utility than DOGE or SHIB while having a slightly smaller supply. It has also had an NFT ownership scheme from its beginnings.
Tamadoge has a maximum supply of just two billion tokens, unlike Dogecoin, which has a total quantity in the billions. Furthermore, Tamadoge is a deflationary asset in which five per cent of all transactions are burnt to reduce its supply further.
You may also use the TAMA token to buy Tamadoge Ultra-rare NFTS, pet shop products, and gain awards. TAMA has received much attention and is unquestionably one of the most significant currencies to buy.
Buy TAMA Now
Conclusion – Invest in the best
Many people who enter the cryptocurrency market fail because they are not adequately instructed on which tokens to acquire. They come in to generate money but wind up making lousy trading selections. Regarding newly issued tokens Calvaria and TAMA are your best bet that we suggest.
Related
Dash 2 Trade – High Potential Presale
Active Presale Live Now – dash2trade.com
Native Token of Crypto Signals Ecosystem
KYC Verified & Audited
Join Our Telegram channel to stay up to date on breaking news coverage