Bitcoin Price Prediction – As BTC Holds Above $17,000 Level, Bulls Eye Further Gains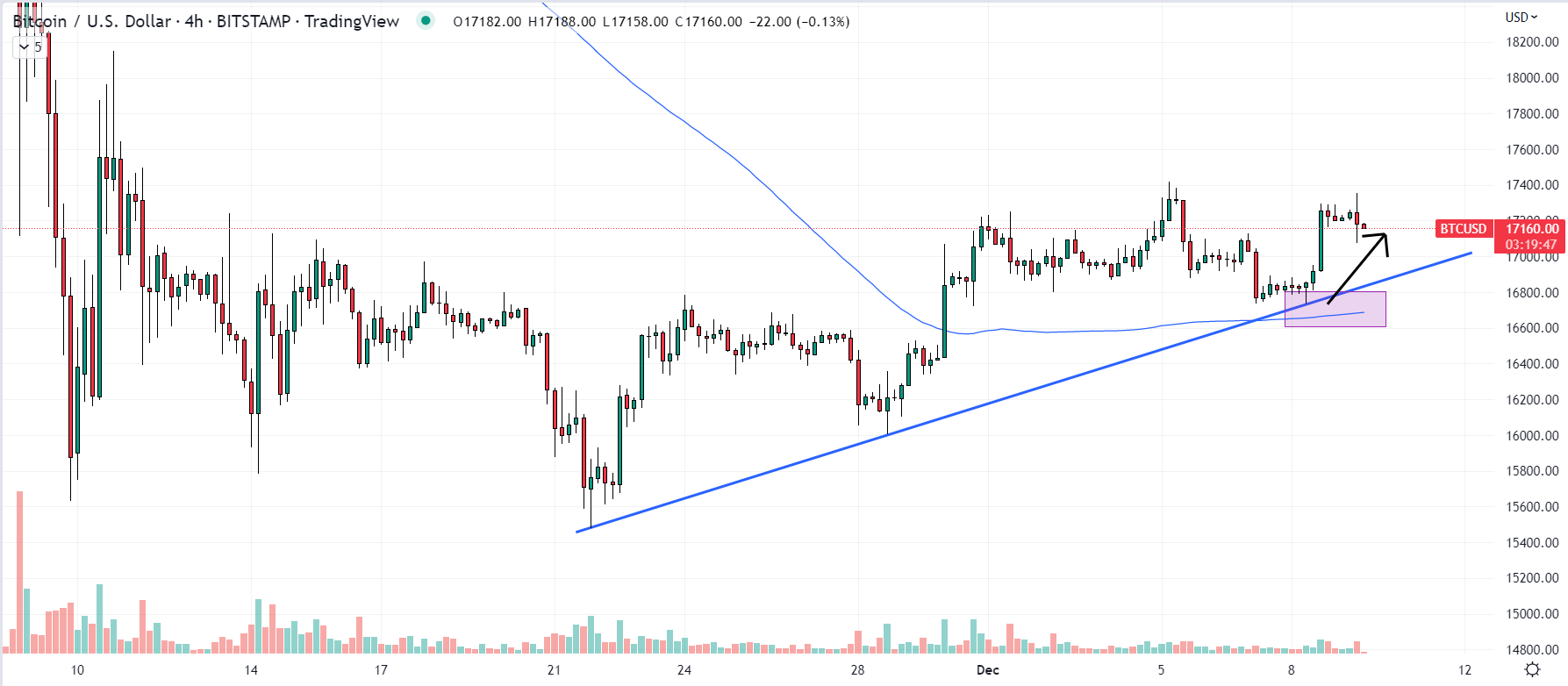 Join Our Telegram channel to stay up to date on breaking news coverage
Bitcoin has experienced some choppiness in recent trade after a hotter-than-expected US Producer Price Inflation (PPI) report sparked familiar fears about Fed tightening. BTC/USD had changed hands as highs as the $17,300s prior to the data but has since slipped back to trading below $17,200, down about 0.3% on the day, according to TradingView citing BitStamp data. Despite the downside, near-term price predictions remain bullish.
Price Prediction – Further Gains For Bitcoin?
But the latest inflation data appears not to have changed the short-term technical picture for bitcoin, which remains positive. Indeed, the YoY PPI rate still saw a decent decline in November versus October, so traders and economists remain confident in the story of US inflation having peaked and looking likely to fall rapidly in the coming quarters.
As a result, bitcoin has held onto the lion's share of Thursday's 2.3% gain and, at current levels, trades about 2.7% up versus earlier weekly lows in the $16,700s. The world's largest cryptocurrency by market cap rebound from earlier weekly lows has confirmed that, at least in the short-term, there is an uptrend in play and the 21-Day Moving Average is clearly now offering support.
Bitcoin bulls will now be turning their focus to a series of important areas of technical resistance. These include earlier weekly highs around $17,400, the June low and 38.2% Fibonacci retracement back from the November low around $15,500 to the November high around $21,500 in the $17,600-800 area and then the 50DMA and September/October lows in the $18,000-200 area.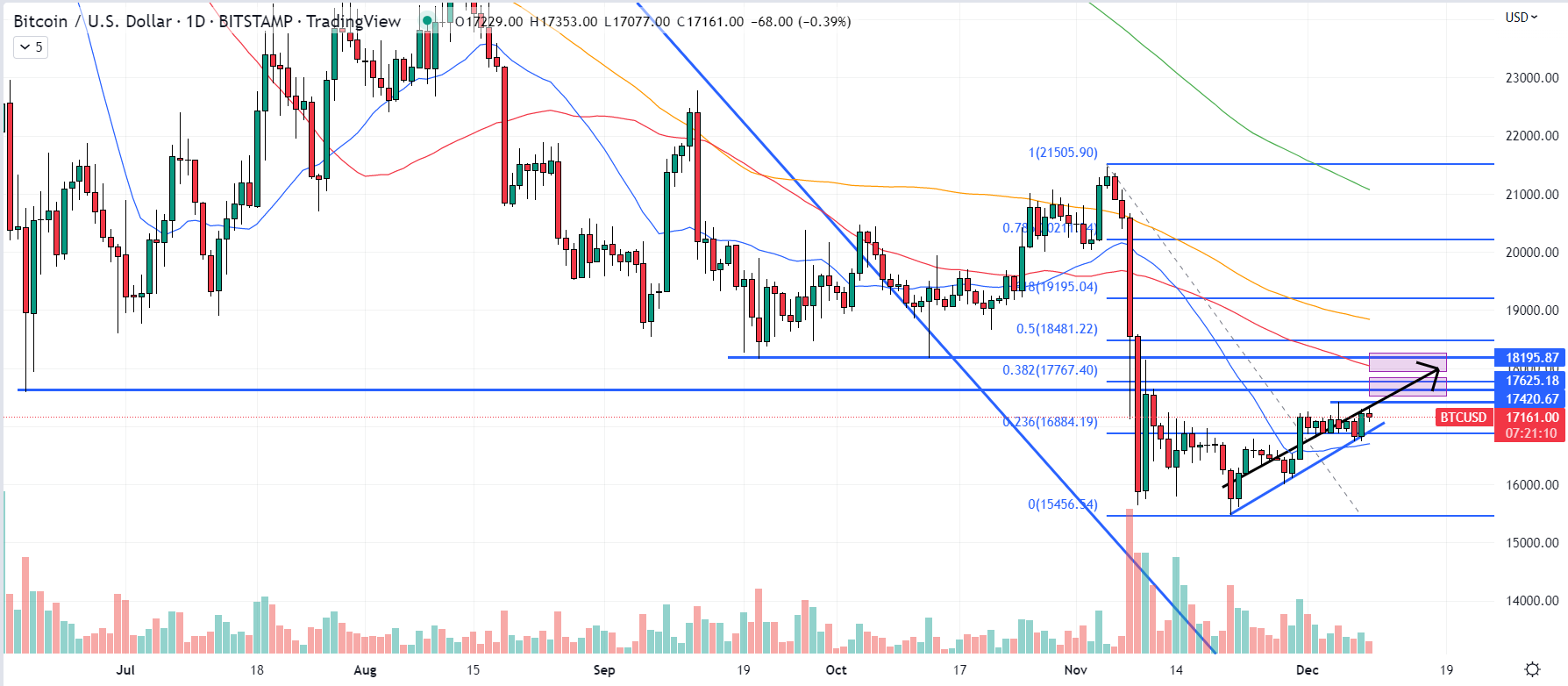 Bitcoin bulls will be hoping that next week's key risk events (US Consumer Price Inflation and FOMC policy announcement) don't hurt risk sentiment too badly (i.e. that there isn't an upside inflation surprise, or the Fed isn't too hawkish). If that's the case, the way could be clear for bitcoin to enjoy a bit of a "Santa Rally", as is often the case at this time of year.
Bitcoin's Prospects Bullish in the Long-run?
Earlier this week, Senior Bloomberg Intelligence Macro Strategist Mike McGlone outlined why he is positive on cryptocurrencies heading into 2023 in the latest Crypto Outlook report. "It's been one of the most severe drawdowns in crypto history, yet the Bloomberg Galaxy Crypto Index (BGCI) is still up about 200% since the end of 2019 vs. 20-60% for gold, the S&P 500, the Bloomberg Commodity Spot index and US money supply to Dec 2," McGlone noted.
"Our bias is risk vs. reward, with the BGCI tilted toward resuming its propensity to outperform," he stated, noting that "about 70% of the BGCI is Bitcoin and Ethereum, which are notable for definable diminishing supply vs. increasing adoption and demand".  "Something has to reverse the demand side of that equation, or by the rules of economics, the price should rise over time", McGlone pointed out.
Longer-term technicals might also point towards the bitcoin bottom perhaps having been seen, or at least, being close. Bitcoin broke out of a nearly year-long downtrend at the start of this quarter and though it has since dipped a little thanks to the FTX collapse, may well be eyeing a recovery into the $30,000 area in 2023.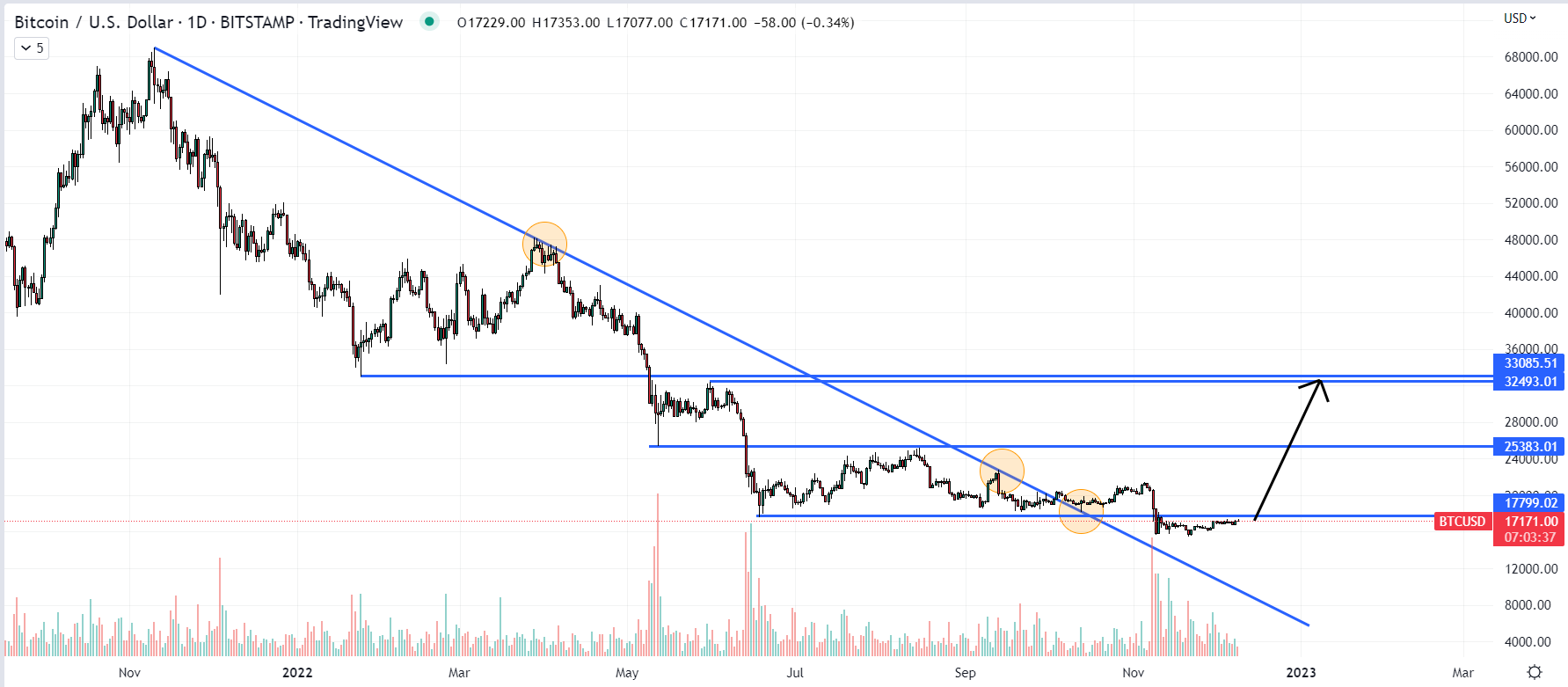 Altcoins Offering Quicker Returns
Cryptocurrencies have been trading sideways for a few weeks now, leading some traders to start looking at alternatives with more potential in the short term. Listed below are some of the leading presales in the market, allowing investors to get in on the ground floor.
Dash 2 Trade (D2T)
Those interested in investing in a promising crypto trading platform start-up should look no further than Dash 2 Trade. The up-and-coming analytics and social trading platform hopes to take the crypto trading space by storm with its host of unique features.
These include trading signals, social sentiment and on-chain indicators, a pre-sale token scoring system, a token listing alert system and a strategy back-testing tool. Dash 2 Trade's ecosystem will be powered by the D2T token, which users will need to buy and hold in order to access the platform's features.
Dash 2 Trade is currently conducting a token pre-sale at highly discounted rates. D2T token sales recently surpassed $9.18 million. The sale has now entered its fourth and final phase and sales are still going strong, with $400K coming in in the last 24 hours.
The pre-sale dashboard is going to be released soon, with the development team currently running ahead of schedule. Tokens are currently selling for $0.0533 each, which observers are calling highly discounted.
Find the next crypto 💎 before the end of 2022!

1️⃣ @IMPT_token 2️⃣ @Sportinfinityy 3️⃣ @dash2_trade

Find out more about these presales 👇https://t.co/DVbVswGOIc

— CoinCodex (@CoinCodex) December 8, 2022
Dash 2 Trade was recently listed as the third-best presale token of 2022 by CoinCodex.
Visit Dash 2 Trade here
IMPT
Amid the growth in popularity in recent years of environmentally and socially friendly investments, investors looking for a green cryptocurrency should consider the IMPT token. IMPT.io has partnered with thousands of the world's largest retailers to help offset their carbon footprints and allows users to trade carbon credits on the blockchain.
IMPT tokens are currently in their second stage of the presale with IMPT having raised over $16.6 million. That amounts to $1 million in token sales in just the last 24 hours. Investors only have another two days to purchase tokens at the current discounted price of $0.023. IMPT token exchange listings begin in a few days.
IMPT was recently listed as the best presale token of 2022 by CoinCodex.
Find the next crypto 💎 before the end of 2022!

1️⃣ @IMPT_token 2️⃣ @Sportinfinityy 3️⃣ @dash2_trade

Find out more about these presales 👇https://t.co/DVbVswGOIc

— CoinCodex (@CoinCodex) December 8, 2022
Visit IMPT Now
Calvaria (RIA)
Major blockchain-based games like Axie Infinity lost significant traction in 2022. As a result, many investors interested in the crypto gaming space are looking for alternative avenues. Calvaria, an up-and-coming play-to-earn battle card crypto game, could be a good alternative. Calvaria seeks to boost crypto adoption by creating a bridge between the real world and crypto, a fun and accessible crypto game.
Investors should consider Calvaria's RIA token pre-sale. Calvaria has now raised $2.36 million, with a crypto whale scooping up $97.5K in one purchase on Thursday. The presale is in the final stage, with only 24% of tokens left.
Visit Calvaria Now
Dash 2 Trade – High Potential Presale
Active Presale Live Now – dash2trade.com
Native Token of Crypto Signals Ecosystem
KYC Verified & Audited
Join Our Telegram channel to stay up to date on breaking news coverage