Biggest Crypto Gainers Today, March 12- SHIB, STX, LHINU, FGHT, CCHG, METRO, TARO

Join Our Telegram channel to stay up to date on breaking news coverage
The crypto market is up 0.66% in the last 24 hours to $950.63 billion. However, while the increase is significant, the general market sentiment is bearish, with most coins trading in the red after noting sizable losses in the past week. Nevertheless, several coins have performed well, qualifying in the list of the biggest crypto gainers. They include Shiba Inu, Stacks, Love Hate Inu, Fight Out, C+Charge, Metropoly, and RobotEra.
Biggest Crypto Gainers
The following are the biggest crypto gainers today.
Shiba Inu (SHIB)
Shiba Inu (SHIB) is one of our biggest crypto gainers today after gaining almost 7% from a low of $0.00000965 on March 10. The surge in market value comes after the head of the SHIB developer team, Shytoshi Kusama, made a revelation, saying, "The early Shibarium beta has finally been released."
Introducing the Shibarium Early Public Beta! Find out about it, see the #shibthemetaverse WAGMI Temple area, and a a stop to the Ryoshi FUD here in this blog post. https://t.co/Dr3tAGl9PG

— Shytoshi Kusama™ (@ShytoshiKusama) March 11, 2023
Notably, the new layer-2 blockchain is called Puppynet. The SHIB executive also highlighted why the popular FUD about Sam Bankman-Fried being the creator of SHIB – Ryoshi – is only FUD. He said, "there is no grain of truth in it."
According to Kusama, Shibarium is a value addition as developers can create dapps, integrate businesses, and power various projects. He also confirmed that SHIB tokens would be burned while transactions are made. In Shytoshi's opinion, it is crucial that everyone can build on it, as "Shibarium is only limited by the imagination."
SHIB/USDT 1-Day Chart
The announcement sparked interest and excitement among the SHIB community, fueling a correction from the Friday low. Nevertheless, given the general bearish sentiment in the market, a decisive uptrend may not be anywhere close for SHIB.
At the time of writing, Shiba Inu was exchanging hands for $0.00001017 with the price confronting the immediate roadblock due to the 100-day Simple Moving Average (SMA) at $0.00001068. An increase in buyer presence in the SHIB market could give bulls the momentum required to break past this hurdle and confront the next one due to the 200-day SMA at $0.00001078.
In highly ambitious cases, the price could soar 21.3% to tag the next obstacle at $0.00001222, or higher to the 50-day SMA at $0.00001229.
Stacks (STX)
Stacks (STX) is another biggest gainer today after surging almost 2% in the last day. The token was auctioning for $0.587 while confronting the immediate resistance at $0.675. An increase in buyer momentum past this level could open the skies for STX to soar.
STX/USDT 1-Day Chart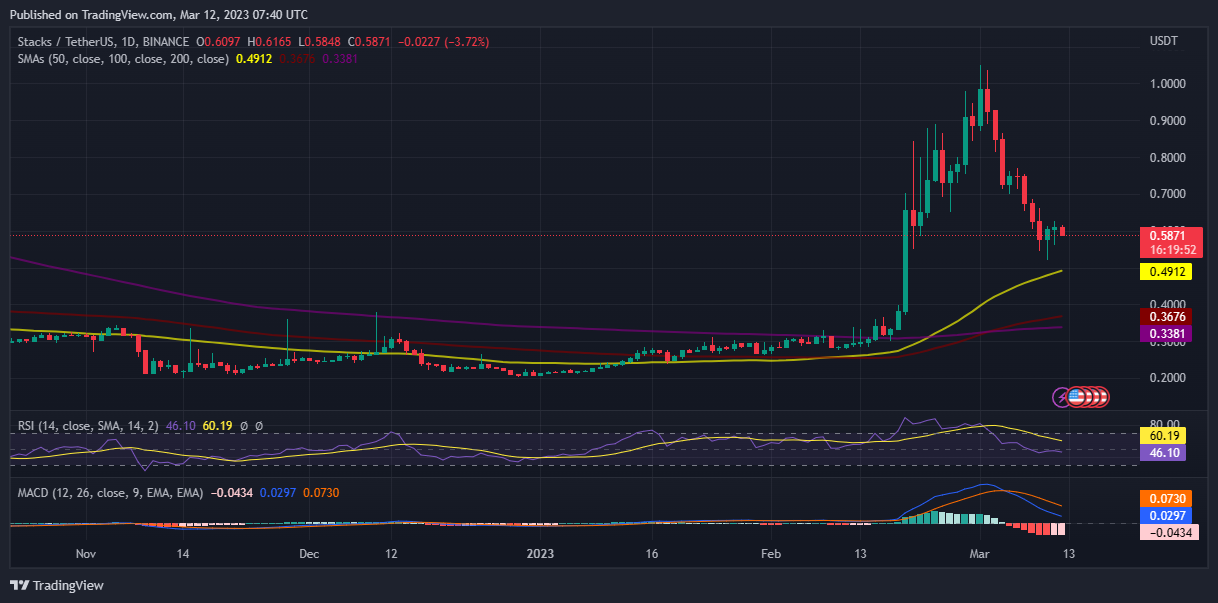 The token enjoyed significant downward support due to the Simple Moving Averages (SMA). The 50-day, 100-day, and 200-day SMAs at $0.491, $0.367, and $0.338 levels provided turnaround points for bulls to regroup.
Notice that the SMAs were facing upwards, indicating more buyers were rushing to the scene. Similarly, the Relative Strength Index (RSI) price strength at 46 showed that the market value of Stacks could improve.
The Moving Average Convergence Divergence (MACD) was also in the positive region above the mean line. Moreover, the histograms were fading and could lose the red touch soon. These showed that buyers had the upper hand. For STX price to increase further, investors must keep their selling appetite in check.
Love Hate Inu (LHINU)
Love Hate Inu (LHINU) is among the most recent entrant into the meme coin market, presenting as a vote-2-earn (V2E) platform. While the project is in the early stages of the presale, it has already raised more than $118,000 and merits among the biggest crypto gainers today.
Hello, #LoveHateInu community! 🌞🐶

Who's ready to join us and become a part of the upcoming meme sensations and gain some valuable tokens in the process? 💥💰

Seize the opportunity now and join the presale!⏰🚀

🔗https://t.co/Pu2Bo8WOUy#cryptocommunity #altcoins #memecoins pic.twitter.com/wEDG7llOQf

— LoveHateInu (@LoveHateInu) March 11, 2023
Like Dogecoin (DOGE), and Shiba Inu (SHIB), meme coin LHINU is a hot topic on social media, which could positively impact its future price. Nevertheless, Love Hate Inu is not just a memeable cryptocurrency, as the platform has distinguished itself with a well-thought-out white paper showing readiness for the long run. For instance, 90% of the allocated tokens will be sold within the presale stage, thereby eliminating chances of a rug pull or pump-and-dump scenarios.
As regards the actual site, LHINU holders can vote on fun and exciting polls by staking the native token. This upholds integrity standards for the polls while preventing spam. Notably, your influence is directly proportional to your stake. Influence includes the ability to create your own polls.
Fight Out (FGHT)
Since its debut, Fight Out has revolutionized the Move-2 Earn (M2E) ecosystem. Based on expert analysis, it is the best M2E crypto currently, delivering great rewards to users. The project investors enjoy lucrative price increases alongside opportunities to invest in a token that delivers real-life benefits.
Platform rewards can be used to acquire fitness equipment or enroll in training and nutrition courses. Moreover, players can learn new sports and share their achievements with other participants.
Fight Out's FGHT token is a top crypto gainer today as it has already gathered over $5.41 million in presale token sales, with barely three weeks left.
Our presale is coming to an end, and the excitement is real! Get in early and claim your bonus while you still can.

Don't miss out on this opportunity! 🤯https://t.co/tsjtmxW4qc#Presale #Web3 #CryptoCurrency pic.twitter.com/5wE9X9Ag2l

— Fight Out (@Fight0utCS) March 10, 2023
C+Charge (CCHG)
C+Charge is the latest eco-cryptocurrency, boasting a very successful presale. The project rewards electric vehicle (EV) owners with carbon credits every time they use the C+Charge platform to pay for charging services.
Remember: Our presale is still LIVE🔥

Don't miss the chance to buy $CCHG and save the planet!

Join our #presale today⬇️https://t.co/ixe18bPqzI#ReFi #Crypto #GreenEnergyCrypto #Blockchain pic.twitter.com/FnCNUaKPsq

— C+Charge (@C_Charge_Token) March 11, 2023
So far, the project has collected over $2.71 million in presale sales, making it one of the biggest crypto gainers today. Beyond that, several other reasons explain why CCHG is the best cryptocurrency under $1 this year. For starters, it is increasing the accessibility of the EV industry by attracting the broad demand for CCHG tokens.
Additionally, C+Charge is an eco-friendly project poised for an increasing demand and price pump in the future. The project also presents the simplest way to earn carbon credits to save the planet.
Metropoly (METRO)
Real estate stands among the most traditional forms of investment. It is also among the most profitable. Nevertheless, only the ultra-wealthy can venture into real estate, as billionaires and cuckoo funds form the majority of participants. This is where Metropoly (METRO) comes in, presenting a paradigm shift for total convenience.
Metropoly aims to make real estate investments available to everyone through non-fungible tokens (NFTs). To do this, project developers have carefully identified the best features worldwide and tokenized them into NFTs. These NFTs are then fractionalized, an efficient way of spreading ownership and means for at least $100 crypto enthusiasts.
Metropoly allows you to invest fractionally in real-estate properties without the traditional barriers present. 🚀

We're changing the real estate industry – for the better! 🔥

JOIN THE REVOLUTION! 🔥 👉 https://t.co/XLS8Woiruv#realestate #crypto #nft #metropoly pic.twitter.com/Sa01gZkWJc

— METROPOLY CUSTOMER SUPPORT (@MetropolyCS_) March 6, 2023
Metropoly has established that 98% of real estate transactions occur offline for an average of two months before completion. This is by a digitized process where Metropoly expedites everything for consumer convenience.
The Metropoly presale has only started and has raised over $652,000 in presale collections. This explains why it is among the biggest crypto gainers today, and experts say it will be the real estate crypto to explode in 2023.
RobotEra (TARO)
RobotEra is the best cryptocurrency under $1 in 2023 and among the biggest gainers today, having raised over $1 million in TARO token presale sales.
In the RobotEra metaverse, participants can develop their assets, ranging from land to earning amazing rewards, which is one of the project's main strengths.
Planet $TARO is waiting for you!🤖🌎🚀

As a robot, you can explore, gather resources, manage your land, and create robot companions.🌟🤖

Come and build your own new world in the #RobotEra #Metaverse!🪐

Join the #presale today!🎉https://t.co/nBnvUcnbzU#Play2Earn pic.twitter.com/DWE9efHGuq

— RobotEra (@robotera_io) March 11, 2023
Notably, players enjoy unlimited earning potential with this project. Moreover, players also enjoy tier-one games with top-quality sound and image effects. They are also transported to the fun-filled world of the Taro planet.
Related:
Love Hate Inu – Newest Meme Coin
Decentralized Polling – Vote to Earn
Early Access Presale Live Now
Ethereum Chain
Featured in Yahoo Finance
Mint Memes of Survey Results as NFTs
Staking Rewards
Viral Potential, Growing Community
Join Our Telegram channel to stay up to date on breaking news coverage