Biggest Crypto Gainers Today – February 9

Join Our Telegram channel to stay up to date on breaking news coverage
Crypto markets were painted in red on Thursday, while bitcoin struggled to climb back to and maintain the $23,000 level. In such market conditions, there were a few coins that not only performed well but also managed to deliver solid two-digit returns in just a day.
Today, we are taking a closer look at these cryptocurrencies, plus, mention a few of our favourites that have the potential to make it big in the near future.
1. The Sandbox (SAND)
SAND recently made gains of more than 20% in a day, following the announcement of a partnership between The Sandbox and the government of Saudi Arabia. The news was shared by the CEO of the project, Sebastian Borget, who advised the partnership with the Saudi Arabia Digital Government Authority to be "exploring, advising and supporting each other in activation of the Metaverse".
After a sideways performance following the upsurge at the start of the year, SAND rose by close to 24% in less than 24 hours, trading well over $0.90 at its peak through the day. Before the news of the partnership, the token was hovering around $0.70 while supporting a relatively narrow trading volume.
Sandbox is a metaverse, also one of the first and most prominent in the field, that builds on the concepts of blockchain, DeFi, and NFTs, all packed in a 3D interactive metaverse. The platform hosts a virtual world, where players have complete access and control over all their digital assets, such as properties, in-game assets and monetization.
It features a set of designing tools that help players bring the world of their dreams to life. The process for building properties in the metaverse is super fun, and players can monetize these properties to earn an income. There is no limit to how players and creators interact in the metaverse economy, as the platform provides infinite opportunities to suit every user. Plus, it has an NFT marketplace where players can sell their digital assets such as properties, as an NFT.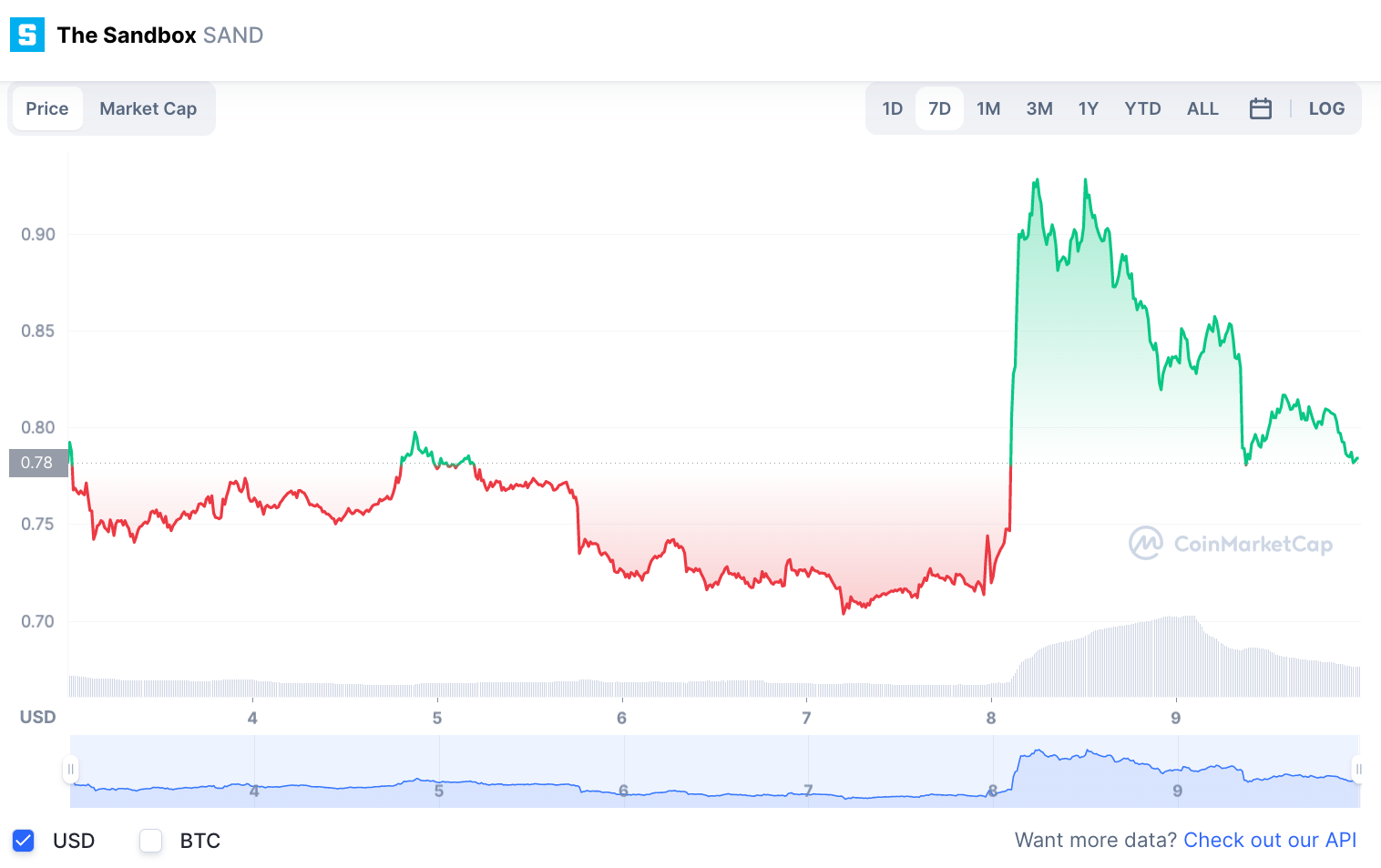 SAND is the native token of the platform that is responsible for pretty much everything that revolves around The Sandbox economy. The token is based on the ERC-20 standard, similar to other types of assets on the platform including LANDS, ASSETS, GEMS and CATALYSTS.
Metaverse is the future and Sandbox is at the forefront, leading the revolution. If you wish to join the party, SAND is a great token, to begin with. Considering the credibility of the platform, as well as its future vision.
2. NEAR Protocol (NEAR)
Hopping onto the already fast-paced AI bandwagon, NEAR recently registered gains of more than 15%, following a tweet from the project that asserted the importance of NEARProtocol in serving as a foundation for an AI ecosystem, hinting that "AI is NEAR".
The post further mentioned that "NearCrowd", a crypto-AI crossover application, is one of the oldest applications on the Near blockchain, that has been operating for over two years with thousands of employees across the globe helping train learning models. This fact teases the involvement and dedication of NEAR to the AI crypto space, which has been gaining an awestruck amount of attention over recent months.
NEAR Protocol is a proof-of-stake blockchain supporting smart contracts that were initially proposed to be a cloud computing platform run by a community. The platform was designed to host decentralized applications and has Ethereum as one of its competitors.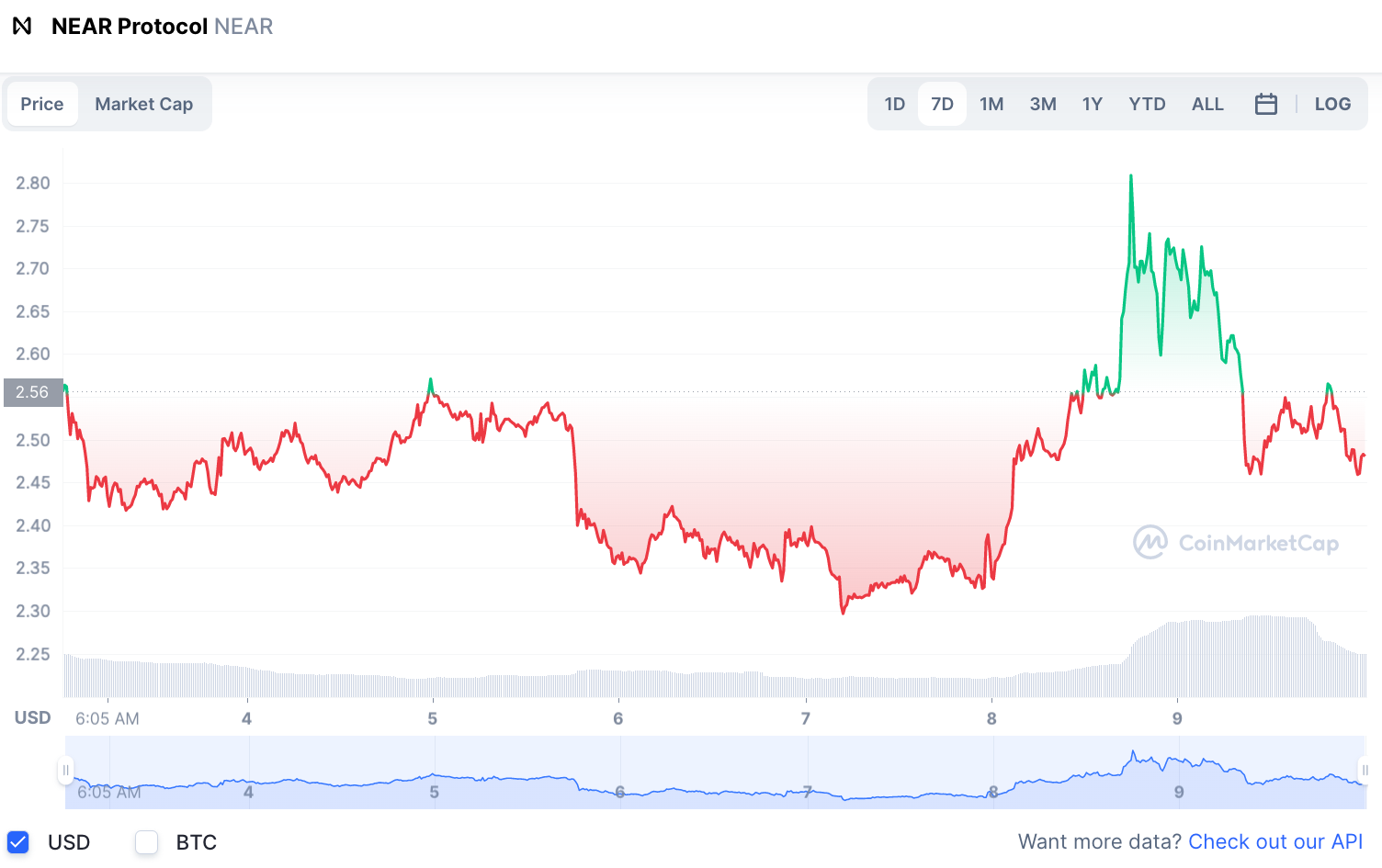 Creating a developer-friendly platform has been the primary focus for NEAR. To improve on it, the platform features human-readable account names in place of just using wallet addresses. This makes it possible for users to interact with the dApps and smart contracts on the platform without having the need for a wallet.
NEAR is the native token of NEAR Protocol that is primarily used to pay fees on the platform and serves as collateral for storing data on the blockchain. The platform also rewards users with NEAR tokens, while offering striking opportunities that help investors make a passive income. NEAR is based on the ERC-20 standard and has a whole ecosystem built around its official token.
3. Meta Masters Guild (MEMAG)
Meta Masters Guild (MMG) is set to make a mark in the crypto mobile gaming ecosystem, which remains rather untouched since developers and companies are partial towards desktop gaming, and their projects are centered around creating exclusively desktop games.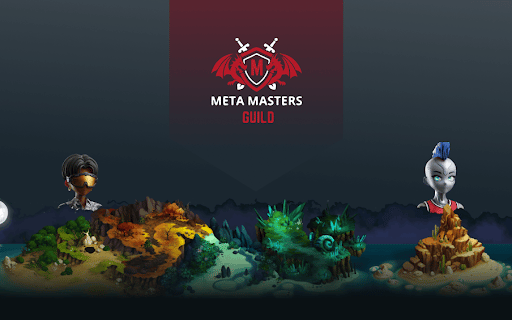 MMG builds on the play-to-earn mechanism by creating fun, enjoyable and rewarding games for users that are at the poverty of choices when it comes to blockchain-based mobile gaming. Supported both on Android as well as iOS, MMG presents an impressive range of web3-metaverse titles, aiming to lead the industry as they expand.
The platform currently has three games under development, namely Meta Kart Racers, Meta Masters World and Raid NFTs. While the first game features a traditional style racing experience, the second will host an impressive metaverse, where users are free to do whatever they want. Raid NFT, on the other hand, is designed to be a fantasy action game.
Meta Masters Guild sets itself apart by having a definite USP while hosting a bunch of other services such as an NFT marketplace. The project has onboarded some of the most talented game developers such as Gamearound and RWatlz. MMG's roadmap suggests that it will become one of the leading projects in its niche, as it continues to build on its strong foundation.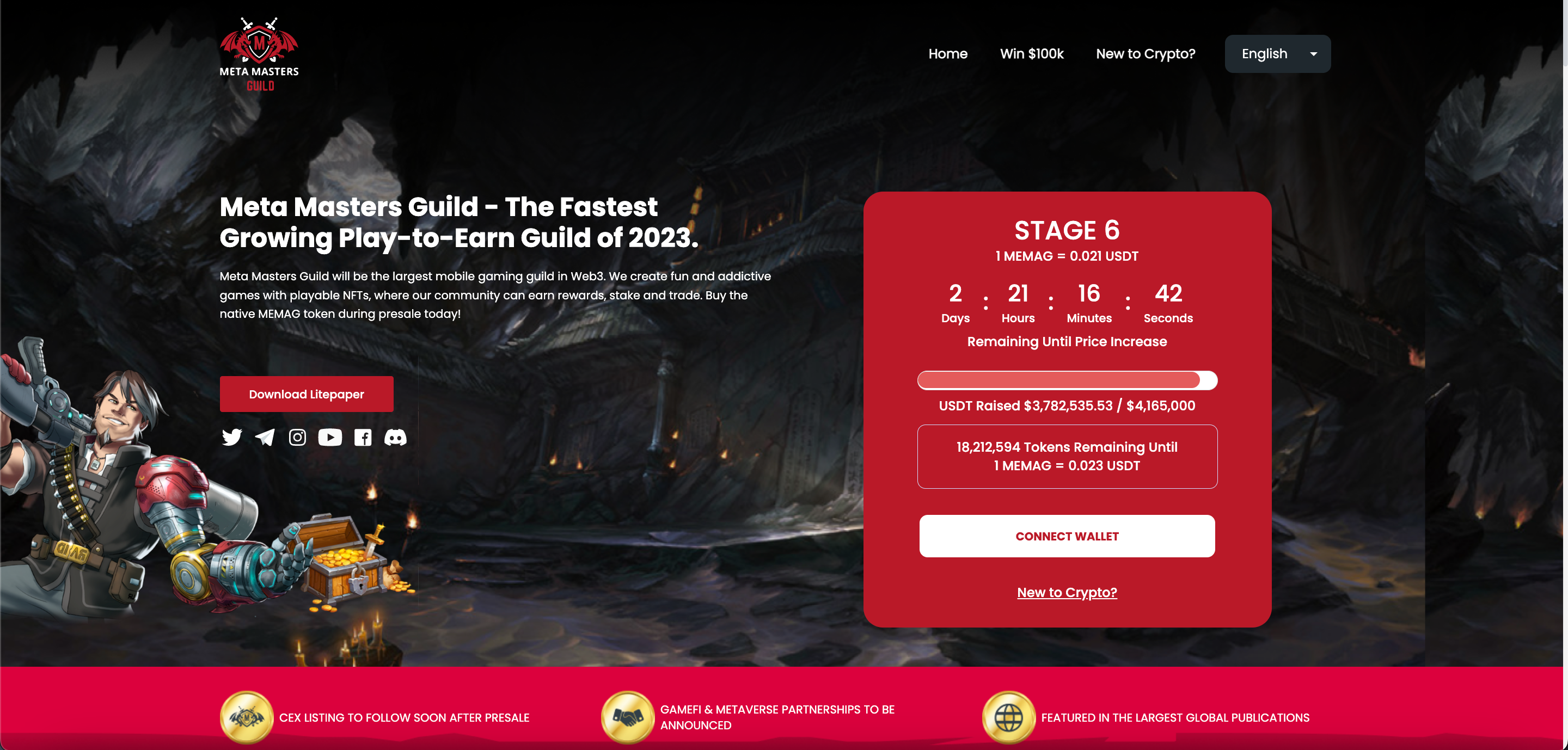 Presale for the official token of the platform, MEMAG, is currently live on the website, where MEMAG tokens are available to purchase for 0.021 USDT. The project is currently in stage 6 of its presale, and the price is bound to increase to 0.023 USDT as it moves to stage 7. So far, the project has raised over $3.72 million, with only three days remaining for the closure of its current round of presale. Investors willing to get the token for a discount should make quick moves.
4. Fight Out (FGHT)
If you've ever lacked the motivation to work out, well, how about a platform that rewards you for maintaining a healthy lifestyle? Fight Out is unlike any other move-to-earn projects that stick to only tracking steps or certain selective sports, it focuses on offering full-body workouts using smart technology, helping users build a strong workout regime.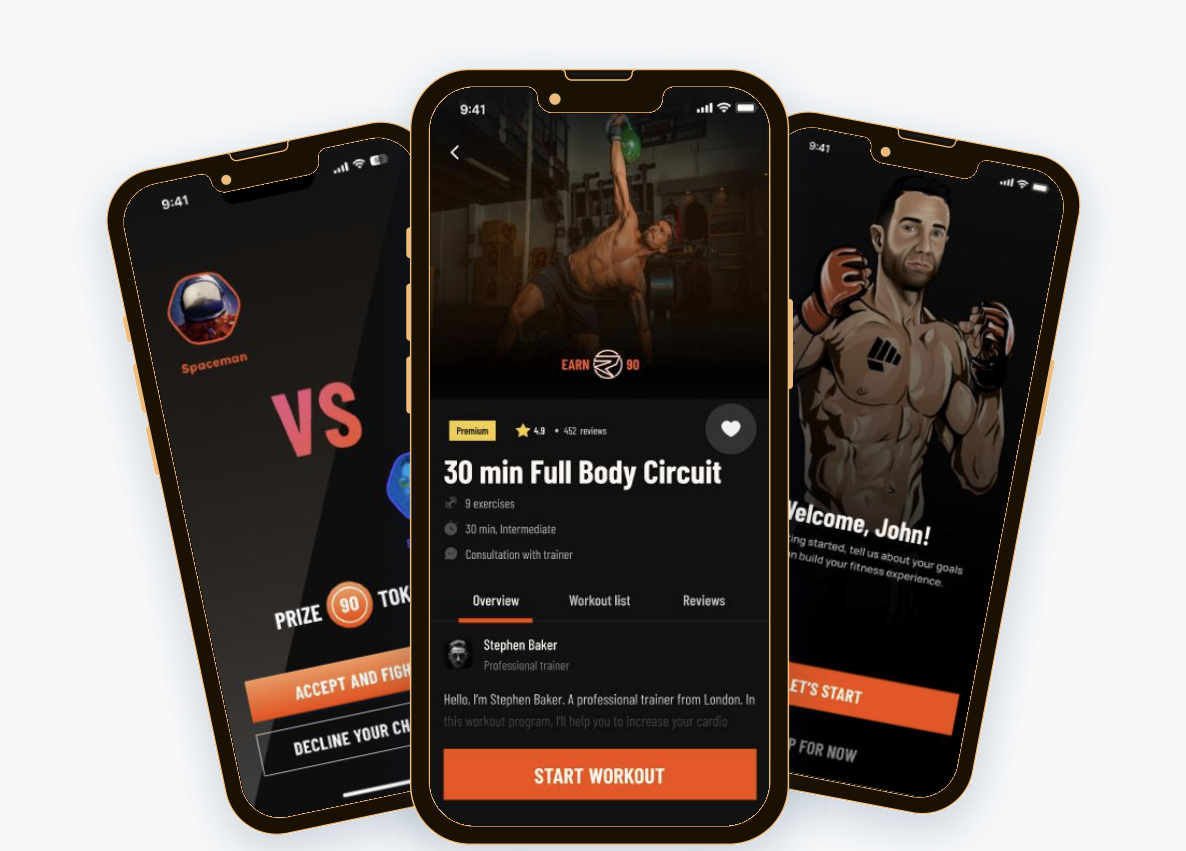 Fight Out measures movement, effort, sleep, and nutrition and compiles all this data to give an accurate assessment of your physical state. Not just that, but the platform will have in-depth tutorials to help you get started and improve your fitness habits. Plus, Fight Out will host a number of elite professional athletes, from the world of boxing and mixed martial arts.
In addition to this, the platform will be highly centred around a community where users will be able to see each other's progress, as well as earn rewards when they complete challenges. Using the app will be based on a subscription model, and users will have to pay for in-app services such as booking personal trainers, purchasing equipment or supplements, or just apparel.
Every player will have a "soulbound" avatar, that'll reflect any and all progress a player has made. This will help players stay motivated, as they continue with their fitness regimes.
Fight Out is currently undergoing a presale, where FGHT, the native token of the platform, are available to purchase for 0.02072 USDT at the time of writing. This price will continue to increase until the completion of the presale, followed by the listing of FGHT on CEXs as of April 5th, where the tokens will list for 0.0333 USDT. Get in on Fight Out before it's too late.
5. C+Charge (CCHG)
C+Charge is an all-new revolutionary process that is here to change the EV landscape by introducing carbon credits to the ecosystem. As the world tends towards sharing greater concern for the climate and reducing carbon emissions, the carbon credit market has been growing quite significantly.
The project aims to democratize access to carbon credits while addressing a bunch of challenges faced by EV drivers. Primarily, the lack of uniformity among charging infrastructure. EV owners will be able to pay for charging with the help of the platform, as a common means of payment.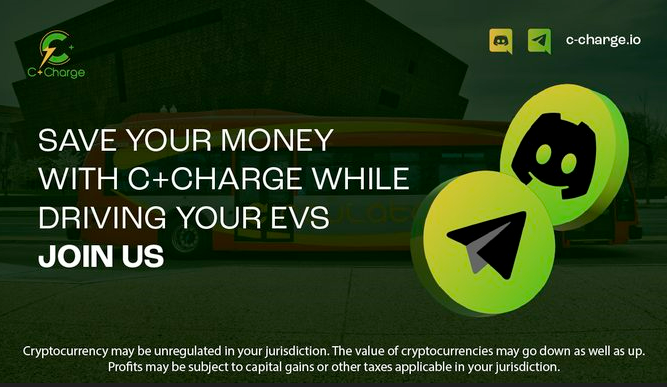 CCHG is the native token of the platform that will be used for EV charging across charging stations. By using CCHG tokens, users will receive carbon credits in return, which can then be converted to CCHG tokens, thus saving users money on their EV charging. In addition to that, these tokens can be used for any other in-app transactions serving as the powerhouse for the C+Charge economy.
Presale for the CCHG token is live on the website where investors can purchase the tokens for 0.0145 USDT. It is currently in stage 2 of its presale, to be continued for five more days after which the presale will move to the next stage, and the price of CCHG tokens will increase.
Become part of an environmentally conscious project by investing in C+Charge. The tokens will list on CEX exchanges on March 31st, so the earlier you get in on the project the more profit you make.
6. RobotEra (TARO)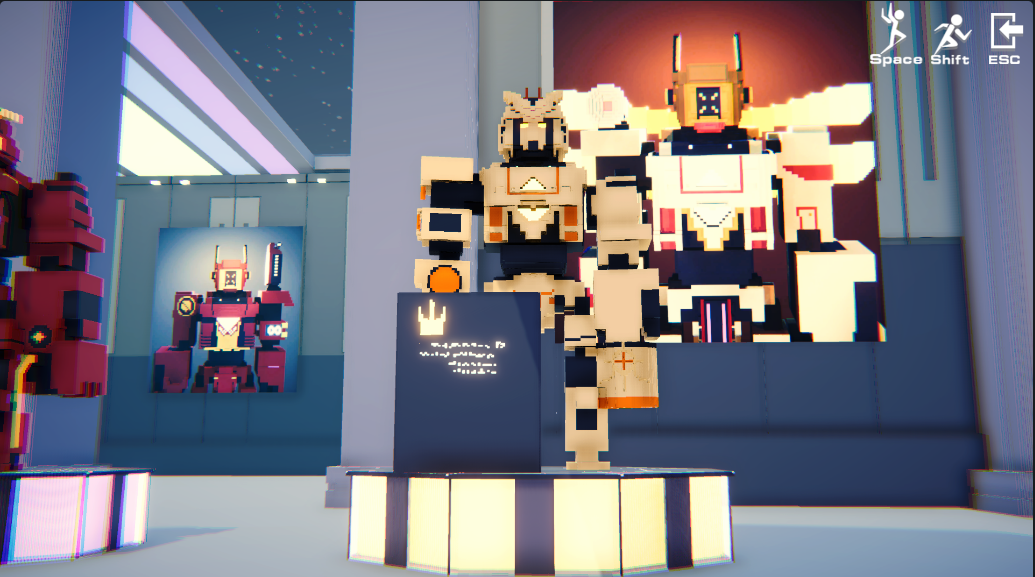 The GameFi industry has been thriving recently, and RobotEra is here to make it even better. Featuring a thrilling metaverse game, RobotEra will introduce a planet destroyed by an army of robots, who are now left stranded in a land completely barren.
These robots are now tasked with bringing the plan back to life by building an all-new infrastructure that could support an economy. Every player will be a robot in the game and will have a unique identity represented by an NFT.
Players will be rewarded for playing the game and completing tasks, as well as a number of other activities that can be generated with the help of the metaverse. For instance, players can charge other players for entry into a stadium they've built, and thus rise above in the metaverse economy. The rewards aren't, however, limited to the game.
Users can cash out their rewards, which are paid in TARO. TARO is the native token of the platform, responsible for every transaction in the game. Currently, users can purchase these tokens from the official website, where the tokens are available for purchase at 0.020 USDT. This price is bound to increase in the next round of the presale, so it's best for investors to hurry.
Conclusion
In this article, we looked at the top gainers for the day, along with a few other recent projects that have an ongoing presale. If you're interested in these tokens, do perform your own due diligence before making any investment decisions.
Read More:
Fight Out (FGHT) – Newest Move to Earn Project
CertiK audited & CoinSniper KYC Verified
Early Stage Presale Live Now
Earn Free Crypto & Meet Fitness Goals
LBank Labs Project
Partnered with Transak, Block Media
Staking Rewards & Bonuses
Join Our Telegram channel to stay up to date on breaking news coverage