Biggest Crypto Gainers Today – February 2

Join Our Telegram channel to stay up to date on breaking news coverage
Marking an uprise of 4.18% on Thursday, the crypto market is all set for an exciting February. Market leaders such as Bitcoin and Ethereum continue to make gradual gains for the day, increasing by 3.3% and 5.7% respectively. While other lesser-known tokens have managed to register a double-digit growth of up to 23%.
In this article, we'll take a look at the top gainers for the day, as well as a bunch of projects in their presale stage that could one-day offer outsized returns.
1. Optimism (OP)
Nick Hotz, the Vice President of Research at the digital asset management firm Arca, thinks that layer 2 tokens are gaining more popularity and adoption as they provide a more efficient solution to the scalability issues faced by blockchain systems. He believes that this trend is being driven by the positive outlook of traders and investors towards layer 2 tokens.
Currently, the price of the Optimism (OP) token has surpassed both Bitcoin and Ethereum, which grew by 42% and 33% respectively. The layer 2 scaling system built on the Ethereum network, on the other hand, marked an increase of more than 200% since the start of the year.
The positive funding rates are a clear indication of the bullish sentiment in the market. However, there has been a sharp decline in daily transactions on Optimism recently, dropping from 800,000 to 200,000. This decline has been attributed to the completion of Optimism Quests, a program that encouraged users to interact with different protocols on the network.
Optimism is designed to make transactions faster and more affordable by increasing the number of transactions per second while maintaining decentralization and security. The Ethereum network is currently limited to handling around one million transactions per day, which has resulted in slower and more expensive transactions.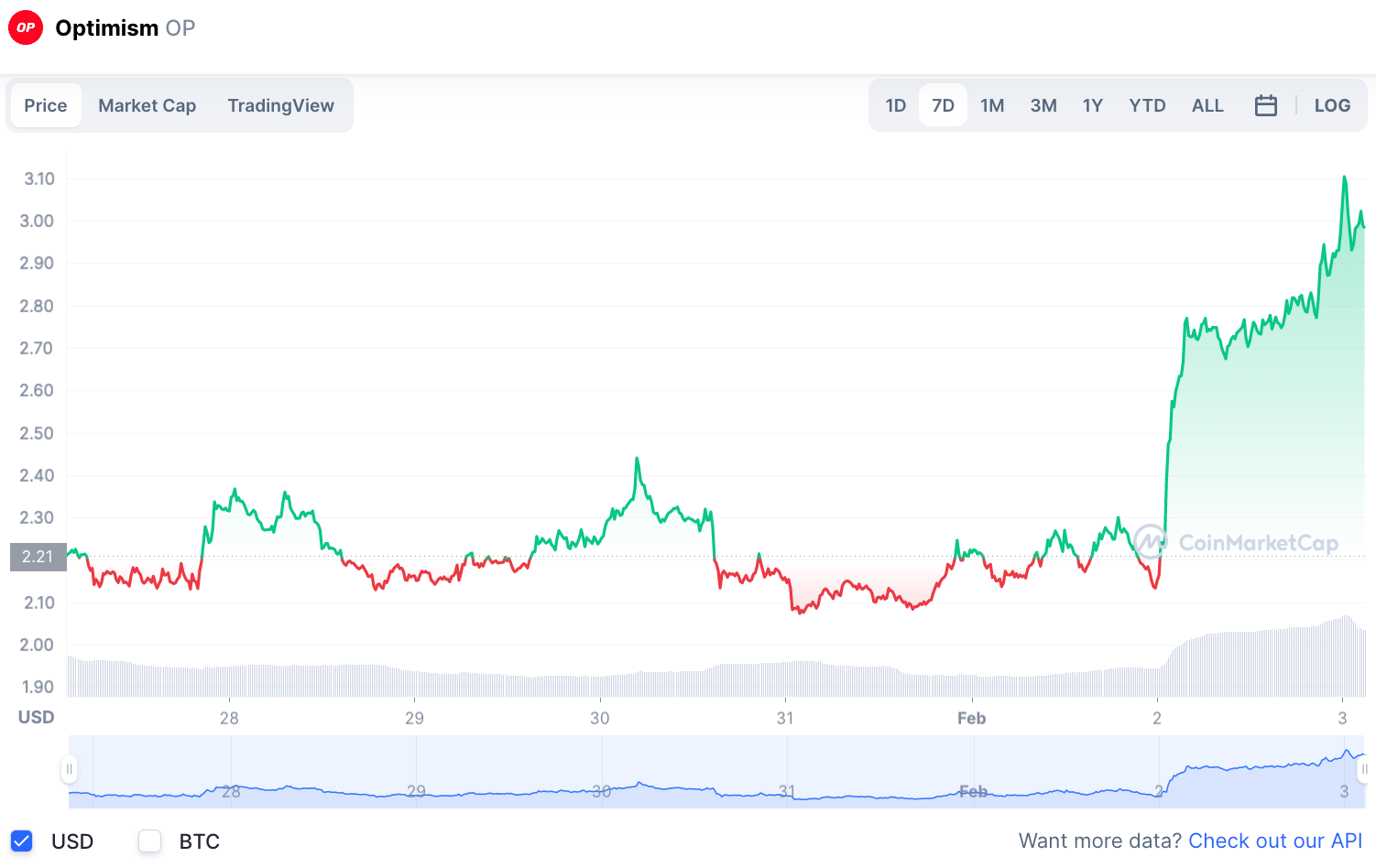 The recent decline in daily transactions on Optimism is not expected to impact the growth of layer 2 tokens in the long run, especially since Optimism is available on several major trading platforms, including Coinbase, Crypto.com, and Binance. With the upcoming Ethereum upgrade, EIP-4844, Optimism is expected to become even more cost-effective, making it an attractive option for users looking for a scalable and secure solution for their transactions.
2. Render Token (RNDR)
Render Token is a blockchain-based project that provides distributed rendering services for 3D models and environments. It aims to create a marketplace for digital assets, where they can be accessed and utilized by everyone through the use of crowdsourced 3D projects for digital rights management.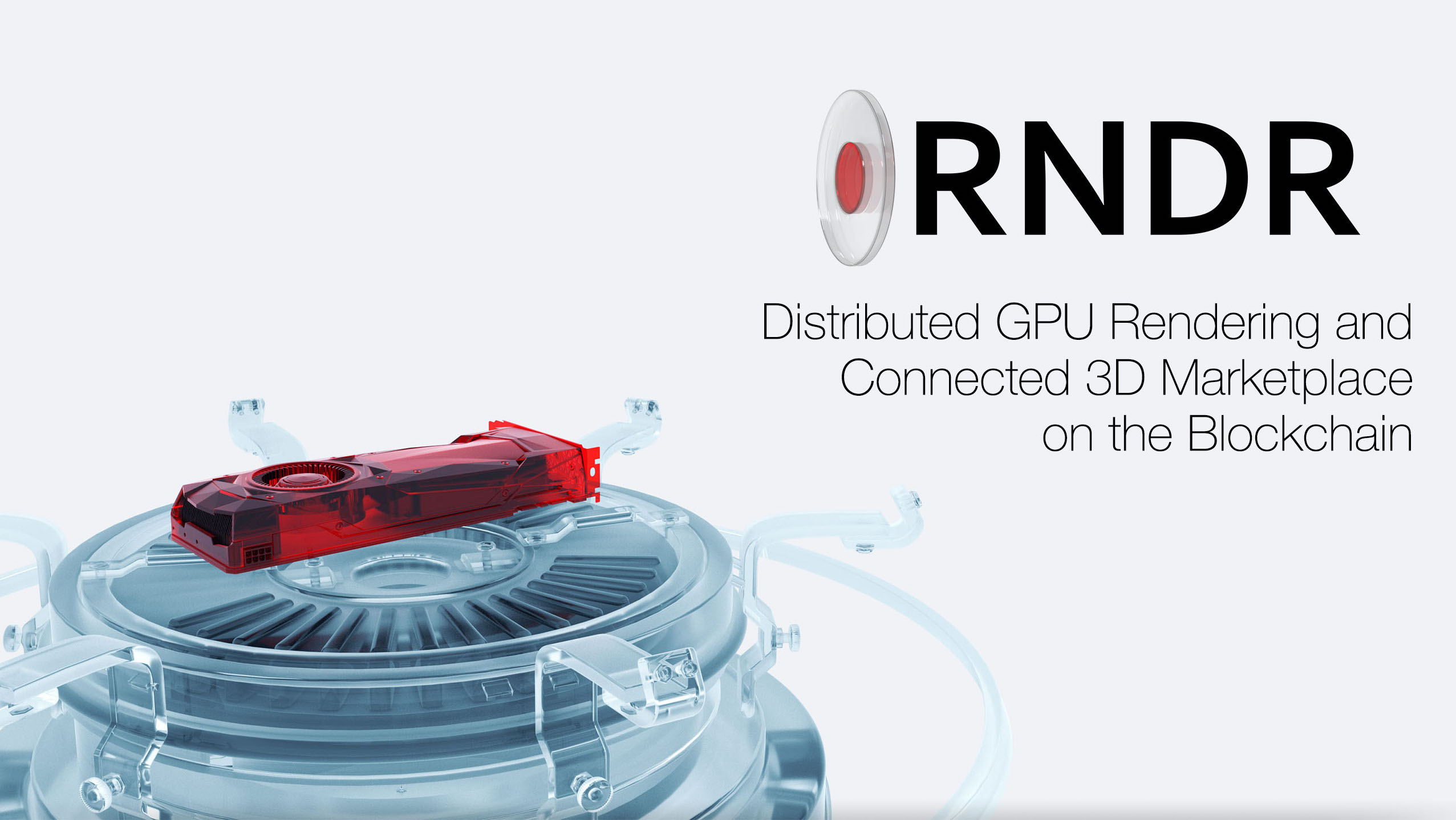 The platform utilizes the OTOY operating system, which is a cloud-rendering company that distributes GPU-based computational services. GPU owners can lend out their GPU power to creators who need rendering resources. The Render Token ecosystem provides three solutions for content creators: monetization, rights protection, and the empowerment of individuals.
Founded in 2016 by Jules Urbach, the CEO of OTOY, a cloud rendering company, Render Token is utilized in the filmmaking industry to create cinema-quality outputs using GPU technology. The platform has multiple applications beyond rendering images and films and can be used in video games, VR experiences, and other digital media that require high-quality visuals within a reasonable time frame.
RNDR is an ERC-20 token, serving as the main currency for trading rendering and streaming services. Users can earn RNDR Tokens by registering their workstations and spending the tokens on funding rendering projects. The RNDR token is available for trading across several major cryptocurrency exchanges.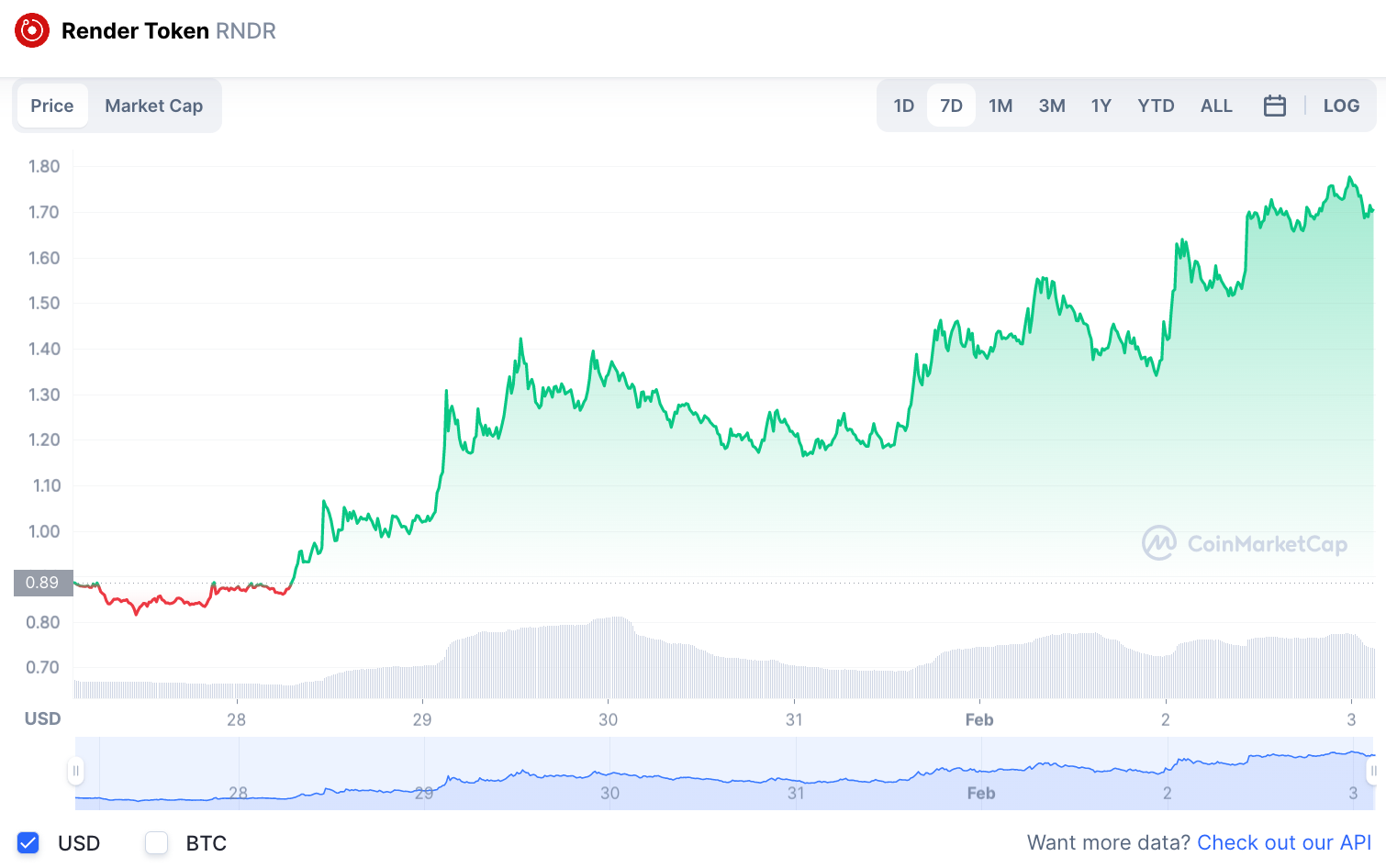 The recent surge in investment has led to a 270% increase in its token value in a week and a positive shift in the crypto market. The Render Token offers a decentralized solution for complex GPU-based computational services, making it a low-risk investment for those concerned with risk assessment.
3. Meta Masters Guild (MMG)
The Meta Masters Guild (MMG) presale doesn't seem to slow down, with daily investments effortlessly reaching more than $100,000. The price of MEMAG tokens, currently at $0.016, will soon increase to $0.019 on February 4th, 2023, marking the start of stage 5 of the presale. By the end of the sale, the price of MEMAG tokens is expected to rise to $0.023, a 43.75% increase from the current price.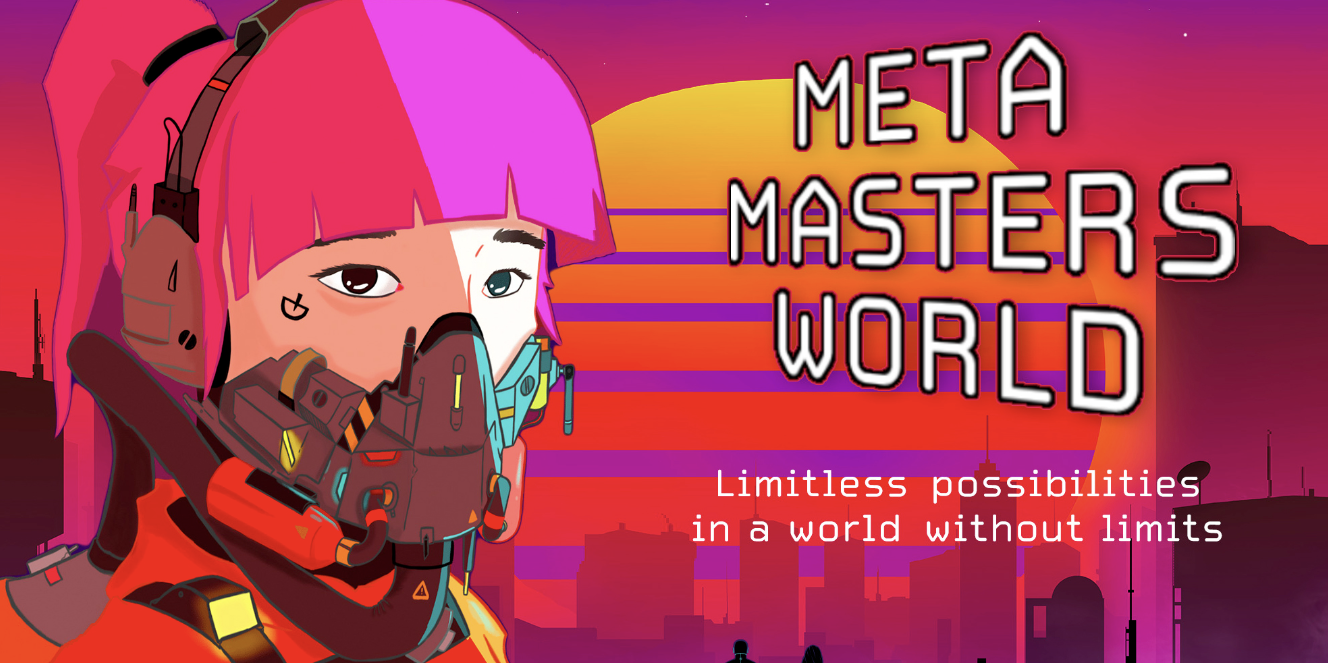 MMG's presale has been highly successful, with over $2.5 million raised in just three weeks and more than 50% of the hard cap of $4.97 million already sold. There is a maximum supply of 1 billion MEMAG tokens, with 35% available through the presale and an additional 15% for exchanges and liquidity. The team behind MMG has undergone doxxing and KYC verification and the MEMAG token smart contract has undergone a full audit, rendering it completely secure for users.
The project prioritizes fun and games over tokenization and aims to create a one-of-a-kind mobile gaming platform in the space. It features three games that are currently in development, including Meta Kart Racers, Raid NFT, and Meta Masters World, with Meta Kart Racers being the most advanced and set for launch after beta testing later in 2023.
In the game, players can purchase and upgrade karts and drivers, race in solo as well as PvP modes, and earn rewards in GEMS, a secondary token of the platform, while competing for the Meta Kart Championship. GEMS can be converted to MEMAG and staked for passive income, with all assets in the MMG ecosystem owned by players, as well as featuring an NFT marketplace for buying, selling, and trading currently under development.
The MMG presale has been successful so far, with investors pouring in significant funds, and with only two days left until the price increase, now is the time to secure MEMAG tokens.
4. FightOut (FGHT)
FightOut is a super innovative cryptocurrency that aims to revolutionize the fitness industry and incentivize physical activity. The platform is based on a move-to-earn mechanism that rewards users for working out, participating in challenges, and competing in a unique fitness metaverse.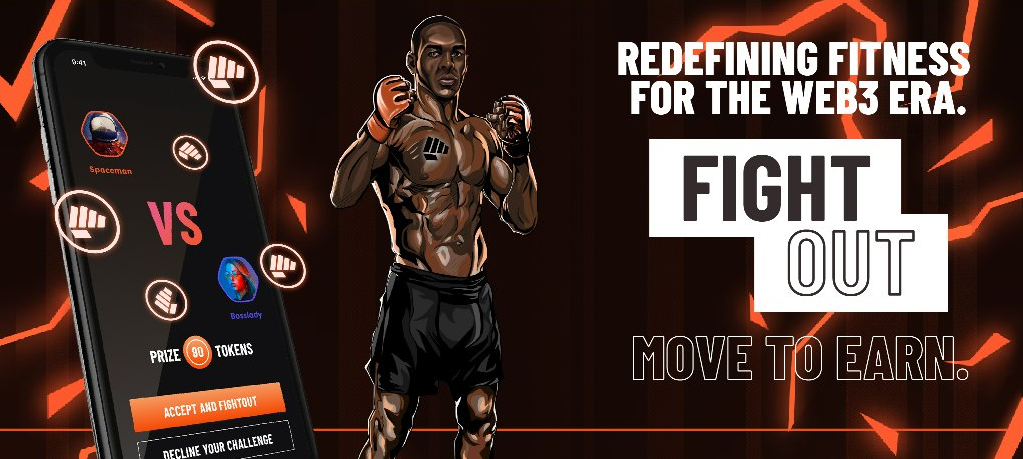 It is designed to provide a more comprehensive approach to tracking and rewarding users, without requiring any high-cost buy-ins. The project has already raised an impressive $3.77 million and aims to reach its goal of $15 million by the end of its presale stage in March. The platform's native token, FGHT, is set to list on centralized exchanges in April at $0.033 per token, providing an opportunity for investors to secure tokens early and potentially realize paper gains in Q2.
The FightOut app will integrate smartphones and wearable technology to measure and track physical performance, with its own tokenized economy where users can earn rewards for completing fitness tasks. The ultimate goal of the platform is to acquire gyms in major cities around the world and promote a comprehensive web3 fitness experience.

The FightOut app will feature a direct data feed from the gym to the app, allowing for more accurate tracking and rewards. Each user will have a soulbound avatar that is fully customizable and represents their progress in the virtual world, leading to a better position on the leaderboard and the opportunity to participate in tournaments and win prizes.
FightOut is more than just a fitness app; it's a new way to engage with health and wellness. With engaging features, impressive rewards, and a strong focus on community, FightOut is destined to make a name for itself. Invest in FightOut today and don't miss out on this exciting opportunity!
5. C+Charge (CCHG)
C+Charge is a visionary blockchain platform that aims to transform the electric vehicle (EV) charging landscape. The platform connects EV owners with a vast network of charging stations, enabling easy payment transactions and incentivizing drivers through the distribution of carbon credits and sustainable cryptocurrencies.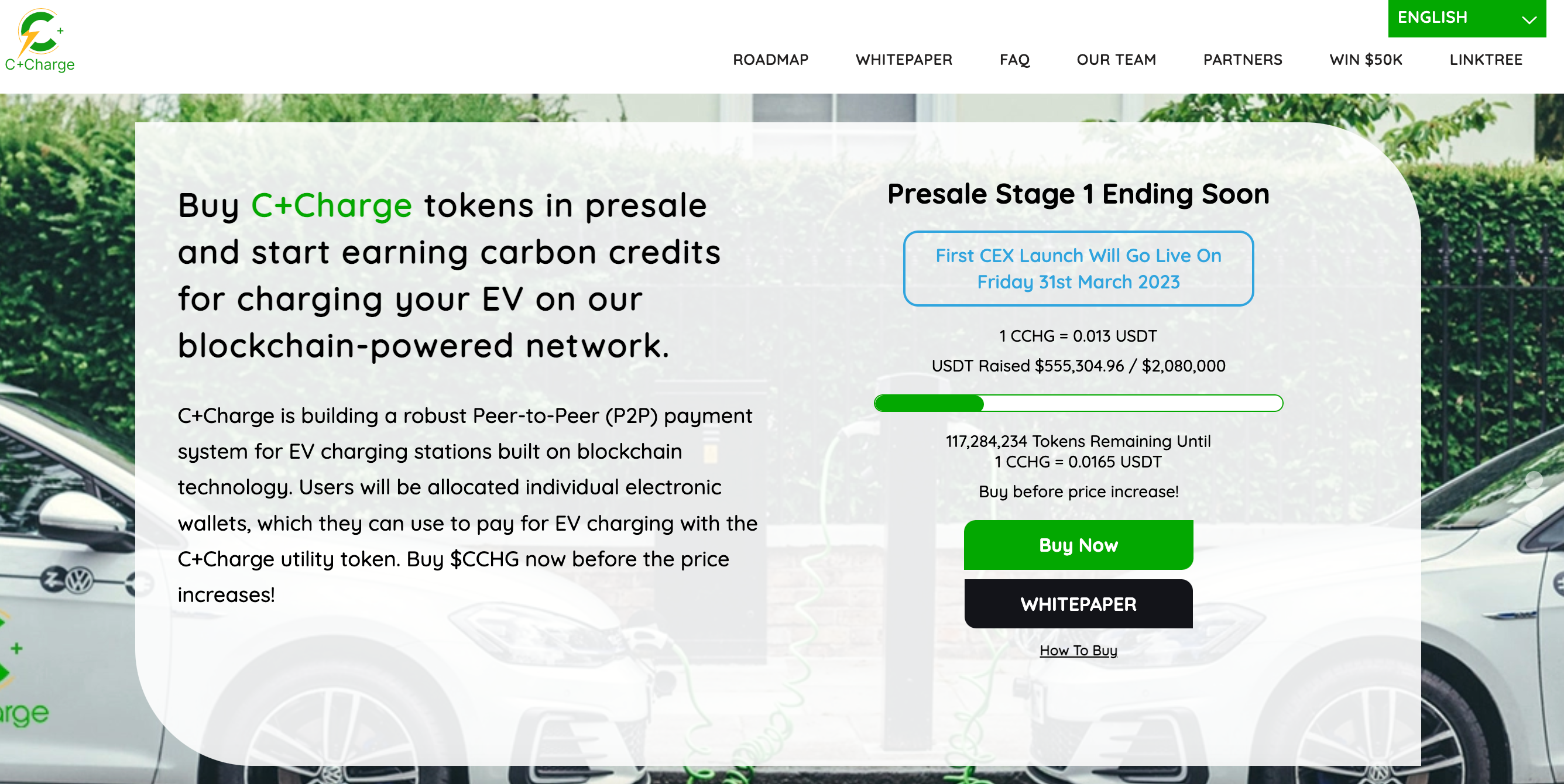 By tackling the pressing issues faced by EV owners, such as little to no access to carbon credits, few incentives, a non-unified payment system, untransparent pricing, and shortages in charging solutions, C+Charge is striving to make EV charging more accessible, efficient, and cost-effective.
With its peer-to-peer payment system and smart contracts, the platform ensures a hassle-free payment process with real-time updates on charging station availability and costs. Moreover, by allowing users to view the exact cost of their charging sessions, C+Charge is ensuring transparency and reducing the cost of charging. The platform also addresses energy consumption through its solution for building managers and incentivizes landlords and businesses to install charging stations.
C+Charge's mission is to empower EV drivers to earn carbon credits and promote the transition to electric mobility, thus creating a more sustainable future. The platform is powered by a utility token that enables users to pay for their charges and accumulate carbon credits, further motivating environmentally-friendly behaviour.

Raising well over $540k, the project is recording a successful presale so far. Users interested in the project can buy the native token of the platform CCHG for 0.013 USDT, which is bound to increase to 0.0165 by the time the project reaches to next round of its presale.n
C+Charge is leading the way in creating a platform that is convenient, cost-effective, and transparent, and is committed to building the world's leading EV charging crypto payment network through partnerships with world-class EV charging solutions.
6. RobotEra (TARO)
RobotEra is a cutting-edge blockchain metaverse platform that transforms players into robots, allowing them to rule their lands and shape the world as they see fit. The setting is the planet Taro, where a devastating event has left only 10,000 robots with human-like emotions and intelligence as the new rulers. These robots must revitalize Taro and construct a more advanced society.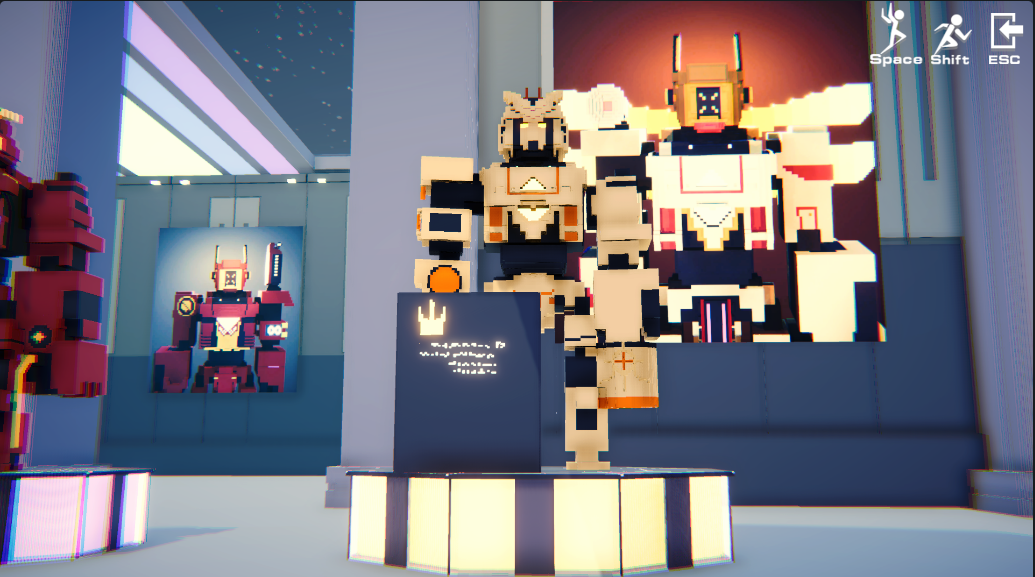 The game delivers a one-of-a-kind, thrilling experience, unlike other typical blockchain sandbox games. Players receive their robot avatars through exclusive Robot NFTs, which can be altered and swapped through the Robot Editor. These NFTs are rare and in limited supply, with only 10,000 available, divided into seven different factions with unique attributes and characteristics.
In RobotEra, players gather resources to generate powerful robot partners, which can be utilized in battles and potentially sold for profit or earned through gameplay. The game operates on a platform where players have complete control over their lands, enabling them to construct and trade freely.
The technological advancements in RobotEra are exceptional, including two distinct in-game editors, the Land Editor and the Robot Editor, granting players greater creative control and the ability to develop new scenarios. TARO, the native token of RobotEra, is currently undergoing a presale where it has raised over $808k, close to halfway through its target. The token is currently available to purchase for 0.020 USDT and will increase to 0.025 USDT once it progresses to stage two of its presale.
RobotEra is a bold and revolutionary project with the capability of revitalizing the web3 scene. Although still in its early stages, the project boasts a fully developed design, both in terms of its captivating background story and worldview and its innovative gameplay design and technical prowess.
Conclusion
These tokens sum up the list for today. While the cryptocurrencies mentioned may have been on the top for the day, it's best for investors to do their due diligence before investing in a token.
Read More:
Fight Out (FGHT) – Newest Move to Earn Project
CertiK audited & CoinSniper KYC Verified
Early Stage Presale Live Now
Earn Free Crypto & Meet Fitness Goals
LBank Labs Project
Partnered with Transak, Block Media
Staking Rewards & Bonuses
Join Our Telegram channel to stay up to date on breaking news coverage