Best Crypto to Buy Now November 15 – Solana, ORDI, Compound
Join Our Telegram channel to stay up to date on breaking news coverage
InsideBitcoins regularly provides a rundown of the best cryptocurrencies to buy now, taking into account their recent price performance.
Based on the current evaluation of the cryptocurrency market, the total market capitalization stands at $1.39 trillion, reflecting a 1.26% intraday decrease. However, the market volume has witnessed a notable uptick, registering a 15.98% increase to $336.14 billion.
Best Crypto to Buy Now
An analysis of Bitcoin's performance reveals its current price at $35,794, indicating a 1.99% loss within the preceding 24-hour period. Bitcoin dominance has experienced a modest decline of -0.32% during the same timeframe, currently at 50.38%. 
1. Solana (SOL)
Render Network, a prominent participant in the decentralized computing sector, has transitioned from the Ethereum blockchain to the Solana network. This move was motivated by Render's consideration of Solana's specific feature, addressing the Ethereum network's high transaction fees. Furthermore, the successful migration allows Render users to explore various use cases on the Solana network without incurring elevated transaction costs.
Moreover, this transition combines Solana's features with Render's core infrastructure, potentially unlocking substantial opportunities for the Render ecosystem. As such, this could encompass integrating novel capabilities such as real-time streaming and dynamic NFTs. 
Notably, Render Network emphasizes Solana's superior speed, cost-effectiveness, and scalability as key factors aligning with its expansive vision. The move to Solana is pivotal to realizing Render's commitment to building a scalable and decentralized metaverse infrastructure.
Imagine a new kind of network, powered by the people.

Decentralized physical infrastructure networks like @Hivemapper are choosing Solana for its high throughput and cost effectiveness 🗺️#OnlyPossibleOnSolana pic.twitter.com/uJlABcO4Th

— Solana (@solana) November 10, 2023
As a result, Solana's market performance has shown positive trends, with the SOL price experiencing a surge of +144.00% in the last month. Over the past 24 hours, SOL has seen a 7.17% increase, indicative of a bullish trend that surpasses the Ethereum network. The comparison reveals a substantial 15.89x rise of Solana against Ethereum. Thus placing SOL among the best crypto to buy now. This trend may persist, considering Solana's recent collaboration with Render Network.
2. ORDI (ORDI)
The recent surge in the price of ORDI can be attributed to its listing on the popular cryptocurrency exchange, Binance. This listing, however, was accompanied by a mistake linking ORDI to the Bitcoin Ordinals project. Moreover, introducing new trading pairs and incentives with rewards for early deposits led to a 40% increase in the token's value.
Notably, ORDI value has increased by over 64% in the past 7 days. ORDI is currently valued at $22.24, with a 24-hour trading volume of $783.01M. Likewise, it has a market cap of $466.94M, representing a 4.88% increase in the last 24 hours.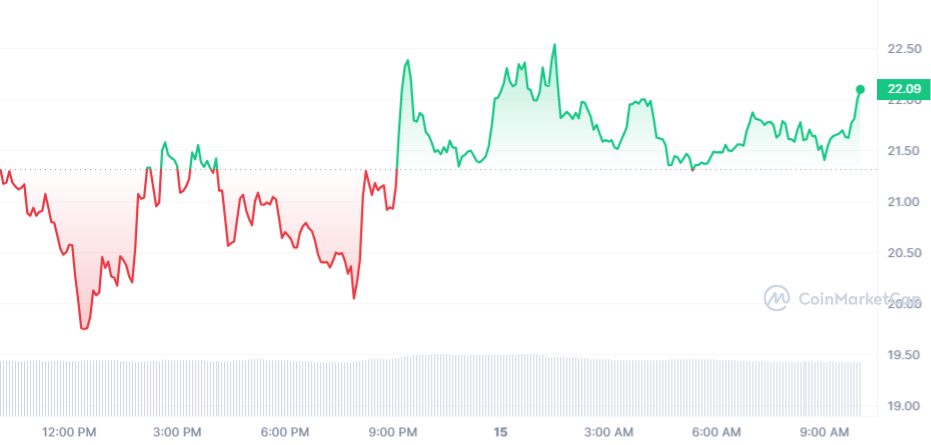 On May 9, 2023, ORDI reached its all-time high of $24.64, while its lowest recorded price was $0.00. Since its all-time high, the lowest price was $2.85 (cycle low). In contrast, the highest price reached was $24.27 (cycle high). Furthermore, ORDI's circulating supply is 21.00M out of a maximum supply of 21.00 M. It also holds the top position in the Bitcoin (BRC20) Tokens sector by market cap.
Examining recent trends, ORDI has seen 17 green days in the last 30 days, constituting 57% of the observed period. The sentiment regarding ORDI's price prediction is bullish, and the Fear & Greed Index registers at 60 (Greed). Therefore, this indicates a moderate level of market sentiment and places it among the best crypto to buy now. 
3. Bitcoin Minetrix (BTCMTX)
BTCMTX is gaining popularity among investors, placing it among the best crypto to buy now. Bitcoin Minetrix, a cloud mining platform, has introduced tokenization to address third-party cloud mining scams. The project aims to offer a secure and transparent method for individuals to use decentralized Bitcoin (BTC) mining.
With substantial participation, the project currently boasts over 400,000 BTCMTX tokens locked in staking. The current annual percentage yield (APY) is reported at 103,225%. However, it is anticipated to decrease with more tokens being staked.
Discovering the groundbreaking stake-to-mine idea, reigniting excitement for everyday #Crypto lovers to participate in #Bitcoin mining. 🔥🪙

Users of #BitcoinMinetrix only need an Ethereum-compatible wallet such as #MetaMask, making the process simple and accessible. pic.twitter.com/kEPQyA21YP

— Bitcoinminetrix (@bitcoinminetrix) November 14, 2023
In tokenomics, Bitcoin Minetrix allocates 42.5% of the BTCMTX tokens to fund mining operations. In comparison, 35% is dedicated to marketing efforts and the growth of BTCMTX. An additional 15% is reserved for community rewards to acknowledge active participation. Furthermore, 7.5% is earmarked for BTCMTX staking rewards until the Bitcoin Minetrix cloud mining platform is developed.
Moreover, the project has attracted attention through an ongoing BTCMTX presale, raising over $$3,981,691 by offering $0.0116 per token. Out of the total token supply of 4 billion, 70% (2.8 billion BTCMTX) is available during the presale, and investors can acquire them using Ethereum (ETH) or Tether (USDT).
With a minimum investment requirement of $10, the opportunity is accessible to many participants. Potential investors should consider taking advantage of the current price before increases, as there is only a one-day window for the current token pricing.
4. THORChain (RUNE)
THORChain has demonstrated a substantial 372% price increase in the past year, outperforming 96% of the top 100 cryptocurrencies. It has also outpaced Bitcoin and Ethereum and trades above its 200-day simple moving average, indicating a positive trend.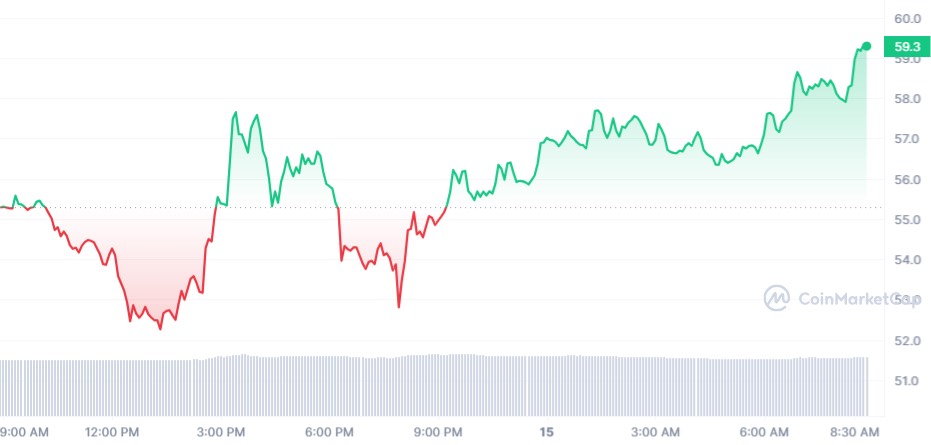 Supply-wise, THORChain has an annual inflation rate of 2.08%, creating 6.88 million RUNE in the last year. In addition, it holds notable rankings in various sectors, such as #10 in Proof-of-Stake Coins and #5 in DeFi Coins. RUNE is also placed #2 in the Binance Smart Chain sector, #1 in Gaming, and #22 in the Layer 1 sector.
Furthermore, the current market sentiment is reflected in the Fear & Greed Index, which stands at 60 (Greed). Over the last 30 days, THORChain has had 21 green days, indicating 70% positive performance. Moreover, the token is characterized by high liquidity based on market capitalization.
Since the release of THORChain Mainnet in April 2021, devs have shipped:

– Asymmetric liquidity provision– THORNames– Delayed outbound transactions– Automatic solvency checker– Synthetic assets– ERC20 token whitelists– Affiliate fees– Add Dogecoin– Create Stagenet for…

— THORChain (@THORChain) November 14, 2023
Looking ahead, some experts anticipate THORChain to be a noteworthy cryptocurrency. According to one projection, the maximum price of THORChain is expected to reach around $2.83 as the crypto market recovers. Likewise, the average is expected to reach $2.50 by 2023. However, a major bearish trend could see the minimum price reach $2.17. 
THORChain (RUNE) trades at $5.71, showing a 13.93% increase in the past 24 hours. RUNE has a trading volume of $497.21 million and a market capitalization of $1.93 billion, contributing to a market dominance of 0.14%. Notably, the circulating supply is 337.57 million RUNE out of a maximum supply of 500 million.
5. Compound (COMP)
Compound has shown notable performance metrics over the past year, with consistent trading above the 200-day moving average and positive sentiment in the market. The coin's position in various sectors reflects its prominence in decentralized finance.
Since the last cycle low, COMP's highest price reached $82.89 (cycle high). The sentiment is bullish according to the Compound price prediction, with the Fear & Greed Index indicating a value of 60 (Greed).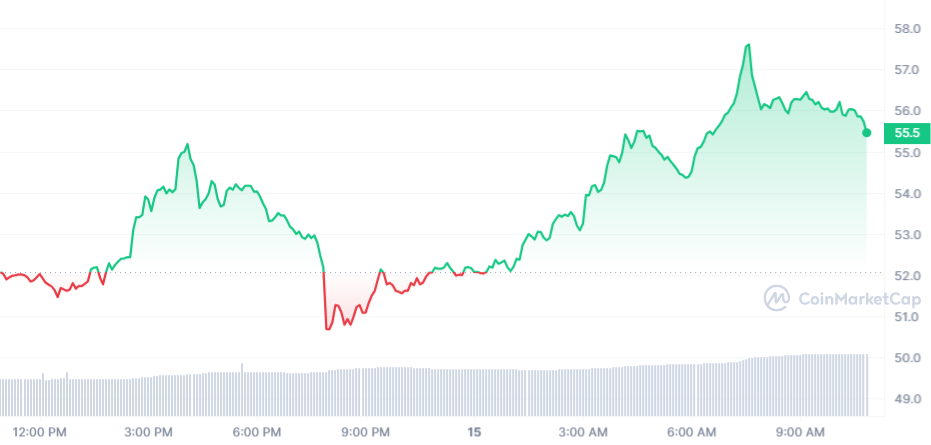 Furthermore, the circulating supply is 7.92 million COMP out of a maximum supply of 10.00 million. The yearly supply inflation rate is 8.98%, creating 652,503 COMP last year.
The Markets page now displays all Compound III markets on one page, letting users more easily navigate Compound.

View the new Markets overview here:https://t.co/ZoI1fUmWUP pic.twitter.com/iyt0ZC71tD

— Compound Labs (@compoundfinance) October 5, 2023
In the DeFi Coins sector, Compound holds the 15th position by market cap. Moreover, it ranks 4th in the Yield Farming sector and 31st in the Ethereum (ERC20) Tokens sector. Over the past year, COMP has seen a 42% price increase, outperforming 65% of the top 100 crypto assets. 
The coin is currently trading above the 200-day simple moving average. In the last 30 days, it has witnessed 17 green days, accounting for 57% of the observed period. Likewise, the project demonstrates high liquidity based on its market cap.
Read More
Join Our Telegram channel to stay up to date on breaking news coverage