AGIX Inches Toward $0.18 – Are AI Solutions the Catalyst?


Join Our Telegram channel to stay up to date on breaking news coverage
SingularityNET (AGIX) has garnered attention from traders and investors with its value proposition. Also, its recent price action has attracted more speculation as investors wonder what next level to expect. 
With the rise of Artificial Intelligence (AI) in the digital world, cryptocurrencies designed with such algorithms are becoming an item on the market. 
At 5:42 a.m. EST, AGIX is trading at $0.176, slightly decreasing in the last 24 hours. However, there have been signs of price gains as the asset inches closer to stabilizing around the $0.18 mark. 
Since the project boasts a leading name in the decentralized AI marketplace, speculation is pointing toward developments possibly influencing the price rally. 
AGIX Fluctuations Around $0.18 Suggest Potential Uptrend
Before the general crypto market crash on August 17, AGIX was on a consistent trend, around $0.2. However, the performance was less impressive than its price action in July.
AGIX traded at $0.17 on August 17 and has since made several attempts at recovery but has been unable to break resistance levels. The last 7 and 14 days, the asset's price has declined 0.7% and 20.2%, respectively.  
Although AGIX has been bearish in the last 30 days, its movements toward $0.18 may be a breakthrough for the AI coin in the short or long term. It could be sooner, but fingers remain crossed for all investors looking to pitch in. 
AI Projects Could Be Vital Focal Points for AGIX's Recovery
As a means to solidify its stance as one of the leading AI-related cryptocurrencies on different platforms, AGIX has moved relatively fast in its ecosystem updates. Their strategic partnerships and innovations have recently led more onlookers to consider taking bets on the asset. 
One such notable development is the creation of an exclusive special-purpose lab for their beta testing. The first version, Sophia AI Lab, was officially made public on August 25, and community members were directed to apply and secure their whitelist spots.
The first version of Sophia's AI Lab @SophiaVerse_AI is open to a select group of beta testers on an exclusive special-purpose basis. Apply now👇

— SingularityNET (@SingularityNET) August 25, 2023
The Lab remains a significant part of SophiaVerse, an ecosystem aiming to process data through AI.  
Also, the SingularityNET CEO and an active leader in the AGI community shared an article on the development of Neoterics in the AGI ecosystem on Medium. These will act as Avatars, virtual agents for exploring intelligence and information in the Sophiaverse metaverse and other virtually created worlds.    
Another strategic move to fuel investors' interest was announcing the SinguarityNET x Vechainofficial landmark partnership. Initially published on August 25, the latest tweet about the collaboration was yesterday, stating that the move will drive sustainability and build advanced enterprise-grade AI solutions.
Last week, we announced a landmark partnership with @vechainofficial to drive sustainability and build advanced enterprise-grade AI solutions. Learn more about what our collaboration entails:https://t.co/8gbJzGMqJo

— SingularityNET (@SingularityNET) August 28, 2023
Meanwhile, a deep funding package is in play for community members seeking a grant to fund their AI service. The gift is an offer of $1.53 million to eligible persons, and a deadline of September 3 is set for the final submission of proposals. Interested members can also visit their official blog posts for more information on the package. 
📢 The deadline for submitting proposals for @DeepFunding Round 3 is approaching on September 3rd.

Don't miss out on the chance to secure a grant from the $1.53M pool to fund your #AI service.

For additional details, check out our latest blog post: https://t.co/Cn1lO5wZ2F

— SingularityNET (@SingularityNET) August 29, 2023
In their tweets and social updates, the project emphasizes the need for active growth and advancement in their communities, which is why most investors are drawn to them.
As part of the latest updates, the team revealed their discussion at the recent RareEvo conference held in Denver, placing them as relevant in the crypto space among other top currencies. 
Watch COO @JanetAdamsAI discuss our renewed platform strategy and plans for augmenting our #AGI tech stack at @RareEvo:

— SingularityNET (@SingularityNET) August 29, 2023
Although AGIX's price has not skyrocketed as much as most investors would expect, there are possible signs that AI solutions could be catalyzing its performance. 
Technical Indicators Signal Trend Reversal for SingularityNET –  Time to Enter The Market?
The Moving Average Exponential (EMA) has long resisted AGIX, placing its price on a sideways move. But beyond this move is the pressing sell pressure on the market, which was more evident two weeks ago when the token formed a huge red candle.
It maintained the bearish trend over the next two days, as seen on the daily price chart, before initiating a relatively stable move. While the market remains under the bears' influence, specific signals point to a reversal in the coming days. 
This is seen in the MACD, histogram, and Relative Strength Index reading of 33.89, indicating a point close to the oversold zone.
The MACD line now sits slightly above the signal line, revealing a mild shift in market sentiment. This formation is backed by the histogram, creating small green bars consecutively over the last three days.
These signals show the reduction in sellers' control over the market, opening more chances for a buying turn.
SingularityNET Support and Resistance Level Analysis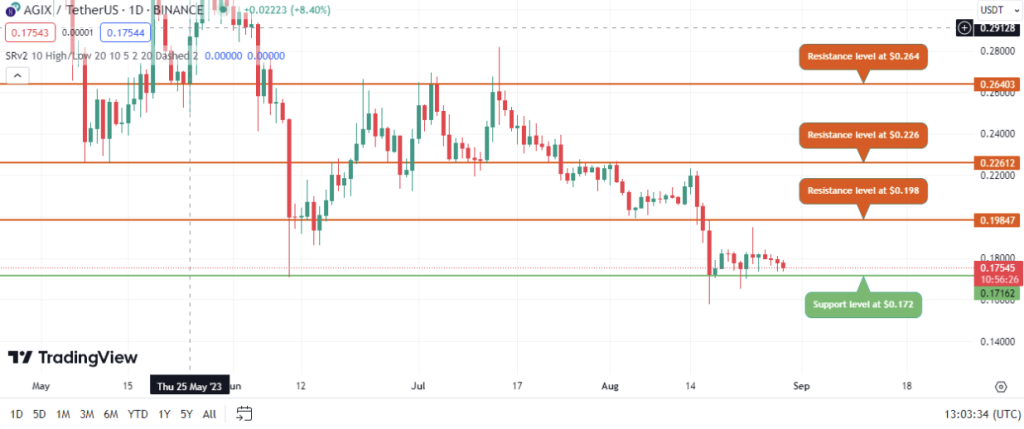 Sellers have been struggling to break the support level around $0.172. This support is a crucial point where buying activities occurred, particularly on June 11.
It now creates a chance for investors to open a buy position, with a target point at $0.198, which is the next resistance level. Concluding this analysis, AGIX projects multiple signs for a reversal, which could occur in a few days. 
However, the token remains subject to market sentiment, which can trigger sudden price movements away from the predicted direction. As such, traders and investors are advised to approach this forecast cautiously while researching further to make informed trading decisions. 
Meanwhile, as AI coins still find ways to stay relevant in the crypto market, other alternatives are taking the space by surprise. Notably, the Sonik coin boasts a spot among the top presales making waves, and there are significant reasons behind these results. 
Sonik Coin Could Explode and Blow Up Crypto Market
$SONIK might have surprised the world when it came onto the scene with daring targets to beat. As a first stop, its aim of being the fastest coin to reach a market cap of 100 million from zero has kept investors and traders watching. 
Since security must be the top priority when working in cryptocurrency, Sonik Coin values this idea highly. Sonik Coin is bent on focusing on security in contrast to the general trend, where many new meme coins lack thorough, smart contract audits.
According to the roadmap, the coin will soon be made available on the decentralized Uniswap market, emphasizing the value of openness and safe transactions. Notably, Sonik Coin differentiates itself from the competition by introducing an enticing staking scheme and only providing a tempting presale opportunity. 
Sonik Coin challenges the trend of speculative tokens by allocating a sizable 40% of its total token supply to staking rewards, ushering in a new era of usefulness. 
Holders access high annual percentage yields (APY) by staking SONIK. The critical point is that the estimated result is impressively high at 98%, illustrating the possibility of lucrative passive income. 
6 Days Left as Sonik Raises Over $690,000
The Sonik Coin presale has surpassed $690,000 in less than two weeks since it began, in an astounding display of community support and enthusiasm. Entry into the SONIK ecosystem is accessible to a wide range of investors thanks to the token's open price of $0.000014. 
With six days to go, there could be a fear of missing out (FOMO) within the latter hours of the presales, as the coin promises to do even better after launch. 
Potential investors can get in early by connecting their wallets on the token's official site using ETH, USDT, or other fiat currencies. 
Related
Wall Street Memes – Next Big Crypto
Early Access Presale Live Now
Established Community of Stocks & Crypto Traders
Featured on BeInCrypto, Bitcoinist, Yahoo Finance
Rated Best Crypto to Buy Now In Meme Coin Sector
Team Behind OpenSea NFT Collection – Wall St Bulls
Tweets Replied to by Elon Musk
Join Our Telegram channel to stay up to date on breaking news coverage