8 Best NFT Games to Play and Invest In For 2022

The popularity of NFT games in 2022 is increasing rapidly. Non-fungible tokens (NFTs) began as digital assets stored on the blockchain that can trace the ownership of an asset wherever it moves and offer to resale portions to previous owners. Their use case has recently taken the gaming world by storm. The three billion gamers around the globe are naturally drawn to the pursuit of rarities, collections of limited trinkets, and the discovery of uncommon art and mementos.
Complex NFT game projects with subpar user experience design might be challenging to market. Players may be more open to NFTs if they are well-executed and provide significant value. We review a rundown of the best NFT games on the market in this guide.
List of the Best NFT Games of 2022
Below are NFT games that have taken the blockchain space by storm this year. These games redefine traditional gameplay by introducing social and P2E mechanics and attracting the interest of the non-crypto gaming crowd.
RobotEra  – Rated The Best Upcoming NFT Game of 2022 – Token Sale Started Nov 2022
Calvaria – Best New Trading Card NFT Game also on Presale Now
Tamadoge – Best Tamagotchi-Influenced NFT Game of This Year
Battle Infinity – Best Metaverse-Based NFT Game in the Fantasy Sports Niche
Axie Infinity – Allowing Players to Buy Axies NFTs and Put them To Battle
CryptoKitties – One of the Earliest NFT Games
Decentraland – One of the Biggest Metaverse NFT Projects
The Sandbox – NFT Game Featuring Land Ownership and Brand Support
Invest In the Best NFT Game of This Year
Best NFT Games of 2022 – Reviews
Below our review team of gamers, investors and traders alike picked out the top NFT games that are worth investing in now before they explode:
RobotEra – The Best NFT Game of 2022
GameFi's RobotEra, an LBank Labs venture aimed at repairing the planet TARO, is interesting since it employs many blockchain-based monetization strategies. To do this, they create and modify NFT robot companions, buy land parcels in the Metaverse, and eventually populate those plots with houses and other structures.
Players may either keep their upgraded and customized robot NFTs to use in-game or trade them in for other items on the market. With RobotEra's in-game editor, users may shape the world any way they choose by building whatever they can imagine on the available ground. Players may monetize their inventions in a variety of ways, including by charging for access to attractions like museums and concerts or by selling advertising space, as is done on billboards.
The creators of RobotEra anticipate that as players make the game world their own, new applications will appear, players will be able to mine items from Metaverse land in exchange for TARO, and players will be able to control their own continents. Staking TARO tokens for financial gains is possible, and the tokens are also utilized in the organization's voting and governance procedures (DAO). This token has, thus, all the makings of a great metaverse project to invest in.
One TARO token now costs $0.002 USD during the presale. In the third phase, token prices will rise from the current stage's $0.0025 to $0.0032. In all, there will be 270 million tokens up for grabs over the three presale phases, each of which will release 90 million.
Check out RobotEra̧
Calvaria- Best Card Battle NFT Game of this year
In the realm of Metaverse-inspired blockchain gaming platforms, one of the greatest crypto gaming currencies is RIA, the currency used by Calvaria. Gathering NFTs, which stand in for playable characters in Calvaria, is necessary for entry into the game.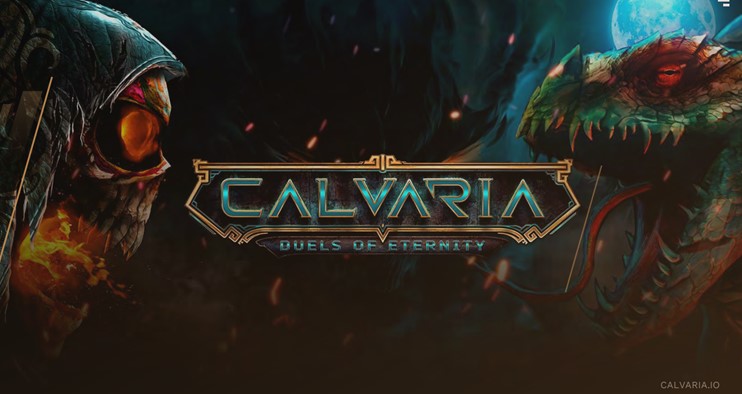 In these NFTs, players band together to create teams, with each member building a deck for the team to use. The winners of a battle on Calvaria receive RIA tokens as a reward.
When making an NFT purchase in the Calvaria in-app market, RIA is the necessary component. The value of the asset increases due to the fact that it is a proof-of-stake (PoS) currency. 
The staking of RIA grants holders the right to vote in elections held by the autonomous, decentralized organization Calvaria, and the possibility of increasing their holdings of RIA in the process (DAO).
Token holders can participate in the management of the game through the autonomous decentralized organization by staking RIA tokens (DAO). Developers of Calvaria have formed alliances with MEXC and LBank, two of the newest centralized exchanges on the market, in in order to list the commodity as quickly as the presale concludes.
You can buy RIA at a very cheap rate as it is in presale. Just under a month has passed since the asset's presale began, and thus far more over $1.5 million have been collected. RIA's presale will include 10 phases, during which time the token will be offered to investors in increments. Getting RIA on the presale will allow you to get it at a discount, making it a good invest for those looking for the cheapest NFTs.
Initial coin offering (ICO) price for RIA was $0.010, and the expected tenth and final stage IPO price is $0.055. It indicates that the potential return on investment for the first investors is above 400%. There is still time for investors to make a profit on RIA since the asset is in the fourth round of its presale and sells at a price per unit of $0.025.
Visit Calvaria Presalȩ
Tamadoge – Best Tamagatchi-Influenced NFT Game of this year
The Tamadoge token is the native cryptocurrency of the Tamaverse, a peer-to-peer (P2P) environment wherein players may monetize their gaming activities using tradable NFTs and TAMA. One of the most prominent crypto gaming coins, Tamadoge, carries the aesthetics of the best memecoins. You can use it to acquire Tamadoge pets like virtual dog-like avatars. These pets are used in tournaments held all across the city, with the top finishers earning TAMA as a result.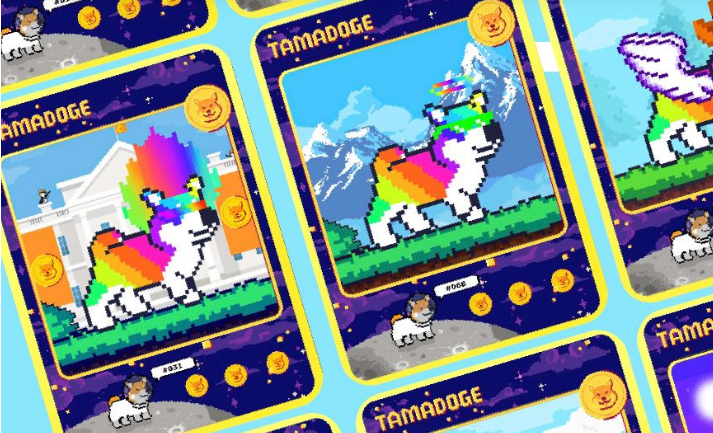 From a total of 2 billion TAMA coins, 1 billion were made available during the presale. In 2022, Tamadoge will be among the most successful cryptocurrency ventures thanks to its $19 million raised over a successful 8-week presale period.
The Tamadoge group is dedicated to continuous improvement, therefore in the coming years they want to introduce numerous more P2E ecosystems. In 2023, the platform intends to release an augmented reality Tamadoge app with the same P2E features as the website. Also in 2023, Tamadoge plans to release an arcade game featuring P2E gaming, rewarding top players with real-world Tamadoge swag, making one of the coolest NFT projects to come out this year.
You may now buy Tamadoge without creating an account on the OKX decentralized exchange. Tamadoge's quick growth in 2022 may make it one of the most liquid cryptocurrencies on the market as it gains exposure through further exchange listings. 
As of right now, one Token can be purchased for $0.0234, a drop of 2.90% in the previous 24 hours. It is available on markets such as MEXC, OKX, BitGet, BitMart, and XT.COM.
Buy Tamadoge Petş
Battle Infinity – Best Metaverse-Combining NFT Game of this year
Battle Infinity (IBAT) is a decentralized platform that allows gamers to earn money through the video game industry. 
All P2E operations on Battle Infinity are managed using the platform's own coin, IBAT. The IBAT Premier League is a National Fantasy Sports league where participants may earn GameFi opportunities.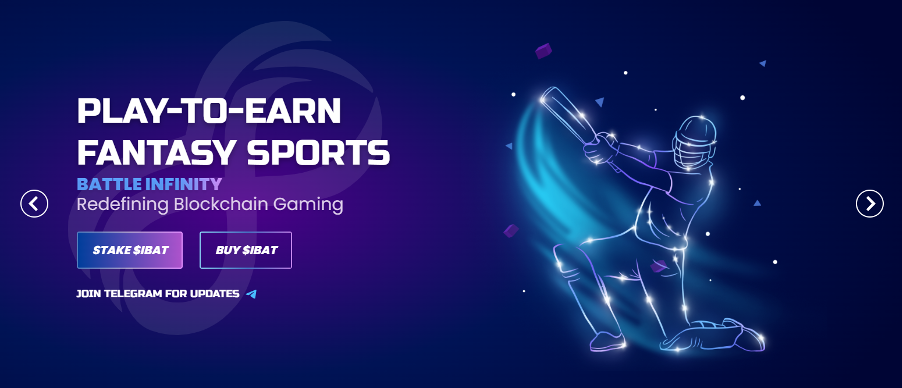 Battle Infinity is an excellent alternative to the dominant produce farming crypto platforms since it enables players to stake their money.
The Battle Arena exists in Battle Infinity, a popular cryptocurrency with its own Metaverse. Using the game's smart contract capabilities, both people and in-game assets may be produced as NFTs in this digital world. The Battle Market is the NFT shopping and leveling hub within the game world.
Due to the adaptability of its online crypto gaming platform, IBAT was able to complete its 90-day presale in just 3 weeks. After its first token listing on LBank, the most popular centralized exchange, IBAT has now been made available to the public (CEX). IBAT has swiftly risen to be one of year's most discussed digital currencies after a successful presale and following increase in token listings.
The price of one Battle Infinity coin has decreased by 5.17% during the past 24 hours, and now stands at $0.00236. PancakeSwap (V2), LBank, and MEXC are just few of the exchanges where you may buy this cryptocurrency.
Buy IBAŢ
Axie Infinity – Allowing Players to Buy Axies NFTs and Put them To Battle
In 2018, the Ethereum-based video game Axie Infinity was released. The game shares many design decisions with the Pokémon series, but the addition of blockchain technology makes for a more engaging experience overall.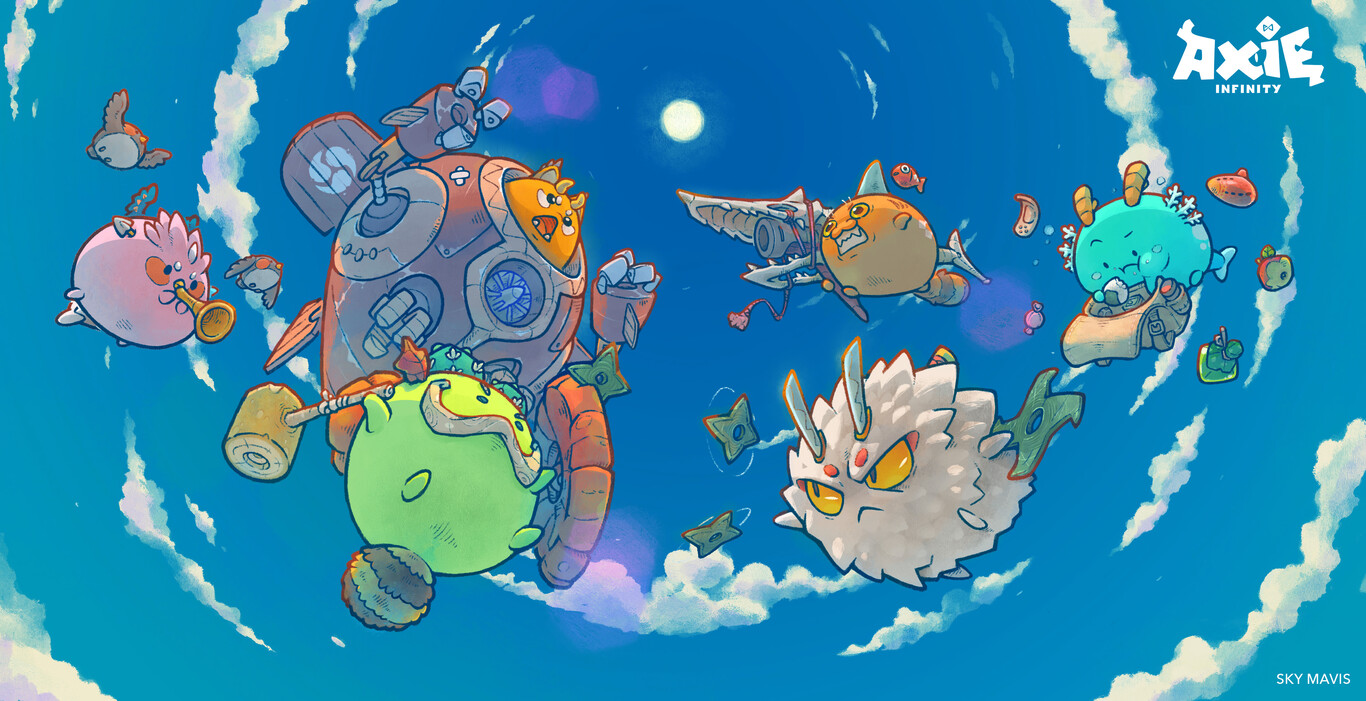 The goal of Axie Infinity is to breed and gather NFT pets known as Axies. The game's primary goal is for players to pit their Axies against the Axies of other players. Smooth Love Potion (SLP) is the game's native token and a real-world cryptocurrency that can be earned via gameplay. The traits and characteristics of an individual Axie NFT are reflected in its progeny.
Furthermore, Axies may be bought and sold in NFT marketplaces, with the value determined by factors such as scarcity and fundamental characteristics. Though, players will need to buy three Axies before they can begin Axie Infinity. The Axie Infinity Shards (AXS) governance token is staked in the NFT game to get prizes.
However, those who aren't keen on Axie Infinity's game-based earnings can still obtain exposure to the project by purchasing AXS tokens. The AXS token is readily available for purchase with a debit or credit card on major cryptocurrency exchanges like eToro.
The current price of Axie Infinity is $7.16, an increase of 1.32% over the previous 24 hours. BTCEX, OKX, Binance, CoinW, and MEXC are all places where you may buy this coin.
Buy AXS on eToro̧
Your capital is at risk
CryptoKitties – One of the Earliest NFT Games
CryptoKitties, which debuted in late 2017, was one of the earliest P2E games to enter this space. You may breed your own virtual kittens in CryptoKitties. CryptoKitties follows the trend of other play-to-win games in that each kitten is completely different and symbolized by an NFT coin.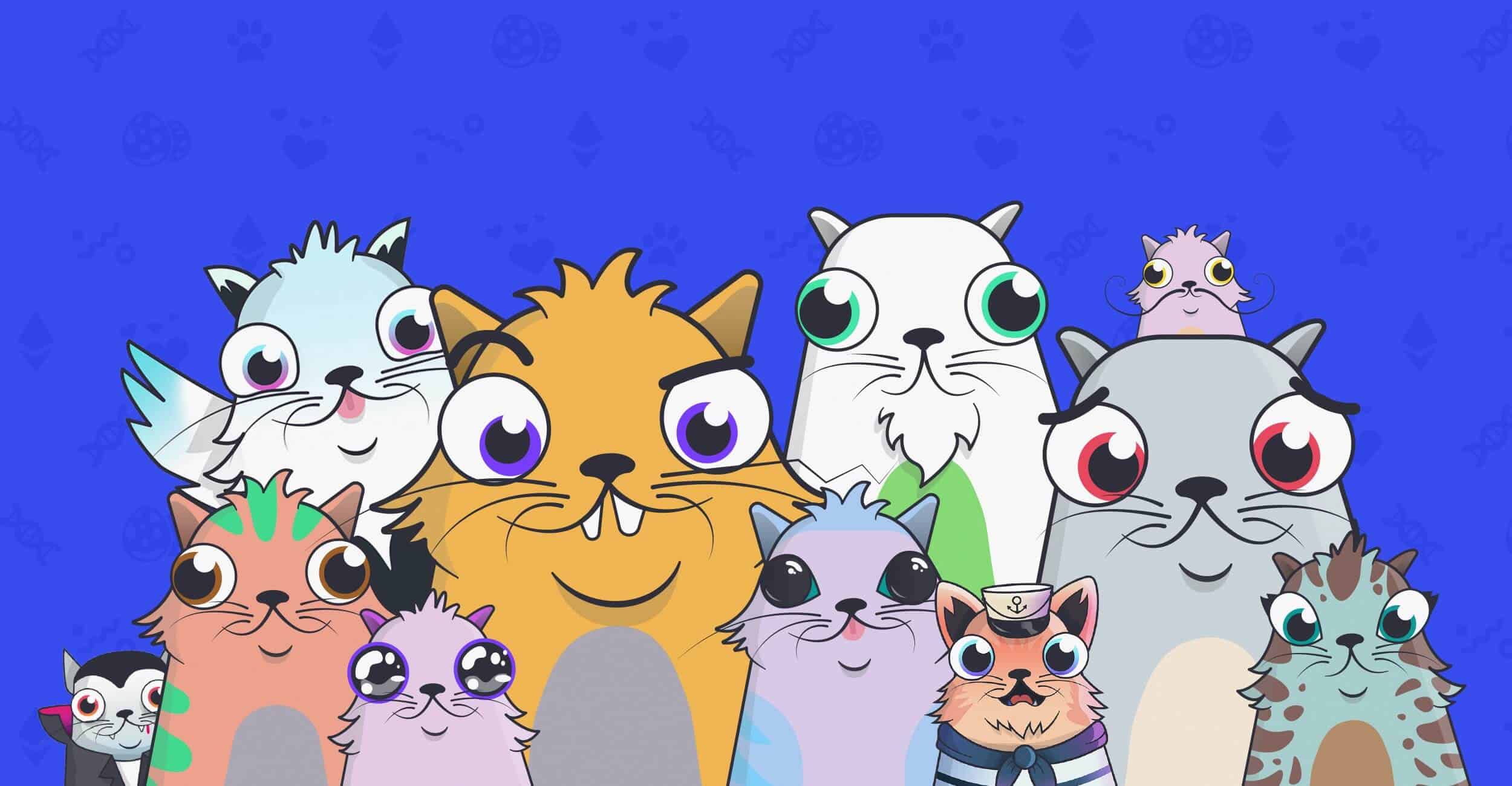 You may be in custody of a rare NFT based on the features of your CryptoKitties, which you may then sell on the open market. 
At the time of writing, one token is worth $80, down 0.44 percent from a day ago. CryptoKitties may be traded on Uniswap (V2) and Uniswap if you're interested in making an investment (V3).
Buy ETH for CryptoKittieş
Your capital is at risk
Decentraland – – One of the Biggest Metaverse NFT Projects
Decentraland is a 3D framework that makes it easy to produce, share, and earn money from one's own virtual reality content.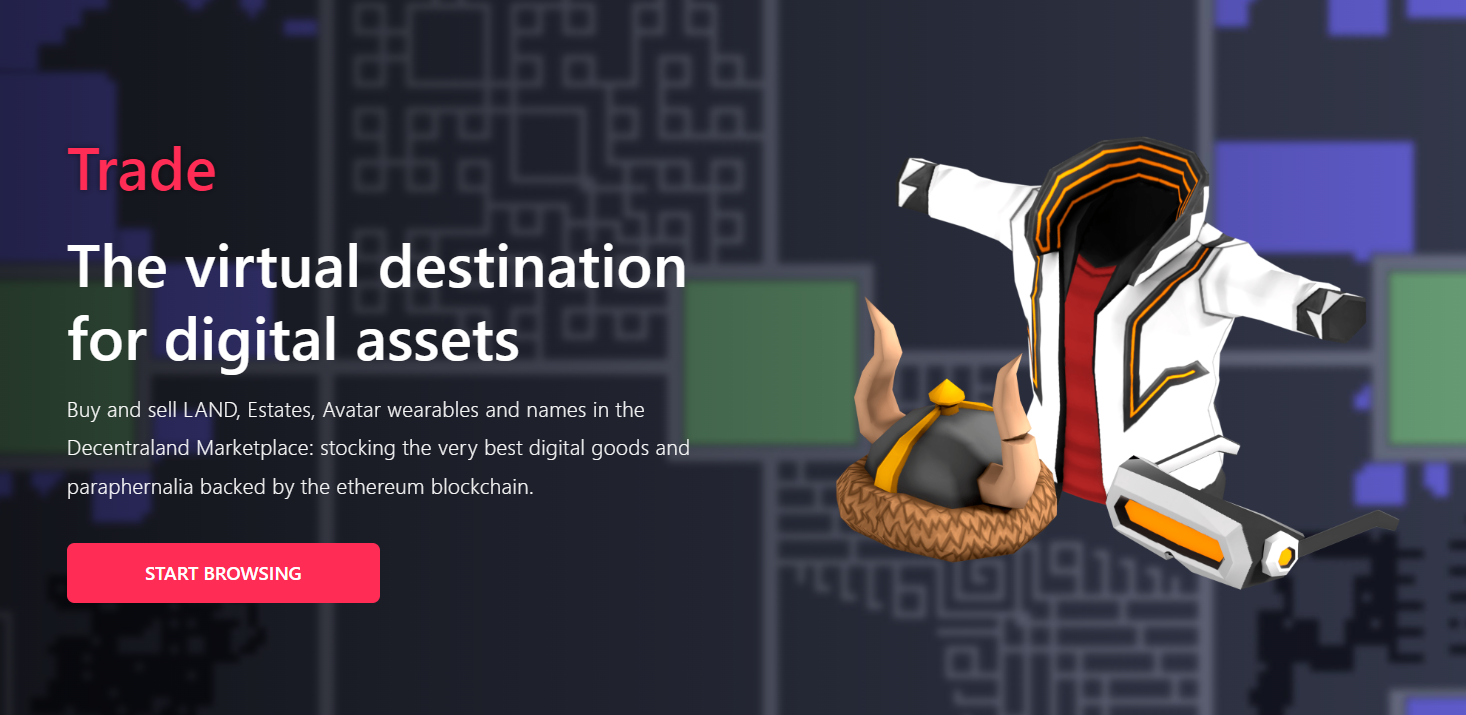 The website is a gathering place for people of all artistic backgrounds who are looking to share ideas and find support.
Native to the Decentraland ecosystem, MANA tokens are built on the MANA blockchain. For the site to function, all monetary transactions must be conducted using this digital money. 
Examples of such transactions include buying land, having a say in land related policy choices, and benefiting from tax breaks and other financial advantages.
Decentraland is a leading example of a blockchain-powered video game project. Holders of MANA control the platform and have access to features like property auctions and content censorship.
Several gatherings in the Decentraland Metaverse have attracted players curious about the Decentraland Metaverse virtual reality platform. If more people start using a cryptocurrency like MANA that was designed for usage in video games, the price will grow. 
The cryptocurrency is available on major exchanges such as BTCEX, Bitrue, Binance, CoinW, Deepcoin, and more, and it currently has a price of $0.41, down 3.03% in the past 24 hours.
Buy MANA on eToro̧
Your capital is at risk
The Sandbox – NFT Game Featuring Land Ownership and Brand Support
Released in 2011, the Sandbox is a blockchain-powered virtual world where users may create and exchange their own virtual commodities. Using decentralized autonomous organizations (DAOs) and non-fungible currencies, The Sandbox facilitates a thriving gaming community in a distributed setting (NFTs).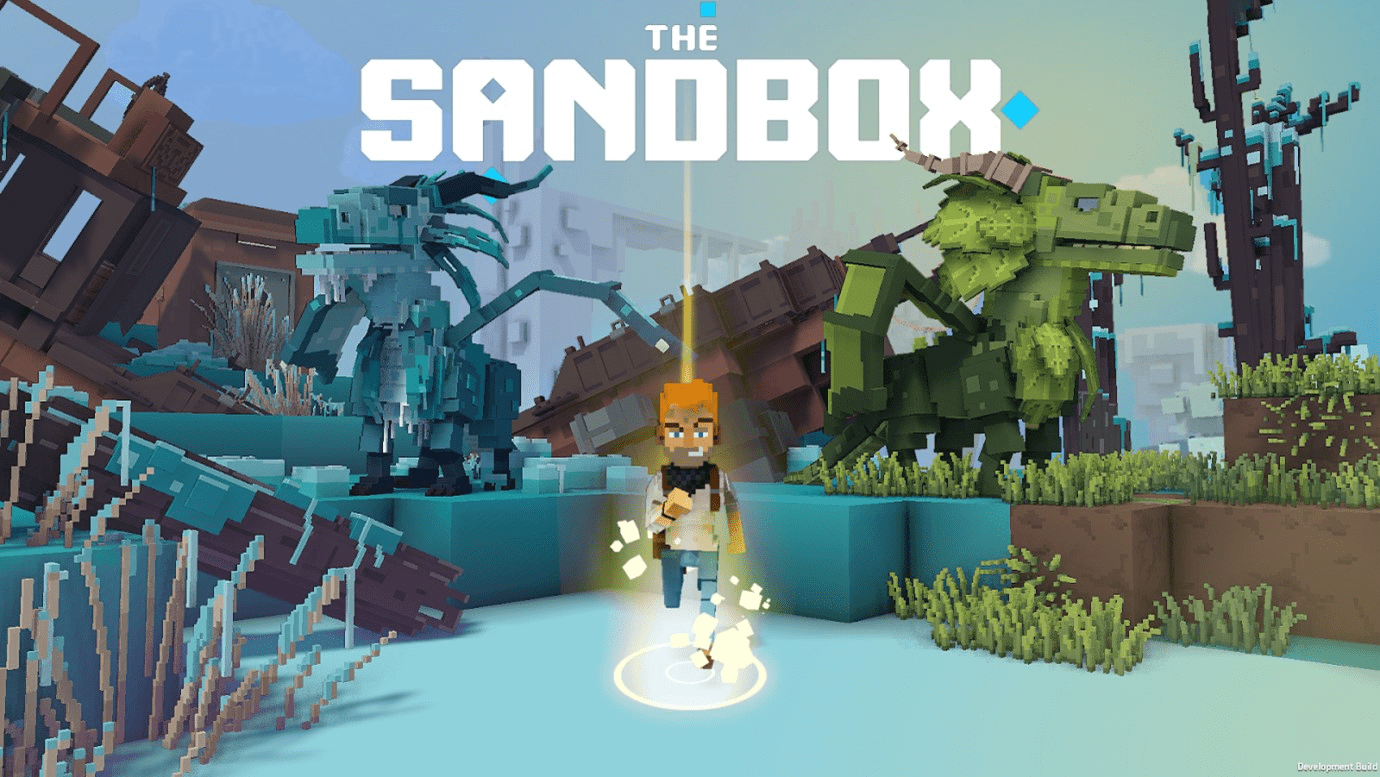 The Sandbox platform's major objective is to successfully integrate blockchain technology into commercial gaming. The fundamental purpose of this platform is to enable a play to earn model for content production, so users may both create and play on the same platform. 
The SAND native token, based on blockchain technology, facilitates commerce within the Sandbox itself. To introduce blockchain technology to the gaming industry, the Sandbox is one of the initial platforms of its kind. 
When Pixowl first considered blockchain technology in 2011, it envisioned a huge, untapped opportunity in the gaming sector. To cause a stir in the industry, the Sandbox offers a place where participants may create and amass blockchain-based assets. In doing so, it managed to carve out a certain niche in the global gaming industry.
The Sandbox inspires the development of original material from users, which in turn attracts a vibrant Metaverse of contributors. The SAND currency allows users to provide comments on the development of projects in the Sandbox and promotes decentralized administration. Decentralized governance has now become extremely crucial for all businesses to consider as blockchain technology evolves.
There was a lot of support for the company from the start, both public and financial, from major players in the video game industry. Among them are industry giants like Atari, Helix, and CryptoKitties.
The price has decreased in the previous day by 0.84%, to $0.58. Coins may be purchased using this currency on several markets, including MEXC, Binance, OKX, CoinW, and others.
Buy SAND on eToro
Your capital is at risk
What are NFT Games Exactly?
NFT games are the same as the old school games. Typically, completing stages or defeating enemies in previous games would result in the player receiving a reward of some sort. Prizes are awarded to players; however they cannot be claimed outside of the game.
Unlike traditional video games, participants of NFT and crypto games have the option of cashing out their winnings in bitcoin or transferring them to a different game.
At the moment, any gamer may gain access to in-game content. In the past, you either needed a lot of money or game experience to get your hands on certain items. NFTs may only be held by one player at a time.
The blockchain technology that underpins the creation of NFTs in video games may be used to verify the authenticity of an item. And this is the foundation upon which NFT video games are created. In-game economies allow users to generate money by trading and selling unique things.
Now, in addition to bragging rights, there might be a monetary incentive. You could, for instance, wish to equip yourself with the same armor as your gaming character of choice. You can only get this protection by purchasing the game.
Sure, you could get a copy, but then it wouldn't be the original, and its value would drop. Value is based on the assumption that some party will be willing to pay money for these NFTs components.
Since the world markets of blockchain-based games, cryptocurrencies, and video games are developing rapidly, there are many chances to make money in the blockchain and cryptocurrency businesses. NFT games are a revolutionary and effective marketing tool.
Together, they entice additional players and money into the game. The value of a game is based on the number of regular players. The value of a game is increased by NFT choices since they entice more players with more engaging alternatives.
Check out our list of the best P2E games to invest in.
What Are The Different Types of NFT Games?
There is a wide variety of NFT games available, so it should be possible to find one that meets your needs.
Examples of popular play-to-earn game categories include:
Battle NFT Games
The NFT gaming community overwhelmingly favors these titles. This implies that you will frequently face off against other players with the intention of beating them in order to get game tokens. In order to win in this particular NFT style of game, you'll need to beef up your in-battle strength and prowess. Doing so will put you in the greatest position to amass a substantial sum of virtual currency.
Card NFT Games
The original Pokémon card games are extremely similar to NFT card games. In this deck of cards, you'll find a wide variety of playable figures, each with their own set of advantages and disadvantages. In NFT games, your greatest strategy for winning is to use cards that have the highest attributes, since this gives you the ideal opportunity of beating other opponents and earning rewards.
Land Possession NFT Games
The finest NFT games often have prominent emphasis on land possession. That implies you can have virtual land holdings in the game itself, each of which will be reflected by its own unique NFT. Most P2E games also provide you the option to construct buildings on your property, which can raise its worth. These games are powered by the best metaverse cryptos that can sustain the in-game economy by tying them to real-world gains.
Animal NFT Games 
Animal NFT Games include CryptoKitties, in which players may mint their own unique digital kittens in exchange for cryptocurrency, and Tamadoge, which is based on the original Tamagotchi game and allows players to raise and combat their virtual pets for prizes. The list of top NFT games provides further information about these titles.
Mobile NFT Games
Some of the most enjoyable NFT games are available as smartphone apps. These have the potential to be the most lucrative for creators since players in any part of the world may participate. Just about anything can be done if one has a computer and access to the internet.
What Are The Benefits Of NFT Games As Opposed To Other Online Games?
In NFT games, both the participants and the investors benefit. As a publishing platform, NFT games have several benefits over their more traditional counterparts, such as:
The NFT game provides its users with a secure setting. With blockchain's advanced technology, you can trust on its reliability and safety. Transparency. The more an NFT's scarcity, the more its worth. The NFT Games. The blockchain system increases the worth of NFT by highlighting its scarcity and fostering more openness in digital transactions.
The opportunity to attract venture money game creators and owners are eager to attract VC funding by using blockchain-based gaming solutions because they see the sector's promise despite its youth.
All of a player's items are under their entire control in an NFT game. It's a good option because selling NFTs for bitcoin is possible. Owning something physical may be a stable revenue stream and an added motivation to participate in blockchain-based games.
If a lot of people download an NFT game, the creators of that game can make money off of a cut of the download cost paid by the players through the Play Store or the App Store. Publishers' income is impacted by the total number of downloads. In-game purchases, holiday and event sales, and limited-time offers are additional revenue streams for game creators.
NFTs may be subject to a transaction fee when purchasing, selling, or trading by individual players. Keeping a healthy profit margin requires this kind of transaction to occasionally entail a lot of money.
Conclusion
Money may be earned while having fun using play to earn crypto games and the best NFT games, which has created a huge user base. Because of that rising tide of players interested in NFT games, more and more studios are including cutting-edge features in their ecosystems, paving the way for players to acquire tangible benefits.
RobotEra, with its innovative mix of NFTs, play-to-earn mechanisms, and the Metaverse, is one of the most exciting newer-generation free-to-play games to watch. Early investors can save money by visiting the RobotEra presale page.
There are a number of exciting new blockchain gaming initiatives, like Calvaria, and the community would be wise to look into investing in them immediately. Since tokens for these projects are now selling at historic lows and can be bought in bulk at steep discounts, now could be the best moment to get started.
Dash 2 Trade (D2T) is also one of the presales that you should think about investing in. D2T is a crypto analytics platform for traders that use a set of sophisticated tools to help you discover lucrative cryptocurrency opportunities much before other investors can get them. This also includes native tokens of NFT games. 
Visit RobotEra Presale
Related articles
FAQs on NFT Gaming
What Are P2E Crypto Games?
Which Is The Next Big NFT Game?
RobotEra is the best NFT game of the future since it provides a wide variety of options for both players and investors. One more is Tamadoge, where users mint a new kind of currency (NFT) to generate a virtual pet with their own unique characteristics. Then, they may engage battles against other players' virtual pets for the opportunity to collect Tamadoge tokens.
Can You Earn Real Money Playing NFT Games?
The primary appeal of NFT games is the possibility of winning tangible prizes. In nearly all situations, NFT games use their own native token as the medium of exchange for winnings. In order to convert the tokens into fiat currency, they must first be traded for other cryptocurrencies, such as Tether.
How Do I Find New NFT Games?
The easiest method to keep track of forthcoming NFT games is to stay abreast of the latest news, since new NFT games are routinely debuting both as standalone projects as well as on an established Metaverse like Decentraland.
Are There Any Free NFT Games?
There are a plethora of free-to-play NFT games available nowadays. Getting started on the site is easy; all users need to do is link their cryptocurrency wallet so they can play games and earn prizes. Be aware, nevertheless, that the most affluent gamers in the NFT sector are prone to making in-app purchases. This, however, is not required.
Dash 2 Trade – High Potential Presale
Active Presale Live Now – dash2trade.com
Native Token of Crypto Signals Ecosystem
KYC Verified & Audited