6 Best Solana Meme Coins To Buy In 2023


The Solana ecosystem is highly popular for hosting innovative crypto projects, including meme coins.
In this guide, we will take a look at the top 6 Solana meme coins and mention all the factors you should be looking at before getting started with any of them.
Best Solana Meme Coins To Buy In 2023
Here is a list of some of the best meme coins that you can find on Solana:
Bonk (BONK) – Bonk is recognized as the most successful meme coin on Solana, generating gains of over 4,000% since its launch in January 2023. While most of the gains have been depleted, Bonk still showcases a 45% increase in its last 7 days, making it an intriguing project for investors.
Samoyedcoin (SAMO) – After hitting the market in 2021, SAMO has emerged as one of the top meme coins on the Solana network. It is widely regarded as one of the fastest, most efficient, and eco-friendly dog-themed meme coins on Solana.
SHIBONK (SBONK) – As one of the lowest-valued meme coins on Solana, SHIBONK has gained over 160% in the last 30 days. With a market capitalization of $579,014, it presents an opportunity for investors looking for potential growth in the Solana meme coin market.
Moonlana (MOLA) – Moonlana distinguishes itself by prioritizing utility and functionality. With LanaDex, a decentralized exchange, LanaTools, a charting platform, and Lanamon, an on-chain tipping bot, Moonlana offers a comprehensive suite of features to enhance the Solana ecosystem and drive value for its community.
Fronk (FRONK) – Fronk stands out among Solana meme coins due to its commitment to fair distribution. With 45% of the token supply allocated to contributors like DeGods, Fronk aims to rectify biases and promote equality within the ecosystem.
SolDoge (SDOGE) – Established in 2021, SolDoge is a Doge-themed meme coin on Solana. With a dedicated community, SolDoge aims to empower builders, expand integrations with payment providers, and launch an NFT collection (BONES) to enhance user experiences.
How Do Solana Meme Coins Work? 
Developers choose to launch their meme coin projects on the Solana blockchain because of its speed and scalability. There's no doubt that Solana is one of the top ecosystems that can process over 1,000 transactions per second, courtesy of its web-scale blockchain features.
Meanwhile, Solana-based projects are usually targeted at investors with a large risk appetite and those who are looking to make exponential gains within a short period of time.
Solana meme coins operate pretty much the same as other meme coins. Meme coins based on the Solana network are targeted at speculative investors. Don't forget that the hype and community support around a particular meme coin is significantly responsible for driving its price.
With that being said, it's impossible for all the projects on Solana to thrive. As much as the network can help provide a strong foundation for a meme coin project, it is up to investors to choose a project that they think is likely to succeed. In recent years, we have witnessed huge investments in meme coins, particularly by the YouTube and Reddit crypto crowd.
Meanwhile, investors must know when to get in and when to cash out. The best strategy is to diversify your portfolio and invest in multiple meme coin projects to mitigate the losses and eventually make profits.
To do that, investors must be aware of the latest trends in the meme coin space, and here are a few projects that investors shouldn't overlook.
Best Solana Meme Coins To Buy Now – Full Review
We scrutinized all the meme coins that are hosted on Solana and selected the best ones among them. While we believe there are several projects outside this list, the ones we've covered have the potential to yield massive gains for early investors.
1. Bonk (BONK) – Most Successful Meme Coin In The Solana Blockchain

Built on Solana, Bonk aims to be a faster and cheaper alternative to Ethereum, utilizing a combination of PoH and PoS consensus models. It is regarded as the first dog-themed crypto on Solana. Its launch in December 2022, resulted in an increase in the price of SOL, the native token of Solana.
According to our findings, the major goal of Bonk's team is to return liquidity to Solana-based decentralized exchanges. It is believed that Bonk has the potential to become a community crypto that will be harnessed on all dApps that are built on the Solana ecosystem.
Without a doubt, Bonk is another top project to watch out for as it has been attracting great attention from meme coin enthusiasts.
In reaction to the noticeable market attention, Bonk has soared massively in the seven days, going as high as 66%. The remarkable run in the last seven days is a continuation of a massive upturn recorded by the meme coin in recent times. In the last 30 days, Bonk outperformed most cryptocurrencies by recording a 1,990% price rally.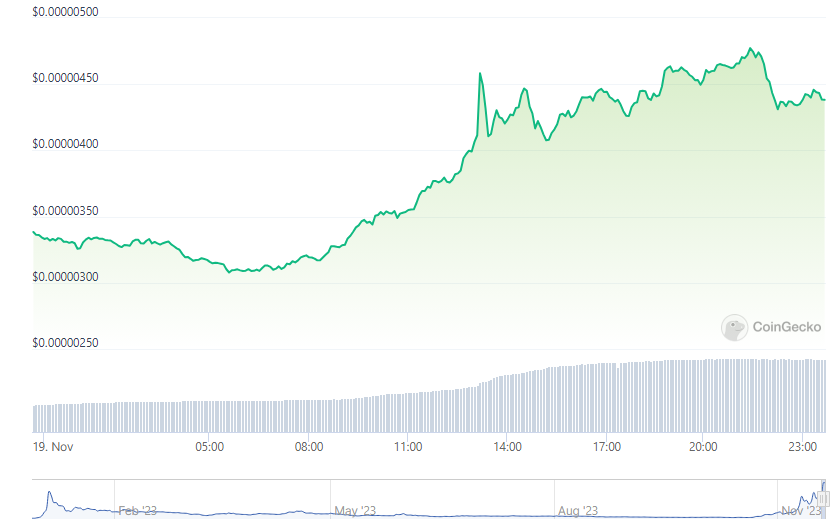 Hence, the significant upturn made the token one of the best-performing crypto assets in the market. In the last 24 hours, Bonk netted a trading volume of $60 million as its market cap presently sit at $201.3 million.
With over 30% surge in the last 24 hours, Bonk has become one of the top under $1 coins to buy now.
Read more about other under $1 cryptocurrencies to buy this year.
Meanwhile, Bonk has been listed on well-known crypto exchanges, like Bybit. Hence, interested parties can visit the exchange to get started with the meme coin.
Buy Bonk Now
2. SamoyedCoin (SAMO) – Eco-Friendly Meme Coin
Samoyedcoin is one of the tokens that have taken the crypto world by storm. It swiftly matured from an experimental meme coin to a well-established project. The token came into life in 2021 as an attempt to educate, promote, and support the Solana ecosystem. Meanwhile, SAMO aims to be the ambassador and one of the major drivers of the Solana ecosystem.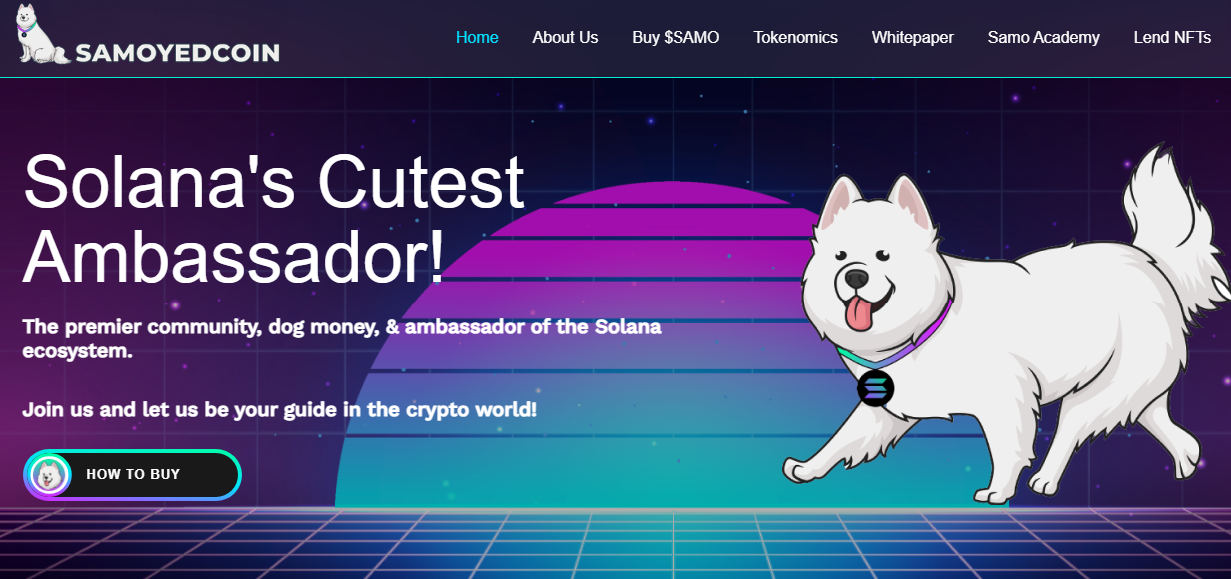 The token is one of the earliest meme coin projects on Solana. To an extent, this helped the token to enjoy huge market attention due to the lack of competition. SAMO is widely regarded as one of the fastest, most efficient, and eco-friendly dog-themed meme coins on Solana. In addition, it has managed to maintain its good reputation by providing market participants with a simplified way of how Solana works.
In the last seven days, SAMO has strived to maintain a solid price in the market. Presently, SAMO is trading at $0.00767600 which represents a 129.77% upturn in the last thirty days.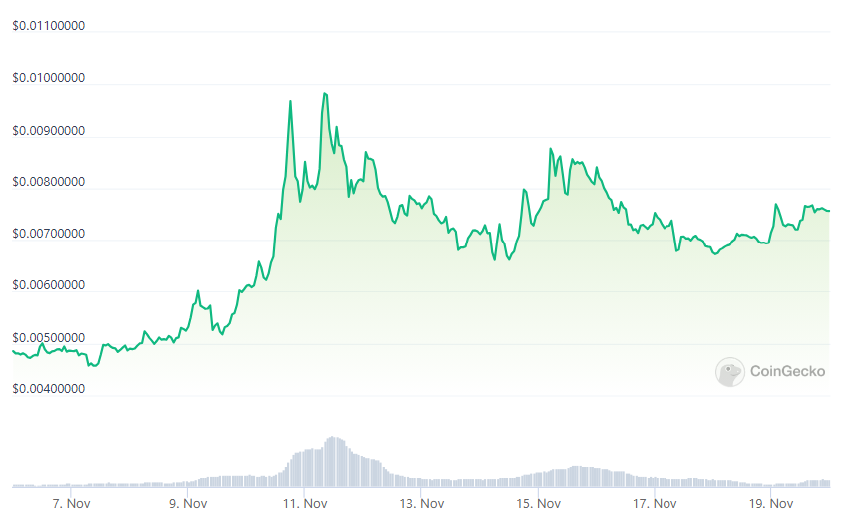 Also, the token's market cap is nearing a massive $30 million with a $2.3 million trading volume in the last twenty-four hours. These pointers are clear enough to establish SAMO as one of the best Solana meme coins to invest in.
Buy Samoyedcoin Now
3. SHIBONK (SBONK) – Most Trending Meme Coin On Solana
When exploring the collection of Solana meme coins, it's wise to keep an eye on trending projects that have demonstrated impressive growth. Among these projects, SHIBONK stands out, having achieved a remarkable surge of more than 160% in the last 30 days.
Launched in January 2023 with an initial price of $1.39, SHIBONK has quickly captured the attention of investors seeking potential opportunities in the meme coin market. Its upward trajectory signals a growing interest and positive sentiment surrounding the project.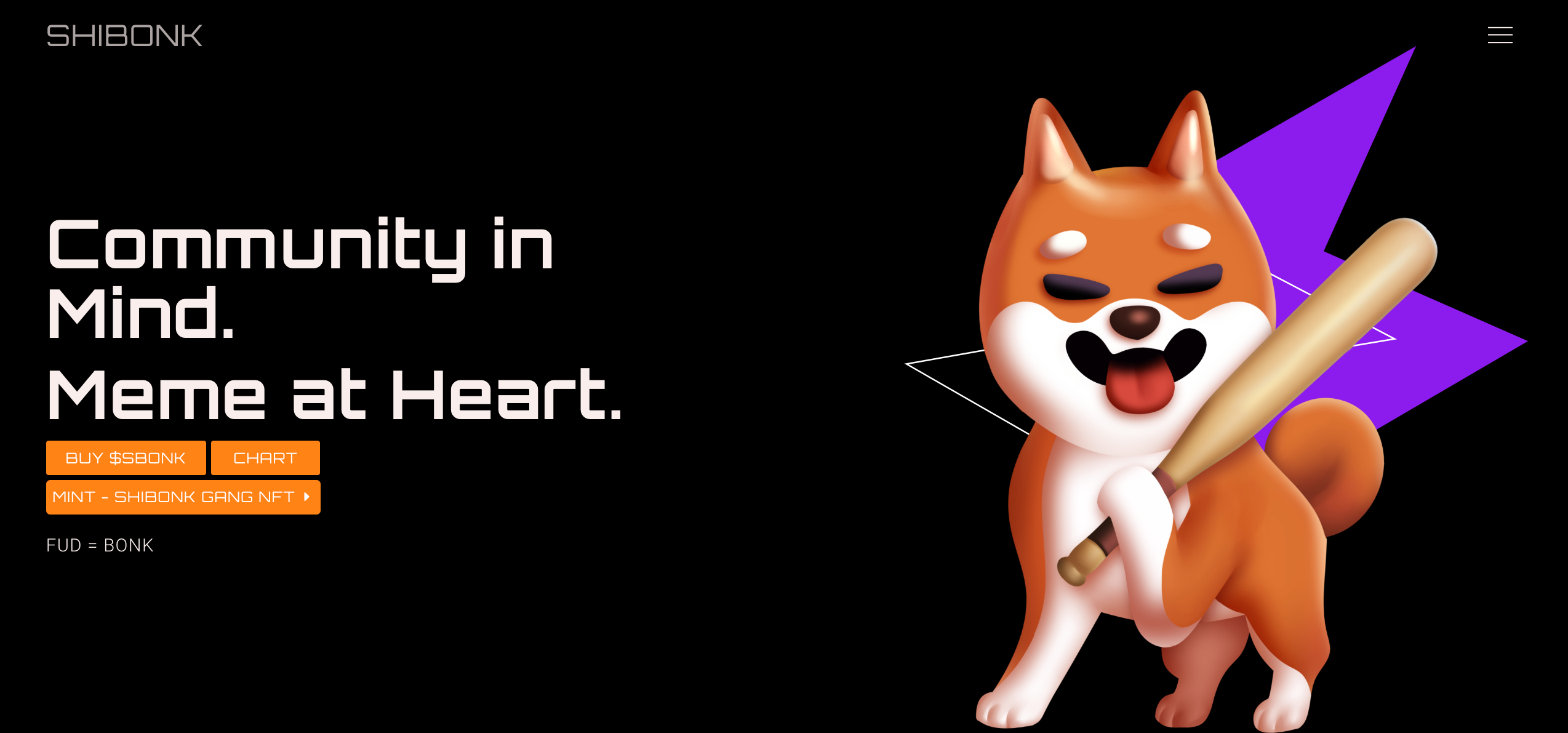 SBONK is the token behind the project, and it is currently trading around the price range of $1.71, according to data from Coinmarketcap.
Unlike some of the top-listed meme coins on this list, Shibonk hasn't enjoyed much inflow of investment. Presently, the market cap of the coin is significantly low as it only commands $570,317. Also, the daily volume of the Solana-based meme coin stands at $10,499 as of press time. The figures underline how Shibonk has been struggling to enjoy the attention of meme coin lovers.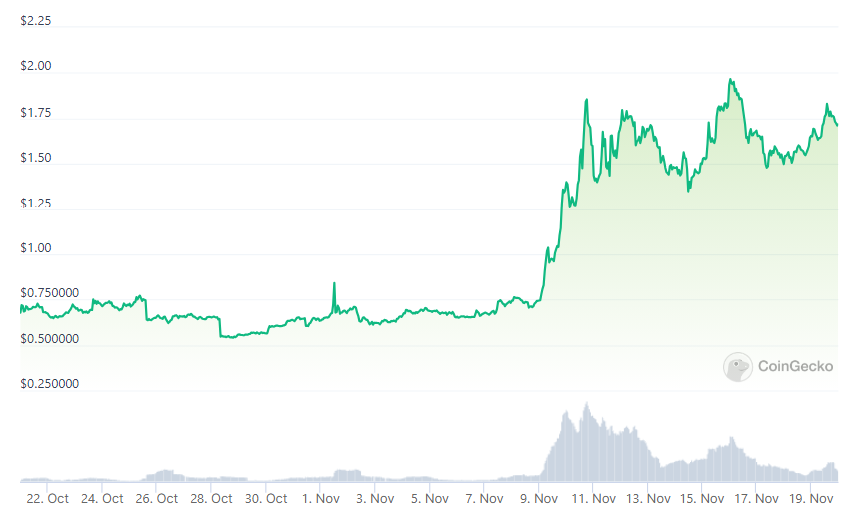 Nonetheless, there are promising signs about the token. In the last seven days, Shibonk has soared by 3.65%, a development which established that the token is outperforming some of its peers. In the last 30 days which runs to October, Shibonk rallied by 166%. There is more to come from the meme coin that has shown early signs of recording good returns.
Since low market cap tokens present themselves as the best candidates for exponential gains, it won't be surprising to see more influx of investments in Shibonk before the end of the year. Additionally, a surge in trading volume indicates the growing interest in the token, suggesting that now is the best time to add it to your portfolio.
Check out our guide to discover other notable coins to buy now.
4. Moonlana (MOLA) – Meme Coin With Several Offerings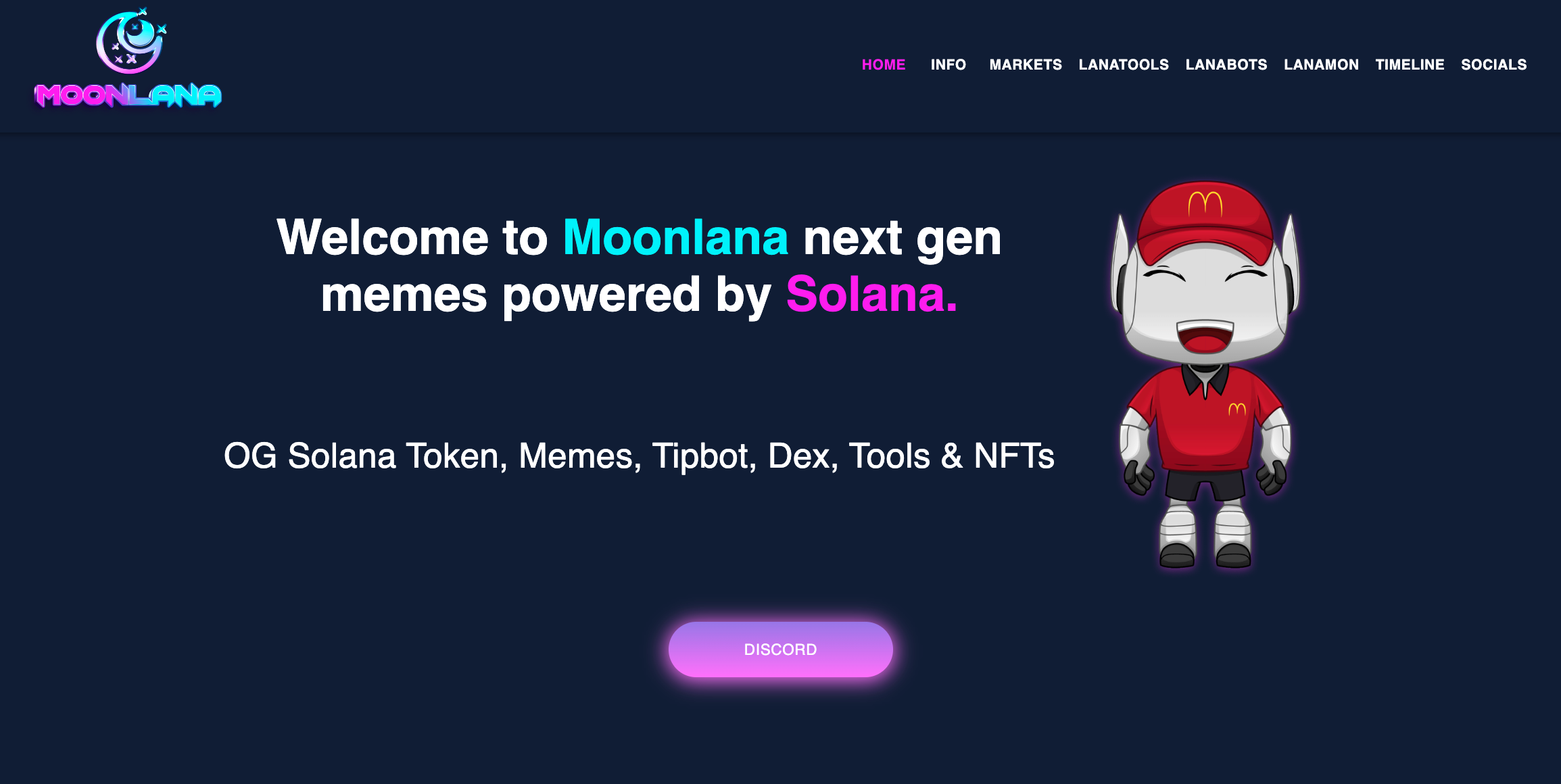 Moonlana is not an average meme token. This unique project goes beyond the meme hype by prioritizing utility and functionality. With a focus on the Solana ecosystem, Moonlana offers a range of innovative features to enhance user experiences and drive value for its community.
At the heart of Moonlana is LanaDex, a decentralized exchange (DEX) built on the Serum API. LanaDex provides seamless trading with its own charts, logos, and purchasable NFTs. What sets it apart is that fees generated from trading on LanaDex are used to buy back the project's token, $MOLA, and burn it. This deflationary mechanism has the potential to increase the token's value over time.
Moonlana is also developing LanaTools, a charting platform designed for Solana tokens. This platform will offer advanced features such as price alerts, pool exploration, liquidity tracking, and token holder insights.
Furthermore, Moonlana introduces Lanamon, an on-chain tipping bot for the Solana ecosystem. With Lanamon, users can easily tip and give away tokens, fostering engagement and interaction within the community.
Through full community engagement, Moonlana rewards and recognizes those who contribute to its success. This collaborative approach creates a vibrant and united community working together to achieve common goals.
Moonlana stands out in the meme token space by combining utility, a decentralized exchange, charting solutions, on-chain tipping, research and development, and community engagement. It aims to provide users with a comprehensive and dynamic experience within the Solana ecosystem while driving value for its token holders.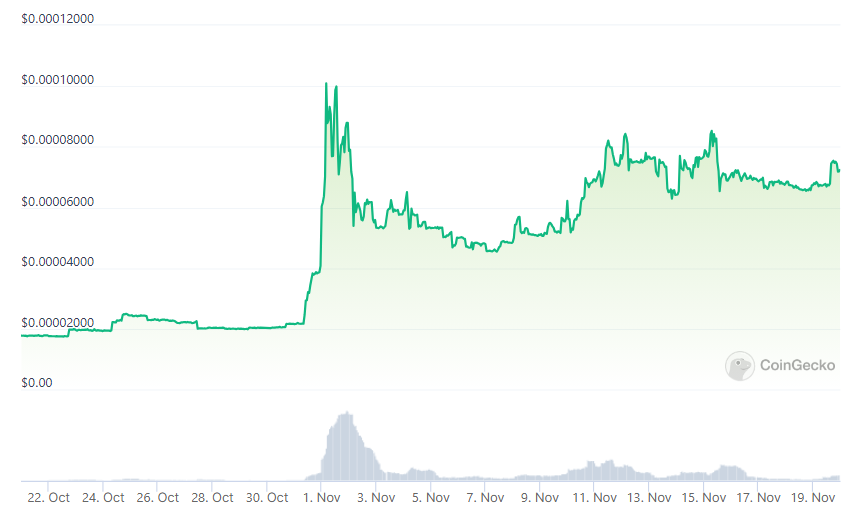 Despite witnessing a 10.50% dip in the last 7 days, we still consider Moonlana a worthy investment because of its overall performance in recent weeks. Towards the end of October, the meme coin kick-started a remarkable rally which propelled a noticeable upturn of 283.10% in the last 30 days. The noticeable run made it one of the most sought-after cryptocurrencies in the market. Meanwhile, the meme coin has hit $1,896 trading volume in the last 24 hours.
5. Fronk (FRONK) – Meme Coin Project With A Vision For Fair Distribution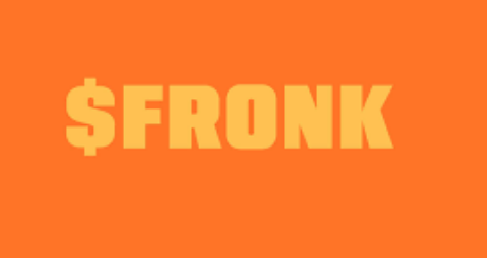 If you're looking for low market cap tokens based on the Solana blockchain, don't look any further. FRONK claims to have emerged as a response to injustice within the Solana ecosystem. Recognizing the importance of fairness and inclusivity, the project aims to rectify any biases and ensure that no one misses out on rewards unjustly.
A significant portion, 45% of the FRONK token supply, is allocated to individuals who did not receive BONK. This distribution is intended for those who have made valuable contributions to the growth of Solana, such as DeGods, y00ts, Okay Bears, and Cets on Creck holders. By acknowledging their efforts, FRONK seeks to promote equality and recognize the contributions of all participants in the ecosystem.
Despite being one of the top Solana meme coins, Fronk has left investors with a bittersweet experience in the last 30 days. Despite seeing a surprising 313.62% upturn, becoming one of the best-performing meme coins, Fronk has dropped by 27% in the last 7 days. The recent dip highlights the prevailing market struggles of the meme coin.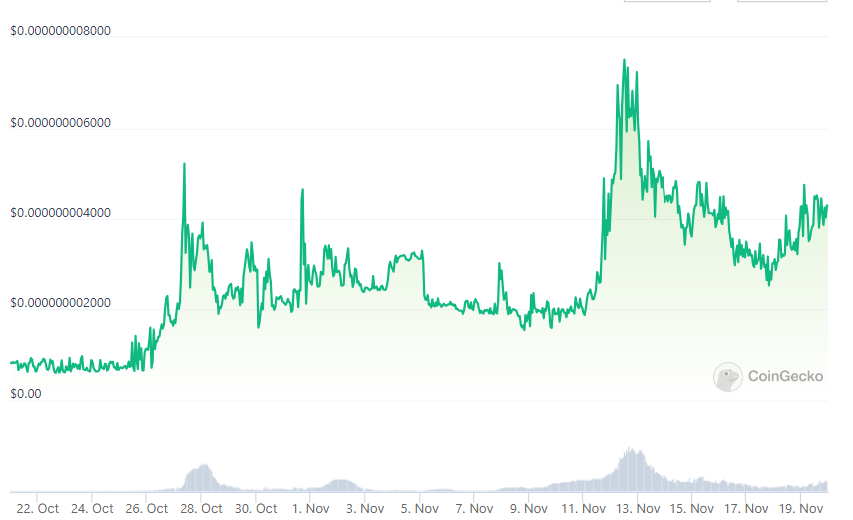 Nonetheless, there are emerging pointers that the token will yield good returns soon. Crypto enthusiasts are coming together to establish a formidable community for the token and this development could trigger a good market run for Fronk.
6. SolDoge (SDOGE) – Fully Community Owned Meme Coin With A Doge Theme
SolDoge emerged as a prominent Doge-themed meme coin on Solana in 2021. With its enduring presence and dedicated community, it has established itself as one of the leading SOL meme coins.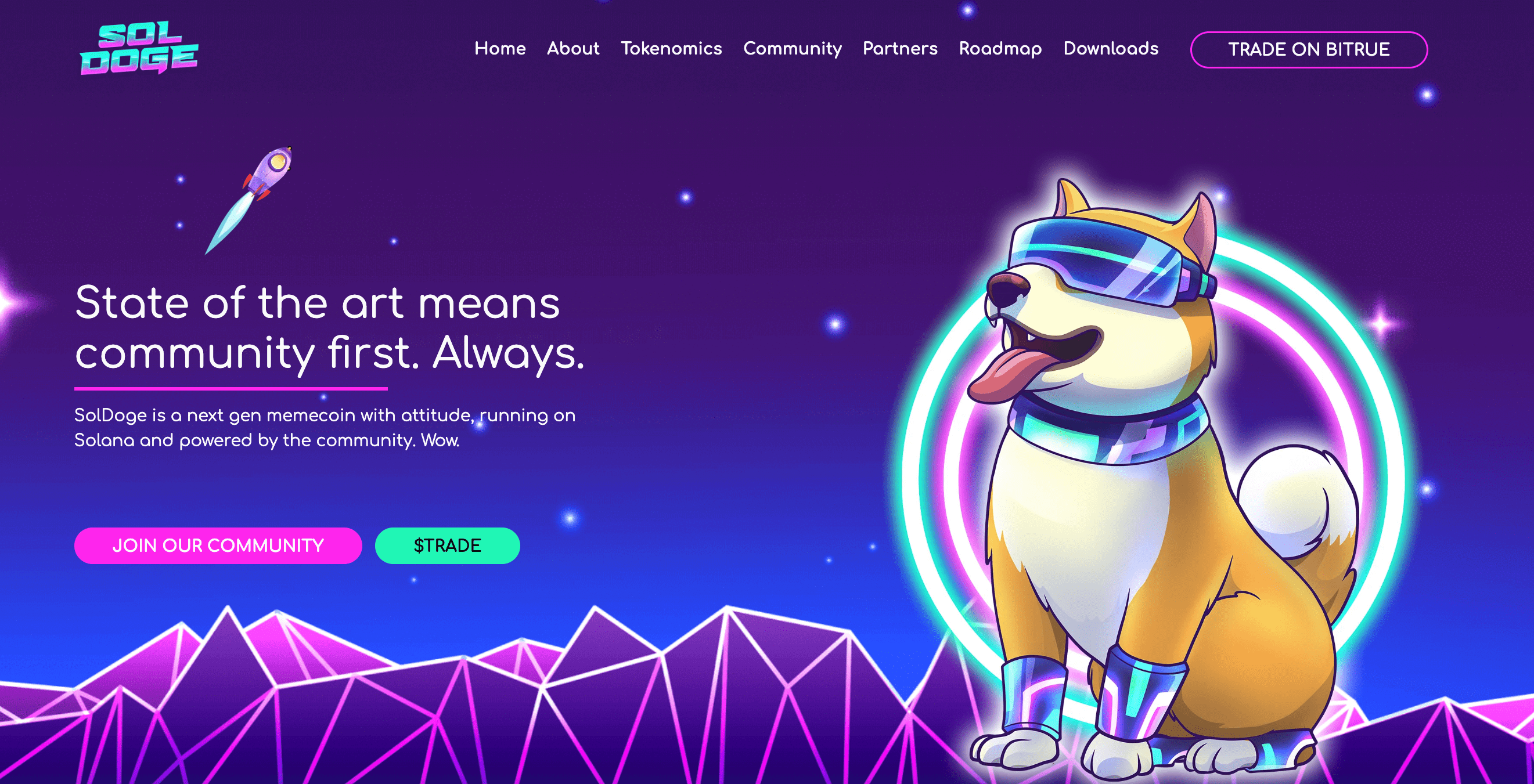 SolDoge is one of the promising meme coins on Solana. The token is showing flashes of replicating the significant upturn it enjoyed early this year. In the last 30 days, SolDoge has soared by 129%.
Although the token has dipped by 23.3% in the last 7 days, it is still considered one of the most attractive meme coins in the market. As of now, the current price stands at $0.00002369 per SDOGE. The current market capitalization of SolDoge is $260,488 with a trading volume of $3,184 in the last twenty-four hours.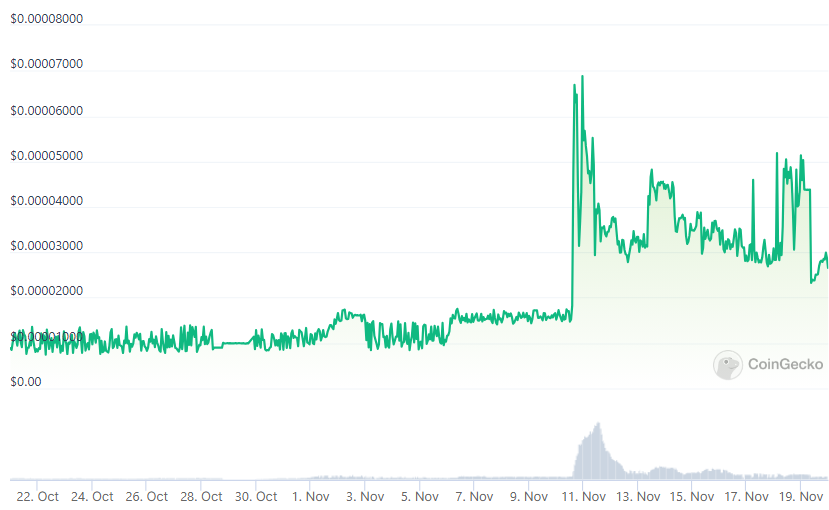 Since October, SolDoge's price movement has displayed some volatility, with a modest overall gain followed by a sharp decline in the short term. At its current price, SolDoge presents an opportunity for potential investors or traders to enter the market at a relatively lower price point compared to its historical peak.
As per its website, the project aims to foster a lively community, empower builders, list SDOGE on various trading platforms, expand payment provider integrations, and launch an NFT collection (BONES) to establish a DAO and explore gamification and the Metaverse. Investors who find these prospects appealing can definitely consider investing in the token.
Also, check out the list of the most lucrative cryptocurrencies this year.
Ranking The Best Solana Meme Coins – Our Criteria
Here are some of the best factors to consider when selecting a Solana meme coin.
Hype And Adoption
The level of adoption and hype surrounding a meme coin is one of the critical factors to consider while making your decision. This is because the level of hype surrounding a meme coin has a significant impact on its value and potential returns.
A strong hype can create a strong demand and attract new participants, driving up the price and liquidity of the meme coin, further fueling its adoption. A meme coin that gains widespread adoption has a higher chance of success.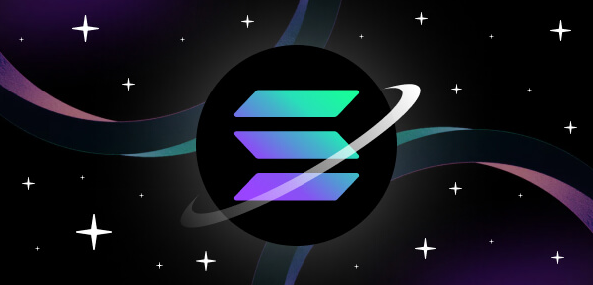 Adoption involves the integration of the meme coin into real-world applications, platforms, or communities, increasing its practical use and value. The more individuals, businesses, or projects accept or utilize the meme coin, the greater its potential for growth and sustainability.
Tokenomics
The tokenomics of a meme coin is vital to its long-term success. Ideally, the larger the proportion allotted to investors by the team behind a project, the better a token is likely to perform.
Some memecoins built on the Solana blockchain employ airdrops as a distribution method. These airdrops often reward individuals who have actively contributed to the Solana community, fostering a sense of engagement and participation.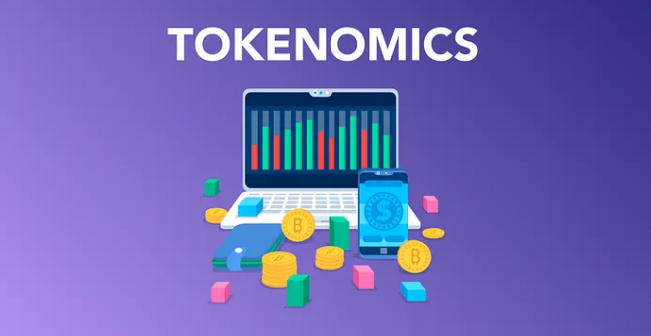 However, airdrops can pose a threat to the stability of a meme coin upon listing, since many users choose to cash out their holdings, causing a massive decline in price.
Check out our list of the best crypto airdrops in the market.
Token supply is another factor that plays an important part in dictating the price of the token. More so, if the design is inflationary, developers have the ability to continuously generate new tokens, which can dilute the value of existing token holdings, impacting the investment's potential.
Tokens with a fixed supply, or a deflationary mechanism- where a portion of tokens is burned at intervals to increase the token price, often tend to be more stable and profitable over the long run.
Investors should note that some meme coins allow token holders to participate in decision-making through voting mechanisms, enabling community involvement in protocol upgrades and governance matters. Naturally, the more control you have, the better hedge you have against your investment.
Community
Continuous and strong community support is vital for the success of a meme coin project. The community acts as the backbone, driving awareness, adoption, and liquidity for the memecoin.
A passionate and engaged community can generate hype, attract new investors, and foster a sense of trust and credibility. They contribute to the development of the project by providing feedback, suggestions, and even participating in governance decisions.

Furthermore, a strong community can defend against negative market sentiments and help weather price fluctuations. Ultimately, the success of a meme coin project heavily relies on the ongoing support and commitment of its community members.
Is Solana A Good Network for Meme Coins?
Meme coin projects are generally launched on major blockchains, with Ethereum as their first choice. But while that's the case, an increasing number of projects have been migrating or expanding to Solana, and here are all the factors driving the decision.
Scalability
Solana's blockchain is renowned for its impressive scalability, capable of handling thousands of transactions per second. This high throughput is essential for meme coins that often experience surges in trading volume during periods of hype and viral trends.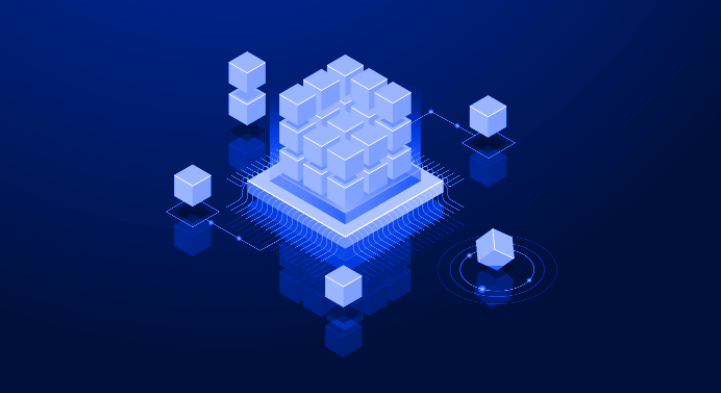 With Solana's scalability, meme coin investors can transact effortlessly and efficiently, ensuring smooth trading experiences and minimizing network congestion.
Low Transaction Fees
Meme coin enthusiasts appreciate Solana's network for its low transaction fees. The network has a native token, SOL which serves as the instrument through which transaction fees can be paid. The token is available on prominent crypto exchanges, including, Bybit, eToro, and Binance. For more information, read our guide on how to buy Solana safely this year.
The cost-effectiveness of Solana's blockchain makes it an attractive choice for meme coin communities, allowing users to freely trade and transfer tokens without incurring significant fees.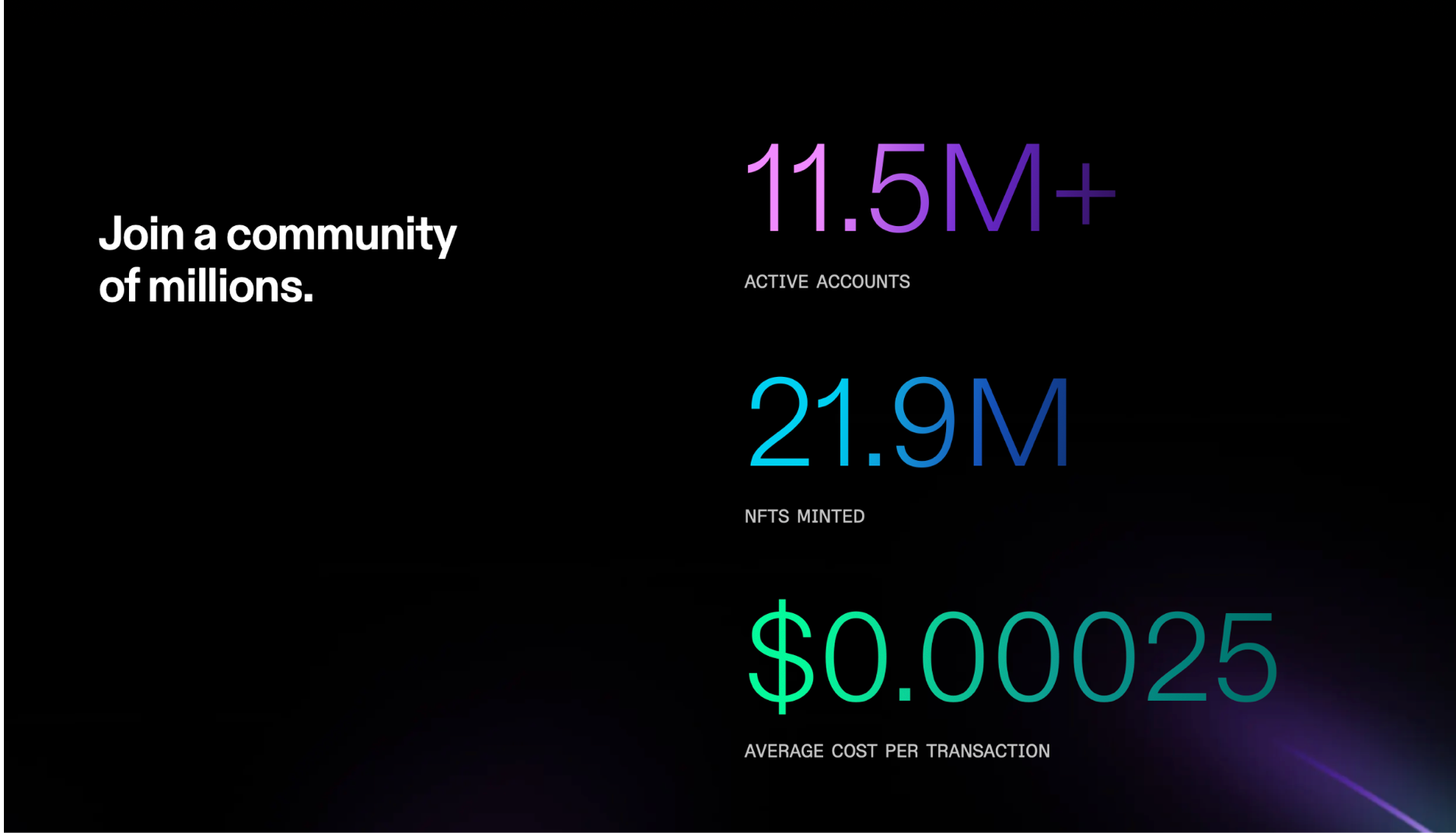 This affordability fosters widespread participation and liquidity, enabling meme coins to flourish within the Solana ecosystem. This is particularly impressive because other major blockchains, such as the Ethereum blockchain, often undergo network congestion where the gas fees climb through the roof, making it difficult for an average investor to make a transaction. Solana's low transaction fees ensure that investors never have to face such a problem.
Buy SOL Now
Ability To Confirm Transactions Very Fast
With near-instantaneous transaction finality, meme coin transactions on Solana are confirmed in no time, reducing waiting times and ensuring seamless transfers.
This efficiency enhances user experiences, boosts liquidity, and facilitates real-time reactions to market trends and a thriving meme culture.
Developer-Friendly Environment
Solana provides a developer-friendly environment that empowers meme coin projects to innovate and create unique features. The platform offers comprehensive documentation, user-friendly tools, and robust support, making it an ideal choice for meme coin developers.
This developer-friendly ecosystem enables meme coin projects to leverage Solana's scalability and speed, resulting in enhanced performance and seamless user interactions. At the same time, developers willing to venture into the crypto space find Solana to be the perfect playground to make an impression. Naturally, the growing number of projects on the blockchain helps the ecosystem grow and gain further adoption.
Meme Coin Staking
Solana works on a proof-of-stake consensus mechanism, where tokens on the blockchain can be staked, and investors can earn a passive income from their investments. Not only does this help for an efficient operation, but it also makes an impressive selling point for investors who wish to earn from their meme coins beyond gains from the price increase.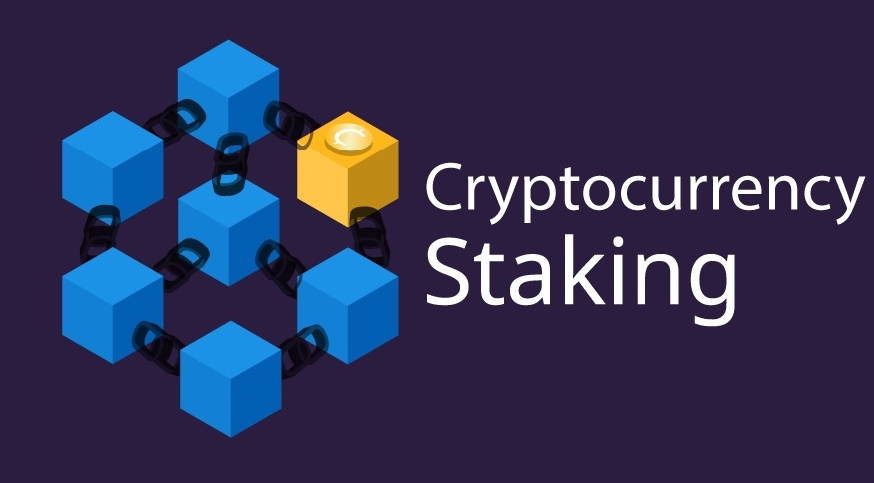 The Solana-based projects we've mentioned either offer staking at the moment or soon plan to offer staking. Investors should always be on the lookout for tokens that offer the highest APY and feature a no-locking period. This means that investors can unstake their tokens anytime they please.
For more information, check out our guide on the best proof-of-stake cryptocurrencies to buy now.
Thriving Ecosystem
Solana's ecosystem is experiencing rapid growth, attracting a diverse range of projects, developers, and users. This thriving ecosystem provides meme coin projects with valuable opportunities for collaboration, integration, and exposure to a broader audience.
By being a part of Solana's expanding network, meme coins can tap into a vibrant community, gain visibility, and foster broader adoption. The network effect of a flourishing ecosystem can propel meme coins to new heights of success.
If you are a beginner, we recommend that you read our guide on how to buy cryptocurrency easily before investing in any of the Solana coins.
New Meme Coins On Ethereum
As the largest smart contract blockchain, Ethereum hosts some of the most popular meme coins in the market right now. They include Meme Kombat, Floki Inu, and several others.
Meme Kombat
Meme Kombat has become one of the most attractive meme coins in the crypto town. This project seeks to bring all the avatars of some of the best meme coins together by combining the potential of AI-based mechanics, blockchain technology, and community-oriented gaming.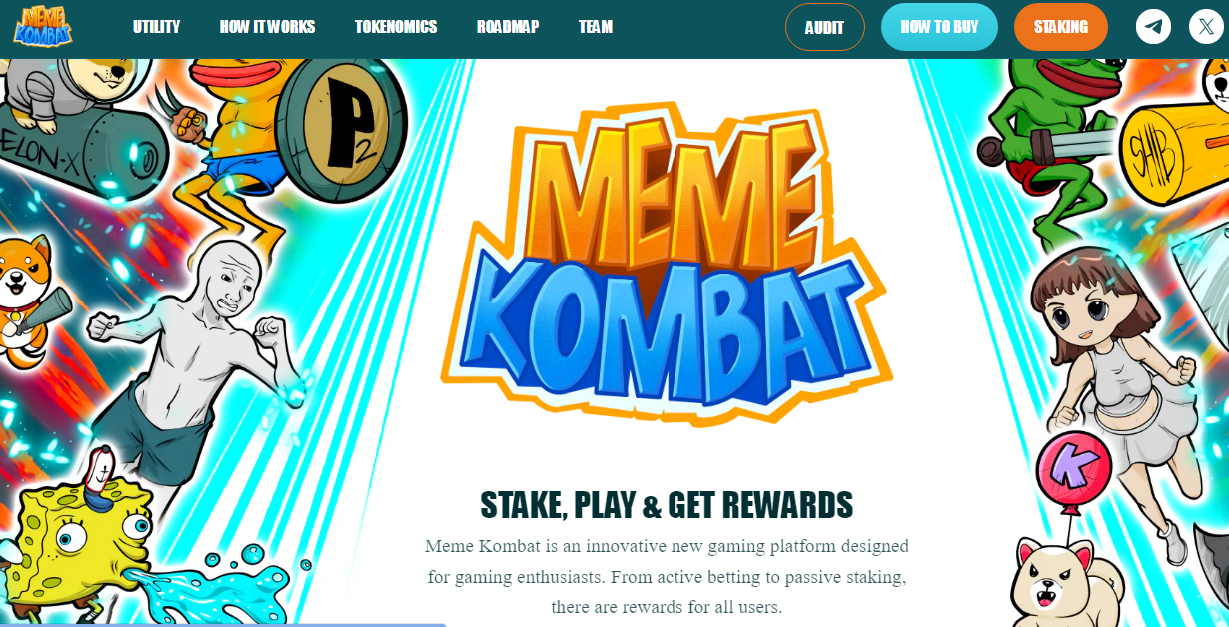 For instance, avatars that are inspired by well-known meme coins like Dogecoin and Shiba Inu engage one another in an AI-driven battleground. With this, Meme Kombat has been delivering a great visual appeal and a fun-filled engagement.
Meanwhile, interested parties can stake the outcomes of these battles to earn rewards. To get started, it is important that you connect your crypto wallet to your account. The platform's native token, $MK comes with numerous use cases, including staking, and wagering, thus positioning it as one of the cryptocurrencies with the most potential.
$MK is currently on presale, meaning savvy investors can buy it at an affordable price. Since its commencement, the multi-stage presale has netted over $1.9 million in early investment, thus becoming one of the top crypto presales in the market. Early investors can also take advantage of its staking utility which offers a lucrative 544% APY.
Upon the conclusion of this presale, $MK is expected to land on prominent DEXs and CEXs. Therefore, it won't be surprising to see it become the next cryptocurrency to yield great returns to early investors.
For more information, read our Meme Kombat Price Prediction.
If you believe in the potential of this coin, you can participate in the presale by reading our guide on how to buy $MK safely this year.
You can also buy $MK directly from its site. However, it is important that you follow the affiliate link provided in this guide as there are many copycats out there.
Buy Meme Kombat Now
Conclusion
Solana has become a new home for emerging meme coins in the crypto space. Its ability to deliver a fast and cost-effective ecosystem has made it a great destination for meme coins and other crypto projects. With the real buzz surrounding meme projects, more meme coins might be launching or migrating to Solana.
In this guide, we presented some of the top meme coins on Solana and their recent price performances. The selected coins may not be very popular, but they have unique tokenomics and roadmaps. Hence, they have a good future ahead of them.
In the same vein, we also dived into Ethereum to identify some of the hottest meme coins in its ecosystem. After a careful evaluation, we selected Meme Kombat due to its ability to combine AI-based mechanics, blockchain technology, and community-oriented gaming. The native token of the project, $MK is currently available on presale and is considered one of the most promising cryptocurrencies around.
Buy Meme Kombat Now
FAQs
Which Solana meme coin is the best to buy now?
In our research, we found Bonk and Samoyedcoin to be the best Solana meme coins, given their concept, features, history or recent price surges.
What is a Solana meme coin?
Solana meme coins are meme-themed tokens based on the Solana blockchain that carry no utility and are based purely on speculation.
Can one lose money on Solana meme coins?
Memecoins are often speculative assets that offer no real utility. As a result, it becomes a highly risky investment. This means that while meme coins may have the capacity to shoot up in value, they can also experience a massive dip, causing major losses.