Will Terra Classic Reclaim its Former Glory? LUNC Pumps More Than 40%

Join Our Telegram channel to stay up to date on breaking news coverage
There have been a lot of discussions around the future of major cryptocurrencies in the industry for a while now. While the market remains bearish with rare signs of bullishness, volatility and fear within global markets have made investors think twice before storing their funds in the form of cryptocurrency.
However, things have clearly been looking up for certain projects. One such project that has managed to spike in price immensely regardless of its previous downfall is LUNC.
The token has soared in terms of price and reclaimed a huge $2 billion market cap within the last month itself. With such developments in terms of growth, the masses have been expecting further growth. Surely, this has put the entire community in splits, as there are several who are still unsure of the project's further potential.
Buy LUNC Token Now
Your Capital is at Risk.
More Than 40% Within One Day
LUNC had been consolidating for quite a while following its crash in May. While a huge majority had gotten out of the project due to unwillingness to be a part of Terra anymore, several had held on to their tokens. Surely, there was no way to recover the funds they had lost.
Even after the crash, investors had been participating in the ecosystem and buying LUNC tokens. The first wave was seen back in June when the token went up from around $0.00005 to more than $0.00013 within a few days. However, the recent pump has been nothing short of a shock for investors.
LUNC, which had been on a continuous uptrend since the end of last month managed to spike in price by more than 300% within the last week. Even today, it claimed a massive hike of more than 40% where the price went from $0.00024 to around $0.00034. At the time of writing, LUNC boasts a market cap of more than $2 billion.
What is LUNC?
Founded in 2018 by tech professionals Daniel Shin and Do Kwon, LUNC (then LUNA) was created to support the Terra ecosystem. Terra was a blockchain built by the Korean company Terraform Labs. With more than $32 million in funding, it was obvious that the token was already expected to become a huge name in the industry.
Terra blockchain aimed to create stablecoins that were fully decentralized in nature. However, keeping it stable turned out to be a challenge that Terra failed to excel at, leading to its downfall. LUNC was initially called LUNA and was an integral part of the ecosystem. The platform's stablecoin UST was set to function as a part of the dual token system Terra has set up.
What Had Happened to LUNC?
LUNC had been one of the most popular cryptocurrencies in the space back in 2021 and was one of the top 10 tokens for quite a long time. It has increased in price several times during last year's bull run and managed to amass a major community too.
However, some faults in the ecosystem were exposed, leading to a major plunge in LUNC's prices. Within a matter of days, the token has dropped more than 99.99% of its original value a couple of days ago. All of this was caused due to the disbalance between maintaining UST and LUNC.
This is when Do Kwon, the company's head, decided to create a new version of the original token and rename the latter as LUNC or Terra Classic. The token, though considered dead by many, has still managed to hold a strong grip over several Terra Luna enthusiasts.
Is There Further Potential?
While the growth of the token was expected, partly due to its major community, it has to be understood that organic growth is dependent only on utility and fundamentals. In terms of these two aspects, LUNC may not be as strong as it once used to be. Surely, the team has been striving to improve, but one has to consider the damage it had previously dealt to the entire industry.
The current hype may cause the token to grow up to a point, but it may be unlikely for LUNC to grow the way it did back in 2021. There are many who still hope to see the token touch $1. This may be extremely difficult as LUNC would require its market cap to be in trillions to even explore the price range.
Terra Classic Alternative- Tamadoge
Of many other tokens and projects that have surfaced in the market recently, one that has managed to earn the trust and investments of many investors even during this bear market is Tamadoge.
Tamadoge, which was launched in 2022, has quickly managed to position itself as the best alternative to tokens like LUNC, which had grown multiple times during its glory days. With a perfect blend of utility and memecoin status, TAMA, the native token is growing in demand every day.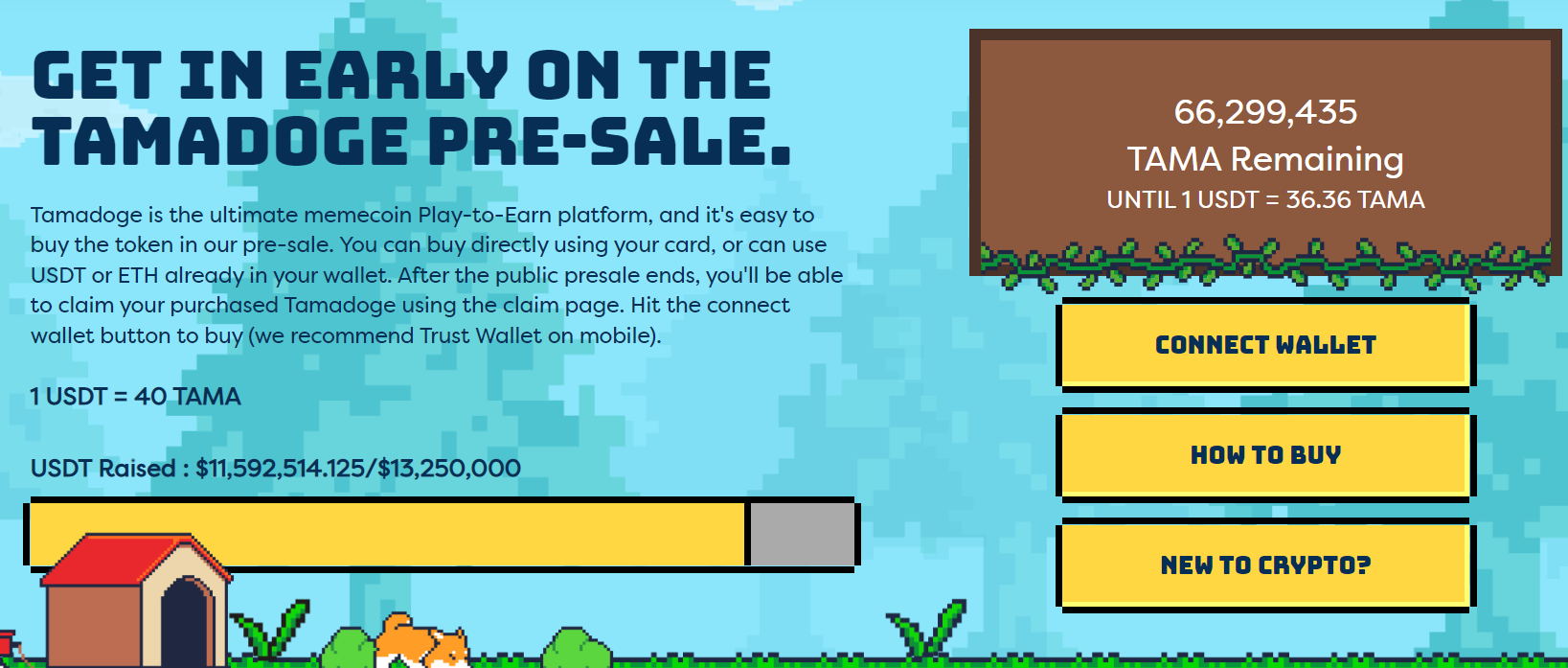 Tamadoge Presale almost reaching $12 million as we write
Tamadoge is a P2E platform which is set to host a huge variety of blockchain-based games that shall be fully integrated with the metaverse. Due to the token being recently launched with a low market cap, and a community assured of its potential, TAMA can be expected to give massive returns in the coming months.
The project has already managed to sell more than $9 million worth of tokens and is currently on several crypto enthusiasts' watchlist. You can read the full whitepaper and roadmap at Buy.tamadoge.io
Buy Tamadoge Now
Read More
Tamadoge – Play to Earn Meme Coin
Earn TAMA in Battles With Doge Pets
Capped Supply of 2 Bn, Token Burn
NFT-Based Metaverse Game
Presale Live Now – tamadoge.io
Join Our Telegram channel to stay up to date on breaking news coverage