Why is LUNC Pumping – 1.2% Burn Tax Effect?

Join Our Telegram channel to stay up to date on breaking news coverage
Over the past month, we have seen the rebirth of crypto for which the public lost all confidence – LUNC. It kept on pumping, leading many to speculate if Luna Classic's bad days are finally over. Many have said that it is due to the recent staking update – including us. However, now we have one accurate reason behind this. So, why is LUNC Pumping?
Let us first Look at LUNC's recent Price Action
Let us first retrace our steps a month ago when LUNC was trading at its standard $0.00010. There was little to no action around its price. In fact, the price dipped marginally to $0.00009 at one point before bouncing.
Then there was sideways trading followed by a dip. Then there was some increase. However, on 25th August 2022, the LUNC price went from $0.000101 to $0.00015. It was the first major increase for this crypto after the Terra crash took it all down.
Then September arrived, and with it, a 300% increase. This growth of crypto that people barely had any faith in has shaken the market. Many started to equate $LUNC to Baby Bitcoin.
Don't Sell Your Baby Bitcoin ( $LUNC ), Set Your #LUNC Selling Target to at Least 1$. 🔥❤️ 🙏

IF YOU AGREE LIKE and RETWEET

— luncvalidator (@luncvalidator) September 1, 2022
Now we know the answer to this increase. It was all due to the 1.2% burn tax that arrived on 1st September 2022.
1.2% Burn Tax – the True Magic Behind the Recent Pump
Starting on 1st September 2022, LUNC introduced the 1.2% burn. Since the original holders of LUNC were already in the process of burning these tokens due to the now-famous #burnluna campaign, this new layer added another reason to burn the crypto.
To those unversed, after the fall of the original LUNA, now LUNA Classic, the crypto crowd has been trying to limit its supply by sending them to a burn address- which Do Kwon, the founder of Terra, provided.
So far, over 3 trillion LUNA tokens have burned. The introduction of the burning tax will further boost that figure – limiting the original crypto supply and increasing its price.
To know more about this pump, check out this video by crypto YouTuber Jacob Crypto Bury:
This deflationary cryptocurrency is now rising. How far will it go? Will we see LUNC reaching $0.0022 by the end of October? While we can't say anything for certain, we know many OG holders are still bullish about LUNA and willing to bet everything to return it to its glory days.
Tamadoge is another Deflationary Crypto to Invest in Right Now
If you're looking for a hot crypto investment with deflationary mechanics and limited token supply, Tamadoge is right up your alley. This Play-2-Earn metaverse crypto has been ruling the presale charts since it launched.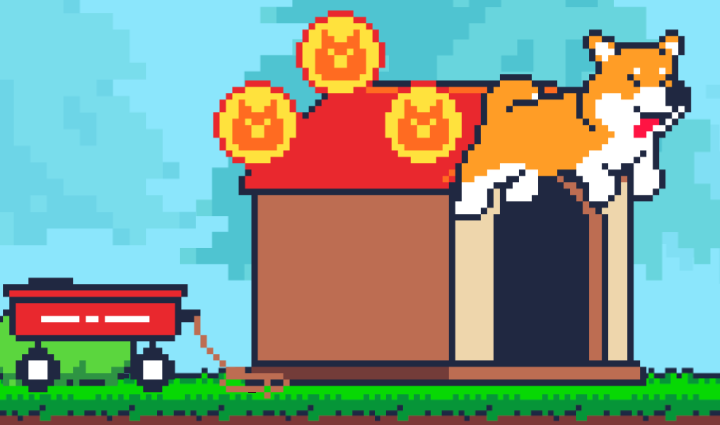 It now has crossed a significant benchmark of $10.4 million are only a few thousand dollars away from reaching the seventh phase of its presale.
In Tamadoge, you buy Tamadoge Pets, the NFT characters you raise, feed, put accessories to, and use for battle in an Augmented Reality environment to earn Dogepoints.
Every time you buy accessories for your Tamadoge Pet, the ecosystem burns 5% of the transaction fees to reduce the supply. This approach to burning isn't novel, but when you have a token with an already limited supply – 2 billion – the chances to make big gains are quite high.
Visit Tamadoge
Will LUNC go back to its old days?
The recent burn tax on LUNC is making people wonder if the old classic token will reach its classic all-time high levels. While there is always a possibility but to reach its ATH of $116, a major market shift has to take place that burns trillions of tokens within a few short weeks. As of yet, only 7% of the total LUNC supply is held by whales. The rest is with the common crypto investors that are ferociously burning the cryptos to limit the supply.
But if you're interested in great deflationary crypto with a better use case and huge upside potential, invest in Tamadoge. The 7th phase of the presale is near, and the price of 40 TAMA tokens will shortly be 1 USDT.
Read More
Tamadoge – Play to Earn Meme Coin
Earn TAMA in Battles With Doge Pets
Capped Supply of 2 Bn, Token Burn
NFT-Based Metaverse Game
Presale Live Now – tamadoge.io
Join Our Telegram channel to stay up to date on breaking news coverage