Top 10 Christmas Crypto Gainers – Number 8: NEST (NEST up 250% YTD)


Join Our Telegram channel to stay up to date on breaking news coverage
The NEST Protocol (NEST) coin was another major cryptocurrency that experienced significant growth this year. NEST Protocol (NEST) outperformed several other cryptocurrencies this year, increasing its value by approximately $250.
Nest Protocol token (NEST/USD) traded up 50% on Tuesday before cooling slightly. The token saw increased trading volume, with a 24-hour change of positive 326%. We investigate more into this now exciting token and its protocol. # # # # # # #https://t.co/fEKc8LAdjW pic.twitter.com/BIdTNVfE6T

— Crypto Geek (@JoeSmit27977592) November 23, 2022
Nest Protocol is a platform for web3 infrastructure that facilitates stochastic asset development and programming. The platform is built on Ethereum. NEST, an Ethereum-based token, runs the protocol. It also helps to meet the platform's liquidity requirements. In addition to this, the coin functions as a compensation system for users who offer correct price quotes on the platform.
#NESTProtocol is a PVM-based #Web3 infrastructure that enables the generation and programming of stochastic assets. #StochasticAssets@Mdsohel254980 @rafi_rahman560 @Sajib02h

— Rajib Ahmed (@Rajibahm3d91) December 4, 2022
Nest was introduced in 2018 and had a large community of around 1 million users. The blockchain industry now has an entirely new category, thanks to Nest 5.0. Nest is no longer solely an Oracle. Oracle, OMM (Omnipotent Market Maker), and PVM (Probabilities Virtual Machine) are the three primary components of Nest 5.0.
The PVM system serves as the foundation for the new category called Nest. These web 3 projects, such as DeFi, GameFi, and NFT, can create their apps on Nest. They can benefit from exchanging, trading, hedging, and other activities on the Nest network.
The merger of NEST and FORT creates a new functional module: PVM (Probability Virtual Machine), a new transaction paradigm: OMM (Omnipotent Market Maker), which provide economic model for all on-chain applications. It is important development in the blockchain world after ETH.

— JamesZhao (@jameszhao2022) July 11, 2022
Therefore, the updated version of Nest could be regarded as a major reason for its popularity. The popularity of this coin was seen as the token's mentions on social trading platforms increased.
Apart from this, there were no obvious fundamentals impacting NEST's pricing. Although the NEST Protocol (NEST) coin seems to be fading its upward rally, possibly due to the bear crypto market.
The current NEST Protocol price is $0.023444, and the 24-hour trading volume is $1,363,123. In the last 24 hours, NEST Protocol has been down 5.66%.
NEST is now ranked #282 with a live market cap of $68.262,919. There are 2,911,743,948 NEST coins in circulation, with a maximum supply of 10,000,000,000 NEST coins.
Mixed Cryptocurrency Market Sentiment
The cryptocurrency market has been flashing mixed signals as a result of a variety of factors, some of which have had a positive influence and others which have had a negative impact. It is worth noting that the largest cryptocurrency, Bitcoin, saw a surge, reaching its highest level in a month.
However, the reason could be tied to the cooling of US inflation figures. Inflation in the US decreased to 7.1% in November, the lowest level in a year, beating expectations of 7.3%, according to data released on Tuesday.
JUST IN: #BNNUS Reports.

U.S. consumer inflation eased in November to 7.1% annually, against 7.7% in October, figures from the US Labour department showed. Economists' projected a 7.3% expansion in the US consumer price index for November. #USInflation #Economy pic.twitter.com/K5AseY7gdv

— Gurbaksh Singh Chahal (@gchahal) December 13, 2022
The central banks of the United States, Japan, the European Union, and the United Kingdom publish inflation figures, which have a substantial influence on the price movement of digital assets in the medium to short term.
Apart from this, the US Federal Reserve's dovish position in its December policy had a further positive influence on digital assets. As we know, the majority anticipated a rate increase of 50 basis points rather than the fourth increase of 75 basis points for the important funds. So, the U.S. Federal Reserve did what was expected and raised interest rates by 50 basis points (bps).
Federal Reserve raises interest rates by 0.50%, bringing rates to highest since 2007 https://t.co/eLvOzmMmLW by @Jenniferisms

— Yahoo Finance (@YahooFinance) December 14, 2022
Top Coins Highlighted in the Highlights
Choosing which cryptocurrency to invest in could be challenging in the bear crypto market. Moreover, the wide variety of cryptocurrencies in the market makes it even more difficult to choose which cryptocurrency to invest in. Many investors at some point think about funding low-cost cryptocurrency firms.
These digital currencies, with token values of $5 or less, might add considerable value to the majority of portfolios.
The currencies on the following list are fantastic additions to our portfolio even though the market is slowing down.
FightOut FGHT
The future of health and fitness is the brand-new move-to-earn (M2E) coin $FGHT, which has just entered the market. The Web 3.0 fitness application and gym chain FightOut uses FGHT as its access token. This is a world first since it blends real-world exercise with competition in the metaverse.
Our #FightOut presale is still LIVE! 🙌

Don't miss the project that will change the fitness and #MoveToEarn industry forever! ⚡️

Join now at https://t.co/7LjxoEBli3 pic.twitter.com/HGM4X18rzU

— FightOut (@FightOut_) December 15, 2022
The cryptocurrency is now available for purchase at $0.01665002 (60.06 = 1 USDT), with no minimum or maximum purchasing quantity.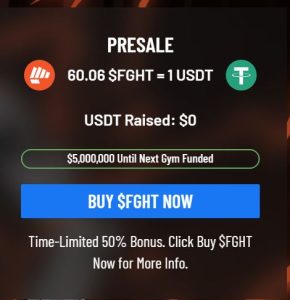 It is worth noting that the health and fitness sector is expected to be worth $96 billion by 2022, according to Statista, but it is stuck in the past, which is why M2E app and gym chain FightOut is stepping in to help. The FightOut app and gym franchise is aiming to disrupt one of the most lucrative growing sectors on the globe with an intriguing and ambitious $100 million fundraising campaign.
FightOut generated over $1 million in its seven-day private sale in December and is currently gathering traction in the first round of its public sale.
Over $1 Million raised in 24 hours! 🔥

We're not slowing down anytime soon #FightOutCrew!

Join the presale now and get up to a 50% bonus! ⬇️https://t.co/xwthuHJbBG pic.twitter.com/h4Dgk1GDoc

— FightOut (@FightOut_) December 15, 2022
FightOut has a goal to change the existing dominant Web 2.0 structure while simultaneously addressing issues it has found with Web 3.0 Move-to-Earn as it is being implemented by initiatives like STEPN.
Dash 2 Trade (D2T)
Dash 2 Trade is a cryptocurrency that uses the Ethereum blockchain to function. It is designed to assist you in improving your cryptocurrency trading. It also supports you in gaining a competitive edge in the industry by providing you access to technical indicators and signals, as well as superior on-chain data and trading strategies.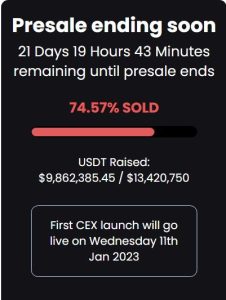 Through their unique grading system, you'll have access to the most recent social data and on-chain analytics, as well as the most recent presale market data.
Dash 2 Trade launched on October 19th for $0.0467 and generated $400,000 in under 24 hours. Dash 2 Trade's presale is coming to a close, having raised $9.7 million and trading at $0.0533. It has a total token supply of $1 billion, with the vast majority of those tokens being sold.
📈ATTENTION #Traders📈

✅ $9,845,215 Million raised✅ Currently 1 $D2T = 0.0533 USDT✅ Stage 4 is the FINAL Stage of our presale

Get in before the exchange listings!

✔️ Buy $D2T now 🔽https://t.co/PMdwCfAHt1 pic.twitter.com/xHTCsnXxzI

— Dash 2 Trade (@dash2_trade) December 15, 2022
Investors remained loyal to the coin because it quickly provides important crypto trading signals. Due to the high demand, top-tier exchanges are preparing to list the D2T token following the presale, and they anticipate a significant amount of daily trading activity once the token becomes live.
💸💰WIN $1000 in D2T! 💰💸

Join todays AMA with @coinsniper_net to get a chance to win!

⏰5PM UTC 🔽 https://t.co/6BtEivjMwQ

— Dash 2 Trade (@dash2_trade) December 15, 2022
LBank was the first to announce its listing on D2T. With a daily trading turnover of more than $1.4 billion, LBank is a large exchange. Following that, BitMart stated in a statement that once the presale ended, they will begin selling the D2T token.
The back-to-back giveaway prize offered by Dash 2 Trade (D2T) gives participants the chance to win additional D2T, which may also attract investors.
🎅#D2T COMMUNITY 🎅

Day #13 of D2T #AdventCalendar 🎄

🎁 GIVEAWAY 🎁

$100 – 24h 💰

➡️RT this Tweet➡️Like and comment 3 Tweets pic.twitter.com/FOq9wI1Kb2

— Dash 2 Trade (@dash2_trade) December 13, 2022
RobotEra (TARO)
RobotEra aims to provide users with higher-quality visuals than Decentraland and The Sandbox, as well as more compelling gaming methods and earning potential. In addition to player-versus-player activities, RobotEra offers other methods for players to earn rewards as they explore and attempt to repair Taro's devastating world.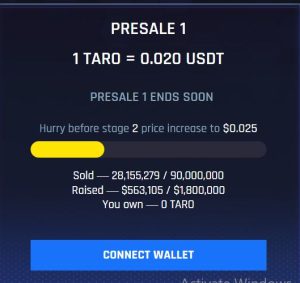 Additionally, RobotEra has a native token called TARO. Although owners of the digital asset can stake it to earn more units, it is largely used to buy and sell NFTs through the game's in-app marketplace. This asset is now available for purchase through a presale for inventors. With a $557,000 presale, TARO has had a successful excursion.
#RobotEra is a powerful metaverse platform that combines entertainment and interaction 🤖

🛠 Create assets, and earn income by directly contributing to the game's economy

Take part in the $TARO presale to become a part of the #RobotEra ecosystem ⬇️https://t.co/UJ3inomU89 pic.twitter.com/S3GnC2Mblw

— RobotEra (@robotera_io) December 12, 2022
The digital asset is being sold for $0.020 in the first round of its presale. The cost of TARO will increase to $0.025 in the following stage, and it will reach $0.032 in the following level.
🚨 ANOTHER MILESTONE ACHIEVED 🚨

🔥 $500,000 RAISED 🔥

THANK YOU, ROBOTERA ARMY! 🤖

DON'T MISS OUT AND JOIN THE PRESALE NOW ⬇️https://t.co/UJ3inomU89 pic.twitter.com/atuUrxR56L

— RobotEra (@robotera_io) December 12, 2022
Calvaria (RIA):
RIA is the project behind the soon-to-be-released afterlife-themed crypto combat cards game Calvaria: Duels of Eternity. Calvaria claims that its goal is to accelerate the mainstream acceptance of cryptocurrency by developing a viral P2E game that builds on the historical success of card games and acts as an ambassador between the "real world" and the crypto realm.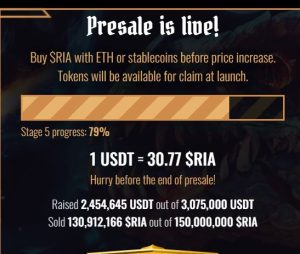 Calvaria could be more popular than other blockchain games since it does not exclude folks who are inexperienced with cryptocurrencies. In contrast, the RIA token may be utilized in-game and staked for passive revenue, providing gamers with a reason to maintain the token.
78% Sold!The finish line is nearing!Presale: https://t.co/6wSK6JfFw6#CalvariaGang #presale #blockchain #crypto pic.twitter.com/a1G8FePyCN

— Calvaria: Last Stage Presale is Live! ✨ (@CalvariaP2E) December 12, 2022
The presale has generated $2.5 million in sales so far and is presently 79% of the way through Stage 5, the last stage before it closes. A few weeks after launching its pre-sale, the play-to-earn (P2E) fantasy combat cards game Calvaria generated about $2.5 million by selling its in-game RIA tokens on the blockchain.
Calvaria has a number of notable supporters, including KuCoin, Polygon Studios, Gate.io, XT.com, and Chainplay. Numerous news outlets, including Benzinga, Cryptonews.com, Business 2 Community, Yahoo Finance, and Yahoo News, have given the initiative excellent press attention.
Investors may also be attracted in by Calvaria's $100,000 giveaway, which offers them the possibility to win further RIA.
Related:
Dash 2 Trade – High Potential Presale
Active Presale Live Now – dash2trade.com
Featured in Cointelegraph – $10M Raised
KYC Verified & Audited
Native Token of Crypto Signals Ecosystem
Join Our Telegram channel to stay up to date on breaking news coverage