This New Coin is Predicted to 50x by 2023

Join Our Telegram channel to stay up to date on breaking news coverage
OKB bills itself as a utility token that operates on the Ethereum blockchain, and this new coin has a potential to rise 50x in 2023. It was made available by the OK Blockchain Foundation and the Maltese cryptocurrency exchange OKEx. However, the exchange, which is one of the world's largest, is now ranked third in terms of liquidity and fourth in terms of trading volume, and it offers a large number of trading pairs.
The OK Blockchain Foundation burns OKB tokens to reduce supply, which supports the token's price and encourages users to hold on to their tokens. OKB's price has skyrocketed in recent days, making it one of the most valuable cryptocurrencies.
OKB Price Update
The current live OKB price is $21 with a $14 million 24-hour trading volume. OKB increased by over 1% in recent hours. OKB now holds the 34th-place market position with a $1.2 billion live market cap. There are 60,000,000 OKB coins in circulation.
OKB Price Chart – Source: Tradingview
There is no single factor driving OKB's recent price increase. However, a significant increase in trading volume indicates that users have been very active in recent days. Furthermore, the reason for its long-running rally could be attributed to OKX's announcement of a recovery fund for projects experiencing liquidity issues, joining companies such as Binance.
This comes after the well-known cryptocurrency exchange FTX experienced liquidity issues, resulting in the freezing of customers' funds. The exchange's statement was a significant contributor to OKB's weekly price increase.
OKX's Project Recovery Funds – OKB Bullish Rally
Earlier this week, OKX announced plans to create a $100 million project ecological support plan. According to the tweet, OKX will work on the initiative with OKXChain and OKX Demo Day. OKX wishes to assist top-tier projects that are currently experiencing issues such as liquidity. It also intends to help qualified projects overcome obstacles by providing financial, environmental, and technical assistance.
#OKX Announces Project Recovery Funds $OKB Kicks Off Bullish Run. @okx announced earlier this week its intention to establish a $100 million project ecological support plan. The native token of #OKX saw 11.5 % gains in weekly after the announcement made 👀 pic.twitter.com/FIpvU3o7Fl

— Elite Crypto (@TheEliteCrypto) November 20, 2022
Moreover, the crypto market has been performing very poorly as a result of the FTX crisis, Binance has also revealed a plan. The world's largest cryptocurrency exchange demonstrated its willingness to use its recovery fund plan to help long-running, successful businesses overcome liquidity issues.
To reduce further cascading negative effects of FTX, Binance is forming an industry recovery fund, to help projects who are otherwise strong, but in a liquidity crisis. More details to come soon. In the meantime, please contact Binance Labs if you think you qualify. 1/2

— CZ 🔶 Binance (@cz_binance) November 14, 2022
Binance's recovery fund has been approved by Tron developer Justin Sun and cryptocurrency exchange Huobi. According to Justin Sun, it will allow builders and developers to work around the issue. Celsius's largest shareholder, Simon Dixon, intends to contribute to the fund to resurrect the industry as well.
As a result of OKX's announcement on November 15, the OKB token skyrocketed. It has since continued to rise, propelling the token to a new weekly high.
Recovery In Crypto Market
Another reason for the OKB price increase could be the bullish crypto market, which stood at $841.04 billion, up 1.53 percent in 24 hours. This happened after two of the most valuable cryptocurrencies, Bitcoin (BTC) and Ethereum (ETH), went over $16,000 and $1,200, respectively.
Aside from them, several well-known cryptocurrencies, such as Dogecoin (DOGE), Solana (SOL), and Ripple (XRP), are on the uptrend.
On the other hand, the declining rally in the US dollar was another key factor that kept cryptocurrency prices, including OKB prices, higher. The Federal Reserve's November meeting minutes supported the Fed's less hawkish stance, implying a reduction in rate hikes beginning with the December meeting.
Federal Reserve officials expect to switch to smaller interest rate increases "soon," according to minutes from the November meeting released Wednesday.

— Crypto India (@CryptooIndia) November 24, 2022
According to the eagerly awaited report from the November 1-2 meeting, a rate hike of 50 basis points is expected next month, following four consecutive increases of 75 basis points.
Best Crypto to Buy Today
Despite the recent recovery, the cryptocurrency markets remain volatile, with major coins such as Bitcoin, Ethereum, BNB, and Ripple marginally higher over the last day but slightly lower over the previous weeks. As a result, investing in cryptocurrencies with little short- to medium-term upside potential may be risky.
While DASH may be a good investment once it has stabilized following a recent surge. Future growth may be monetized through pre-sale tokens such as D2T, TARO, and others.
Dash 2 Trade (D2T)
Dash 2 Trade is a novel concept that has the potential to become the next successful cryptocurrency. It is a new cryptocurrency project with a real-world application use case that only a few other projects can match. The platform, which is currently in pre-sale, will go live in Q1 2023 and will give traders the tools they need to monitor and analyze price changes, news, and market sentiment for a variety of currencies.
It's also worth noting that during the presale period, investors can get a huge discount on D2T, Dash 2 Trade's native token, potentially opening the door to huge future gains. As a result, the Dash 2 Trade is among the top gainers among cryptocurrencies.
Dash 2 Trade announced that LBank exchange will be the first CEX to offer its D2T token after raising over $7.1 million in its presale. Overall, nearly 82% of tokens have already been sold, indicating strong investor interest in this project.
Visit D2T Presale
Tamadoge
Tamadoge, a blockchain game platform that immerses participants in the metaverse, uses TAMA as its native currency. The Tamadoge coin, on the other hand, has recently fared quite well and has received support from a number of sources. Investors can also trade NFT on the Tamadoge in-app market using TAMA. Since the asset has been made available on Gate.io, investors will find it much simpler to exchange their tokens for cash. In addition, users may use Tamadoge to purchase pets that are represented by NFTs.
However, the positive progress in the Tamadoge network and the official announcement of the TAMA token being listed on the well-known Gate.io exchange are both having an impact on the price of Tamadoge coins. Another significant factor that had a favorable impact on the price of Tamadoge coins was considered to be the upbeat cryptocurrency market.
The Tamadoge coin gained significant support after several exchanges, including LBank, OKX, MEXC, and others, listed the Tamadoge asset.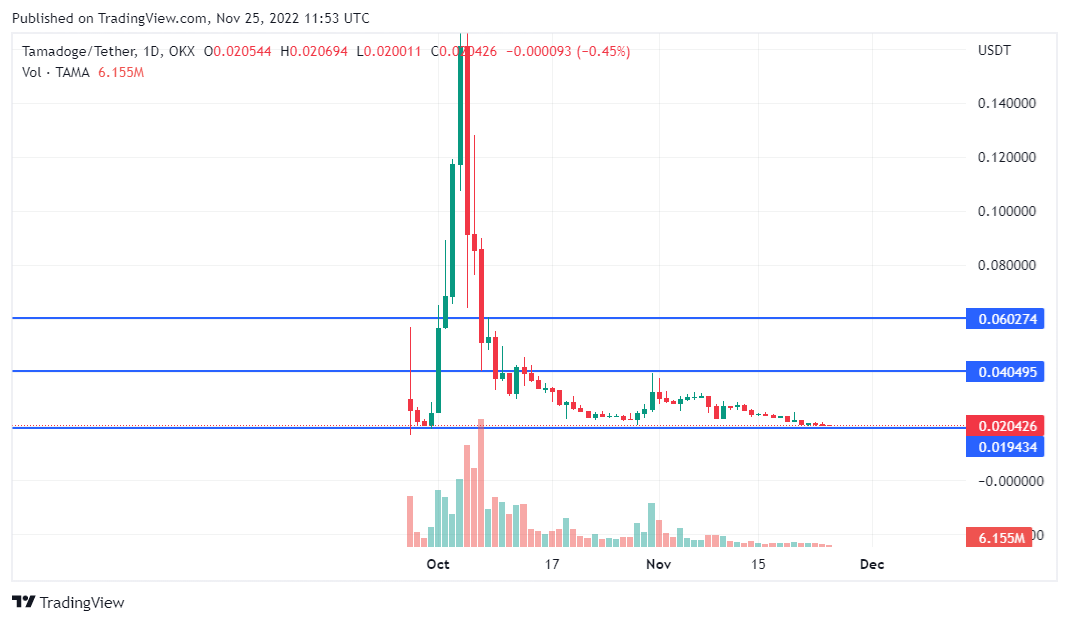 Tamadoge Price Chart – Source: Tradingview
The present Tamadoge price is $0.020 with a $1 million 24-hour trading volume. The price of Tamadoge has risen by more than 3% in the last 24 hours. Tamadoge is currently ranked 2756 on the market. The maximum supply of TAMA coins is 2,000,000,000,000.
Calvaria (RIA)
Calvaria is a platform for cryptocurrency games that was initially revealed in 2022. The platform creates an engaging and thrilling experience for gamers by fusing non-fungible token (NFT) trading cards with the metaverse. Players buy NFT trade cards in Calvaria and use them to assemble tactical decks. However, the objective is to acquire a deck of cards so that you may compete against other players and win. If you succeed, you will receive tokens.
Calvaria, with its distinct blending, is destined to become one of the most popular games available. The free-to-play game Calvaria defies the pay-to-earn gaming mold by awarding NFTs to new players right away.  As a result, neither financial means nor technological know-how is necessary for participants to take part in the game.
The digital asset has been one of the top-performing new coins since its presale launched a little over a month ago. It has only been out for a short time, but its presale has already surpassed a significant milestone by collecting over $1.9 million.
Visit Calvaria Presale
Related:
Dash 2 Trade – High Potential Presale
Active Presale Live Now – dash2trade.com
Native Token of Crypto Signals Ecosystem
KYC Verified & Audited
Join Our Telegram channel to stay up to date on breaking news coverage