Terra Price Prediction as LUNA Prepares For A 222% Bullish Move

Join Our Telegram channel to stay up to date on breaking news coverage
Terra price has joined selected altcoins like Solana. Litecoin, and Terra Luna Classic in posting significant gains in the first week of 2023. LUNA is up 4.2% over the last 24 hours and exchanging hands at $1.33 at the time of writing.
Following renewed interest among investors, trading volume jumped 54% to $35 million. Terra Luna is by far at the beginning of an uptrend, likely to explode 222% to tag $4.15.
Terra Price Embraces a Falling Wedge Pattern Breakout
Terra is one of the few cryptocurrencies starting the New Year on a positive note. Bulls started throwing their weight behind the token in December thanks to the slightly oversold conditions.
However, the Relative Strength Index (RSI) position in the neutral zone affirms that buyers now have the upper hand. The uptrend in LUNA might stay intact if the RSI continues with the steep climb to the overbought region.
A falling wedge, as illustrated on the daily timeframe chart, reveals that Terra is on the way to accomplishing a 222% breakout to $4.15. This is a bullish chart pattern that signals the end of a consolidation phase in the wake of an extended downtrend. It signifies the effort buyers are putting into the market to build interest ahead of a northbound pump.
Think of this pattern as a the "calm before the storm." Traders generally look for a break above the upper trendline – one that must be confirmed by a daily close. Some traders will enter a long position immediately after the daily close, while others typically wait for a potential pullback in which the price retests the broken resistance.
In Terra's case, the price is above the wedge pattern, awaiting a daily close. Short-term buy orders may be entered at this point, but investors wishing for a sustainable breakout, possibly leading to the 222% target might have to wait until LUNA steps above the 50-day Exponential Moving Average (EMA) (in red) at $1.54.
Traders who are not in for the long haul may aim to book profits at the 100-day EMA, currently holding the ground at $2.53. However, the falling wedge pattern recommends exiting at $4.15 after a 222% bullish move.
A glance at the four-hour timeframe chart adds credence to the bullish outlook, especially with Terra price trading above two major moving averages: The 50-day EMA at $1.29 and the 100-day EMA at $1.33.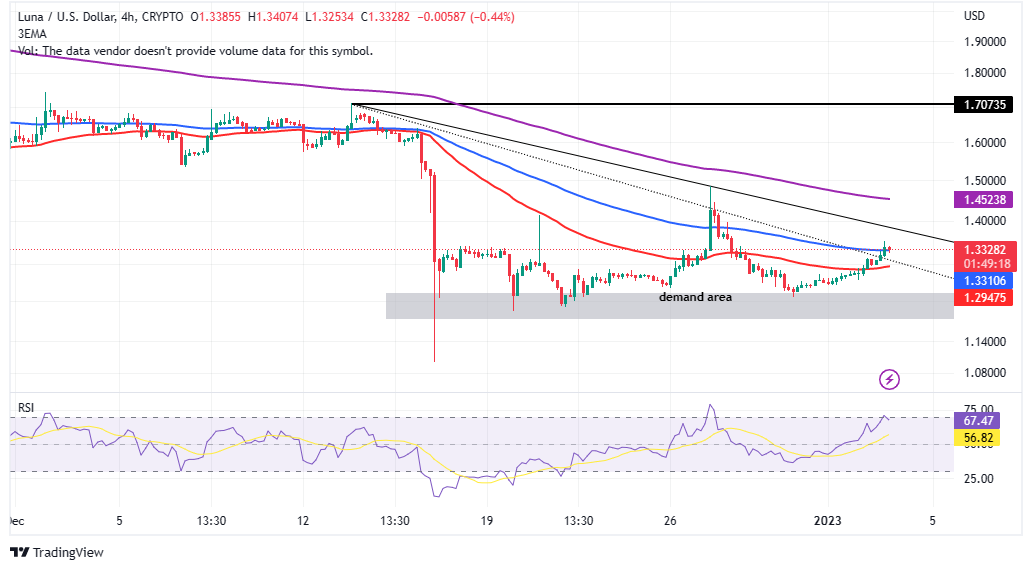 LUNA also holds above the lower falling trend line (dotted), signaling the possibility of further gains. The RSI on the same chart reinforces the bulls' grip on the price, although its arrival into the overbought region might call for a retracement before the uptrend resumes for a second leg.
Bullish traders could fire up their buy orders as soon as Terra price makes a four-hour to a daily close above the 100-day EMA. Such a move would pave the way to gains eyeing the upper trend line (continuous line). The next rendezvous bulls would be looking out for after this is the 200-day EMA (in purple) at $1.45 and the major resistance at $1.70.
On the flip side, Terra price may be in for a pullback if support at the 100-day EMA fails to hold. Traders who might be looking forward to shorting Luna must wait until the price confirms a daily close below the 100-day EMA. However, a break below the dotted trend line and, by extension, the 50-day EMA would signal a profound trend correction.
It is worth mentioning that Terra price may have bottomed, as it has stayed above solid support between $1.18 and $1.24. Therefore, a pullback should not scare investors since it may be an opportunity to pick up more liquidity, while allowing previously sidelined investors to get a piece of the cake before the forecasted move to $4.15.
Altcoins to Consider in 2023
The messy and drama filled 2022 has faded into the sunset and investors are looking forward to a calmer and positive 2023. However, while the year has changed, the conditions of the crypto markets remain relatively the same.
Markets are suffering from the contagion caused by FTX coupled with soaring inflation. However, investors may consider some carefully selected projects, which some describe as up-and-coming crypto giants. The tokens listed below are in their presales, offering early bird access ahead of the initial exchange listing.
FightOut (FGHT)
A revolutionary Move (M2E) platform, coming to change the way the global population views the fitness industry. FightOut aims to outshine other M2E projects like STEPN and SweatCoin, which often lockout people due to prohibitive costs.
Users on FightOut will be rewarded for completing workouts and challenges, earn badges and have an opportunity to grow within a community of likeminded people.
FightOut's tokenized economy will be powered by FGHT, allowing users to pay for services within the ecosystem and receive rewards. Every user with an account on the fitness app will be able to mint digital NFT avatars for use in the metaverse. FightOut's idea is to remove barriers that keep the masses away from key Web3 solutions.
(2) Fight Out on Twitter: "FightOut's workouts and Move-to-Earn mechanisms are designed to reward our community for a holistic approach to fitness. Reach your fitness goals, whether that's cardio, strength, endurance, or wellness! Start your web3 journey with #FightOut! 👊⬇️ https://t.co/z34Nkx3ffi https://t.co/taivUbIqN5" / Twitter
FightOut's presale continues to perform exceptionally well, with $2.5 million raised. The team is giving out a 50% bonus for all purchases made before the $5 million threshold.
Visit FightOut Now.
Dash 2 Trade (D2T)
Investors interested in a bespoke crypto analytics platform cannot fail to consider Dash 2 Trade. This up-and-coming ecosystem is working toward becoming a traders' paradise, by proving investors will the necessary tools and data to make informed decisions.
Dash 2 Trade is a signals powerhouse, providing key buy/sell opportunities. The platform, built by a trading veteran team from Learn2Trade, incorporates social sentiment and on-chain analysis to help traders spot trending coins.
A strategy builder equipped with the latest technical indicators and furnished with real-time data from top exchanges will see traders come up with backtested strategies which they can share with others in a social trading forum. Dash 2 Trade also gives access to an accurate scoring system to allow easy access to leading crypto presales.
(2) Dash 2 Trade on Twitter: "🚨PRESALE ENDING SOON🚨 ⌛3 Days remaining until our presale ends⌛ First CEX launch will go live on Wednesday 11th Jan 2023!! Buy $D2T now before the exchange listings🔽 https://t.co/PMdwCfAHt1 https://t.co/3lXR2IyOvG" / Twitter
Dash 2 Trade presale will end in a little over three days from today, having raised $12.3 million. The presale is 90% complete while D2T's first CEX listing is set for January 11.
Visit Dash 2 Trade Now.
C+Charge (CCHG)
A new project built around enabling access to the carbon credit industry, which is projected to be worth over $2.44 trillion by 2027. The team behind C+Charge hopes that its effort will bear fruit as it tries to democratize the carbon industry to allow electric vehicle (EV) owners to benefit from what has been a preserve of big corporations like Tesla.
C+Charge will be tapping blockchain technology to bring carbon credits to the masses. CCHG, a native token to the ecosystem will power the in-house economy. The token will be used by drivers to pay for charging services, with transactions recorded on the blockchain in a smart contract.
(2) C+Charge on Twitter: "📈 With the increase in living costs, many people have started using #EVs for lower transport costs and toll discounts. #EV drivers can benefit from overnight charging at the discounted electricity price⚡️ 🌙 Explore more with us now ⬇️ https://t.co/ixe18bPqzI https://t.co/cWwwCGEZHu" / Twitter
All EV drivers who pay using CCHG will earn carbon credits, stored in special application. The application will act as an information source for drivers to learn things like payment options, locate charging stations and check charging costs at the stations.
The C+Charge presale is gaining momentum with $62k raised since launch. 1 CCHG sells for 0.013 USDT but only 155,032,826 tokens are remaining before the price rises to 0.0165 USDT.
Visit C+Charge Now.
Related Articles:
FightOut (FGHT) – Move to Earn in the Metaverse
CertiK audited & CoinSniper KYC Verified
Early Stage Presale Live Now
Earn Free Crypto & Meet Fitness Goals
LBank Labs Project
Partnered with Transak, Block Media
Staking Rewards & Bonuses
Join Our Telegram channel to stay up to date on breaking news coverage