Tamadoge is up by 111% and Trending on StockTwits


Join Our Telegram channel to stay up to date on breaking news coverage
Tamadoge has started to make waves once again. The Ethereum ICO-surpassing crypto has been announced to list on LBank. And with this news comes another positive news. Tamadoge is up to 111% in the last 24 hours, and from what we hear, the crypto is just getting started.
Currently, Tamadoge has a market capitalization of 49 million dollars, which is pretty low regarding memecoin. However, that hasn't stopped it from being able to flip the likes of Shiba Inu and Dogecoin in terms of growth.
Where Can Tamadoge end up in the List of Memecoins
Currently, the top memecoins in the market by market capitalization are:
Dogecoin – $8 billion
Shiba Inu – $6 billion
Dogelon Mars – $140 million
Baby Doge Coin – $140 million
MonaCoin – $28.5 million
Samoyedcoin – $28 million
Shiba Predator – $22.3 million
Pitbull – $21.8 million
ERC20 – $12.2 million
Hoge Finance – $11 million
Vita Inu – $10.6 million
The critical factor that separates Tamadoge from the rest of these cryptos is its utility. Dogecoin started as an Elon-favorite memecoin and built its traction on the back of that announcement. The same goes for Shiba Inu. Dogelon mars and Baby Doge Coin share the same story. Mona Coin is a unique DeFi coin, and Samoyedcoin is a Solana-based memecoin whose origins match Dogecoin.
Tamadoge, on the other hand, is a utility-based token. And if it maintains the current trajectory, it will likely be among the top 5 memecoins.
Multiple Tamadoge Exchange Listing Will likely Pump its Value even further.
Other than OKX and LBank listing news that we have already covered, Tamadoge is about to land on:
Bitmart
MEXC
OKX
Note that the above-mentioned cryptocurrency exchanges will likely pump the price of this token even further.
Tamadoge Price Prediction – What are the Recent Pump Factors?
Other than the already-bullish roadmap, the biggest factor behind Tamadoge's pump has been the recent listing. On the last day of September, Tamadoge declared that it would surprise the crypto ecosystem. Many thought it would be the declaration of the LBank listing, but it was more.
Going live on a Friday 😍😎🥰https://t.co/mc99iPfWxD

Maybe we will reveal something 👀#cryptocurrency #live #Ukraine

— TAMADOGE (@Tamadogecoin) September 30, 2022
Tamadoge has always been a P2E project, with gaming taking the front seat. However, a lot of information about it has been a speculation till now. And with this declaration, the crowd's faith in this cryptocurrency strengthened.
Tamadoge Trends of StockTwits
Stocktwits is a community of investors and traders. Think of it as a social media for investors and traders where discussions about the latest asset happen. And Tamadoge has been lucky enough to make the cut.
So far, Tamadoge has gained 266 followers on the platform, and from what we saw in the feeds, the always-supporting crypto crowd is pumping it up. Despite Stocktwits not showing any chart data about this cryptocurrency, Tamadoge has become the number 1 trending token on the platform.
Tamadoge Binance Listing Coming Soon?
Tamadoge is not stopping at some crypto exchanges. It is now eyeing the biggest one. The memecoin has recently submitted the application to be listed on Binance – the world's leading crypto exchange. Binance listing conditions consist of strict trading volume requirements, but the growth potential shown by Tamadoge makes us hopeful that it will end up there.
Tamadoge NFT Drop Coming soon
Tamadoge has declared that the first ultra-rare set of Tamadoge Pets NFT is dropping this week. The countdown has begun, and we will see some news within six days.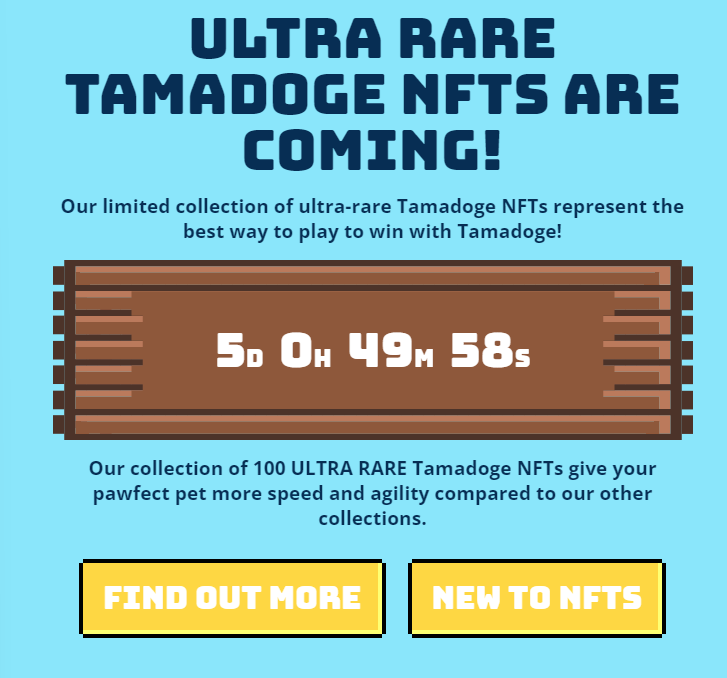 Tamadoge is up by 300% since its launch
Tamadoge entered the market at a respectable point. However, the general conditions pushed it to lows of $0.01683. However, it is now 300% up from its September lows and trading at 0.05091. Tamadoge has also become one of the top trending coins on DEXTools – a decentralized app that aggregates blockchain info and provides charting details.
Visit OKX for Tamadoge
Read More
Tamadoge – Play to Earn Meme Coin
Earn TAMA in Battles With Doge Pets
Maximum Supply of 2 Bn, Token Burn
Now Listed on OKX, Bitmart, Uniswap
Upcoming Listings on LBank, MEXC
Join Our Telegram channel to stay up to date on breaking news coverage