Picking the right Metaverse Stocks and Cryptos
The Metaverse is now a million-dollar investment opportunity, which offers various investment options in different forms of assets like cryptos, stocks, NFTs, metaverse land, ETFs, and more.
Why Invest in Metaverse?
With the increase in the demand for a 3D augmented virtual reality, Metaverse has the potential to be the future iteration of the Internet. A virtual reality where users can work, meet, socialize, game, and interact is possible only through the Metaverse.
This is the perfect time to invest in the Metaverse because it is still in its initial phase. It has immense potential to revolutionize communication and lifestyles.
Big tech giants like Apple, Facebook, and Google investing fortunes in the Metaverse is going to make it an $800-billion market by 2024.
As per CNBC report, virtual property prices have gone up as much as 500% since Facebook transitioned to its new avatar. The current dip in the stock crypto is a good time to pick out metaverse stocks and cryptos to invest in at a low price point.
Invest in Metaverse Coins via FCA regulated eToro
Your capital is at risk.
How to Invest in Metaverse Projects?
The leading social trading platform eToro is the best place to invest in Metaverse projects. It is highly regulated by the FCA, which ensures the safety of users and their holdings.
Those who are new to investing can use its copy trading and copy portfolio features, wherein the trading strategies and portfolio allocation can be copied from successful investors. As such no experience is required for those who are looking to invest immediately without learning much about the process.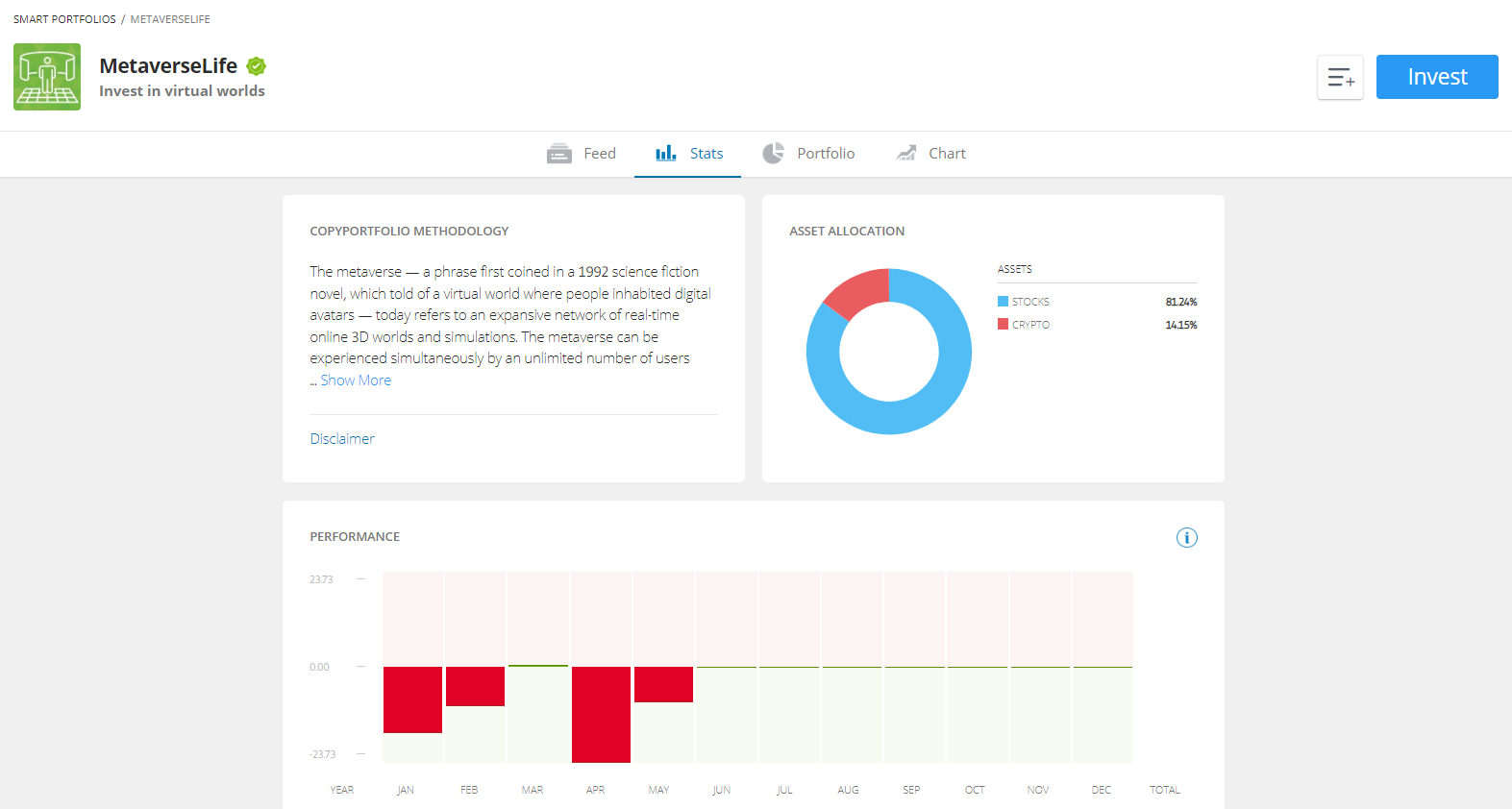 The 'Metaverse Lite' feature by eToro could be a good place to start Metaverse Investing
Traders can also use its Metaverse Life 'Smart Portfolio' feature, which offers a bundle of assets under a unified strategy with no management fees and hidden costs.
eToro's Metaverse Life Portfolio consists of Metaverse companies and Metaverse cryptos stocks. The percentage allocation is 87% and 13% respectively.  Its metaverse stocks include Facebook, Apple, Amazon, ADOBE, etc. It recently launched four new Smart Portfolios for its Metaverse Life.
Checkout Metaverse Lite by eToro
Your capital is at risk.
eToro also supports major Metaverse coins like MANA, SANDBOX, ENJ, GALA, and APE.
Investors can also go for Metaverse NFTs, ETFs, or Metaverse land and buildings. Some popular Metaverse projects include Somnium Space, Metahero, Bloktopia, etc.
Read more:
Lucky Block – Our Recommended Crypto of 2022
New Crypto Games Platform
Featured in Forbes, Nasdaq.com, Yahoo Finance
Worldwide Competitions with Play to Earn Rewards
LBLOCK Token Up 1000%+ From Presale
Listed on Pancakeswap, LBank
Free Tickets to Jackpot Prize Draws for Holders
Passive Income Rewards
10,000 NFTs Minted in 2022 – Now on NFTLaunchpad.com
$1 Million NFT Jackpot in May 2022
Cryptoassets are a highly volatile unregulated investment product. No UK or EU investor protection.