LTC Price Prediction – LTC Is Above $60. Is $64 Coming Back Today?

Join Our Telegram channel to stay up to date on breaking news coverage
The Litecoin price has started to show major signs of recovery. Step by step, it has moved above $60, surpassed $64, and is now trading near $80. Does it mean we will see the "good-old bullish days" return for Litecoin? Or is this upswing just temporary, giving us a false sense of security before it drops and further damages whatever faith people have left in the currently listed assets? Let us explore this in our LTC price prediction.
LTC Price Prediction — Why Did Litecoin Grow Parabolically During the Last 24 Hours?
The value of LTC was still hovering just above the $60 mark when around 6 pm, the price rose to $68. It then ascended to $70 and traded sideways in the same range for 12 hours before another pump peaked above the $80 mark. 
The intra-chart chart shows two massive green candles a couple of hours apart, which are responsible for such a parabolic increase in the price of Litecoin. 
What is the reason behind this massive upswing? It is a combination of the recent developments and the crowd's general sentiment about decentralized cryptocurrencies. 
The News of the 135 Billionth Transaction
The Litecoin foundation is known for constantly engaging with the crypto community. On November 20, the foundation tweeted about the 135th billionth transaction on the Litecoin network. It further made the tweet more engaging by adding that in its over 11 years of operation, Litecoin has been immutable, uncensorable, and has shown flawless uptime. 
Coinbase Litecoin holdings Reveal
Coinbase, the leading cryptocurrency exchange in the United States, has revealed that it holds 1.5 million Litecoin tokens. This revelation came to light after it was made clear after the on-chain validation of Grayscale's Litecoin trust. 
In a recent on-chain validation of @Grayscale's Litecoin Trust, @coinbase performed a cryptographic Proof-of-Reserve to confirm that they are indeed holding LTC (OTCQX: LTCN) in the amount of 1,534,087.9 #Litecoin as of the published date. https://t.co/Qhi2GZeVAy

— Litecoin Foundation ⚡️ (@LTCFoundation) November 21, 2022
Litecoin ESports Drink
LTC Esports, a community supported by the Litecoin foundation, recently tweeted about Glytch Litecoinade, a crypto-themed energy drink marketed to crypto enthusiasts and gamers.
Sick of playing like trash?Want to dominate in game?

Drink @GLYTCHEnergy • Enhanced focus• Amazing flavour • Clean and lasting formula• Gluten free• Vegan friendly

And don't forget to use code LTC at checkout for 20% off!#GameWithLitecoin #Litecoin #LTC pic.twitter.com/NJUc92vyVp

— LTC Esports (@LitecoinEsports) November 21, 2022
Rising Demand for Decentralized Roots
The recent FTX debacle had seen the crypto community demanding to go back to the old days of Bitcoin mining when the cryptocurrency economy was truly decentralized. Litecoin is seen as the last bastion of that ecosystem, which might be why the LTC price is rising rapidly. One tweet by Jay pointed out that "Litecoin is the only true open source digital currency left. Everything else is overexposed, a security risk, VC backed, lost, unfairly launched, or most importantly, there's one huge bag holder that could sell. Litecoin is perfectly positioned."
This comment resonates with the wider crypto sentiment that now seeks to look to invest in crypto through decentralized exchanges where they hold true custodianship of their assets. 
LTC Price Prediction – Will it Go UP Further?
Whenever there is a hint of major price actions, the crypto community starts chanting the slogan "to the moon". This time is no different. The current bullish price action has put LTC supporters in a state of overexcitement. Many say that the next move would be $95 or $115. People are waiting for the next major pump. 
Whether it happens or not is the entire matter altogether.
However, the current price charts agree with the community's sentiments. The recent price action of Litecoin mirrors October 2019's, when the LTC price went from $60 to $85. If Litecoin keeps up the momentum – which is very likely – it can increase to test $120.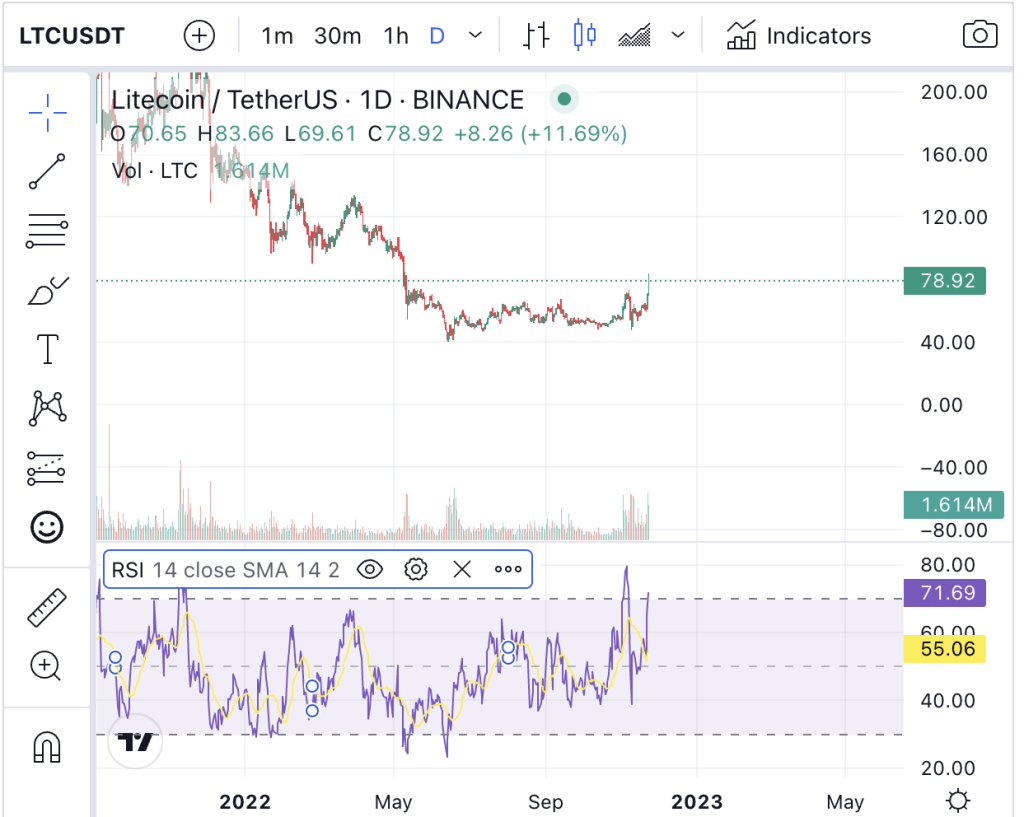 That said, the current RSI of 71.71 puts Litecoin in the overbought zone, which indicates that a major price reversal is on the way. However, if the current momentum is maintained, Litecoin may surprise all of us by moving further up. 
Volatile Times Calls for Wiser Crypto Investments
The LTC price prediction shows bullish signals, but the RSI puts it in the overbought zone. If you don't want to deal with such uncertainty, it is better to invest in crypto assets that have better utilities. 
Dash 2 Trade
Bitcoin shorters minted a lot of gains in the current market because they knew something awry was going on behind the scenes of FTX. Part of their awareness was access to the Bloomberg terminal, an expensive trading intel platform that offers multiple analytical tools to assess the market from a bird's eye view. Dash 2 Trade aims to bring the same facility to ordinary traders at an affordable price. 
Dash 2 Trade features every tool you need to make informed crypto investments, from social analytics to Bespoke Presale assessment. The native crypto of Dash 2 Trade, D2T, is currently in the third stage of its presale and has raised upwards of $6.5 million. 
RobotEra
RobotEra is a metaverse project in the same vein as the Sandbox. The difference is the RobotEra editor, an in-game tool that allows users to customize lands and create companion robots. At the center of the RobotEra ecosystem are Robot NFTs that players can use to build the lands or robots or explore the metaverse. 
The native crypto of RobotEra, TARO, has recently crossed its $180k milestone. RobotEra is a perfect project for those looking to invest in a metaverse, but it were too late for the Sandbox.
Calvaria
Multiple P2E gaming projects focusing on gameplay aspects have emerged this year – one of them is Calvaria. A card game that takes cues from the likes of Hearthstone and Gwent, Calvaria has a unique and inclusive approach that will blow Gods Unchained and Splinterland out of water. 
It comes in the form of F2P mode. Non-crypto players can also play the game through their mobile devices. They will have access to the same gameplay tools as crypto players. Crypto players will play Calvaria using the P2E mode that offers multiple earning opportunities, including gamified staking and renting in-game NFT cards to other players. RIA is also a presale token and has raised closer to $2 million at the time of writing. 
Tamadoge
The biggest P2E surprise of this year is Tamadoge. Fashioned after Dogecoin, Tamadoge is a 'P2E memecoin "that calls itself "a play-to-earn Dogecoin". Users can buy Tamadoge NFTs that they can then raise and use for battle in the Tamaverse – Tamadoge's gameplay region – and earn dogepoints to get rewarded with TAMA tokens. 
The end goal of the developers is to create and put Tamadoge NFTs in a 3D space where they can interact in an AR (augmented reality) environment. These factors contributed to Tamadoge becoming one of the best presale crypto offerings this year by raising $19 million before the end date. At the time of writing. Tamadoge is available for purchase on multiple CEXs and DEXs, including Uniswap, OKX, LBank, MEXC, and Gate.io.
While Tamadoge is trading in the bearish region due to the current market conditions, it is a great opportunity to buy the dip. The devs are working towards major updates behind the scenes, and more updates are on the way, including more listings. Therefore, it is a good time for anyone wanting to mint the gains from listing and updates. 
Related Articles
Where to Buy Tamadoge
Dash 2 Trade Price Prediction
Tamadoge Price Prediction – Tamadoge is Bouncing Back
Dash 2 Trade – High Potential Presale
Active Presale Live Now – dash2trade.com
Native Token of Crypto Signals Ecosystem
KYC Verified & Audited
Join Our Telegram channel to stay up to date on breaking news coverage