Is It Still Worth Investing In Vita Inu After Its Meteoric Rice Or Rather Invest In Tamadoge?


Join Our Telegram channel to stay up to date on breaking news coverage
When it comes to the success of Memecoins, as per the data provided by CoinMarketCap, investors have taken a keen interest in investing in them due to the potential and rising popularity of such coins. In recent months, meme currencies have risen to the top of the top ten list of market value, giving conventional cryptocurrencies a fight for their money.
Although it did not make an appearance on the list of the top ten, Vita Inu's popularity has been on the increase in recent days as well.
In addition, the InvestorsObserver Sentiment Score for Vita Inu has been optimistic over the course of the last couple of days. The performance of Vita Inu over the previous five days was evaluated using the Sentiment Score, which took into account both volume and price change.
On Wednesday, InvestorsObserver categorized VINU as a meme currency that is rising in popularity. The value of the cryptocurrency has increased by 25.45%, reaching $0.00000001808652532, while the market as a whole has only increased by 0.15%.
At the moment, the price of Vita Inu is trading above the barrier level. Support for VINU can be found around $0.0000000138663152955164, and resistance can be found at $0.0000000150985367315148. In a case that this doesn't materialize, things can get very murky for VINU.
The Score provides a quick and concise overview of the recent performance of the cryptocurrency in question.
However, prospective purchasers are still on the fence regarding VINU despite the recent sharp increase in price.
Which Direction Is Vita Inu's Price Headed?
The Vita Inu (VINU) meme money has been one of the most successful meme currencies this week, and it has been making headlines today as a result.
Since the beginning of August, the currency of the Vita Inu meme has surged by more than 200% and looks eager to continue increasing at the same rate.
The analysts, on the other hand, refer to this particular impulse wave as being "over-stretched," which suggests that developments took place a little bit too quickly and that we may now anticipate a price correction.
After breaking through a major support level that was part of a symmetrical triangle, Vita Inu has already begun to retrace towards the 0.618 Fibonacci support area as of the time this article was written. In a perfect world, we should anticipate a rebound right after this one.
If the current downward trend continues, the next support level for Vita Inu (VINU) is located around $0.0000000199. This is the case regardless.
Experts have identified a critical re-accumulation zone where they anticipate it should consider entering if this level of support is lost. If this level of support is lost, they expect it should consider entering this range.
The general consensus among market experts is that the value of one unit of the Vita Inu (VINU) meme currency will range between $0.0000000198 and $0.0000000224 over the course of the next several days before beginning a clear trend of decline.
The 26-day moving average has been broken, and it would be in everyone's best interest to keep a close eye on whether or not there is a retest of the resistance level at $0.0000000224.
In addition, it is not feasible to forecast what will occur in the short run, particularly given the scarcity of data about prices that were charged in the past.
However, there are indicators that point to a further fall in popularity for the Vita Inu (VINU) meme in this region. This is also due to the fact that Vita Inu is a cryptocurrency with a very small market size and a high degree of volatility.
It is important to note that the daily relative strength index for the Vita Inu (VINU) meme coin has been steady, which indicates that it is relatively overbought. Simply put, this is an indication of a bearish market and is typically something that should be avoided.
According to the experts, as a result, investors should proceed with caution and avoid taking unnecessary risks after such a robust pump.
As a consequence of this, customers should continue to investigate and scrutinize the crypto markets for meme currencies that have not yet been listed on centralized exchanges. One example of this would be making an investment in the cryptocurrency presale of Tamadoge.
Should You Invest in Tamadoge Instead?
The most recent addition to the Dogecoin family, Tamadoge, has recently become the topic of conversation among people who are interested in meme currencies.
This is due to the fact that it possesses utility, in contrast to other meme coins which only have adorable names and logos.
Tamadoge is now in the process of raising capital for their next play-to-earn game, which is titled Tamadoge Pet. In this game, players may mint an NFT pet and raise it from birth to adulthood.
The Play-to-Earn (P2E) mechanism in Tamadoge awards players with local TAMA tokens as a reward for their participation.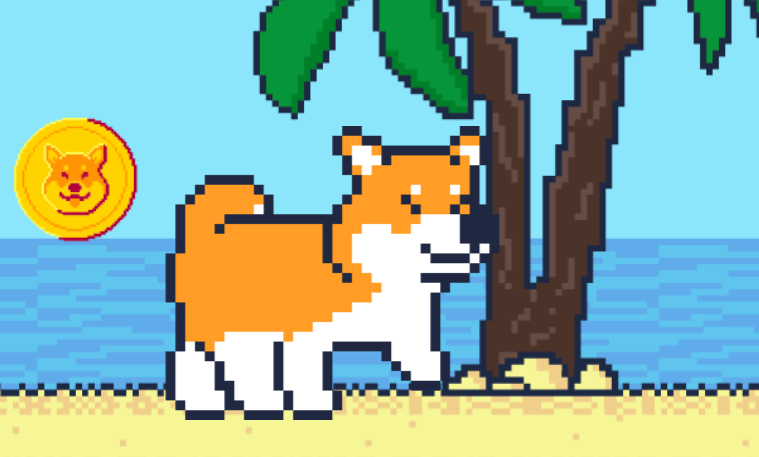 The Tamagotchi, which was a popular portable gaming platform in the early 1990s, served as inspiration for a portion of this game.
You take on the role of a pet trainer in Tamadoge, and it is your job to ensure that the pets continue to develop in a way that is both healthy and joyful for them.
The players are rewarded for their efforts as parents when they watch their pets increase in power and capability and, preferably, when they make it to the top of the leaderboards.
Pets will also be able to fight against one another, and according to the plans, both the battle leaderboard and the Tamadoge Pet shop will be operational by the end of 2022.
Doge points serve as a kind of player reward and may be converted into TAMA tokens with relative ease.
There are a total of 2 billion TAMA tokens available, with the ability to pre-purchase 500 million of them.
The remaining 5% will be burned in order to cut supply, while the other 45% is being held in reserve to help enhance liquidity in the market.
In addition, once the platform has been released to the public and players have begun spending TAMA tokens in the game, 65% of the total number of tokens used in that month will be contributed to the monthly prize pool and then distributed among the participants.
In order to ensure that there is a steady rise in the price, an additional five percent of the quantity used will be burned every month.  CoinSniper, a platform for crypto analytics, has given this upcoming Metaverse game its stamp of approval and Solid Proof has confirmed that it passes their quality assurance tests. At this time, Tamadoge is participating in the presale stage.
Visit Tamadoge
Why Tamadoge?
One of the key milestones that it has been achieved by Tamadoge is that it has completed of 60% of its presale after receiving $8.5 million in funding from contributors.
During the most recent (fifth) auction round, the price range for the TAMA token was between 1 USDT and 50 TAMA.
The price of one token has increased during the sixth phase to a rate of 44.44 TAMA, marking a big milestone for the P2E developer. Previously, the token price was set at one US dollar.
During the presale, there were a total of one billion tokens available for purchase, of which 600 million were sold. The price of each token tranche increased as it was sold.
The total amount of TAMA in circulation is 2 billion. There are presently less than forty percent of the presale tokens available for purchase, and the allocation is quickly running out.
During the initial beta sale phase, which resulted in the sale of 200 million tokens, Tamadoge was offered for sale at a price of 1 USDT per 100 TAMA.
Since then, more batches totaling another 100 million tokens each have been distributed. The price of a token goes up until it reaches $0.03, which is three times what it was sold for in the original auction.
In the seventh phase, one USDT will be able to buy forty TAMA, which will be the price to surpass in the subsequent phase.
The Portfolio Balancing Act
In recent days, VINU has exhibited results that are quite encouraging. However, taking into account the background of the meme money, it is difficult to say whether or not its value will continue to increase.
During this time, you have the ability to diversify your cryptocurrency holdings by investing in outstanding prospects such as Tamadoge.
Since it is speculated that this currency will be one of the next top 10 meme currencies, with a market value of more than fifty million dollars at some point in the future or during the subsequent crypto bull run, this is why it is important.
Following the launch of Tamadoge on the decentralized Uniswap exchange (TAMA is an erc-20 network token); the cryptocurrency will be available for purchase on the Lbank-controlled exchange.
If you want to purchase your TAMA tokens before they are totally gone from the market, you will need to take proactive steps starting now.
Read More
Tamadoge – Play to Earn Meme Coin
Earn TAMA in Battles With Doge Pets
Capped Supply of 2 Bn, Token Burn
NFT-Based Metaverse Game
Presale Live Now – tamadoge.io
Join Our Telegram channel to stay up to date on breaking news coverage